Abstract
Bidirectional inter-basin water transfer is a special form of inter-basin water transfer, which can create a win-win outcome between two basins by utilizing the differences in flow regime from different basins. The objective of the research is to develop operating rules that consider both water transfer and water supply of water distribution system simultaneously for guiding the operation of multi-reservoir system in bidirectional inter-basin water transfer-supply system. The proposed rules include threefold: (1) triggering mechanisms for water transfer based on the storages of two equivalent reservoirs are presented for regulating the bidirectional water transfer between two basins, (2) water supply policy in the form of operating rule curves coupled to multiple hedging rules is proposed for guiding the water supply operation of multi-reservoir system, and (3) allocation approach of system release based on different priority demands is developed for determining the release from each reservoir. To obtain the optimal operating rules, the quantum-behaved particle swarm optimization algorithm (QPSO) is applied to a bidirectional inter-basin water transfer-supply system located in Liaoning province of northeast China. The results demonstrate that the obtained operating rules can guide the joint operation of multi-reservoir in bidirectional inter-basin water transfer-supply system in a mutually beneficial way.
This is a preview of subscription content, log in to check access.
Access options
Buy single article
Instant access to the full article PDF.
US$ 39.95
Price includes VAT for USA
Subscribe to journal
Immediate online access to all issues from 2019. Subscription will auto renew annually.
US$ 99
This is the net price. Taxes to be calculated in checkout.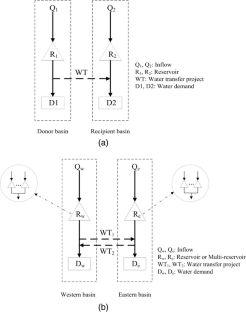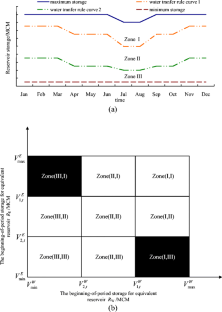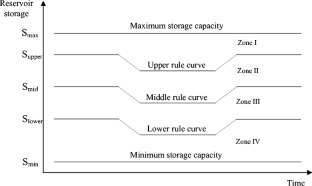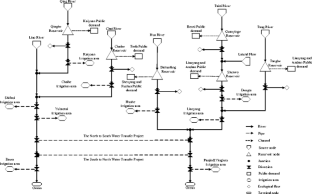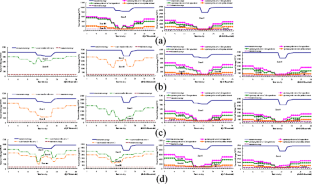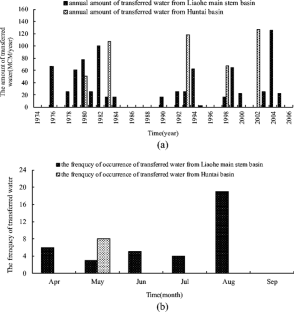 References
Ballestero E (2004) Inter-basin water transfer public agreement: a decision approach to quantity and price. Water Resour Manag 18:75–88

Chang FJ, Chen L, Chang LC (2005) Optimizing the reservoir operating rule curves by genetic algorithms. Hydrol Process 19(11):2277–2289

Ghassemi F, White I (2007) Inter-basin water transfer: case studies from Australia, United States, Canada, China, and India. Cambridge University Press, New York

Gohari A, Eslamian S, Mirchi A, Abedi-Koupaei J, Massah Bavani A, Madani K (2013) Water transfer as a solution to water shortage: a fix that can backfire. J Hydrol 491:23–39

Guo X, Hu T, Zhang T, Lv Y (2012) Bilevel model for multi-reservoir operating policy in inter-basin water transfer-supply project. J Hydrol 424–425:252–263

Gupta J, van der Zaag P (2008) Interbasin water transfers and integrated water resources management: where engineering, science and politics interlock. Phys Chem Earth 33(1–2):28–40

Huang WC, Yuan LC (2004) A drought early warning system on real-time multi-reservoir operations. Water Resour Res 40, W06401. doi:10.1029/2003WR002910

Jain SK, Agarwal PK, Singh VP (2007) Hydrology and water resources of India. Springer, The Netherlands, pp 1065–1109

Li L, Liu P, Rheinheimer DE, Deng C, Zhou Y (2014) Identifying explicit formulation of operating rules for multi-reservoir systems using genetic programming. Water Resour Manag 28(6):1545–1565

Lynch HJ, Campbell Grant EH, Muneepeerakul R, Arunachalam M, Rodriguez-Iturbe I, Fagan WF (2011) How restructuring river connectivity changes freshwater fish biodiversity and biogeography. Water Resour Res 47, W05531. doi:10.1029/2010WR010330

Neelakantan TR, Pundarikanthan NV (1999) Hedging rule optimization for water supply reservoir system. Water Resour Manag 13(6):409–426

Oliveira R, Loucks DP (1997) Operating rules for multireservoir systems. Water Resour Res 33(4):839–852

Sun J, Xu W, Feng B (2004) A global search strategy of quantum-behaved particle swarm optimization. Proceedings of IEEE Conference on Cybernetics and Intelligent Systems, Singapore, pp 111–116

Sun J, Fang W, Palade V, Wu X, Xu W (2011) Quantum-behaved particle swarm optimization with Gaussian distributed local attractor point. Appl Math Comput 218:3763–3775

Tu MY, Hsu NS, Yeh WWG (2003) Optimization of reservoir management and operation with hedging rules. J Water Resour Plan Manag-ASCE 129(2):86–97

Turgeon A, Charbonneau R (1998) An aggregation-disaggregation approach to long-term reservoir management. Water Resour Res 34(12):3585–3594

Yevjevich V (2001) Water diversions and interbasin transfers. Water Int 26(3):342–348

You JY, Cai XM (2008) Hedging rule for reservoir operations: 1. a theoretical analysis. Water Resour Res 44, W01415. doi:10.1029/2006WR005481

Zeng X, Hu T, Guo X, Li X (2014) Water transfer triggering mechanism for multi-reservoir operation in inter-basin water transfer-supply project. Water Resour Manag 28(5):1293–1308
Acknowledgments
Financial support from the Major International Cooperation Project of China Natural Science Foundation Commission (Grant No. 51320105010) is very much appreciated.
About this article
Cite this article
Wang, Q., Zhou, H., Liang, G. et al. Optimal Operation of Bidirectional Inter-Basin Water Transfer-Supply System. Water Resour Manage 29, 3037–3054 (2015). https://doi.org/10.1007/s11269-014-0905-7
Received:

Accepted:

Published:

Issue Date:
Keywords
Bidirectional inter-basin water transfer-supply system

Water transfer rule

Multiple hedging rules

Quantum-behaved particle swarm optimization