Abstract
This paper describes a detailed evaluation of the performance and characteristic behaviour of four equations for estimating reference evapotranspiration (ET0) at eight meteorological sites in a subtropical climate. The equations assessed were: Makkink (MK), Turc (TC), Priestley–Taylor (PT) and Hargreaves (HG). The sites were distributed throughout the north of Iran and represent an intermediate humidity regime. The Penman–Monteith (PM) method was chosen as the standard for comparison and calibration of the above—mentioned four equations. Good correlation was found between the ET0 values estimated by each of the four empirical equations and the PM method for all the locations; however MK and TC equations produced considerable underestimations. The performance of the PT and HG equations improved slightly after region-specific coefficients were developed for each equation, and the TC and MK equations were improved greatly. The modified PT equation turned out to be the most precise method, demonstrating superiority over the other methods evaluated (0.48 mm d−1 of root mean square error (RMSE)). Good performance from the modified HG equation (0.53 mm d−1 of RMSE) must be emphasized, given the simplicity of that method, which only requires maximum and minimum air temperature data.
This is a preview of subscription content, log in to check access.
Access options
Buy single article
Instant access to the full article PDF.
US$ 39.95
Price includes VAT for USA
Subscribe to journal
Immediate online access to all issues from 2019. Subscription will auto renew annually.
US$ 99
This is the net price. Taxes to be calculated in checkout.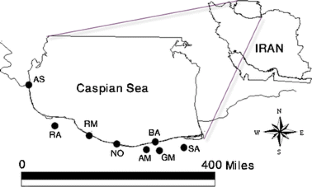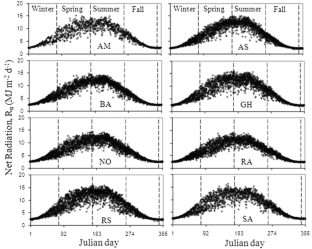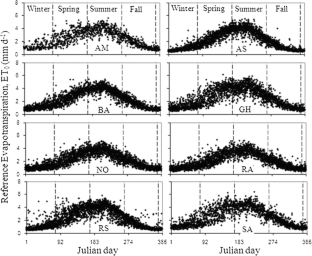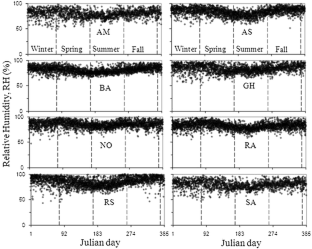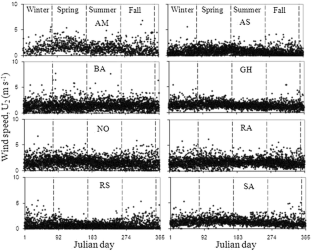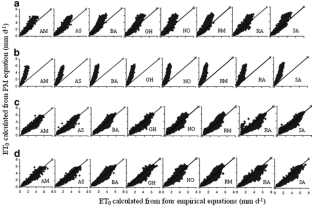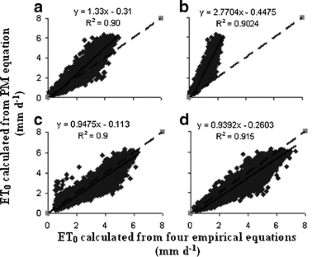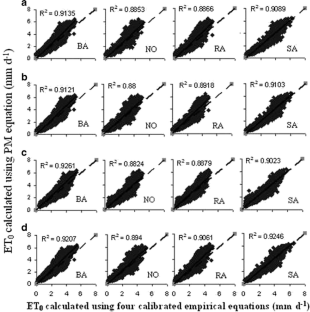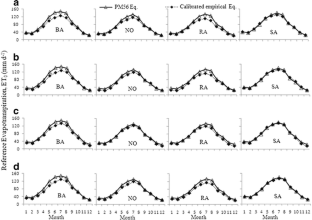 References
Allen RG (1996) Assessing integrity of weather data for reference evapotranspiration estimation. J Irrig Drain Eng 122(2):97–106

Allen RG (2003) REF-ET user's guide. University of Idaho Kimberly Research Stations, Kimberly

Allen RG, Pereira LS, Raes D, Smith M (1998) Crop evapotranspiration. Guidelines for computing crop water requirements. In: FAO irrigation and drainage paper, no 56. FAO, Roma, Italy

Amatya DM, Skaggs RW, Gregory JD (1995) Comparison of methods for estimating REF-ET. J Irrig Drain Eng 121(6):427–435

Di Stefano C, Ferro V (1997) Estimation of evapotranspiration by Hargreaves formula and remote sensed data in semi-arid Mediterranean areas. J Agric Eng Res 68(3):189–199

Douglas EM, Jacobs JM, Sumner DM, Ray RL (2009) A comparison of models for estimating potential evapotranspiration for Florida land cover types. J Hydrol 373:366–376

Droogers P, Allen RG (2002) Estimating reference evapotranspiration under inaccurate data conditions. Irrig Drain Syst 16:33–45

Hargreaves GH, Allen RG (2003) History and evaluation of Hargreaves evapotranspiration equation. J Irrig Drain Eng 129(1):53–62

Hargreaves GH, Samani ZA (1985) Reference crop evapotranspiration from temperature. Appl Eng Agric 1(2):96–99

Hargreaves LG, Hargreaves GH, Riley JP (1985) Irrigation water requirements for Senegal river basin. J Irrig Drain Eng 111(3):265–275

Irmak S, Allen RG, Whitty EB (2003) Daily grass and alfalfa-reference evapotranspiration estimates and alfalfa-to-grass evapotranspiration ratios in Florida. J Irrig Drain Eng 129(5):360–370

Jensen ME, Burman RD, Allen RG (1990) Evapotranspiration and irrigation water requirements. In: ASCE manuals and reports on engineering practice, no 70. ASCE, New York

Kosarev AN, Yablonskaya EA (1994) The Caspian Sea. SPB Academic Publishing, The Hague

Landeras G, Ortiz-Barredo A, López JJ (2008) Comparison of artificial neural network models and empirical and semi-empirical equations for daily reference evapotranspiration estimation in the Basque Country (Northern Spain). Agric Water Manag 95(5):553–565

Makkink GF (1957) Testing the Penman formula by means of lysimeters. J Inst Water Eng 11(3):277–288

Meyer SJ, Hubbard KG, Wilhite DA (1989) Estimating potential evapotranspiration: the effect of random and systematic errors. Agric For Meteorol 46:285–296

Penman HL (1948) Natural evaporation from open water, bare soil and grass. Proc R Soc Lond 193:120–145

Priestley CHB, Taylor RJ (1972) On the assessment of surface heat flux and evaporation using large scale parameters. Mon Weather Rev 100:81–92

Rivington M, Bellocchi G, Matthews KB, Buchan K (2005) Evaluation of three model estimations of solar radiation at 24 UK stations. Agric For Meteorol 132:228–243

Rodionov SN (1994) Global and regional climate interaction: the Caspian Sea experience. Water science and technology library. Kluwer Academic Publisher, Dordrecht

Suleiman AA, Hoogenboom G (2007) Comparison of Priestley-Taylor and FAO-56 Penman–Monteith for daily reference evapotranspiration estimation in Georgia. J Irrig Drain Eng 133(2):175–182

Tabari H (2010) Evaluation of reference crop evapotranspiration equations in various climates. Water Resour Manag 24:2311–2337

Trajkovic S, Kolakovic S (2009) Evaluation of reference evapotranspiration equations under humid conditions. Water Resour Manag 23:3057–3067

Turc L (1961) Estimation of irrigation water requirements, potential evapotranspiration: a simple climatic formula evolved up to date. Ann Agron 12:13–49 (in French)

Utset A, Farre I, Martinez-Cob A, Cavero J (2004) Comparing Penman–Monteith and Priestley–Taylor approaches as referenceevapotranspiration inputs for modeling maize water-use under Mediterranean conditions. Agric Water Manag 66(3):205–219

Vanderlinden K, Giraldez JV, Van Meirvenne M (2004) Assessing reference evapotranspiration by the Hargreaves method in southern Spain. J Irrig Drain Eng 130(3):184–191
Acknowledgments
The authors would like to thank the anonymous reviewers for their valuable comments and suggestions which improved the content of the article. This study was done in Department of Irrigation and Drainage Engineering, Aburaihan Campus, University of Tehran.
About this article
Cite this article
Rahimikhoob, A., Behbahani, M.R. & Fakheri, J. An Evaluation of Four Reference Evapotranspiration Models in a Subtropical Climate. Water Resour Manage 26, 2867–2881 (2012). https://doi.org/10.1007/s11269-012-0054-9
Received:

Accepted:

Published:

Issue Date:
Keywords
Reference evapotranspiration

ET0 equations

Estimation

Subtropical climate

Iran