Abstract
This study was conducted in the Konyaalti Water Distribution Network in Antalya, Turkey. The study area was divided into 18 district metered areas (DMAs) for better management of water losses. Water levels in reservoirs, flow rates, and water pressures were monitored on-line by the SCADA data system. A hydraulic model was calibrated and verified for each DMA using data provided by SCADA. The model results revealed that a number of DMAs exhibited high pressures, greater than 3.5 bars, and high minimum night flow (MNF) throughout the year. Also, the Infrastructure Leakage Index (ILI) for the study area was greater than 20, indicating high water losses. As a result of these findings, a pressure reducing valve (PRV) was installed at DMA No. 2 as an example and set at 3.0 bars resulting in considerable reduction in water losses. The optimum pressure level for setting the PRV was chosen using the hydraulic model. The same model was used to predict water savings due to pressure reduction. The predicted water savings were verified using long periods of flow rates and water pressure profiles. The predicted and measured water savings showed good agreement. The study concluded that hydraulic modelling is essential for applying appropriate pressure management strategies.
This is a preview of subscription content, log in to check access.
Access options
Buy single article
Instant access to the full article PDF.
US$ 39.95
Price includes VAT for USA
Subscribe to journal
Immediate online access to all issues from 2019. Subscription will auto renew annually.
US$ 99
This is the net price. Taxes to be calculated in checkout.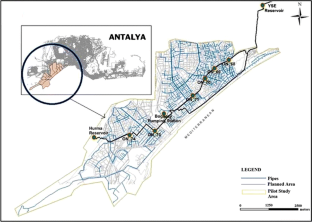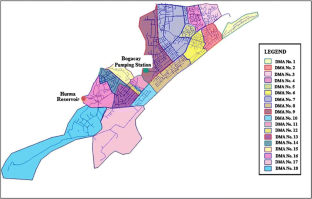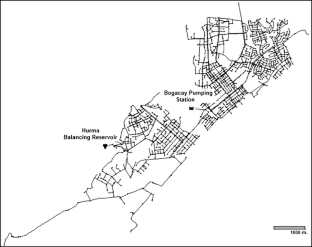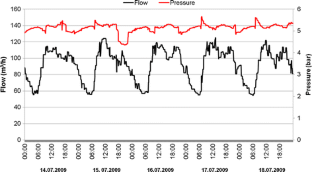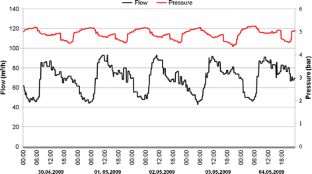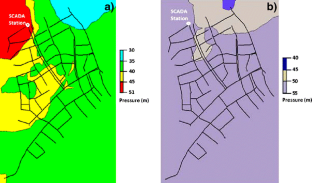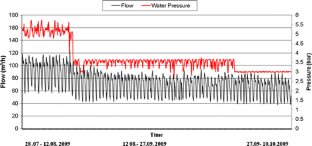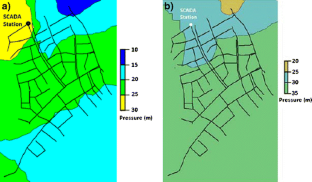 References
Alegre H, Baptista JM, Cabrera EJ, Cubillo F, Duarte P, Hirner W, Merkel W, Parena R (2006) Performance indicators for water supply services, IWA Manual of Best Practice, IWA Publishing, 2nd edn. UK, London

Cakmakci M, Uyak V, Ozturk I, Aydin AF, Soyer E, Akca L (2007) The dimension and significance of water losses in Turkey. IWA Water Losses Conference 2007:464–473

Charalambous B (2007) Effective pressure management of district metered areas. Water Loss Conference 2007, Romania

Fanner P, Thornton J, Liemberger R, Sturn R (2007) Evaluating water loss and planning loss reduction strategies. IWA Publishing, London, UK

Kacaroglu F (1999) Review of groundwater pollution and protection in karst areas. Water, air, & soil pollution, 113. Water Air Soil Pollut 113(1–4):337–356

Kanakoudis V (2008) Ex-post evaluation of a water distribution network upgrading project. WSRT-AQUA 57(3):195–201

Kanakoudis V, Tsitsifli S (2010) Evaluating the performance level of a water distribution network under unbalanced operating conditions—the Kos town case (GR), 6th Int. Symp. Environmental Hydraulics, Athens, Greece, 2010

Kanakoudis V, Gonelas K, Tolikas D (2011) Basic principles for urban water value assessment and price setting towards its full cost recovery—pinpointing the role of the water losses. WSRT-AQUA 60(1):27–39

Lambert A, McKenzie R (2002) Practical experience in using the infrastructure leakage index. Proceedings of IWA Conference Leakage Management: A Practical Approach in Lemesos, Cyprus. ISBN 9963-8759-0-4

Lambert AO, Brown TG, Takizawa M, Weimer D (1999) A review of performance indicators for real losses from water supply systems. WSRT-AQUA 48(6):227–237

Marunga A, Hoko Z, Kaseke E (2006) Pressure management as a leakage reduction and water demand management tool: The case of the City of Mutare, Zimbabwe. Phys Chem Earth 31:763–770

McKenzie R (2009) Implementation of pressure management in Municipal Water Supply Systems. EYDAP Conference "Water: The Day After", Greece, 2009

McKenzie R, Lambert A (2002) Economic model for leakage management for water suppliers in South Africa, WRC Report TT 169/02. http://www.wrc.org.za/Other%20Documents/Software/econoleak/TT%20169-02.PDF Accessed:03.02.2012

Mckenzie R, Seago C (2005) Assessment of real losses in potable water distribution systems: some recent developments. Water Sci Tech Water Supply 5(1):33–40

Morrison J (2004) Managing leakage by District Metered Access: a practical approach. Water 21- Magazine of the International Water Association 6.1:44–46

Morrison J, Tooms S, Rogers D (2007) District metered areas guidance notes. Specialist Group Efficient Operation and Management-Water Loss Task Force. http://www.waterlinks.org/sites/default/files/District%20Metered%20Areas%20Guidance%20Notes.pdf. Accessed:05.03.2012

Muhammetoglu H (2011) Using mathematical models for the determination of optimum chlorine applications and disinfection system management in water distribution networks. TUBITAK, Project No: 107G008, Final Report (In Turkish)

Mutikanga HE, Sharma SK, Vairavamoorthy K (2011) Multi-criteria decision analysis: a strategic planning tool for water loss management. Water Resour Manage 25:3947–3969

Rossman LA (2000) EPANET 2 Users Manual. National Risk Management Research Laboratory, Office of Research and Development , USA EPA, Cincinatti, OH 45268, 29–90

Sturm R, Thornton J (2005) Proactive leakage management using District Metered Areas (DMA) and pressure management—Is it applicable in North America?. Leakage 2005 Conference,Canada

Tabesh M, Asadiyani Y, Burrows R (2009) An integrated model to evaluate losses in water distribution systems. Water Resour Manage 23(3):477–492

Thornton J, Lambert A (2006) Managing pressures to reduce new break. Water 21- Magazine of the International Water Association 8.6: 24–26

Thornton J, Reinhard S, Kunkel G (2008) Water Loss Control. Mc Graw Hill, 285 pages, USA

Tooms S, Morrison JAE (2005) DMA Management manual by the Water Losses Task Force: Progress. Leakage 2005 Conference, Canada

Tooms S, Pilcher R (2006) Practical guidelines on efficient water loss management. Water 21- Magazine of the International Water Association 8.4: 47

Trifunovic N, Sharma S, Pathirana A (2009) Modelling leakage in distribution system using EPANET. Water Loss 2009, South Africa, 482–489

Tsitsifli S, Kanakoudis V, Bakouros I (2011) Pipe networks risk assessment based on survival analysis. Water Resour Manage 25(14):3729–3746

World Bank Institute (2005) NRW Training Module 6: Performance Indicators WSAA Facts 2004. Water Services Association of Australia. ISSN 1328-2751
Acknowledgement
This research study was supported by The Scientific and Technological Research Council of Turkey (Project No. 107G088), Antalya Water and Wastewater Administration (ASAT) of Antalya Metropolitan Municipality and Akdeniz University, Antalya, Turkey. Thanks to Dr. Michael Burkart from Geological and Atmospheric Sciences, Iowa State University, USA for his valuable editing review and comments.
About this article
Cite this article
Karadirek, I.E., Kara, S., Yilmaz, G. et al. Implementation of Hydraulic Modelling for Water-Loss Reduction Through Pressure Management. Water Resour Manage 26, 2555–2568 (2012). https://doi.org/10.1007/s11269-012-0032-2
Received:

Accepted:

Published:

Issue Date:
Keywords
EPANET

Leakage modeling

Pressure management

Water loss

Water saving