Abstract
A dynamic systems simulation model of water resources was developed as a tool to help analyze alternatives to water resources management for the Piracicaba, Capivari and Jundiaí River Water Basins (RB-PCJ), and used to run six 50-year simulations from 2004 to 2054. The model estimates water supply and demand, as well as contamination load by several consumers. Six runs were performed using a constant mean precipitation value, changing water supply and demand and different volumes diverted from RB-PCJ to RB-Alto Tietê. For the Business as Usual scenario, the Sustainability Index went from 0.44 in 2004 to 0.20 by 2054. The Water Sustainability Index changed from 74% in 2004 to 131% by 2054. The Falkenmark Index changed from 1,403 m3 person − 1 year − 1 in 2004 to 734 m3 person − 1 year − 1 by 2054. We concluded that sanitation is one of the major problems for the PCJ River Basins.
This is a preview of subscription content, log in to check access.
Access options
Buy single article
Instant access to the full article PDF.
US$ 39.95
Price includes VAT for USA
Subscribe to journal
Immediate online access to all issues from 2019. Subscription will auto renew annually.
US$ 99
This is the net price. Taxes to be calculated in checkout.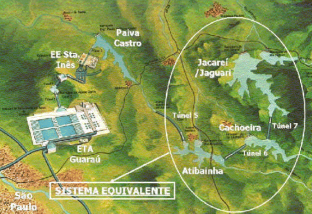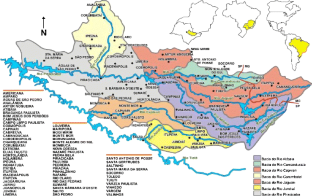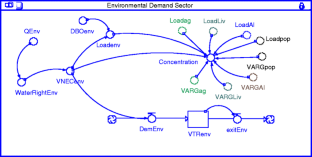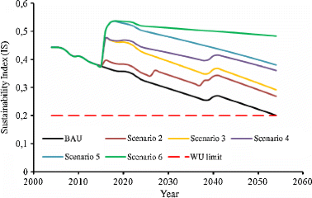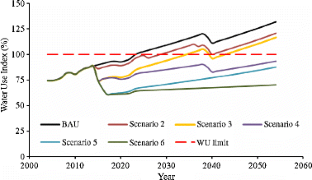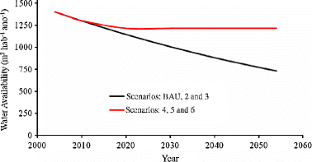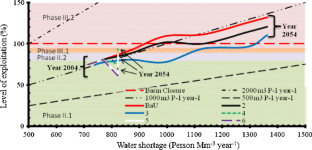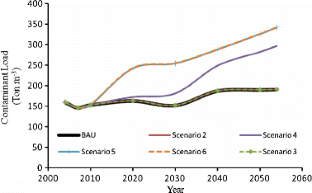 References
ANA -Agência Nacional de Águas-, National Water Agency (2009) Conjuntura dos recursos hídricos no Brasil

Brochi DF (2007) Análise entre o comitê PCJ federal e o consórcio PCJ. In: Simpósio experiências em gestão de recursos hídricos por bacia hidrográfica. São Pedro, SP, Brazil

Consorcio PCJ (2010) Água em quantidade e qualidade para o desenvolvimento sustentável de nossa região. Available at http://www2.agua.org.br/noticias/57/agua-em-quantidade-e-qualidade-para-o-desenvolvimento-sustentavel-de-nossa-regiao.aspx. Accessed 28 April 2010

Costa MT (2009) Bacias são reclassificadas para reverter a poluição - Correio Popular/Online. Available at http://www.tratabrasil.org.br/novo_site/?id=5107. Accessed 04 Dez 2009

DAEE (2007) Departamento de águas e energia elétrica (state of São Paulo's department of water and power). Available at http://www.daee.sp.gov.br/. Accessed 6 May 2007

Falkenmark M (1989) The massive water scarcity now threatening Africa-why isn't it being addressed? Ambio 18:112–118

Falkenmark M, Berntell A, Jägerskog A, Lundqvist J, Matz M, Tropp H (2007) On the verge of a new scarcity: call goes good governance and human ingenuity. IWI Policy Brief. Stockholm International Water Institute (SIWI), Stockholm

HDR (2006) Beyond scarcity: power, poverty and the global water crisis United Nations development program. Hoechstetter, New York

IRRIGART (2004) Relatório final. Relatório da situação dos recursos hídricos das bacias hidrográficas dos rios piracicaba, Capivari e Jundiaí – 2002/2003, vol II. Comitê das Bacias Hidrográficas dos Rios Piracicaba, Capivari e Jundiaí

Keller J, Keller A, Davids G (1998) River basin development phases and implications of closure. J Appl Irrig Sci 33:145–163

Orellana-González AMG, Sánchez-Román RM, Folegatti MV, Silva RT, Zolin CA (2008) Efeitos das variações nas quantidades de água revertidas das bacias PCJ à bacia do Tietê. In: I SCPG CENA-USP, 2008, Piracicaba, SP, Brazil

Pérez Maqueo O, Delfín C, Fregoso A, Cotler H (2006) Modelos de simulación para la elaboración y evaluación de los programas de servicios ambientales hídricos. Gaceta Ecológica 78:65–84

Plano Estadual Dos Recursos Hidricos (2005) 2004–2007 Do Estado De São Paulo (PERH: State of São Paulo's water resouces state plan for 2004–2007). Relatório Síntese do Plano. Consórcio JMR Engecorps

Powersim Co (1996) Introduction to system dynamics. Powersim, Reston

Raskin P, Gleick P, Kirshen P, Pontius G, Strzepek K (1997) Water futures: assessment of long-range patterns and prospects. Stockholm Environment Institute, Stockholm

Sánchez-Román RM, Folegatti MV (2008) Sustentabilidade da agricultura irrigada nas bacias hidrográficas dos ríos piracicaba, capivarí e jundiaí: uma análise em dinâmica de sistemas. Relatório de Pós doutoramento apresentado para Universidade de São Paulo

Sánchez-Román RM, Folegatti MV, Orellana González AM (2010) Water resources assessment at Piracicaba, Capivari and Jundiái River Basin: a dynamic systems approach. Water Resour Manag 24:761–773

Wiazowski BA, Silva CAB, Lourenzani WL (1999) O uso de sistemas dinâmicos como ferramenta de aprendizagem. Eco Rural 3:29–33

Winz I, Brierley G, Trowsdale S (2009) The use of system dynamics simulation in water resources management. Water Resour Manag 23:1301–1323

Xu ZX, Takeuchi K, Ishidara H, Zhang XW (2002) Sustainability analysis for yellow river water resources using the system dynamics approach. Water Resour Manag 16:239–261
Additional information
A.M.G. Orellana Gonzalez had a FAPESP's PhD scholarship and it is required by the financial institution (FAPESP) to be recognized as a FAPESP fellow.
About this article
Cite this article
Orellana González, A.M.G., Sánchez-Román, R.M., Folegatti, M.V. et al. PCJ River Basins' Water Availability Caused by Water Diversion Scenarios to Supply Metropolitan Areas of São Paulo. Water Resour Manage 25, 3371 (2011). https://doi.org/10.1007/s11269-011-9860-8
Received:

Accepted:

Published:
Keywords
Water resources

Modeling

Dynamic systems