Abstract
Volatile substances and gases resulting e.g. from degradation processes of chemicals in soils emit into the atmosphere and no chemical mass balance is complete without considering this path. Closed soil chambers allow the evaluation of this transfer to the atmosphere. This study deals with the influence of soil chambers with a glass plate cover on physical soil conditions in the chambers and the possibility to simulate the exterior conditions within the chambers. The water content immediately at the soil surface is an important factor for the microbial activity and the transfer of gaseous compounds to the atmosphere as well. It is monitored by specially designed water content sensors in 1 cm depth in the chamber and as control outside. Funnels with a cross section equal to the soil surface area of the chamber collect the rain water and channel it into the soil chamber. This results in soil water content in the chambers very similar to that outside. For the purpose of analysing 14CO2 and volatile 14C-compounds, air is permanently pumped through the chamber. In order to simulate natural conditions, the wind speed is measured 1 cm above the soil surface outside the chambers. A control circuit adjusts the air flow through the chamber to a value corresponding to the wind speed outside. Temperature measurements in 1 cm depth verify that there is no significant difference between the soil chamber and the control outside.
This is a preview of subscription content, log in to check access.
Access options
Buy single article
Instant access to the full article PDF.
US$ 39.95
Price includes VAT for USA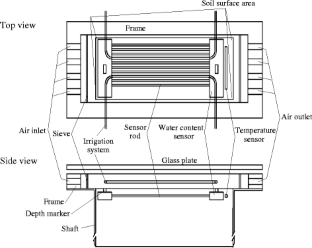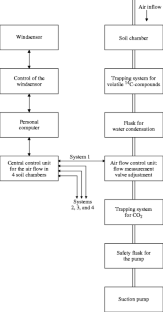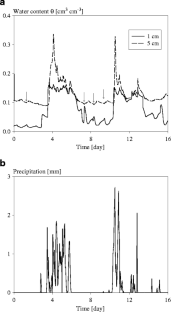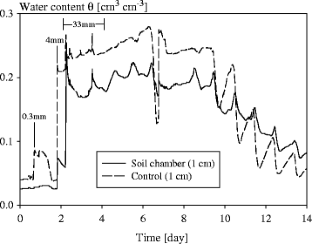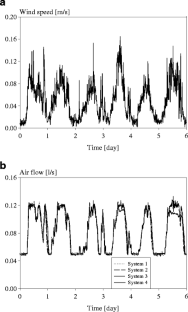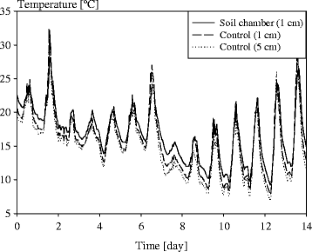 References
Cook, F. J., & Knight, J. H. (2003). Oxygen transport to plant roots: Modelling for physical understanding of soil aeration. Soil Science Society of America Journal, 67, 20–31.

Grundmann, S., Dörfler, U., Ruth, B., Munch, J. C., & Schroll, R. (2007). Mineralization and transfer processes of 14C-labeled pesticides in outdoor lysimeters. This issue.

Hawley, M. E., McCuen, R. H., & Jackson, T. J. (1982). Volume–accuracy relationship in soil moisture sampling. Journal of the Irrigation and Drainage Division, 108, 1–11.

Hills, R. C., & Reynolds, S. G. (1969). Illustrations of soil moisture variability in selected areas and plots of different sizes. Journal of Hydrology, 8, 27–47.

Jackson, R. D. (1973). Diurnal changes in soil water content during drying. In R. R. Bruce, K.W. Flach, & H. M. Taylor (Eds.) Field soil water regime (pp. 37–55). Madison, Wisconsin, U.S.A: Soil Science Society of America.

Ruth, B. (1999). A capacitance sensor with planar sensitivity for monitoring soil water content. Soil Science Society of America Journal, 63, 48–54.

Ruth, B., & Munch, J. C. (2005). Field measurements of the water content in the top soil using a new capacitance sensor with a flat sensitive volume. Soil Science Society of America Journal, 168, 169–175.

Schroll, R., Becker, H. H., Dörfler, U., Gayler, S., Grundmann, S., Hartmann, H. P., et al. (2006). Quantifying the effect of soil moisture on the aerobic microbial mineralization of selected pesticides in different soils. Environmental Science & Technology, 40, 3305–3312.

Schroll, R., & Kühn, S. (2004). Test system to establish mass balances for 14C-labelled substances in soil–plant–atmosphere systems under field conditions. Environmental Science & Technology, 38, 1537–1544.

Schroll, R., Langenbach, T., Cao, T., Doerfler, U., Schneider, P., & Scheunert, I. (1992). Fate of [14C] terbotylazine in soil–plant system. Science of the Total Environment, 123/124, 377–389.

Stolp, H. (1988). Microbial ecology: Organisms, habitats, activities. Cambridge: Cambridge University Press.

Tate, R. L. (2000). Soil microbiology. New York: Wiley.

Wind observer ultrasonic anemometer, user manual. Gill Instruments Ltd, 67 Gosport street, Lymington Hampshire SO41 9EG England.
About this article
Cite this article
Ruth, B., Grundmann, S. & Schroll, R. Simulation of Exterior Conditions in Permanently Closed Soil Chambers by Controlling Air Flow, Soil Water Content, and Temperature. Water Air Soil Pollut: Focus 8, 243–250 (2008). https://doi.org/10.1007/s11267-007-9162-6
Received:

Revised:

Accepted:

Published:

Issue Date:
Keywords
Soil chambers

Soil surface

Temperature

Top soil

Water content

Wind speed

Air flow

Lysimeter