Abstract
We describe the development of the fish community in the acidified and limed river Litleåna in southern Norway, and describe how chemical restoration, compensatory introductions of exotics, and accidental invasion of exotics interact to influence the population of the naturally occurring brown trout (Salmo trutta). The river Litleåna is a tributary to the river Kvina in Vest-Agder County, southern Norway. During the years 1996–2004, annual mean pH was 4.9–5.0 and 6.1–6.4 above and below the liming facility, which was installed in 1994. Originally, brown trout was the only fish species in the river, but brook trout (Salvelinus fontinalis) have been intentionally introduced, whereas European minnow (Phoxinus phoxinus) was introduced by accident. Fish densities were recorded by means of electrofishing annually over the ten year period 1995–2004. Although close to extinction before liming was initiated, brown trout fry densities increased from 1995 to 1999, with subsequent varying densities. There has been a simultaneous major increase in the occurrence and density of European minnow since 1997. Our results show that both brown trout and European minnow increase after liming. Minnow densities are negatively affected by low pH episodes in the river. The growth rates of brown trout fry are negatively correlated to minnow densities, indicating competition between the species. Brook trout densities have decreased since liming started, and during the brown trout recovery.
This is a preview of subscription content, log in to check access.
Access options
Buy single article
Instant access to the full article PDF.
US$ 39.95
Price includes VAT for USA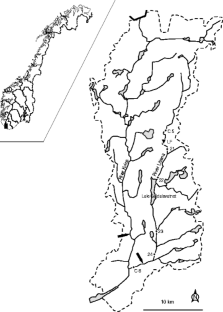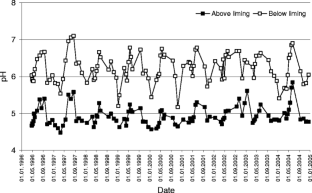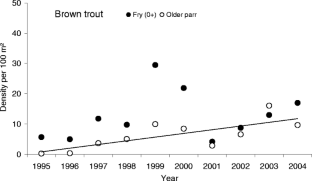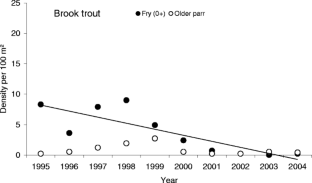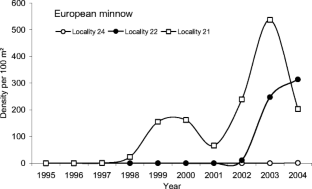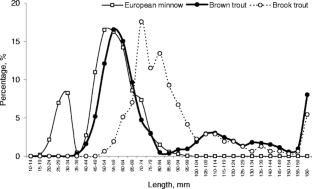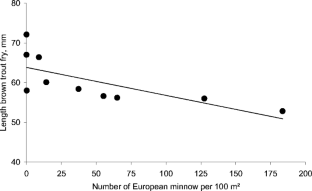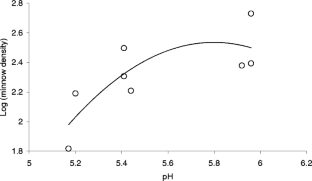 References
Almer, B. (1972). Försurningens inverkan på fiskbestånd i västkustsjöar (The impact of acidification on the fish stocks in Swedish west coast lakes). Information från Sötvattenslaboratoriet, Drottningholm 12–1972, 47 pp. (In Swedish).

Berger, H. M. (1999). Ørekyte (Phoxinus phoxinus) i Litleåna I Kvinavassdraget i Vest-Agder 1998 (Distribution of European minnow (Phoxinus phoxinus) in the River Litleåna (Kvina watershed) in the County of Vest-Agder, Southern Norway). NINA Oppdragsmelding 580, 29 pp. (In Norwegian with English summary).

Bohlin, T., Hamrin, S., Heggberget, T. G., Rasmussen, G., & Saltveit, S. J. (1989). Electrofishing-theory and practice with special emphasis on salmonids. Hydrobiologia, 173, 9–43.

Grande, M. (1982). Introduction and the present status of brook charr (Salvelinus fontinalis Mitchill) in Norway, EIFAC Symposium "Stock enhancement in the management of freshwater fisheries". Budapest.

Hesthagen, T., Hegge, O., & Skurdal, J. (1992). Food choice and vertical distribution of European minnow, Phoxinus phoxinus, and young native and stocked brown trout, Salmo trutta, in the littoral zone of a subalpine lake. Nordic Journal of Freshwater Research, 67, 72–76.

Hesthagen, T., & Sandlund, O. T. (1997). Endringer i utbredelse av ørekyte i Norge: årsaker og effekter (Changes in the distribution of European minnow, Phoxinus phoxinus, in Norway: causes and effects). NINA Fagrapport 13, 16 pp. (In Norwegian with English summary).

Hultberg, H. (1977). Thermally stratified acid water in late winter – a key factor inducing self-accellerating processes which increase acidification. Water, Air and Soil Pollution, 7, 279–294.

Kaste, Ø., & Skancke, L. B. (2004). Kvinavassdraget. 2. Vannkjemi' in direktoratet for naturforvaltning. Kalking i vann og vassdrag. Effektkontroll av større prosjekter 2003, DN-Notat 2004-2, pp. 103–104. (In Norwegian).

Kvinesdal kommune (1999). Vassdragsplan for Kvinavassdraget. Kvinesdal kommune, Report, no pagination. (In Norwegian).

Larsen, B. M., & Hesthagen, T. (2004). Laks i kalkede vassdrag i Norge. Status og forventninger (Atlantic salmon in limed Norwegian rivers. Present status and expectations). NINA Fagrapport 81, 25 pp. (In Norwegian with English summary).

Museth, J., Borgstrøm, R., Hame, T., & Holen, L. A. (2003). Predation by brown trout: a major mortality factor for sexually mature European minnows. Journal of Fish Biology, 62, 692–705.

Nyman, O. L. (1970). Ecological interactions of brown trout, Salmo trutta L., and brook trout, Salvelinus fontinalis (Mitchill) in a stream. Canadian Field Naturalist, 84, 343–350.

Sandlund, O. T., & Bongard, T. (2000). The freshwater environment. In: I. R. Weidema (Ed.), Introduced species in the Nordic countries. Nordisk ministerråd, København, NORD 2000, 13, 87–122.

Taugbøl, T., Hesthagen, T., Museth, J., Dervo, B., & Andersen, O. (2002). Effekter av ørekyteintroduksjoner og utfiskingstiltak-en vurdering av kunnskapsgrunnlaget (Effects of European minnow introductions and fish removal actions-an evaluation of existing knowledge). NINA Oppdragsmelding 753, 31 pp. (In Norwegian with English summary).

Zippin, C. (1958). The removal method of population estimation. Journal of Wildlife Management, 22, 82–90.
About this article
Cite this article
Larsen, B.M., Sandlund, O.T., Berger, H.M. et al. Invasives, Introductions and Acidification: The Dynamics of a Stressed River Fish Community. Water Air Soil Pollut: Focus 7, 285–291 (2007). https://doi.org/10.1007/s11267-006-9073-y
Keywords
brown trout

European minnow

brook trout

introduction

acidification

liming