Abstract
In this study, we constructed for the first time a full-length cDNA clone of pig-original bovine viral diarrhea virus 2 (BVDV-2) strain SH-28, modified the cDNA clone (pASH28) for mutant pASHΔNpro and derived virus strain vASHΔNpro by deleting the genomic region encoding the Npro polypeptide, and examined significance of protein Npro for antiviral responses in vitro. Data showed that Npro-deletion mutant virus vASHΔNpro led to significant overexpression of oligo adenylate synthetase (OAS), myxovirus-resistant protein 1 (Mx1), and ubiquitin-like protein 15 (ISG15). Data also revealed that overexpression of Npro, but not NS2 and NS3 proteins, resulted in significant down-regulation of OAS, Mx1, and ISG15 production (p ≤ 0.05) in bovine cells as well as porcine cells transfected with Npro recombinant eukaryotic expression plasmids. Npro (but not NS2 and NS3) was also found to inhibit poly(IC) from inducing production of type I interferon (IFN-I). These results indicated that protein Npro may play multiple roles in regulating antiviral response in host cells interfered by pig BVDV-2 strain, and provided useful information to understand better the mechanism of BVDV-2 persistent infection in pigs.
This is a preview of subscription content, log in to check access.
Access options
Buy single article
Instant access to the full article PDF.
US$ 39.95
Price includes VAT for USA
Subscribe to journal
Immediate online access to all issues from 2019. Subscription will auto renew annually.
US$ 99
This is the net price. Taxes to be calculated in checkout.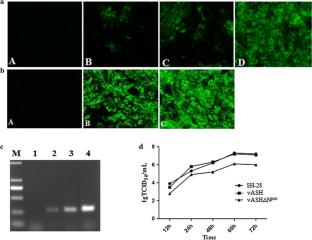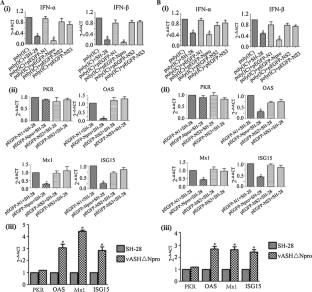 References
1.

T. O'Sullivan, R. Friendship, S. Carman, D.L. Pearl, B. McEwen, C. Dewey, Seroprevalence of bovine viral diarrhea virus neutralizing antibodies in finisher hogs in Ontario swine herds and targeted diagnostic testing og 2 suspect herds. Can Vet J 52, 1342–1344 (2011)

2.

R.D. Woods, R.A. Kunkle, J.F. Ridpath, S.R. Bolin, Bovine viral diarrhea virus isolated from fetal calf serum enhances pathogenicity of attenuated transmissible gastroenteritis virus in neonatal pigs. J Vet Diagn Invest 11, 400–407 (1999)

3.

C. Terpstra, G. Wensvoort, A congenital persistent infection of bovine viral diarrhea virus infections in pigs: clinical, virological and immunological observations. Vet Q 19, 97–101 (1997)

4.

B. Liess, V. Moenning, Ruminant pestivirus infection in pigs. Rev Sci Tech 9, 151–161 (1990)

5.

C. Terpstra, G. Wensvoort, Bovine viral diarrhea virus infections in swine. Tijdschr Diergeneeskd 116(19), 943–948 (1991)

6.

Y. Deng, C.Q. Sun, S.J. Cao, T. Lin, S.S. Yuan, H.B. Zhang, S.L. Zhai, L. Huang, T.L. Shan, H. Zheng, X.T. Wen, G.Z. Tong, High prevalence of bovine viral diarrhea virus 1 in Chinese swine herds. Vet Microbiol 159, 490–493 (2012)

7.

J. Tao, Y. Wang, J.Y. Wang, G.Q. Zhu, Identification and genetic characterization of new bovine viral diarrhea virus genotype 2 strains in pigs isolated in China. Virus Genes 46, 81–87 (2013)

8.

J. Tao, J.H. Liao, Y. Wang, X.J. Zhang, J.Y. Wang, G.Q. Zhu, Bovine viral diarrhea virus (BVDV) infections in pigs. Vet Microbiol 165, 185–189 (2013)

9.

B.A. Tews, E.M. Schürmann, G. Meyers, Mutation of cysteine 171 of pestivirus Erns Rnase prevents homodimer formation and leads to attenuation of classical swine fever virus. J Virol 83(10), 4823–4834 (2009)

10.

B.E. Alexel, D. Ivan, M.R.G. Irene, E.E. Sabine, H. Jesus, M. Enric, Predicted peptides from non-structural proteins of porcine reproductive and respiratory syndrome virus are able to induce IFN-gamma and IL-10. Viruses 5(2), 663–677 (2013)

11.

Y. Fang, L.R. Fang, Y. Wang, Y.Y. Lei, R. Luo, D. Wang, H.C. Chen, S.B. Xiao, Porcine reproductive and respiratory syndrome virus nonstructural protein 2 contributes to NF-kappaB activation. Virol J 9(1), 1–10 (2012)

12.

M. Jones, A. Davidson, L. Hibbert, P. Gurenwald, J. Schlaak, S. Ball, G.R. Foster, M. Jacobs, Dengue virus inhibits alpha interferon signaling by reducing STAT2 expression. J Virol 79(9), 5414–5420 (2005)

13.

S. Miller, S. Sparacio, R. Bartenschlager, Subcellular localization and membrane topology of the dengue virus type 2 non-structural protein 4B. J Biol Chem 281(13), 8854–8863 (2006)

14.

G.W. Witherell, P. Beineke, Statistical analysis of combined substitutions in nonstructural 5A region of hepatitis C virus and interferon response. J Med Virol 63(1), 8–16 (2001)

15.

J.C. Boyer, A.L. Haenni, Infectious transcripts and cDNA clones of RNA viruses. Virology 198, 415–426 (1994)

16.

C. Meyer, M. Von Freyburg, K. Elbers, G. Meyers, Recovery of virulent and RNase-negative attenuated type 2 bovine viral diarrhea viruses from infectious cDNA clones. J Virol 76, 8494–8503 (2002)

17.

E. Mendez, N. Ruggli, M.S. Collett, C.M. Rice, Infectious bovine viral diarrhea virus (strain NADL) RNA from stable cDNA clones: a cellular insert determines NS3 production and viral cytopathogenicity. J Virol 72, 4737–4745 (1998)

18.

G.S. Park, S.I. Lim, S.H. Hong, J.Y. Song, Establishment and characterization of an infectious cDNA clone of a classical swine fever virus LOM strain. J Vet Sci 13, 81–91 (2012)

19.

D.D. LaBarre, R.J. Lowy, Improvements in methods for calculating virus titer estimates from TCID50 and plaque assays. J Virol Methods 96, 107–126 (2011)

20.

M.X. Zhou, Z.Y. Guo, Q.D. Duan, Q. Zhang, F.H. Yao, J. Zhu, X.J. Zhang, P.R. Hardwidge, G.Q. Zhu, Flagellin and F4 fimbriae have opposite effects on biofilm formation and quorum sensing in F4ac+ enterotoxigenic Escherichia coli. Vet Microbiol 168(1), 148–153 (2014)

21.

E.A. Carbrey, W.C. Stewart, J.I. Kresse, M.L. Snyder, Natural infection of pigs with bovine viral diarrhea virus and its differential diagnosis from hog cholera. J Am Vet Med Assoc 169, 1217–1219 (1976)

22.

R.J. Moormann, H.G. van Gennep, G.K. Miedema, M.M. Hulst, P.A. van Rijn, Infectious RNA transcribed from an engineered full-length cDNA template of the genome of a pestivirus. J Virol 70, 763–770 (1996)

23.

P. Sarnow, Role of 3′-end sequences in infectivity of poliovirus transcripts made in vitro. J Virol 63(1), 467–470 (1989)

24.

J.D. Tratschin, Classical swine fever virus leader proteinase Npro is not required for viral replication in cell culture. J Virol 72(9), 7681–7684 (1998)

25.

C.F. Basler, A. Garcia-Sastre, Viruses and the type I interferon antiviral system: induction and evasion. Int Rev Immunol 21(4–5), 305–337 (2002)

26.

S. Goodbourn, L. Didcock, R. Randall, Interferons: cell signalling, immune modulation, antiviral response and virus countermeasures. J Gen Virol 81(10), 2341–2364 (2000)

27.

F. Weber, G. Kochs, O. Haller, Inverse interference: how viruses fight the interferon system. Viral Immunol 17(4), 498–515 (2004)

28.

Y. Zhao, D. Pang, T. Wang, X. Yang, R. Wu, L. Ren, T. Yuan, Y. Huang, H. Quyang, Human MxA protein inhibits the replication of classical swine fever virus. Virus Res 156(1), 151–155 (2011)

29.

J. Tao, J.H. Liao, Q. Zhang, X.J. Zhang, G.Q. Zhu, ISG15 protein promote the inhibition of the IFN-I expression induced by bovine viral diarrhea virus type 2 isolated from pig. Chin J Prev Vet Medi. 37(9), 716–720 (2015)
Acknowledgements
The authors thank Dr. Leonard Bello (Pennsylvania University) for providing MDBK cells, MAbs D89, and Bz-53; Dr. Gregor Meyers (Federal Research Centre for Virus Diseases of Animals) for critical technical guidance; and Dr. Weiping Zhang (Kansas State University) for assistance in manuscript editing. This work was supported by Grant No. 2016YFD0500900 from the National Key Research and Development Program of China, the Priority Academic Program of Development Jiangsu High Education Institution, 948 program from Ministry of Agriculture of the People's Republic of China (Grant No. 2011-G24), Grant No. BE2014358 from the Science and Technology Department of Jiangsu province, Grant No. 14KJA230001 from the Jiangsu High Education Basic Research, the Jiangsu Graduate Student Innovation Research Project (Grant No. CXLX12_0936), the Shanghai Sailing Program (15YF1410300), and the Shanghai Agricultural Commission key project (No. 2016-1-35).
Additional information
Edited by Keizo Tomonaga.
About this article
Cite this article
Tao, J., Liao, J., Wang, J. et al. Pig BVDV-2 non-structural protein (Npro) links to cellular antiviral response in vitro. Virus Genes 53, 233–239 (2017). https://doi.org/10.1007/s11262-016-1410-2
Received:

Accepted:

Published:

Issue Date:
Keywords
Pig

BVDV-2

Infectious cDNA clone

Non-structural protein

Antiviral response