Abstract
Infectious pancreatic necrosis (IPN) is a significant disease of farmed salmonids resulting in direct economic losses due to high mortality in China. However, no gene sequence of any Chinese infectious pancreatic necrosis virus (IPNV) isolates was available. In the study, moribund rainbow trout fry samples were collected during an outbreak of IPN in Yunnan province of southwest China in 2013. An IPNV was isolated and tentatively named ChRtm213. We determined the full genome sequence of the IPNV ChRtm213 and compared it with previously identified IPNV sequences worldwide. The sequences of different structural and non-structural protein genes were compared to those of other aquatic birnaviruses sequenced to date. The results indicated that the complete genome sequence of ChRtm213 strain contains a segment A (3099 nucleotides) coding a polyprotein VP2–VP4–VP3, and a segment B (2789 nucleotides) coding a RNA-dependent RNA polymerase VP1. The phylogenetic analyses showed that ChRtm213 strain fell within genogroup 1, serotype A9 (Jasper), having similarities of 96.3% (segment A) and 97.3% (segment B) with the IPNV strain AM98 from Japan. The results suggest that the Chinese IPNV isolate has relative closer relationship with Japanese IPNV strains. The sequence of ChRtm213 was the first gene sequence of IPNV isolates in China. This study provided a robust reference for diagnosis and/or control of IPNV prevalent in China.
This is a preview of subscription content, log in to check access.
Access options
Buy single article
Instant access to the full article PDF.
US$ 39.95
Price includes VAT for USA
Subscribe to journal
Immediate online access to all issues from 2019. Subscription will auto renew annually.
US$ 99
This is the net price. Taxes to be calculated in checkout.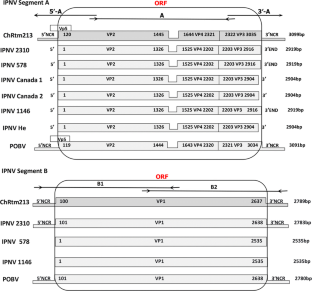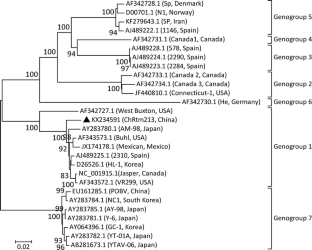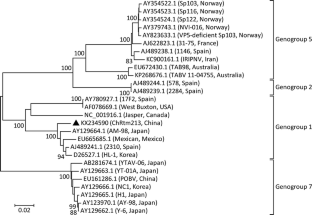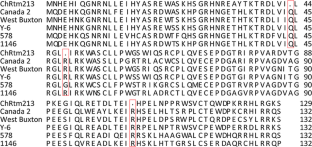 References
1.

S. Blake, J.Y. Ma, D.A. Caporale, S. Jairath, B.L. Nicholson, Dis. Aquat. Org. 45, 89 (2001)

2.

K. Wolf, Fish Viruses and Fish Viral Diseases (Cornell University Press, Ithaca, 1988)

3.

E.M. Wood, S.F. Snieszko, W.T. Yasutake, A.M.A. Arch. Pathol. 60, 26 (1955)

4.

K. Wolf, S.F. Snieszko, C.E. Dunbar, E. Pyle, Proceedings of the Society for Experimental Biology and Medicine (Society for Experimental Biology and Medicine, New York, 1960), pp. 105–108

5.

P. Besse, K. De, Bull De Lacadémie Vétérinaire De France 38, 185 (1965)

6.

P.V.R. Jørgensen, F. Bregnballe, Nord. Vet. Med. 21, 142 (1969)

7.

H.J. Ball, A.L. Munro, A. Ellis, K.G. Elson, W. Hodgkiss, I.S. McFarlane, Nature 234, 417 (1971)

8.

T. Hastein, J. Krogsrud, Acta Vet. Scand. 17, 109 (1976)

9.

B. Hill, K. Way, Annu. Rev. Fish. Dis. 5, 55–77 (1995)

10.

Y. Jiang, B. Xu, W. Li, Z. Li, Acta Hydrobiol. Sin. 4, 353 (1989)

11.

L. Niu, Z. Zhao, J. Fish China 12, 327 (1988)

12.

X. Hu, W. Li, H. Zhao, B. Wu, China Anim. Healte Insp. 29, 27 (2012)

13.

Y. Sun, W. Chen, D.Xia and G. Liu, Enter and Exit Animal and Plant Quarantine China, 32 (1995)

14.

N.M. Ruane, S.J. McCleary, L.J. McCarthy, K. Henshilwood, Arch. Virol. 160, 817 (2015)

15.

R. Duncan, E. Nagy, P.J. Krell, P. Dobos, J. Virol. 61, 3655 (1987)

16.

I. Romero-Brey, W.N. Batts, I. Bandin, J.R. Winton, C.P. Dopazo, Dis. Aquat. Org. 61, 1 (2004)

17.

M.T. Huang, D.S. Manning, M. Warner, E.B. Stephens, J.C. Leong, J. Virol. 60, 1002 (1986)

18.

A. Hjalmarsson, E. Carlemalm, E. Everitt, J. Virol. 73, 3484 (1999)

19.

J.C. Espinoza, A. Hjalmarsson, E. Everitt, J. Kuznar, Arch. Virol. 145, 739 (2000)

20.

M. Barrera-Mejia, J. Simon-Martinez, R. Ulloa-Arvizu, C. Salgado-Miranda, E. Soriano-Vargas, Can. J. Vet. Res. 74, 218 (2010)

21.

B. Hill, K. Way, Annu. Rev. Fish Dis. 5, 55 (1995)

22.

N. Bain, A. Gregory, R.S. Raynard, J. Fish Dis. 31, 37 (2008)

23.

M. Dadar, R. Peyghan, H.R. Memari, M.R.S.A. Shapouri, R. Hasanzadeh, L.M. Goudarzi, V.N. Vakharia, Virus Genes 47, 574 (2013)

24.

T. Isshiki, T. Nagano, S. Suzuki, Dis. Aquat. Org. 46, 109 (2001)

25.

S.J. Jung, S.R. Kim, I.Y. Joung, S. Kitamura, H.T. Ceong, M.J. Oh, J. Microbiol. 46, 265 (2008)

26.

C.X. Zhang, S. Suzuki, J. Fish Dis. 27, 633 (2004)

27.

L. Min, Z. Li-Li, G. Jun-Wei, Q. Xin-Yuan, L. Yi-Jing, L. Di-Qiu, Fish Shellfish Immunol. 32, 196 (2012)

28.

Z. Zhao, F. Ke, Z. Li, J. Gui, Q. Zhang, Arch. Virol. 153, 1143 (2008)

29.

M.A. Frohman, M.K. Dush, G.R. Martin, Proc. Natl. Acad. Sci. U.S.A. 85, 8998 (1988)

30.

D.J. Park, Biotechniques 36(586), 590 (2004)

31.

D.J. Park, Mol. Biotechnol. 29, 39 (2005)

32.

Y. Kun, N.V. Vikram, J. Virol. 72, 8913 (1998)

33.

K. Tamura, D. Peterson, N. Peterson, G. Stecher, M. Nei, S. Kumar, Mol. Biol. Evol. 28, 2731 (2011)

34.

D. Tapia, Y. Eissler, P. Torres, E. Jorquera, J.C. Espinoza, J. Kuznar, Dis. Aquat. Org. 116, 173 (2015)

35.

N. Saitou, M. Nei, Mol. Biol. Evol. 4, 406 (1987)

36.

K. Tamura, M. Nei, S. Kumar, Proc. Natl. Acad. Sci. U.S.A. 101, 11030 (2004)

37.

S. Kumar, K. Tamura, I.B. Jakobsen, M. Nei, Bioinformatics 17, 1244 (2001)

38.

S.Tong, F.M.Hetrick, Mar. Sci. Bull. 8 (1989)

39.

J.M. Cutrin, J.L. Barja, B.L. Nicholson, I. Bandin, S. Blake, C.P. Dopazo, Appl. Environ. Microbiol. 70, 1059 (2004)

40.

L. Xu, J. Zhao, M. Liu, Y. Cao, J. Yin, H. Liu, T. Lu, J. Virol. Methods 237, 204 (2016)

41.

N. Santi, A. Sandtrø, H. Sindre, H. Song, J. Hong, B. Thu, J. Wu, V.N. Vakharia, Ø. Evensen, Virology 342, 13 (2005)

42.

G. Magyar, P. Dobos, Virology 198, 437 (1994)

43.

G. Magyar, P. Dobos, Virology 204, 580 (1994)

44.

N. Santi, H. Song, V.N. Vakharia, O. Evensen, J. Virol. 79, 9206 (2005)

45.

S. Weber, D. Fichtner, T.C. Mettenleiter, E. Mundt, J. Gen. Virol. 82, 805 (2001)
Acknowledgements
This study was supported by Grants from the Heilongjiang Province Research and Development of Applied Technology (GA13B401), the sub-project of National 12th 5-year Support Key Projects (2012BAD25B02), the Natural Science Foundation of Heilongjiang Province (C201462), and the Central-Level Non-profit Scientific Research Institutes Special Funds (HSY201514).
Author contributions
FJI conducted IPNV complete genome cloning and wrote the manuscript; JZ & ML identified and separated the IPNV ChRtm213 strain; TL & HL collected the diseased tissue samples of rainbow trout; JY & LMX designed the study and were responsible for the whole organization of the manuscript.
Ethics declarations
Conflict of interest
All authors declare that no conflicts of interest exist.
Human and animal rights
This article does not contain any studies with human participants or animals performed by any of the authors.
Additional information
Jiasheng Yin and Li-Ming Xu are the co-corresponding authors and contributed equally to the study.
Edited by Juergen A Richt.
About this article
Cite this article
Ji, F., Zhao, J., Liu, M. et al. Complete genomic sequence of an infectious pancreatic necrosis virus isolated from rainbow trout (Oncorhynchus mykiss) in China. Virus Genes 53, 215–225 (2017). https://doi.org/10.1007/s11262-016-1408-9
Received:

Accepted:

Published:

Issue Date:
Keywords
Aquatic birnaviruses

Genogroups

Infectious pancreatic necrosis virus ChRtm213

Molecular characterization

Phylogeny

Rainbow trout