Abstract
Batai virus (BATV) belongs to the genus Orthobunyavirus of the family Bunyaviridae. It has been isolated from mosquitos, pigs, cattle, and humans throughout Africa, Asia, and Europe, and causes clinical signs in domestic animals and humans. Here, we report the isolation of BATV from a domestic duck flock. Genome sequence analysis revealed clustering of this isolate in the Africa–Asia lineage. The virus replicated in mosquitos and vertebrate host cells, showing different phenotypic characteristics, and showed the potential to infect mice. This is the first report of BATV in domestic birds and indicates the wide circulation of BATV in China.
This is a preview of subscription content, log in to check access.
Access options
Buy single article
Instant access to the full article PDF.
US$ 39.95
Price includes VAT for USA
Subscribe to journal
Immediate online access to all issues from 2019. Subscription will auto renew annually.
US$ 99
This is the net price. Taxes to be calculated in checkout.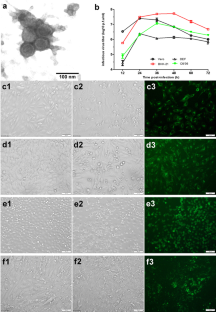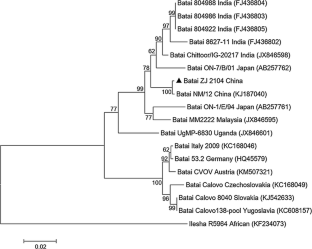 References
1.

N. Karabatsos, International catalogue of Arboviruses, including certain other viruses of vertebrates and the 1986–1995 Supplements to the International Catalogue, 3rd edn. (American Society of Tropical Medicine and Hygiene, San Antonio, 1985), pp. 372–440

2.

Z. Hubalek, Parasitol. Res. 103, S29–S43 (2008)

3.

G. Geevarghese, N.Y. Prasanna, P.G. Jacob, H.R. Bhat, Acta Virol. 38, 239–240 (1994)

4.

T. Yanase, T. Kato, M. Yamakawa, K. Takayoshi, K. Nakamura, T. Kokuba, T. Tsuda, Arch. Virol. 151, 2253–2260 (2006)

5.

H. Liu, X.Q. Shao, B. Hu, J.J. Zhao, L. Zhang, H.L. Zhang, X. Bai, R.X. Zhang, D.Y. Niu, Y.G. Sun, X.J. Yan, Virol. J. 11, 138 (2014)

6.

R.M. Elliott, Mol. Med. 3, 572–577 (1997)

7.

Z. Hubálek, I. Rudolf, N. Nowotny, Adv. Virus Res. 89, 201–275 (2014)

8.

S. Tao, H. Zhang, D. Yang, H. Wang, Q. Liu, Y. Zhang, W. Yang, Y. Zhang, Y. Cao, L. Xu, Y. He, B. Chen, Zhonghua Shi Yan He Lin Chuang Bing Du Xue Za Zhi 17, 322–326 (2003) (In Chinese)

9.

F. Wang, Z. Lv, J. Wang, S. Fu, H. Zhang, Z. Wang, G. Liang, Bing Du Xue Bao 25, 83–87 (2009). (In Chinese)

10.

W. Huang, H. Zhang, Z. Hou, Z. Mi, D. Zi, Endemic dis. Bull. 16, 29–30 (2001). (In Chinese)

11.

Q. Liu, G. Zhang, Y. Huang, G. Ren, L. Chen, J. Gao, D. Zhang, B. Han, W. Su, J. Zhao, X. Hu, J. Su, Vet. Microbiol. 148, 200–206 (2011)

12.

J. Su, S. Li, X. Hu, X. Yu, Y. Wang, P. Liu, X. Lu, G. Zhang, X. Hu, D. Liu, X. Li, W. Su, H. Lu, N.S. Mok, P. Wang, M. Wang, K. Tian, G.F. Gao, PLoS One 6, e18106 (2011)

13.

D.E. Swayne, J.R. Glisson, M.W. Jackwood, J.E. Pearson, W.M. Reed, A Laboratory Manual for the Isolation and Identification of Avian Pathogens, 4th edn. (IBDC, Uttar Pradesh, 1998), p. 245

14.

A. Kessell, A. Hyatt, D. Lehmann, S. Shan, S. Crameri, C. Holmes, G. Marsh, C. Williams, M. Tachedjian, M. Yu, J. Bingham, J. Payne, S. Lowther, J. Wang, L.F. Wang, I. Smith, Emerg. Infect. Dis. 18, 2044–2046 (2012)

15.

A. Groseth, K. Matsuno, E. Dahlstrom, S.L. Anzick, S.F. Porcella, H. Ebihara, J. Virol. 86, 13844–13845 (2012)

16

S. Li, X. Li, L. Zhang, Y. Wang, X. Yu, K. Tian, W. Su, B. Han, J. Su, Virol. J. 10, 260 (2013)

17

T.J. Hart, A. Kohl, R.M. Elliot, Zoonoses Public Health 56, 285–296 (2009)

18

J.E. Osorio, M.S. Godsey, G.R. Defoliart, T.M. Yuill, Am. J. Trop. Med. Hyg. 54, 338–342 (1996)

19

Z.G. Homonnay, E.W. Kovács, K. Bányai, M. Albert, E. Fehér, T. Mató, T. Tatár-Kis, V. Palya, Avian Pathol. 43, 552–560 (2014)
Acknowledgments
This work was funded by the National Nature Science Foundation of China (NSFC Grant No. 31372461).
Authors contribution
JS conceived this study and participated in its design, the experimental trials, data analysis, and writing the manuscript. LZ carried out virus isolation, genome sequencing, cell infection test, and the animal experiments as well as drafted the manuscript. QZ conducted virus isolation and identification and animal infection experiments. NA provided the mouse antibody against BATV and carried out IFA. YC, JW, GF, and YH conducted experiment and sample collection. XH provided assistance with histological slide preparation. All of the authors read and approved the final manuscript.
Ethics declarations
Conflict of interest
The authors declare that they have no conflict of interest.
Ethics statement
All of the animal experiments were conducted in accordance with the guidelines of the Review of Welfare and Ethics of Laboratory Animals, approved by the Beijing Municipality Administration Office of Laboratory Animals.
Research involving human participants
This article does not contain any studies with human participants performed by any of the authors.
Additional information
Edited by William Dundon.
Electronic supplementary material
Below is the link to the electronic supplementary material.
About this article
Cite this article
Zhang, L., Zhang, Q., Wang, J. et al. Characterization of Batai virus isolated from a domestic Muscovy duck (Cairina moschate). Virus Genes 53, 121–125 (2017). https://doi.org/10.1007/s11262-016-1400-4
Received:

Accepted:

Published:

Issue Date:
Keywords
Batai virus

Muscovy duck

Genetic characterization

Cytopathic effect