Abstract
In this study, a total of 187 stool specimens were collected from a pig farm in Hunan province of China, from November 2011 to June 2012. 39 (20.9 %) stool specimens were positive for picobirnaviruses using reverse transcription-polymerase chain reaction. Among 39 stool specimens, 84.6 % (33/39) were identified to be genogroup I (prototype 1-CHN-97), 38.5 % (15/39) belonged to genogroup II (prototype 4-GA-91), and 23.1 % (9/39) of which showed the evidence of genogroup I picobirnavirus were also positive for genogroup II picobirnaviruses. Picobirnaviruses exist in pigs which were divided into five groups according to the age and physiological status. Nineteen representative strains of genogroup I picobirnaviruses and eleven strains of genogroup II picobirnaviruses detected in this study were selected to analyze their phylogenetic relationships with other picobirnaviruses reference strains. The phylogenetic tree analysis suggested the prevalence of multiple picobirnaviruses in pigs in China.
This is a preview of subscription content, log in to check access.
Access options
Buy single article
Instant access to the full article PDF.
US$ 39.95
Price includes VAT for USA
Subscribe to journal
Immediate online access to all issues from 2019. Subscription will auto renew annually.
US$ 99
This is the net price. Taxes to be calculated in checkout.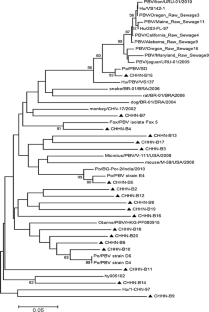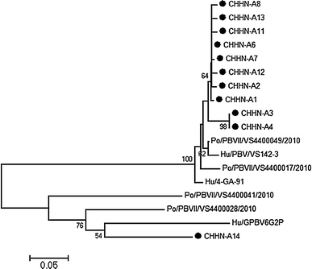 References
1.

H.G. Pereira, A.M. Fialho, T.H. Flewett, J.M.S. Teixeira, Z.P. Andrade, Lancet 2, 103–104 (1988)

2.

H.G. Pereira, T.H. Flewett, J.A.N. Candeias, O.M. Barth, J. Gen. Virol. 69, 2749–2754 (1988)

3.

M.C. Fregolente, E. de Castro-Dias, S.S. Martins, F.R. Spilki, S.M. Allegretti, M.S. Gatti, Virus Res. 143, 134–136 (2009)

4.

I.R. Haga, S.S. Martins, S.T. Hosomi, F. Vicentini, H. Tanaka, M.S.V. Gatti, Vet. J. 158, 234–236 (1999)

5.

J.E. Ludert, L. Abdul-Latiff, A. Liprandi, F. Liprandi, Res. Vet. Sci. 59, 222–225 (1995)

6.

J.E. Luder, M.F. Hidalgo, F. Gil, F. Liprandi, Arch. Virol. 117, 97–107 (1991)

7.

E. Vanopdenbosch, G. Wellemans, Vlaams Diergen Tijds 59, 137–140 (1990)

8.

Y. Wang, X. Tu, C. Humphrey, H. McClure, X. Jiang, C. Qin, R.I. Glass, B. Jiang, J. Med. Primatol. 36, 101–107 (2007)

9.

L.C. Martinez, G. Masachessi, G. Carruyo, L.J. Ferreyra, P.A. Barril, M.B. Isa, M.O. Giordano, J.E. Ludert, S.V. Nates, Infect. Genet. Evol. 10, 984–988 (2010)

10.

C.C. Wang, D.L. Lan, X.G. Hua, Virus Genes 43(3), 350–352 (2011)

11.

B.I. Rosen, Z.Y. Fang, R.I. Glass, S.S. Monroe, Virology 277, 316–329 (2000)

12.

K.F. Banyai, G. Jakab, J. Reuter, M. Bene, B. Uj, G. Melegh Szucs, Arch. Virol. 148, 2281–2291 (2003)

13.

S.V. Nates, M.S.V. Gatti, J.E. Ludert, Future Virol. 6(2), 223–235 (2011)

14.

M. Gabriela, G.M. Carruyo, C. Laura, Martı′nez et al., J. Clin. Microbiol. 46(7), 2402–2405 (2008)

15.

C.I. Gallimore, H. Appleton, D. Lewis, J. Green, D.W. Brown, J. Med. Virol. 45, 135–140 (1995)

16.

R. Bhattacharya, C. Ganesh, M.K. Sahoo, Infection. Genet. Evol. 7, 229–238 (2007)

17.

S.L. Smits, L.L. Poon, M. van Leeuwen, et al., Emerg. Infect. Dis. 17(12), 2328–2330 (2011)

18.

S.L. Smits, M. van Leeuwen, C.M. Schapendonk, et al., Emerg. Infect. Dis. 18(9), 1539–1540 (2012)
Acknowledgments
Many thanks to B. Zhang of Hunan University of Science and Engineering for his helping to collect the fecal samples.
About this article
Cite this article
Chen, M., Sun, H., Lan, D. et al. Molecular detection of genogroup I and II picobirnaviruses in pigs in China. Virus Genes 48, 553–556 (2014). https://doi.org/10.1007/s11262-014-1058-8
Received:

Accepted:

Published:

Issue Date:
Keywords
Molecular detection

Picobirnavirus

Pig

China