Abstract
Metagenomic characterization of water virome was performed in four Mississippi catfish ponds. Although differing considerably from African swine fever virus (ASFV), 48 of 446,100 sequences from 12 samples were similar enough to indicate that they represent new members in the family Asfarviridae. At present, ASFV is the only member of Asfarviridae, and this study presents the first indication of a similar virus in North America. At this point, there is no indication that the identified virus(es) pose a threat to human or animal health, and further study is needed to characterize their potential risks to both public health and agricultural development.
This is a preview of subscription content, log in to check access.
Access options
Buy single article
Instant access to the full article PDF.
US$ 39.95
Price includes VAT for USA
Subscribe to journal
Immediate online access to all issues from 2019. Subscription will auto renew annually.
US$ 99
This is the net price. Taxes to be calculated in checkout.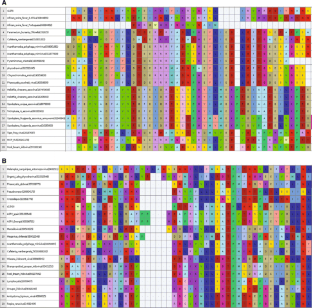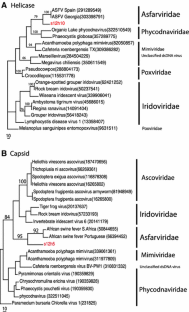 References
1.

A. Djikeng, R. Kuzmickas, N.G. Anderson, D.J. Spiro, Metagenomic analysis of RNA viruses in a fresh water lake. PLoS ONE 4, e7264 (2009)

2.

T.J. Inglis, S.C. Garrow, M. Henderson, A. Clair, J. Sampson, L. O'Reilly, B. Cameron, Burkholderia pseudomallei traced to water treatment plant in Australia. Emerg. Infect. Dis. 6, 56–59 (2000)

3.

J.E. Kaplan, R.A. Goodman, L.B. Schonberger, E.C. Lippy, G.W. Gary, Gastroenteritis due to Norwalk virus: an outbreak associated with a municipal water system. J. Infect. Dis. 146, 190–197 (1982)

4.

H. Leclerc, L. Schwartzbrod, E. Dei-Cas, Microbial agents associated with waterborne diseases. Crit. Rev. Microbiol. 28, 371–409 (2002)

5.

W.J. Lodder, H.H. van den Berg, S.A. Rutjes, A.M. de Roda Husman, Presence of enteric viruses in source waters for drinking water production in the Netherlands. Appl. Environ. Microbiol. 76, 5965–5971 (2010)

6.

J. Loh, G. Zhao, R.M. Presti, L.R. Holtz, S.R. Finkbeiner, L. Droit, Z. Villasana, C. Todd, J.M. Pipas, B. Calgua, R. Girones, D. Wang, H.W. Virgin, Detection of novel sequences related to African swine fever virus in human serum and sewage. J. Virol. 83, 13019–13025 (2009)

7.

W.R. MacKenzie, J.J. Kazmierczak, J.P. Davis, An outbreak of cryptosporidiosis associated with a resort swimming pool. Epidemiol. Infect. 115, 545–553 (1995)

8.

K.D. Mena, C.P. Gerba, Waterborne adenovirus. Rev. Environ. Contam. Toxicol. 198, 133–167 (2009)

9.

A. Monier, J.M. Claverie, H. Ogata, Taxonomic distribution of large DNA viruses in the sea. Genome Biol. 9, R106 (2008)

10.

H. Ogata, K. Toyoda, Y. Tomaru, N. Nakayama, Y. Shirai, J.M. Claverie, K. Nagasaki, Remarkable sequence similarity between the dinoflagellate-infecting marine girus and the terrestrial pathogen African swine fever virus. Virol. J. 6, 178 (2009)

11.

P. Payment, M. Trudel, S.A. Sattar, V.S. Springthorpe, T.P. Subrahmanyan, B.E. Gregory, A.H. Vajdic, P. Blaskovic, I.J. Guglielmi, O. Kudrewko, Virological examination of drinking water: a Canadian collaborative study. Can. J. Microbiol. 30, 105–112 (1984)

12.

A.L. Polaczyk, J. Narayanan, T.L. Cromeans, D. Hahn, J.M. Roberts, J.E. Amburgey, V.R. Hill, Ultrafiltration-based techniques for rapid and simultaneous concentration of multiple microbe classes from 100-L tap water samples. J. Microbiol. Methods 73, 92–99 (2008)

13.

M. Punta, P.C. Coggill, R.Y. Eberhardt, J. Mistry, J. Tate, C. Boursnell, N. Pang, K. Forslund, G. Ceric, J. Clements, A. Heger, L. Holm, E.L. Sonnhammer, S.R. Eddy, A. Bateman, R.D. Finn, The Pfam protein families database. Nucleic Acids Res. 40, D290–D301 (2012)

14.

C.S. Tucker, The ecology of channel catfish culture ponds in Northwest Mississippi. Rev. Fish. Sci. 4, 1–55 (1996)

15.

R.L. Vogt, H.E. Sours, T. Barrett, R.A. Feldman, R.J. Dickinson, L. Witherell, Campylobacter enteritis associated with contaminated water. Ann. Intern. Med. 96, 292–296 (1982)

16.

N.L. Yozwiak, P. Skewes-Cox, M.D. Stenglein, A. Balmaseda, E. Harris, J.L. DeRisi, Virus identification in unknown tropical febrile illness cases using deep sequencing. PLoS Negl. Trop. Dis. 6, e1485 (2012)
Acknowledgments
We thank Mary Duke and Dr. Brian Scheffler at USDA-ARS, Mid-South Area Genomics Laboratory, Stoneville, MS for genomic sequencing. This Project was supported by USDA APHIS NWRC Award 1174280807CA 12030306 and NIH RC1AI086830 to XFW.
About this article
Cite this article
Wan, X., Barnett, J.L., Cunningham, F. et al. Detection of African swine fever virus-like sequences in ponds in the Mississippi Delta through metagenomic sequencing. Virus Genes 46, 441–446 (2013). https://doi.org/10.1007/s11262-013-0878-2
Received:

Accepted:

Published:

Issue Date:
Keywords
African swine fever virus

Catfish pond

Freshwater

Metagenomics

Mississippi Delta

Asfarviridae