Abstract
Two hundred forty potato samples with one or more symptoms of leaf mosaic, distortion, mottling and yellowing were collected between 2005 and 2008 from seven Iranian provinces. Forty-four of these samples tested positive with double-antibody sandwich enzyme-linked immunosorbent assays (DAS-ELISA) using a Potato virus S (PVS) polyclonal antibody. Of these 12 isolates of PVS were selected based on the geographical location for biological and molecular characterization. The full coat protein (CP) and 11K genes from 12 PVS isolates were PCR amplified, cloned and sequenced. All 12 PVS isolates showed mosaic symptoms on Nicotiana debneyii and N. tabacum cv. Whiteburly and local lesion on Chenopodium amaranticolor, C. quinoa and C. album. The Iranian isolates share between 93 and 100% pairwise nucleotide identity with other PVSO isolates. Based on maximum likelihood phylogenetic analysis coupled with pairwise identity analysis, we propose 15 genotypes for the PVSO strain and 3 genotypes for the PVSA strain.
This is a preview of subscription content, log in to check access.
Access options
Buy single article
Instant access to the full article PDF.
US$ 39.95
Price includes VAT for USA
Subscribe to journal
Immediate online access to all issues from 2019. Subscription will auto renew annually.
US$ 99
This is the net price. Taxes to be calculated in checkout.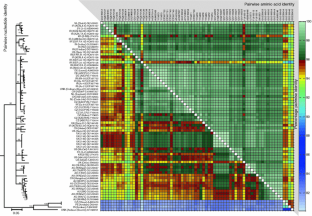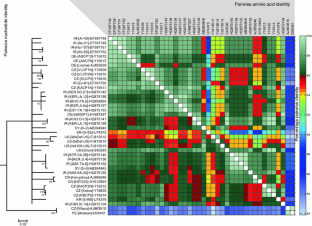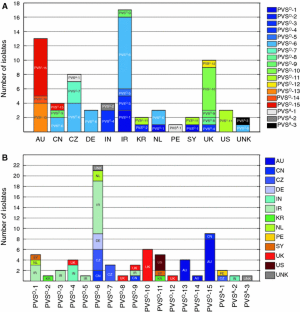 References
1.

M.J. Adams, J.F. Antoniw, M. Bar-Josepha, A.A. Brunt, T. Candresse, G.D. Foster, Arch. Virol. 149, 1045–1060 (2004)

2.

N. Cerovska, M. Filigarova, Ann. Appl. Biol. 127, 87–93 (1995)

3.

M. Chikh Ali, T. Maoka, K.T. Natsuaki, Potato Res. 51, 151–161 (2008)

4.

M.F. Clark, A.N. Adams, J. Gen. Virol. 34, 475–483 (1977)

5.

B.A. Cox, R.A.C. Jones, Arch. Virol. 155, 1163–1169 (2010)

6.

D. Danesh, S. Soleimanian, F. Filsour, M. Dehghan, J. Iranian, Plant Pathol. 28, 1–9 (1992)

7.

FAO. Statistical Databases: Agricultural data. http://faostat.fao.org (2009)

8.

C.M. Fauquet, M.A. Mayo, J. Maniloff, U. Desselberger, L.A. Ball, Eight Report of the International Committee on Taxonomy of Viruses (Elsevier, London, 2005)

9.

G.D. Foster, Res. Virol. 142, 413–416 (1991)

10.

G.D. Foster, Res. Virol. 143, 103–112 (1992)

11.

G.D. Foster, P.R. Mills, Virus Genes 6, 213–220 (1992)

12.

R.S.S. Fraser, Biochemistry of Virus-Infected Plants (Wiley, New York, 1987)

13.

S. Guindon, O. Gascuel, Syst. Biol. 52, 696–704 (2003)

14.

R.A.C. Jones, Plant Pathol. 30, 225–232 (1981)

15.

R. Kalendal, Fast PCR primer design and report sequence searching program with additional tools for the manipulation and analysis of DNA and protein. http://www.Biocenter.helsinki.fi/bi/programs/fastPCR.html (2005)

16.

R. Khakvar, R. Pourrahim, M. Shamsbakhsh, in Proceedings of the 14th Iranian Plant Protection Congress, Isfahan, Iran, 2000, p. 312

17.

Y.H. Lin, K.L. Druffel, J. Whitworth, M.J. Pavek, R. Pappu Hanu, Arch. Virol. 154, 1861–1863 (2009)

18.

D.J. Mackenzie, J.H. Tremaine, R. Stace-smith, J. Gen. Virol. 70, 1053–1063 (1989)

19.

D.P. Martin, P. Lemey, M. Lott, V. Moulton, D. Posada, P. Lefeuvre, Bioinformatics 26, 2462–2463 (2010)

20.

J. Matousek, J. Schubert, P. Dedic, J. Ptacek, Can. J. Plant Pathol. 22, 22–29 (2000)

21.

J. Matousek, J. Schubert, J. Ptacek, P. Kozlova, P. Dedic, Acta Virol. 49, 109–205 (2005)

22.

J. Moins, S. Deniels, G.A. de Zoeten, S.A. Slack, Phytopathology 80, 17–20 (1990)

23.

I.M. Moreno, J.M. Malpica, J.A. Diaz-Pendon, E. Moriones, A. Fraile, Virology 318, 451–460 (2004)

24.

G.H. Mossahebi, M. in Proceedings of the 1st Iranian Horticultural Congress, Iran, 1996, p. 79

25.

R. Pourrahim, Sh. Farzadfar, A.R. Golnaraghi, A. Ahoonmanesh, Plant Dis. 91, 609–615 (2007)

26.

H. Rohani, F. Taleb-Zadeh, in Proceedings of the 15th Plant Medical Congress, Tabriz, Iran, 1974, p. 64

27.

D.G. Rose, Potato Res. 26, 49–62 (1983)

28.

K.H. Salari, H. Massumi, M. Shabanian, J. Heydarnejad, A. Hosseini Pour, in Proceedings of the 16th Iranian Plant Protection Congress, Tehran, Iran, 2006, p. 320

29.

M. Sharifi, H. Massumi, J. Heydarnejad, A. Hosseini Pour, M. Shaabanian, H. Rahimian, Virus Genes 37, 304–313 (2008)

30.

S.A. Slack, Plant Dis. 67, 786–789 (1983)

31.

K. Tamura, J. Dudley, M. Nei, S. Kumar, MEGA4: Molecular Evolutionary Genetics Analysis (MEGA) software version 4.0. Mol. Biol. Evol. 24, 1596–1599 (2007)

32.

R. Turner, G.D. Foster, Arch. Virol. 142, 167–175 (1997)
Acknowledgment
This work was supported by a grant from Shahid Bahonar University of Kerman, Kerman, Iran.
Electronic supplementary material
Below is the link to the electronic supplementary material.
About this article
Cite this article
Salari, K., Massumi, H., Heydarnejad, J. et al. Analysis of Iranian Potato virus S isolates. Virus Genes 43, 281–288 (2011). https://doi.org/10.1007/s11262-011-0619-3
Received:

Accepted:

Published:

Issue Date:
Keywords
Potato virus S

PVS genotypes

Phylogenetic analysis

Iran