Abstract
The BamHI-C restriction fragment of ClanGV genome was cloned and sequenced. Sequence analysis indicated that this region contains five important baculovirus homologous genes (chitinase, cathepsin, gp37, p49 and odv-e18) and one ORF unique to ClanGV genome. The genes, located within this restriction fragment, were compared with homologues in other baculoviruses. Comparison results indicated that ClanGV, Cydia pomonella GV and Pieris rapae GV have similar arrangement and orientation of the homologous genes. The ORFs related to these five genes were analyzed.
This is a preview of subscription content, log in to check access.
Access options
Buy single article
Instant access to the full article PDF.
US$ 39.95
Price includes VAT for USA
Subscribe to journal
Immediate online access to all issues from 2019. Subscription will auto renew annually.
US$ 99
This is the net price. Taxes to be calculated in checkout.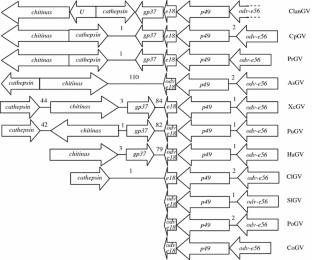 References
1.

X. Zhang, Z. Liang, H. Peng, Z. Zhang, X. Tang, T. Liu, Virus Res. 113, 36–43 (2005)

2.

D.R. O'Reilly, L.K. Miller, Nat. Biotechnol. 9, 1086–1089 (1991). doi:10.1038/nbt1191-1086

3.

R. Eldridge, D.R. O'Reilly, L.K. Miller, Biol. Control 2, 104–110 (1992). doi:10.1016/1049-9644(92)90033-A

4.

C.B. McCarthy, D.A. Theilmann, Virology 375, 277–291 (2008). doi:10.1016/j.virol.2008.01.039

5.

Y. Liu, J. Fang, H. Guo, Acta Entomol. Sin. 51, 430–436 (2008)

6.

H. Wang, D. Wu, F. Deng, H. Peng, X. Chen, H. Lauzon, B.M. Arif, J.A. Jehle, Z. Hu, Virus Res. 100, 179–189 (2004)

7.

R.E. Hawtin, K. Arnold, M.D. Ayres, P.M. Zanotto, S.C. Howard, G.W. Gooday, L.H. Chappell, P.A. Kitts, L.A. King, R.D. Possee, Virology 212, 673–685 (1995)

8.

J.M. Slack, J. Kuzio, P. Faulkner, J. Gen. Virol. 76, 1091–1098 (1995). doi:10.1099/0022-1317-76-5-1091

9.

W. Kang, M. Tristem, S. Maeda, N.E. Crook, D.R. O'Reilly, J. Gen. Virol. 79, 2283–2292 (1998)
Acknowledgments
This project was supported by the grants from the National Natural Science Foundation of China (30700540 and 30901152).
About this article
Cite this article
Liang, Z., Zhang, X. & Chen, X. Molecular characterization and genetic organization of the BamHI-C fragment of Clostera anachoreta granulovirus. Virus Genes 42, 150–152 (2011). https://doi.org/10.1007/s11262-010-0540-1
Received:

Accepted:

Published:

Issue Date:
Keywords
Clostera anachoreta granulovirus
BamHI-C fragment

Molecular characterization

Genetic organization