Abstract
Here, we first present unique short (US)3, US4, and US5 gene sequences, with analysis, of duck enteritis virus (DEV) vaccine strain C-KCE. The assembled sequence comprises 5,742 nucleotides, which are amplified from the DEV genome by single oligonucleotide-nested polymerase chain reaction with primers designed according to our previous acquired sequence deposited in GenBank (accession no. EF619046). The predicted gene arrangement is colinear with the alphaherpesvirus herpes simplex virus within the US region. The N-glycosylated sites, signal peptide, transmembrane helices, RNA polymerase II transcriptional control elements, and polyadenylation signal, were predicted with network prediction programs. Phylogenetic analysis of the three putative proteins revealed that they had a close evolutionary relationship with the subfamily of Alphaherpesvirinae.
This is a preview of subscription content, log in to check access.
Access options
Buy single article
Instant access to the full article PDF.
US$ 39.95
Price includes VAT for USA
Subscribe to journal
Immediate online access to all issues from 2019. Subscription will auto renew annually.
US$ 99
This is the net price. Taxes to be calculated in checkout.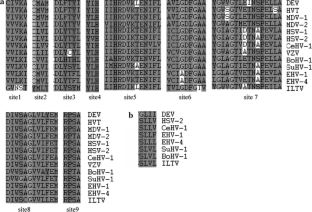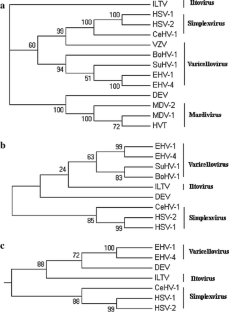 References
1.

S. Davison, K.A. Converse, A.N. Hamir, R.J. Eckroade, Avian Dis. 37, 1142–1146 (1993). doi:https://doi.org/10.2307/1591927

2.

S.S. Breese, A.H. Dardiri, Virology 34, 160–169 (1968). doi:https://doi.org/10.1016/0042-6822(68)90019-6

3.

E.F. Kaleta, Avian Pathol. 19, 193–211 (1990). doi:https://doi.org/10.1080/03079459008418673

4.

P.J. Plummer, T. Alefantis, S. Kaplan, P. O'Connell, S. Shawky, K.A. Schat, Avian Dis. 42, 554–564 (1998). doi:https://doi.org/10.2307/1592682

5.

S. Shawky, K. Schat, Avian Dis. 46, 308–313 (2002). doi:https://doi.org/10.1637/0005-2086(2002)046[0308:LSAROD]2.0.CO;2

6.

C.M. Fauquet, M.A. Mayo, J. Maniloff, U. Desselberger, L.A. Ball, Virus Taxonomy (Elsevier Academic Press, California, 2005)

7.

R. Gardner, J. Wilkerson, J.C. Johnson, Intervirology 36, 99–112 (1993)

8.

A.E. Reynolds, E.G. Wills, R.J. Roller, B.J. Ryckman, J.D. Baines, J. Virol. 76, 8939–8952 (2002). doi:https://doi.org/10.1128/JVI.76.17.8939-8952.2002

9.

L. Benetti, B. Roizman, Proc. Natl. Acad. Sci. USA 101, 9411–9416 (2004). doi:https://doi.org/10.1073/pnas.0403160101

10.

J. Munger, B. Roizman, Proc. Natl. Acad. Sci. USA 98, 10410–10415 (2001). doi:https://doi.org/10.1073/pnas.181344498

11.

P.D. Ogg, P.J. McDonell, B.J. Ryckman, C.M. Knudson, R.J. Roller, Virology 319, 212–224 (2004). doi:https://doi.org/10.1016/j.virol.2003.10.019

12.

L.C. Tran, J.M. Kissner, L.E. Westerman, Proc. Natl. Acad. Sci. USA 97, 1818–1822 (2000). doi:https://doi.org/10.1073/pnas.020510297

13.

A. Dolan, F.E. Jamieson, C. Cunningham, B.C. Barnett, D.J. McGeoch, J. Virol. 72, 2010–2021 (1998)

14.

H. Ghiasi, A.B. Nesburn, S. Cai, S.L. Wechsler, Intervirology 41, 91–97 (1998). doi:https://doi.org/10.1159/000024919

15.

D.J. McGeoch, A. Dolan, S. Donald, F.J. Rixon, J. Mol. Biol. 181, 1–13 (1985). doi:https://doi.org/10.1016/0022-2836(85)90320-1

16.

E.A. Telford, M.S. Watson, K. McBride, A.J. Davison, Virology 189, 304–316 (1992). doi:https://doi.org/10.1016/0042-6822(92)90706-U

17.

E.A. Telford, M.S. Watson, J. Perry, A.A. Cullinane, A.J. Davison, J. Gen. Virol. 79, 1197–1203 (1998)

18.

Y. Sun, S.M. Brown, Virology 199, 448–452 (1994). doi:https://doi.org/10.1006/viro.1994.1143

19.

Z. Antal, Curr. Genet. 46, 240–246 (2004). doi:https://doi.org/10.1007/s00294-004-0524-6

20.

F.Y. Liu, B. Ma, Y. Zhao, Y. Zhang, Y.H. wu, X.M. Liu, J.W. Wang, Virus Genes 37, 328–332 (2008). doi:https://doi.org/10.1007/s11262-008-0266-5

21.

Y. Li, W.J. OuYang, H.C. Yang, China. J. Vet. Med 43, 5–7 (2007)

22.

H. Li, S. Liu, X. Kong, Virus Genes 33, 221–227 (2006). doi:https://doi.org/10.1007/s11262-005-0060-6

23.

M.G. Reese, N.L. Harris, F·H. Eeckman, Biocomputing, in Proceedings of the 1996 Pacific Symposium (World Scientific Publishing Co., Singapore, 1996), pp. 2–7

24.

M. Kozak, Cell 44, 283–292 (1986). doi:https://doi.org/10.1016/0092-8674(86)90762-2

25.

D.J. McGeoch, S. Cook, J. Mol. Biol. 238, 9–22 (1994). doi:https://doi.org/10.1006/jmbi.1994.1264

26.

H.S. Marsden, A. Buckmaster, J.W. Palfreyman, R.G. Hope, A.C. Minson, J. Virol. 50, 547–554 (1984)

27.

H.K. Su, R. Eberle, R.J. Courtney, J. Virol. 61, 1735–1737 (1987)

28.

D.D. Richman, A. Buckmaster, S. Bell, C. Hodgman, A.C. Minson, J. Virol. 57, 647–655 (1986)

29.

H.E. Drummer, M.J. Studdert, B.S. Crabb, J. Gen. Virol. 79, 1205–1213 (1998)

30.

B.S. Crabb, H.S. Nagesha, M.J. Studdert, Virology 190, 143–154 (1992). doi:https://doi.org/10.1016/0042-6822(92)91200-E

31.

G.M. Keil, T. Engelhardt, A. Karger, M. Enz, J. Virol. 70, 3032–3038 (1996)

32.

Y. Gomi, H. Sunamachi, Y. Mori, K. Nagaike, M. Takahashi, K. Yamanishi, J. Virol. 76, 11447–11459 (2002). doi:https://doi.org/10.1128/JVI.76.22.11447-11459.2002
About this article
Cite this article
Zhao, Y., Wang, J.W., Ma, B. et al. Molecular analysis of duck enteritis virus US3, US4, and US5 gene. Virus Genes 38, 289–294 (2009). https://doi.org/10.1007/s11262-008-0326-x
Received:

Accepted:

Published:

Issue Date:
Keywords
Duck enteritis virus

US3

US4

US5

Single oligonucleotide nested polymerase chain reaction