Abstract
The dengue 2 virus (DEN-2) RNA (NGC strain) was used as a substrate to produce DNA clones of the full-length NS1 genes via reverse transcriptase synthesis of cDNA followed by polymerase chain reaction amplification of the NS1 region. Products were cloned into pPICZαB vector for sequencing and into Pichia pastoris for expression. A recombinant protein with a molecular size of approximately 80 KDa was secreted into the supernatant from the yeast cells when induced with methanol. The expressed protein was able to bind with mouse polyclonal antibody or NS1-specific monoclonal antibody of dengue 2 virus. Purified NS1-poly(His)-tagged fusion protein was obtained from the expressed product by passing through a metal-chelating affinity chromatographic (MCAC) column. The study also verified that our purified rNS1 protein retained its antigenicity. High-level production of the rNS1 protein up to 70 mg/l indicates that P. pastoris is an efficient expression system for dengue virus full-length NS1 glycoprotein.
This is a preview of subscription content, log in to check access.
Access options
Buy single article
Instant access to the full article PDF.
US$ 39.95
Price includes VAT for USA
Subscribe to journal
Immediate online access to all issues from 2019. Subscription will auto renew annually.
US$ 99
This is the net price. Taxes to be calculated in checkout.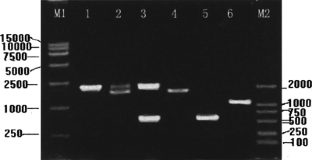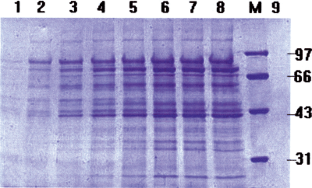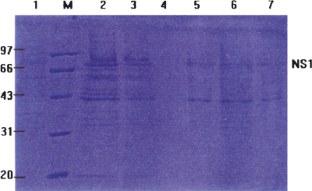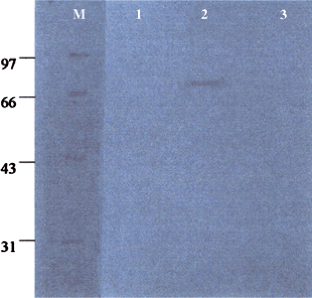 Reference
1.

M.G. Jacobs P.R. Young (1998) Curr. Opin. Infect. Dis. 11 319–324 Occurrence Handle17033398 Occurrence Handle1:STN:280:DC%2BD28ngtV2jtg%3D%3D

2.

S.A. Halstead (1992) World Health Statistics Q. 45 292–298 Occurrence Handle1:STN:280:ByyD1Mjns1E%3D

3.

C.M. Rice, E.G. Srauss, J.H. Stauss, in The Togaviridae and Flaviviridae ed. by S. Schlesinger, M.J. Schlesinger (Plenum Press, New York, NY, 1986), pp. 279–326

4.

L. Dalgarno D.W. Trent J.H. Strauss C.M. Rice (1986) J. Mol. Biol. 187 309–323 Occurrence Handle3009829 Occurrence Handle1:CAS:528:DyaL28XitVWhtLw%3D Occurrence Handle10.1016/0022-2836(86)90435-3

5.

C. Rice E.M. Lenches S.R. Eddy S.J. Shin R.L. Sheets J.H. Strauss (1985) Science 229 726–733 Occurrence Handle4023707 Occurrence Handle1:CAS:528:DyaL2MXlsFGjsrc%3D

6.

B. Zhao G. Prince R. Horswood K. Eckels P. Summers R. Chanock C.-J. Lai (1987) J. Virol. 61 4019–4022 Occurrence Handle3316711 Occurrence Handle1:CAS:528:DyaL1cXltVWrsA%3D%3D

7.

F. Sanger S. Nicklen A.R. Coulson (1977) Pro. Nat. Acad. Sci. 74 5463–5467 Occurrence Handle1:CAS:528:DyaE1cXhtlaru7Y%3D Occurrence Handle10.1073/pnas.74.12.5463

8.

J.L. Schlesinger M.W. Brandriss E.E. Walsh (1987) J. Gen. Virol. 68 853–857 Occurrence Handle3819700 Occurrence Handle1:CAS:528:DyaL2sXhsFCns7w%3D

9.

J.L. Schlesinger M.W. Brandriss C.B. Cropp T.P. Monath (1986) J. Virol. 60 1153–1155 Occurrence Handle3783816 Occurrence Handle1:CAS:528:DyaL2sXjtFSntQ%3D%3D

10.

J.L. Schlesinger M.W. Brandriss E.E. Walsh (1985) J. Immunol. 135 2805–2809 Occurrence Handle4031501 Occurrence Handle1:CAS:528:DyaL2MXlsFylurw%3D

11.

J.L. Huang J.H. Huang R.H. Shyu S.W. Teng Y.L. Lin M.D. Kuo C.W. Yao M.F. Shaio (2001) J. Med. Virol. 65 553–560 Occurrence Handle11596093 Occurrence Handle1:CAS:528:DC%2BD3MXot1OqtLk%3D Occurrence Handle10.1002/jmv.2072

12.

H. Leblois P.R. Young (1995) J. Gen. Virol. 76 979–984 Occurrence Handle9049346 Occurrence Handle1:CAS:528:DyaK2MXksl2nsr0%3D Occurrence Handle10.1099/0022-1317-76-4-979

13.

C.R. Parrish W.S. Woo P.J. Wright (1991) Arch. Virol. 117 279–286 Occurrence Handle1826827 Occurrence Handle1:CAS:528:DyaK3MXlslKitLY%3D Occurrence Handle10.1007/BF01310771

14.

M.J. Pryor R.C. Gualano B. Lin A.D. Davidson P.J. Wright (1998) J. Gen. Virol. 79 2631–2639 Occurrence Handle9820138 Occurrence Handle1:CAS:528:DyaK1cXmvFyqsbo%3D

15.

X. Qu W. Chen T. Maguire F. Austin (1993) J. Gen. Virol. 74 89–97 Occurrence Handle8423452 Occurrence Handle1:CAS:528:DyaK3sXltlKqurs%3D

16.

J.M. Cregg D.R. Higgins (1995) Can. J. Bot. Suppl. 73 5981–5987

17.

R.B. Trimble P.H. Atkinson J.F. Tschopp R.R. Townsend F. Maley (1991) J. Biol. Chem. 266 22807–22817 Occurrence Handle1744075 Occurrence Handle1:CAS:528:DyaK38Xjs1yrsw%3D%3D

18.

R.J. Sugrue T. Cui Q. Xu J. Fu Y.C. Chan (1997) J. Virol. Meth. 69 159–169 Occurrence Handle1:CAS:528:DyaK1cXptFWhsQ%3D%3D Occurrence Handle10.1016/S0166-0934(97)00151-1

19.

H.-y. Wei L.-f. Jiang Y.-h. Xue D.-y. Fang H.-y. Guo (2003) J. Virol. 109 17–23 Occurrence Handle1:CAS:528:DC%2BD3sXitlWqurs%3D
About this article
Cite this article
Zhou, J., Tang, Y., Fang, D. et al. Secreted Expression and Purification of Dengue 2 Virus Full-length Nonstructural Glycoprotein NS1 in Pichia. pastoris . Virus Genes 33, 27–32 (2006). https://doi.org/10.1007/s11262-005-0036-6
Received:

Accepted:

Issue Date:
Keywords
Dengue virus

NS1 protein

Pichia pastoris

Expression