Abstract
Avian polyomavirus (APV) infection, also called as budgerigar fledgling disease (BFD) causes various health problems in many psittacine species which may cause untimely death. The aims of this study were to investigate, for the first time, the detection, molecular characterization and phylogenetic analysis of avian polyomavirus (APV) in Pakistani psittacine birds. In an aviary a disease similar to APV was found and 90% of the nestlings died within a few weeks. Seven to ten-day-old parrot nestlings (n = 3) from the aviary were presented with feather abnormalities, plumage defect and were clinically depressed. Birds died at 11th, 14th and 16th day of age. Samples of hearts, livers, spleen, feathers and kidneys were collected from the dead birds. Samples were analyzed for the presence of APV DNA by using PCR. APV VP1 gene was partially sequenced, and phylogenetic analysis was performed. The APV strain was similar to those previously reported in other areas of the world. The results of this investigation indicate presence of a high frequency of APV infections in psittacine birds in Pakistan.
This is a preview of subscription content, log in to check access.
Access options
Buy single article
Instant access to the full article PDF.
US$ 39.95
Price includes VAT for USA
Subscribe to journal
Immediate online access to all issues from 2019. Subscription will auto renew annually.
US$ 99
This is the net price. Taxes to be calculated in checkout.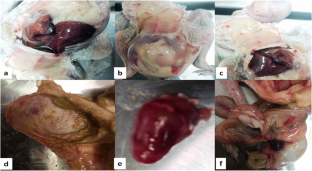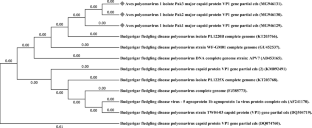 References
Altan E, Eravci E, Cizmecigil UY, Yildar E, Aydin O, Turan N, Ozsoy S, Tekelioglu KB, Kurt T, Ozsemir KG (2016) Detection and phylogeny of beak and feather disease virus and avian polyomavirus in psittacine pet birds in Turkey. J Exot Pet Med 25:280–287

Bernier G, Morin M, Marsolais G (1981) A generalized inclusion body disease in the budgerigar (Melopsittacus undulatus) caused by a papovavirus-like agent. Avian Dis 25:1083–1092

Davis R, Bozeman L, Gaudry D, Fletcher O, Lukert P, Dykstra M (1981) A viral disease of fledgling budgerigars. Avian Dis 25(1):179–183

Dolz G, Sheleby-Elías J, Romero-Zuñiga JJ, Vargas-Leitón B, Gutiérrez-Espeleta G, Madriz-Ordeñana K (2013) Prevalence of psittacine beak and feather disease virus and avian polyomavirus in captivity psittacines from Costa Rica. Open J Vet Med 3:240–245

Hulbert CL, Chamings A, Hewson K, Steer P, Gosbell M, Noormohammadi A (2015) Survey of captive parrot populations around Port Phillip Bay, Victoria, Australia, for psittacine beak and feather disease virus, avian polyomavirus and psittacine adenovirus. Aust Vet J 93:287–292

Johne R, Müller H (1998) Avian polyomavirus in wild birds: genome analysis of isolates from Falconiformes and Psittaciformes. Arch Virol 143:1501–1512

Johne R, Wittig W, Fernández-de-Luco D, Höfle U, Müller H (2006) Characterization of two novel polyomaviruses of birds by using multiply primed rolling-circle amplification of their genomes. J Virol 80:3523–3531

Katoh H, Ohya K, Une Y, Yamaguchi T, Fukushi H (2009) Molecular characterization of avian polyomavirus isolated from psittacine birds based on the whole genome sequence analysis. Vet Microbiol 138:69–77

Katoh H, Ogawa H, Ohya K, Fukushi H (2010) A review of DNA viral infections in psittacine birds. J Vet Med Sci 72:1099–1106

Kingston RS (1992) Budgerigar fledgling disease (papovavirus) in pet birds. J Vet Diagn Investig 4:455–458

Kou Z, Zhang Z, Chen S, Fan Z, Tang S, Zhao L, Li T (2008) Molecular characterizations of avian polyomavirus isolated from budgerigar in China. Avian Dis 52:451–454

Kumar S, Stecher G, Tamura K (2016) MEGA7: molecular evolutionary genetics analysis version 7.0 for bigger datasets. Mol Biol Evol 33:1870–1874

Ogawa H, Yamaguchi T, Fukushi H (2005) Duplex shuttle PCR for differential diagnosis of budgerigar fledgling disease and psittacine beak and feather disease. Microbiol Immunol 49:227–237

Ogawa H, Chahota R, Hagino T, Ohya K, Yamaguchi T, Fukushi H (2006) A survey of avian polyomavirus (APV) infection in imported and domestic bred psittacine birds in Japan. J Vet Med Sci 68:743–745

Philadelpho NA, Guimarães MB, Piantino Ferreira AJ (2015) A case report of Avian polyomavirus infection in a blue fronted parrot (Amazona aestiva) associated with anemia. Case Reports in Veterinary Medicine 2015

Piasecki T, Wieliczko A (2010) Detection of beak and feather disease virus and avian polyomavirus DNA in psittacine birds in Poland. Bull Vet Inst Pulawy 54:141–146

Reavill DR, Dorrestein G (2018) Psittacines, Coliiformes, Musophagiformes, Cuculiformes. In: Pathology of Wildlife and Zoo Animals. Elsevier Academic Press, New York, pp 775–798

Rott O, Kröger M, Müller H, Hobom G (1988) The genome of budgerigar fledgling disease virus, an avian polyomavirus. Virology 165:74–86

Tajbhai K, Bragg R, Albertyn J (2004) Psittacine beak and feather disease virus in budgerigars and ring-neck parakeets in South Africa. Onderstepoort J Vet Res 71:29–34

Varsani A, Porzig EL, Jennings S, Kraberger S, Farkas K, Julian L, Massaro M, Ballard G, Ainley DG (2015) Identification of an avian polyomavirus associated with Adelie penguins (Pygoscelis adeliae). J Gen Virol 96:851–857

Zhuang Q, Chen J, Mushtaq MH, Chen J, Liu S, Hou G, Li J, Huang B, Jiang W (2012) Prevalence and genetic characterization of avian polyomavirus and psittacine beak and feather disease virus isolated from budgerigars in mainland China. Arch Virol 157:53–61
Acknowledgements
We would like to thank Dr. Inga Dry of Roslin Institute, University of Edinburgh UK, for her technical support in experiment and manuscript preparation.
Funding
This work was funded by Pir Mahr Ali Shah, Arid Agriculture University Rawalpindi, Pakistan.
Ethics declarations
Conflict of interest
Authors have no conflict of interest.
Additional information
Publisher's note
Springer Nature remains neutral with regard to jurisdictional claims in published maps and institutional affiliations.
About this article
Cite this article
Riaz, A., Yousaf, A., Moaeen-ud-Din, M. et al. First detection and molecular characterization of avian polyomavirus in young parrots in Pakistan. Vet Res Commun 43, 197–202 (2019). https://doi.org/10.1007/s11259-019-09759-7
Received:

Accepted:

Published:

Issue Date:
Keywords
Avian polyomavirus

Budgerigar fledgling disease

Molecular characterization

Parrots

Pakistan