Abstract
The aim of this study was to assess the relationship of the evolution of the corpus luteum (CL) volume that was determined ultrasonographically with the pregnancy status in lactating dairy cows during early pregnancy. Ultrasound examinations were carried out on 76 cows following artificial insemination (AI). Plasma concentrations of progesterone were determined from blood samples collected at each ultrasound examination. Conception was confirmed by ultrasonography on day 30 after AI. Around day 14 post-insemination (p.i.), the CL volume tended to decrease in pregnant and non-pregnant cows, and, after day 19 p.i., both groups differed significantly, indicating the luteal regression in non-pregnant cows. Reaching signification on day 20. The diminution in CL volume was also reflected in the plasma progesterone concentration. However, the patterns of CL volume, estimated by ultrasonography, differed more evidently and earlier between both groups (around 1 week p.i., at day 9 p.i. P < 0.05, whereas progesterone started to differ around 2 weeks p.i., at day 14 p.i, P < 0.05). These results indicate that the estimation of the CL volume by ultrasonography could be useful for assessing the presence of a functional CL.
This is a preview of subscription content, log in to check access.
Access options
Buy single article
Instant access to the full article PDF.
US$ 39.95
Price includes VAT for USA
Subscribe to journal
Immediate online access to all issues from 2019. Subscription will auto renew annually.
US$ 99
This is the net price. Taxes to be calculated in checkout.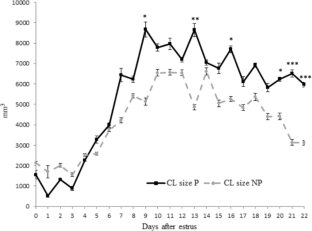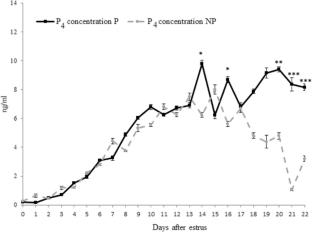 Abbreviations
CL:

Corpus luteum

P4 :

Progesterone

AI:

Artificial insemination

p.i.:

Post-insemination

P:

Pregnant

NP:

Non-pregnant

PPV:

Positive predictive value

NPV:

Negative predictive value

PGF2α :

Prostaglandin F2α
References
Assey RJ, Purwantara B, Greve T, Hyttel P, Schmidt MH (1993) Corpus Luteum size and plasma progesterone levels in cattle after cloprostenol-induced luteolysis. Theriogenology 39:1321–1330

Bazer FW, Wu G, Spencer TE, Johnson GA, Burghardt RC, Bayless K (2010) Novel pathways for implantation and establishment and maintenance of pregnancy in mammals. Mol Hum Reprod 16:135–152

Callesen H, Greve T, Hyttel P (1987) Premature ovulations in superovulated cattle. Theriogenology 28:155–166

Fricke PM (2002) Scanning the future-ultrasonography as a reproductive management tool for dairy cattle. J Dairy Sci 85:1918–1926

Galvão KN, Sá Filho MF, Santos JEP (2007) Reducing the interval from presynchronization to initiation of timed artificial insemination improves fertility in dairy cows. J Dairy Sci 90:4212–4218

Ginther OJ (2014) How ultrasound technologies have expanded and revolutionized research in reproduction in large animals. Theriogenology 81:112–125

Ginther OJ, Shrestha HK, Beg MA (2010) Circulating hormone concentrations within a pulse of a metabolite of prostaglandin F2α during preluteolysis and early luteolysis in heifers. Anim Reprod Sci 122:253–258

Hanzen CH, Pieterse M, Scenczi O, Drost M (2000) Relative accuracy of the identification of ovarian structures in the cow by ultrasonography and palpation per rectum. Vet J 159:161–170

Herzog K, Voss C, Kastelic JP, Beindorff N, Paul V, Niemann H, Bollwein H (2011) Luteal blood flow increases during the first three weeks of pregnancy in lactating dairy cows. Theriogenology 75:549–554

Humblot P (2001) Use of pregnancy specific proteins and progesterone assays to monitor pregnancy and determine the timing, frequencies and sources of embryonic mortality in ruminants. Theriogenology 56:1417–1433

Kamimura S, Ohgi T, Takahashi M, Tsukamoto T (1993) Postpartum resumption of ovarian activity and uterine involution monitored by ultrasonography in Holstein cows. J Vet Med Sci Jpn Soc Vet Sci 55:643–647

López-Gatius F, García-Ispierto I (2010) Ultrasound and endocrine findings that help to assess the risk of late embryo/early foetal loss by non-infectious cause in dairy cattle. Reprod Domest Anim Zuchthyg 45(Suppl 3):15–24

Mann GE (2009) Corpus Luteum size and plasma progesterone concentration in cows. Anim Reprod Sci 115:296–299

Niswender GD, Juengel JL, Silva PJ, Rollyson MK, McIntush EW (2000) Mechanisms controlling the function and life span of the corpus luteum. Physiol Rev 80:1–29

Pieterse MC, Taverne MA, Kruip TA, Willemse AH (1990) Detection of corpora lutea and follicles in cows: a comparison of transvaginal ultrasonography and rectal palpation. Vet Rec 126:552–554

Scully S, Evans ACO, Carter F, Duffy P, Lonergan P, Crowe MA (2015) Ultrasound monitoring of blood flow and echotexture of the corpus luteum and uterus during early pregnancy of beef heifers. Theriogenology 83:449–458

Simersky R, Swaczynova J, Morris DA, Franek M, Strnad M (2007) Development of an ELISA-based kit for the on-farm determination of progesterone in milk. Vet Med (Praha) 52:19–28

Singh J, Pierson RA, Adams GP (1997) Ultrasound image attributes of the bovine corpus luteum: structural and functional correlates. J Reprod Fertil 109:35–44

Spell AR, Beal WE, Corah LR, Lamb GC (2001) Evaluating recipient and embryo factors that affect pregnancy rates of embryo transfer in beef cattle. Theriogenology 56:287–297

Stevenson JS, Cartmill JA, Hensley BA, El-Zarkouny SZ (2003) Conception rates of dairy cows following early not-pregnant diagnosis by ultrasonography and subsequent treatments with shortened ovsynch protocol. Theriogenology 60:475–483

Tamura H, Takasaki A, Taniguchi K, Matsuoka A, Shimamura K, Sugino N (2008) Changes in blood-flow impedance of the human corpus luteum throughout the luteal phase and during early pregnancy. Fertil Steril 90:2334–2339

Thatcher WW, Guzeloglu A, Mattos R, Binelli M, Hansen TR, Pru JK (2001) Uterine-conceptus interactions and reproductive failure in cattle. Theriogenology 56:1435–1450

Waldmann A, Raud A (2016) Comparison of a lateral flow milk progesterone test with enzyme immunoassay as an aid for reproductive status determination in cows. Vet Rec 178:260–260

Wilsdorf LJ, Keisler DH, Poock SE, Lamberson WR, Escalante RC, Lucy MC (2016) Short communication: test for nonpregnancy in dairy cows based on plasma progesterone concentrations before and after timed artificial insemination. J Dairy Sci 99:5858–5865

Wolf E, Arnold GJ, Bauersachs S, Beier HM, Blum H, Einspanier R, Fröhlich T, Herrler A, Hiendleder S, Kölle S, Prelle K, Reichenbach H-D, Stojkovic M, Wenigerkind H, Sinowatz F (2003) Embryo-maternal communication in bovine - strategies for deciphering a complex cross-talk. Reprod Domest Anim Zuchthyg 38:276–289

Zdunczyk S, Janowski T, Raś A, Barański W (2009) Accuracy of ultrasonography and rectal palpation in the diagnosis of silent heat in cows compared to plasma progesterone concentration. Bull Vet Inst Pulawy 53:407–410

Zia AI, Syaifudin ARM, Mukhopadhyay SC, Yu PL, Al-Bahadly IH, Kosel J, Gooneratne C (2012) Sensor and instrumentation for progesterone detection. In: 2012 I.E. international instrumentation and measurement technology conference proceedings. Presented at the 2012 I.E. international instrumentation and measurement technology conference proceedings, pp. 1220–1225
Acknowledgments
Cristina Gómez Seco was supported by Junta de Castilla y León program EDU/1083/2013, supported by EDRF (EU).
Ethics declarations
Conflict of interest
The authors declare no conflicts of interest with respect to the research, authorship, and/or publication of this article.
Funding sources
This research did not receive any specific grant from funding agencies in the public, commercial, or not-for-profit sectors.
About this article
Cite this article
Gómez-Seco, C., Alegre, B., Martínez-Pastor, F. et al. Evolution of the corpus luteum volume determined ultrasonographically and its relation to the plasma progesterone concentration after artificial insemination in pregnant and non-pregnant dairy cows. Vet Res Commun 41, 183–188 (2017). https://doi.org/10.1007/s11259-017-9685-x
Received:

Accepted:

Published:

Issue Date:
Keywords
Ultrasound

Corpus luteum

Progesterone

Pregnancy

Dairy cattle