Abstract
The aim of this study was to develop regression models for correlation of canine fetal heart development with body size to characterize normal development or suggest cardiac anomalies. Twenty clinically healthy pregnant bitches, either brachycephalic and non-brachycephalic, were examined ultrasonographically. Transabdominal fetal echocardiography was conducted every 4 days from the beginning of cardiac chambers differentiation until parturition. Ten cardiac parameters were measured: length, width and diameter of the heart; heart area; left and right ventricular dimensions; left and right atrial dimensions; and aortic and pulmonary artery diameter. Femoral length, biparietal diameter and abdominal cross-sectional area were also recorded. Regression equations were developed for each parameter of fetal body size, and linear and logarithmic models were compared. The model with the highest correlation coefficient was chosen to produce equations to calculate relative dimensions based on the correlations. Only the left-ventricular chamber differed between the two racial groups. Biparietal diameter was the independent parameter that produced the highest correlation coefficient for the most fetal cardiac dimensions, although good correlations were also observed using femoral length and abdominal cross-sectional area. Heart width and heart diameter were used as surrogates of cardiac development, as these measurements showed the best statistical correlation. Quantitative evaluation of fetal cardiac structures can be used to monitor normal and abnormal cardiac development.
This is a preview of subscription content, log in to check access.
Access options
Buy single article
Instant unlimited access to the full article PDF.
US$ 39.95
Price includes VAT for USA
Subscribe to journal
Immediate online access to all issues from 2019. Subscription will auto renew annually.
US$ 99
This is the net price. Taxes to be calculated in checkout.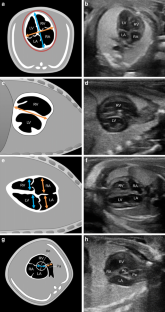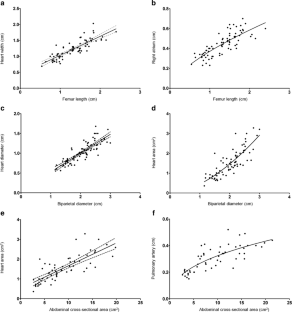 References
Batterham AM, George KP, Whyte G (1999) Scaling cardiac structural data by body dimensions: a review of theory, practice and problems. Int J Sports Med 20:495–502

Blunden AS (1986) A review of the fading puppy syndrome (also known as fading puppy complex). Vet Annu 26:264–269

Blunden AS (1998) The neonate: congenital defects and fading puppies. In: Simpson GM, England GCW, Harvey M (eds) Manual of small animal reproduction and neonatology. British Small Animal Veterinary Association, Cheltenham, pp. 143–152

Boon JA (2011) Evaluation of size, function, and Hemodynamics. In: Boon JA (ed) Veterinary echcoardiography (ed 2). New Jersey, Wiley-Blackwell, pp. 105–197

Chaoui R, Bollmann R, Göldner B, Heling KS, Tennstedt C (1994) Fetal cardiomegaly: echocardiographic findings and outcome in 19 cases. Fetal Diagn Ther 9:92–104

Chubb H, Simpson JM (2012) The use of Z-scores in paediatric cardiology. Ann Pediatr Cardiol 5:179–184

Cornell CC, Kittleson MD, Della Torre P, Häggström J, Lombard CW, Pedersen HD, Vollmar A, Wey A (2004) Allometric scaling of M-mode cardiac measurements in normal adult dogs. J Vet Intern Med 18:311–321

Daubeney PE, Blackstone EH, Weintraub RG, Slavik Z, Scanlon J, Webber SA (1999) Relationship of the dimension of cardiac structures to body size: an echocardiographic study in normal infants and children. Cardiol Young 9:402–410

de Simone G, Galderisi M (2014) Allometric normalization of cardiac measures: producing better, but imperfect, accuracy. J Am Soc Echocardiogr 27:1275–1278

Degani S (2001) Fetal biometry: clinical, pathological, and technical considerations. Obstet Gynecol Surv 56:159–167

DeVore G (2005) Opinion. the use of z-scores in the analysis of fetal cardiac dimensions. Ultrasound Obstet Gynecol 26:596–598

Evans JD (1996) Straightforward statistics for the behavioral sciences. Brooks/Cole Publishing, Pacific Grove

Gutgesell HP, Rembold CM (1990) Growth of the human heart relative to body surface area. Am J Cardiol 65:662–668

Hata T, Senoh D, Hata K, Miyazaki K (1997) Intrauterine sonographic assessments of embryonic heart diameter. Hum Reprod 12:2286–2291

Hyndman RJ, Koehler AB (2006) Another look at measures of forecast accuracy. Int J Forecast 22:679–688

Lee W, Allan LD, Carvalho JS, Chaoui R, Copel J, Devore G, et al. (2008) ISUOG consensus statement: what constitutes a fetal echocardiogram? Ultrasound Obstet Gynecol 32:239–242

Lee W, Riggs T, Amula V, Tsimis M, Cutler N, Bronsteen R, et al. (2010) Fetal echocardiography: z-score reference ranges for a large patient population. Ultrasound Obstet Gynecol 35:28–34

Li X, Zhou Q, Huang H, Tian X, Peng Q (2015) Z-score reference ranges for normal fetal heart sizes throughout pregnancy derived from fetal echocardiography. Prenat Diagn 35:117–124

Luewan S, Yanase Y, Tongprasert F, Srisupundit K, Tongsong T (2011) Fetal cardiac dimensions at 14–40 weeks' gestation obtained using cardio-STIC-M. Ultrasound Obstet Gynecol 37:416–422

Luvoni GC, Grioni A (2000) Determination of gestational age in medium and small size bitches using ultrasonographic fetal measurements. J Small Anim Pract 41:292–294

Morrison SA, Moıse NS, Scarlett J (1992) Effect of breed and body weight on echocardiographic values in four breeds of dogs of differing somatotype. J Vet Intern Med 6:220–224

Pettersen MD, Wei D, Skeens ME, Humes RA (2008) Regression equations for calculation of z scores of cardiac structures in a large cohort of healthy infants, children, and adolescents: an echocardiograhic study. J Am Soc Echocardiogr 21:922–934

Royston P, Wright EM (1998) How to construct 'normal ranges' for fetal variables. Ultrasound Obstet Gynecol 11:30–38

Rychik J, Ayres N, Cuneo B, Gotteiner N, Hornberger L, Spevak PJ (2004) American society of echocardiography guidelines and standards for performance of the fetal echocardiogram. J Am Soc Echocardiogr 17:803–810

Schneider C, McCrindle BW, Carvalho JS, Hornberger LK, McCarthy KP, Daubeney PE (2005) Development of z-scores for fetal cardiac dimensions from echocardiography. Ultrasound Obstet Gynecol 26:599–605

Silverwood RJ, Cole TJ (2007) Statistical methods for constructing gestational age-related reference intervals and centile charts for fetal size. Ultrasound Obstet Gynecol 29:6–13

Traisrisilp K, Tongprasert F, Srisupundit K, Luewan S, Tongsong T (2001) Reference ranges for the fetal cardiac circumference derived by cardio–spatiotemporal image correlation from 14 to 40 weeks' gestation. J Ultrasound Med 30:1191–1196

Wood D, Respondek-Liberska M, Puerto B, Weiner S (2009) Perinatal echocardiography: protocols for evaluating the fetal and neonatal heart. J Perinat Med 37:5–11

Wuttikonsammakit P, Uerpairojkit B, Tanawattanacharoen S (2011) Causes and consequences of 93 fetuses with cardiomegaly in a tertiary center in Thailand. Arch Gynecol Obstet 283:701–706

Yeager AE, Concannon PW (1990) Association between the preovulatory luteinizing hormone surge and the early ultrasonographic detection of pregnancy and fetal heartbeats in beagle dogs. Theriogenology 3:655–665

Yeager AE, Mohammed HO, Meyers-Wallen V, Vannerson L, Concannon PW (1992) Ultrasonographic appearance of the uterus, placenta, fetus, and fetal membranes throughout accurately timed pregnancy in Beagles. Am J Vet Res 53:342–351
Acknowledgments
The authors would like to thank Leandro Lima for the production of schematic drawings. Our main thanks go to the owners who agreed to help in this study.
Ethics declarations
Conflict of interest
The authors declare that they have no conflict of interest.
Electronic supplementary materials
About this article
Cite this article
Giannico, A.T., Gil, E.M.U., Garcia, D.A.A. et al. Canine fetal echocardiography: correlations for the analysis of cardiac dimensions. Vet Res Commun 40, 11–19 (2016). https://doi.org/10.1007/s11259-015-9648-z
Received:

Accepted:

Published:

Issue Date:
Keywords
Fetal ultrasonography

Pregnancy

Gestational ultrasound

Cardiac parameters

Fetal heart