Abstract
This study was designed to investigate the effect of racing on the serum concentrations of cardiac troponin I (cTnI) and creatine kinase myocardial (CK-MB) in healthy racing camels (Camelus dromedarius). Twenty-three racing camels scheduled for a 5 km race were investigated in this study. From each camel, 3 blood samples were collected: 24 h before racing (T0), within 2 h after the race (T1) and 24 h post-race (T2). Following the 5 km race, 91.3 % of the racing camels had increases in serum cTnI concentrations, while concentrations remained unchanged in 8.7 %. The cTnI concentration (median 0.06 ng/mL; range, 0.03–0.15 ng/mL) was significantly higher (P < 0.001) than the pre-race values (median 0.04 ng/mL; range, 0.01–0.07 ng/mL). Twenty-four hours post-race, the cTnI concentrations had returned very nearly to their pre-race values (median 0.04 ng/mL; range, 0.00–0.09 ng/mL) and were not significantly different (P = 0.35) from the pre-race values. Following the 5 km race, increases in CK-MB mass were seen in 17.4 % of the camels, with no changes in 4.3 % and decreases in 78.3 %. The CK-MB mass (median 0.41 ng/mL; range, 0.19–0.60 ng/mL) did not differ significantly (P = 0.84) when compared to the pre-race values (median 0.42 ng/mL; range, 0.32–0.55 ng/mL). Twenty-four hours post-race, the CK-MB mass concentrations (median 0.41 ng/mL; range, 0.15–0.55 ng/mL) did not differ significantly (P > 0.05) compared to pre-race or immediate post-race values. Resting cTnI concentrations in the racing camels were initially low, but increased above the baseline level in most of the camels immediately after racing, and returned to pre-race values within the 24-h post-race period. CK-MB is a less sensitive biomarker for myocardial activity as compared with cTnI. These findings could be of importance when evaluating racing camels with suspected cardiac disease after recent hard exercise.
This is a preview of subscription content, log in to check access.
Access options
Buy single article
Instant access to the full article PDF.
US$ 39.95
Price includes VAT for USA
Subscribe to journal
Immediate online access to all issues from 2019. Subscription will auto renew annually.
US$ 99
This is the net price. Taxes to be calculated in checkout.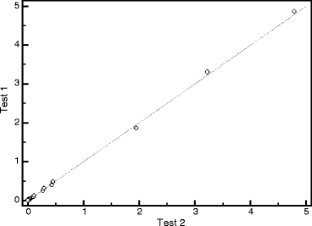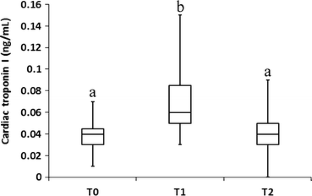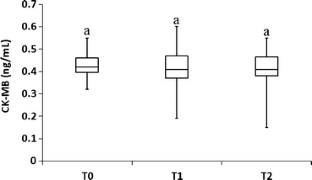 References
Abu Damir H, Ali MA, Abbas TA, Omer EA, Al Fihail AM (2012) Narasin poisoning in the dromedary camel (Camelus dromedarius). Comp Clin Path. doi:10.1007/s00580-011-1403-4

Alpert JS, Thygesen K, Antman E, Bassand JP (2000) Myocardial infarction redefined—a consensus of the Joint European Society of Cardiology/American College of Cardiology Committee for the redefinition of myocardial infarction. J Am Coll Cardiol 36:959–969

Archer J (2003) Cardiac biomarkers: a review. Comp Clin Pathol 12:121–128

Bergmann O, Bhardwaj RD, Bernard S, Zdunek S, Barnabé-Heider F, Walsh S, Zupicich J, Alkass K, Buchholz BA, Druid H, Jovinge S, Frisén J (2009) Evidence for cardiomyocyte renewal in humans. Science 324:98–102

Blass KA, Kraus MS, Rishniw M, Mann S, Mitchell LM, Divers TJ (2011) Measurement of cardiac troponin I utilizing a point of care analyzer in healthy alpacas. J Vet Cardiol 13:261–266

Collinson P, Goodacre S, Gaze D, Gray A, on behalf of the RATPAC Research Team (2012) Very early diagnosis of chest pain by point-of-care testing: comparison of the diagnostic efficiency of a panel of cardiac biomarkers compared with troponin measurement alone in the RATPAC trial. Heart 98:312–318

Durando MM, Reef VB, Kline K, Birks EK (2006) Acute effects of short duration maximal exercise on cardiac troponin I in healthy horses. Equine Comp Exerc Physiol 4:217–223

Erlacher P, Lercher A, Falkensammer J, Nassonov EL, Samsonov MI, Shtutman VZ, Puschendorf B, Mair J (2001) Cardiac troponin and beta-type myosin heavy chain concentrations in patients with polymyositis or dermatomyositis. Clin Chim Acta 306:27–33

Evans DL, Rose RJ (1988) Cardiovascular and respiratory response to exercise in thoroughbred horses. J Exp Biol 134:397–408

Evans DL, Rose RJ, Knight PK (1992) Physiological responses during an incremental treadmill exercise test in the camel. Proceeding of the 1st International Camel Conference 2nd – 6th February, Dubai, UAE, pp. 223–227

Harris RC, Hultman E (1992) Nutritional strategies for enhanced performance in the racing camel: lessons learned from man and horse. Proceeding of the 1st International Camel Conference 2nd – 6th February, Dubai, UAE, pp. 243–246

Haykowsky M, Welsh R, Humen D, Warburton D, Taylor D (2001) Impaired left ventricular systolic function after a half-ironman race. Can J Cardiol 17:687–690

Holbrook TC, Birks EK, Sleeper MM, Durando M (2006) Endurance exercise is associated with increased plasma cardiac troponin I in horses. Equine Vet J 36:27–31

Jin JP, Yang FW, Yu ZB, Ruse CI, Bond M, Chen A (2001) The highly conserved COOH terminus of troponin I forms a calcium modulated allosteric domain in the troponin complex. Biochemistry 40:2323–2331

La Gerche A, Boyle A, Wilson AM, Prior DL (2004) No evidence of sustained myocardial injury following an lronman distance triathlon. Int J Sports Med 25:45–49

Ladenson JH (2007) A personal history of markers of myocyte injury (myocardial infarction). Clin Chim Acta 381:3–8

Leszyk J, Dumaswala R, Potter JD, Collins JH (1988) Amino acid sequence of bovine cardiac troponin I. Biochemistry 27:2821–2827

Mamor AT, Klein R, Plich M, Groshar D, Schneeweiss A (1988) Elevated CK-MB isoenzymes after exercise stress test and atrial pacing in patients with ischemic heart diseases. Chest 94:1216–1220

Mittmann K, Jaquet K, Heilmeyer LM Jr (1990) A common motif of two adjacent phosphoserines in bovine, rabbit and human cardiac troponin I. FEBS Lett 273:41–45

Moss DW, Henderson AR (1994) Enzymes. In: Burtis CA, Ashwood ER (eds) Tietz textbook of clinical chemistry, 2nd edn. W.B. Saunders Company, Philadelphia

Nostell K, Haggstrom J (2008) Resting concentrations of cardiac troponin I in fit horses and effect of racing. J Vet Cardiol 10:105–109

O'Brien PJ, Smith DE, Knechtel TJ, Marchak MA, Pruimboom-Brees I, Brees DJ, Spratt DP, Archer FJ, Butler P, Potter AN, Provost JP, Richard J, Snyder PA, Reagan WJ (2006) Cardiac troponin I is a sensitive, specific biomarker of cardiac injury in laboratory animals. Lab Anim 40:153–171

Phillips W, Giguere S, Franklin RP, Hernandez J, Adin D, Peloso JG (2003) Cardiac tropnin I in pastured and race-training Thoroughbred horses. J Vet Int Med 17:597–599

Piper HM, Schwartz P, Spahr R, Hutter JF, Spieckermann PG (1984) Early enzyme release from myocardial cells is not due to irreversible cell damage. J Mol Cell Cardiol 16:385–388

Rahnama N, Faramarzi M, Gaeini AA (2011) Effect of intermittent exercise on cardiac troponin I and creatine kinase-MB. Int J Prev Med 2:20–23

Rifai N, Douglas PS, O'Toole M, Rimm E, Ginsburg GS (1999) Cardiac troponin T and I, echocardiographic [correction of electrocardiographic] wall motion analyses, and ejection fractions in athletes participating in the Hawaii IronmanTriathlon. Am J Cardiol 83:1085–1089

Rishniw M, Simpson KW (2005) Cloning and sequencing of equine cardiac troponin I and confirmation of its usefulness as a target analyte for commercial troponin I analyzers. J Vet Diagn Invest 17:582–584

Serrano-Ostáriz E, Legaz-Arrese A, Terreros-Blanco JL, López-Ramón M, Cremades-Arroyos D, Carranza-García LE, Izquierdo-Alvarez S, Bocos-Terraz P (2009) Cardiac biomarkers and exercise duration and intensity during a cycle-touring event. Clin J Sport Med 19:293–299

Serrano-Ostáriz E, Terreros-Blanco JL, Legaz-Arrese A, George K, Shave R, Bocos-Terraz P, Izquierdo-Álvarez S, Bancalero JL, Echavarri JM, Quilez J, Aragonés MT, Carranza-García LE (2011) The impact of exercise duration and intensity on the release of cardiac biomarkers. Scand J Med Sci Sports 21:244–249

Sharkey SW, Murakami MM, Smith SA, Apple FS (1991) Canine myocardial creatine kinase isoenzymes after chronic coronary artery occlusion. Circulation 84:333–340

Shave R, Ross P, Low D, George K, Gaze D (2010) Cardiac troponin I is released following high-intensity short-duration exercise in healthy humans. Int J Cardiol 145:337–339

Snow DH (1992) An introduction to the racing camel. Proceeding of the 1st International Camel Conference 2nd – 6th February, Dubai, UAE, pp. 215–217

SPSS (2009) Statistical package for social sciences. SPSS Inc, Chicago, Copyright© for Windows, version 18

Tharwat M, Al-Sobayil FA, Ali A, Buczinski S (2012a) Echocardiography of the normal camel (Camelus dromedaries) heart: technique and cardiac dimensions. BMC Vet Res 8:130

Tharwat M, Al-Sobayil F, Al-Sobayil K (2012b) The cardiac biomarkers troponin I and CK-MB in nonpregnant and pregnant goats, goats with normal birth, goats with prolonged birth, and goats with pregnancy toxemia. Theriogenology 78:1500–1507

Tharwat M, Al-Sobayil FA, Buczinski S (2013) Cardiac biomarkers changes in camels (Camelus dromedarius) secondary to long road transportation. J Vet Cardiol. doi:10.1016/j.jvc.2012.08.004

Urhausen A, Scharhag J, Herrmann M, Kindermann W (2004) Clinical significance of increased cardiac troponins T and I in participants of ultra-endurance events. Am J Cardiol 94:696–698

Volz KA, Horowitz GL, McGillicuddy DC, Grossman SA, Sanchez LD (2012) Should creatine kinase-MB index be eliminated in patients with indeterminate troponins in the ED? Am J Emerg Med 30:1574–1576

Wakshlag JJ, Kraus MS, Gelzer AR, Downey RL, Vacchani P (2010) The influence of high-intensity moderate duration exercise on cardiac troponin I and C-reactive protein in sled dogs. J Vet Int Med 24:388–1392
Acknowledgments
The authors would like to thank N. Peachy, English professor, Deanship for Educational Services, Qassim University, for language editing.
About this article
Cite this article
Tharwat, M., Al-Sobayil, F. & Buczinski, S. Effect of racing on the serum concentrations of cardiac troponin I and creatine kinase myocardial band in racing camels (Camelus dromedarius) . Vet Res Commun 37, 139–144 (2013). https://doi.org/10.1007/s11259-013-9556-z
Accepted:

Published:

Issue Date:
Keywords
Cardiac biomarkers

cTnI

CK-MB

Racing camels

Troponins