Abstract
In the present study forty-four Greek endemic strains of Br. melitensis and three reference strains were genotyped by Multi locus Variable Number Tandem Repeat (ML-VNTR) analysis based on an eight-base pair tandem repeat sequence that was revealed in eight loci of Br. melitensis genome. The forty-four strains were discriminated from the vaccine strain Rev-1 by Restriction Fragment Length Polymorphism (RFLP) and Denaturant Gradient Gel Electrophoresis (DGGE). The ML-VNTR analysis revealed that endemic, reference and vaccine strains are genetically closely related, while most of the loci tested (1, 2, 4, 5 and 7) are highly polymorphic with Hunter-Gaston Genetic Diversity Index (HGDI) values in the range of 0.939 to 0.775. Analysis of ML-VNTRs loci stability through in vitro passages proved that loci 1 and 5 are non stable. Therefore, vaccine strain can be discriminated from endemic strains by allele's clusters of loci 2, 4, 6 and 7. RFLP and DGGE were also employed to analyse omp2 gene and reveled different patterns among Rev-1 and endemic strains. In RFLP, Rev-1 revealed three fragments (282, 238 and 44 bp), while endemic strains two fragments (238 and 44 bp). As for DGGE, the electrophoretic mobility of Rev-1 is different from the endemic strains due to heterologous binding of DNA chains of omp2a and omp2b gene. Overall, our data show clearly that it is feasible to genotype endemic strains of Br. melitensis and differentiate them from vaccine strain Rev-1 with ML-VNTR, RFLP and DGGE techniques. These tools can be used for conventional investigations in brucellosis outbreaks.
This is a preview of subscription content, log in to check access.
Access options
Buy single article
Instant access to the full article PDF.
US$ 39.95
Price includes VAT for USA
Subscribe to journal
Immediate online access to all issues from 2019. Subscription will auto renew annually.
US$ 99
This is the net price. Taxes to be calculated in checkout.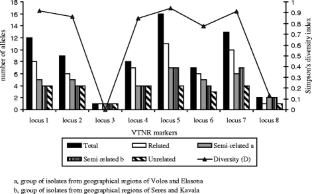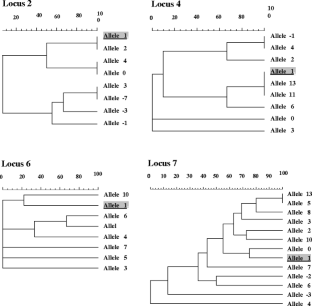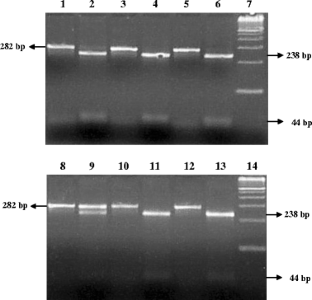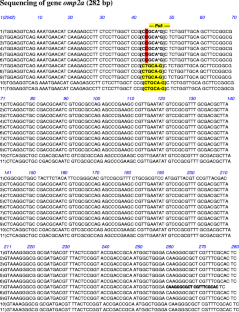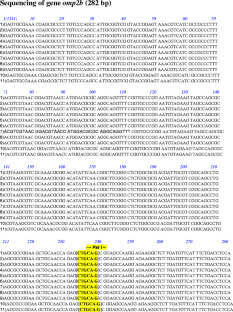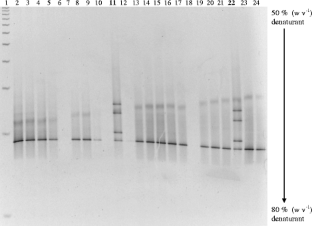 Abbreviations
PCR:

Polymerase chain reaction

VNTRs:

Various number tandem repeats

Fs:

Field strain

TBE:

Tris-borate-EDTA buffer

OMP:

Outer membrane protein

RFLP:

Restriction Fragment length polymorphism

HOOF-prints:

Hypervariable octameric oligonucleotide finger-prints

ESGEM:

European Study Group for epidemiological markers

DGGE:

Denaturant gradient gel electrophoresis

TAE:

Tris-acetate-EDTA

HGDI:

Hunter-Gaston genetic diversity index
References
Al Dahouk S, Tomaso H, Prenger-Berninghoff E et al (2005) Identification of Brucella species and biotypes using Polymerase Chain Reaction-Restriction Fragment Length Polymorphism (PCR-RFLP). Crit Rev Microbiol 31:191–196

Al Dahouk S, Le Flèche P, Nöckler K et al (2007) Evaluation of Brucella MLVA typing for human brucellosis. J Microbiol Meth 69:137–145

Alton GG, Jones LM, Angus RD, Verger JM (1988) Techniques for brucellosis laboratory. Institut National de la Recherche Agronomiche, Paris

Bardenstein S, Mandelboim M, Ficht TA, Baum M, Banai M (2002) Identification of the Brucella melitensis vaccine strain Rev.1 in animals and humans in Israel by PCR analysis of the PstI site polymorphism of its omp2 gene. J Clin Microbiol 40:1475–1480

Blasco JM (2006) Existing and future vaccines against brucellosis in small ruminants. Small Rumin Res 62:33–37

Bricker BJ, Halling SM (1994) Differentiation of Brucella abortus bv. 1, 2, and 4, Brucella melitensis, Brucella ovis, and Brucella suis bv.1 by PCR. J Clin Microbiol 32:2660–2666

Bricker BJ, Ewalt DR (2005) Evaluation of the HOOF-print assay for typing Brucella abortus strains isolated from cattle in the United States: results with four performance criteria. BMC Microbiol 5:37

Bricker BJ, Ewalt DR, Halling SM (2003) Brucella 'HOOF-Prints': strain typing by multi-locus analysis of variable number tandem repeats (VNTRs). BMC Microbiol 3:15

Carrére L, Lafenêtre H, Quatrefages H et al (1960) Durée de la survie des Brucella dans le fromage de Roquefort. Bull Acad Vét 33:469–473

Cloeckaert A, Verger JM, Grayon M, Grépinet O (1995) Restriction site polymorphism of genes encoding the major 25 kDa and 36 kDa outer-membrane proteins of Brucella. Microbiology 141:2111–2121

Cloeckaert A, Verger JM, Grayon M, Vizcaino N (1996) Molecular and immunological characterization of the major outer membrane proteins of Brucella. FEMS Microbiol Lett 145:1–8

Corbel MJ (1997) Brucellosis: an overview. Emerg Infect Dis 3:213–221

DelVecchio VG, Kapatral V, Elzer P et al (2002) The genome of Brucella melitensis. Vet Microbiol 90:587–592

Diaz R, Garatea P, Jones LM et al (1979) Radial immunodiffusion test with a Brucella polysaccharide antigen for differentiating infected from vaccinated cattle. J Clin Microbiol 10:37–41

Díaz-Aparicio E, Aragón V, Marín C et al (1993) Comparative analysis of Brucella serotype A and M and Yersinia enterocolitica O:9 polysaccharides for serological diagnosis of brucellosis in cattle, sheep, and goats. J Clin Microbiol 31:3136–3141

Ficht TA, Bearden SW, Sowa BA, Adams LG (1988) A 36-kDa Brucella abortus cell-enveloped protein is encoded by repeated sequences closely linked in the genomic DNA. Infect Immun 56:2036–2046

Ficht TA, Bearden SW, Sowa BA, Adams LG (1989) DNA sequence and expression of the 36-kilodalton outer membrane protein gene of Brucella abortus. Infect Immun 57:3281–3291

Ficht TA, Bearden SW, Sowa BA, Marquis H (1990) Genetic variation at the omp2 porin locus of the Brucellae: species-specific markers. Mol Microbiol 4:1135–1142

Ficht TA, Husseinen HS, Derr J, Bearden SW (1996) Species-specific sequences at the omp2 locus of Brucella type strains. Int J Syst Bacteriol 46:329–331

Foster G, Osterman BS, Godfroid J et al (2007) Brucella ceti sp. nov. and Brucella pinnipedialis sp. nov. for Brucella strains with cetaceans and seals as their preferred hosts. Int J Syst Evol Microbiol 57:2688–2693

Huynh LY, Van Ert MN, Hadfield T et al (2008) Multiple locus variable number tandem repeat (VNTR) analysis (MLVA) of Brucella spp. identifies species specific markers and insights into phylogenetic relationships. In: Georgiev VSt, Western KA, McGowan JJ (eds) National institute of allergy and infectious disease, NIH, vol 1, frontiers in research. Humana Press, Totowa, pp 47–54

Le Fleche P, Jacques I, Grayon M, Al Dahouk S, Bouchon P, Denoeud F et al (2006) Evaluation and selection of tandem repeat loci for a Brucella MLVA typing assay. BMC Microbiol 6:9

Marianelli C, Graziani C, Santangelo C et al (2007) Molecular epidemiological and antibiotic susceptibility characterization of Brucella isolates from humans in Sicily, Italy. J Clin Microbiol 45:2923–2928

Myers RM, Fischer SG, Lerman LS, Maniatis T (1985) Nearly all single base substitutions in DNA fragments joined to a GC clamp can be detected by denaturing gradient gel electrophoresis. Nucleic Acids Res 13:3131–3145

Myers RM, Maniatis T, Lerman LS (1987) Detection and localization of single base changes by denaturing gradient gel electrophoresis. Methods Enzymol 155:501–527

Nashwa MH, Zaki HM, Adawy SS (2007) Identification and differentiation of Brucella melitensis Rev.1 vaccine and B. melitensis Biovar 3 field solates in Egypt by serological and PCR-RFLP techniques. J Appl Sci Res 3:841–847

Nicoletti PL (1990) Vaccination. In: Nielsen KH, Duncan JR (eds) Animal brucellosis. CRC Press, Boca Raton, pp 283–299

Pappas G, Papadimitriou P, Akritidis N et al (2006) The new global map of human brucellosis. Lancet Infect Dis 6:91–99

Pefanis SM, Gummow B, Pieterson PM et al (1988) The isolation and serology of the "FSA" Brucella melitensis Rev. 1 mutant in a flock of sheep. Onderstepoort J Vet Res 55:181–183

Sheffield VC, Beck JS, Stone EM, Myers RM (1992) A simple and efficient method for attachment of a 40base pair, GCrich sequence to PCR amplified DNA. Biotechniques 12:386–387

Simpson EH (1949) Measurement of diversity. Nature 163:688–689

Tiller RV, De BK, Boshra M et al (2009) Comparison of two multiple-locus variable-number tandem-repeat analysis methods for molecular strain typing of human Brucella melitensis isolates from the Middle East. J Clin Microbiol 47:2226–2231

Valdezate S, Cervera I, Hernandez P et al (2007) Characterisation of human outbreaks of brucellosis and sporadic cases by the use of hyper-variable octameric oligonucleotide fingerprint (HOOF) variable number tandem repeats. Clin Microbiol Infect 13:887–892

Valdezate S, Navarro A, Villalon P et al (2010) Epidemiological and phylogenetic analysis of Spanish human Brucella melitensis strains by multiple-locus variable-number tandem-repeat typing, hypervariable octameric oligonucleotide fingerprinting, and rpoB typing. J Clin Microbiol 48:2734–2740

Van Belkum AP, Tassios T, Dijkshoorn L et al (2007) Guidelines for validation and application of typing methods for use in bacterial epidemiology. Clin Microbiol Infect 13:1–46

Verger JM, Grimont F, Grimont PAD et al (1985) Brucella, a monospecific genus as shown by deoxyribonucleic acid hybridization. Int J Syst Bacteriol 35:292–295

Whatmore AM, Shankster SJ, Perrett LL et al (2006) Identification and characterization of variable-number-tandem-repeat markers for typing of Brucella spp. J Clin Microbiol 44:1982–1993
Acknowledgements
This research was fully supported by a PENED Doctoral Research Grant (project 03ED467) from the General Secretariat for Research and Technology of the Hellenic Ministry of Development and PNG Gerolymatos S.A.
Electronic supplementary material
Below is the link to the electronic supplementary material.
Size of PCR products (bp) from eight loci of Br. melitensis genome (DOC 101 kb)
About this article
Cite this article
Noutsios, G.T., Papi, R.M., Ekateriniadou, L.V. et al. Molecular typing of Brucella melitensis endemic strains and differentiation from the vaccine strain Rev-1. Vet Res Commun 36, 7–20 (2012). https://doi.org/10.1007/s11259-011-9505-7
Accepted:

Published:

Issue Date:
Keywords
Brucella melitensis

Rev-1

ML-VNTR analysis

omp2 polymorphism

Phylogenetic relationship

DGGE