Abstract
Currently, traditional ethnoveterinary practices are rare in Europe and the plants used previously have been replaced by the modern drugs used by national veterinary services. However, in some rural areas of the Mediterranean basin these traditional practices persist. Here we analyze the plant resources still used, or that have been used up until recently, for the treatment of the health and comfort of animals in a region in the central-western part of the Iberian Peninsula, the Arribes del Duero. We document the use of 84 species, belonging to 39 families (with a total of 2243 use-reports), and 62 herbal remedies based on the use of a single plant species (43) and cited by at least three independent informants. The veterinary use of the Ranunculaceae Clematis campaniflora is reported for the first time. We also identify several plants used as bedding or fodder for livestock and discuss the relevance of some toxic plants and some "magical-curative" aspects reported in the territory.
This is a preview of subscription content, log in to check access.
Access options
Buy single article
Instant access to the full article PDF.
US$ 39.95
Price includes VAT for USA
Subscribe to journal
Immediate online access to all issues from 2019. Subscription will auto renew annually.
US$ 99
This is the net price. Taxes to be calculated in checkout.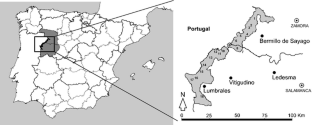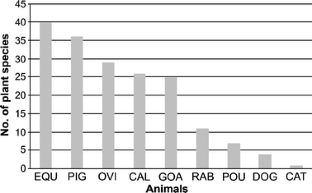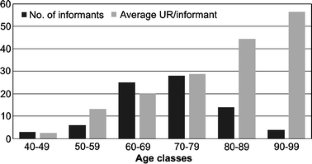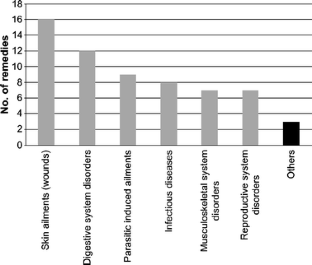 References
Akerreta S, Calvo MI, Cavero RY (2010) Ethnoveterinary knowledge in Navarra (Iberian Peninsula). J Ethnopharmacol 130:369–378

Ayan I, Acar Z, Mut H, Basaran U, Asci O (2006) Morphological, chemical and nutritional properties of forage plants in a natural rangeland in Turkey. Bangladesh J Bot 35:133–142

Blackall PJ, Hinz KH (2008) Infectious coryza and related diseases. In: Pattison M, McMullin PF, Bradbury JM, Alexander DJ (eds) Poultry diseases, 6th edn. Elsevier, London, pp 155–160

Blanco E, Cuadrado C (2000) Etnobotánica en Extremadura. Estudio de La Calabria y La Siberia extremeñas. Centro de Profesores y Recursos "Pintor Ortega", Alcoba de los Montes (Ciudad Real)

Bonet MÀ, Vallès J (2007) Ethnobotany of Montseny biosphere reserve (Catalonia, Iberian Peninsula): plants used in veterinary medicine. J Ethnopharmacol 110:130–147

Bruneton J (2001) Plantas tóxicas: vegetales peligrosos para el hombre y los animales. Acribia, Zaragoza

Bullitta S, Piluzza G, Viegi L (2007) Plant resources used for traditional ethnoveterinary phytotherapy in Sardinia (Italy). Genet Resour Crop Evol 54:1447–1464

Calabuig EL (coord) (2008) Arribes del Duero: Guía de la naturaleza. Edilesa, León

Casado S, Martínez A (2010) Plantas alimenticias y forrajeras. In: Velasco JM, Criado J, Blanco E (eds) Usos tradicionales de las plantas en la provincia de Salamanca. Diputación de Salamanca, Salamanca, pp 45–117

Castroviejo S (coord) (1986–2010) Flora iberica. Plantas vasculares de la Península Ibérica e Islas Baleares. vols I–VIII, X, XII–XV, XVII–XVIII, XXI. Real Jardín Botánico, CSIC, Madrid

Criado J (2010) Plantas medicinales y tóxicas. In: Velasco JM, Criado J, Blanco E (eds) Usos tradicionales de las plantas en la provincia de Salamanca. Diputación de Salamanca, Salamanca, pp 119–215

Cruz Sánchez PJ (2010) Ensayo de tipología de las construcciones secundarias en piedra seca en la Arribes del Duero salmantinas. Estud Patrimonio Cult 4:5–24

Durden LA, Lloyd JE (2009) Lice (Phthiraptera). In: Mullen GR, Durden LA (eds) Medical and veterinary entomology, 2nd edn. Academic, London, pp 59–80

Gallego E, Gallego A (2008) Usos, tradiciones y conocimiento de las plantas por las gentes de Sayago. ADERISA, Bermillo de Sayago (Zamora)

García Feced C, Escribano Bombín R, Elena Rosselló R (2007) Comparación de la estructura de los paisajes en Parques Naturales fronterizos: Arribes del Duero versus Douro Internacional. Montes 91:8–14

González JA, García-Barriuso M, Amich F (2010) Ethnobotanical study of medicinal plants traditionally used in the Arribes del Duero, western Spain. J Ethnopharmacol 131:343–355

Granzow de la Cerda I (ed) (1993) Etnobotánica. El mundo vegetal en la tradición. Diputación de Salamanca, Salamanca

Hernández Corrochano E (2006) Mujeres, espacios de equipoder y desarrollo rural. AIBR, Rev Antropol Iberoam 1:62–79

Juárez Alcalde J (2000) El hombre y el medio: actividades tradicionales. In: Vicente JL, Palacios J, Martínez A, Rodríguez M (eds) Arribes del Duero: el hogar del águila perdicera y de la cigüeña negra. Junta de Castilla y León, Valladolid, pp 53–63

Katerere DR, Luseba D (eds) (2010) Ethnoveterinary Botanical Medicine: Herbal Medicines for Animal Health. CRC, Boca Raton

Laguna Sanz E (1998) El cerdo ibérico. Mundi Prensa, Madrid

Lans C, Turner N, Brauer G, Khan T (2009) Medicinal plants used in British Columbia, Canada for reproductive health in pets. Prev Vet Med 90:268–273

Llorente Pinto JM (1990) Las penillanuras de Zamora y Salamanca. In: Cabo A, Manero F (eds) Geografía de Castilla y León. Tomo 8: Las Comarcas Tradicionales. Ámbito, Valladolid, pp 177–211

Martín F (1996) Arribes del Duero. A caballo entre Zamora y Salamanca. Artec, Segovia

Martin M, Mathias E, McCorkle CM (2001) Ethnoveterinary medicine: an annotated bibliography of community animal healthcare. ITDG, London

Mata LM (2009) La casa de Las Arribes: balcones al Duero. Emociones en Salamanca 11:31–35

Mathias E (2004) Ethnoveterinary medicine: harnessing its potential. Vet Bull 74:27–37

Mathias E (2007) Ethnoveterinary medicine in the era of evidence-based medicine: mumbo-jumbo, or a valuable resource? Veter J 173:241–242

McCorkle CM (1986) An introduction to ethnoveterinary research and development. J Ethnobiol 6:129–149

Moore SJ, Lenglet A, Hill N (2006) Plant-based insect repellents. In: Debboun M, Frances SP, Strickman D (eds) Insect repellents: principles, methods, and uses. CRC, Boca Raton, pp 275–303

Morán C (1946) Reseña histórico-artística de la provincia de Salamanca. Universidad de Salamanca, Valladolid

Morales Rodríguez CG, Caballero Fernández P (2003) Parque Natural de Arribes del Duero: Análisis demográfico. In: Servicio de Espacios Naturales de la Junta de Castilla y León (ed) Libro del Parque Natural de Arribes del Duero. Junta de Castilla y León, Valladolid, pp 8–12

Nelson LS, Shih RD, Balick MJ (2007) Handbook of poisonous and injurious plants, 2nd edn. The New York Botanical Garden-Springer, New York

Panero JA (2005) Sayago, costumbres, creencias y tradiciones, 2nd edn. ADERISA, Bermillo de Sayago (Zamora)

Pieroni A, Howard P, Volpato G, Santoro RF (2004) Natural remedies and nutraceuticals used in ethnoveterinary practices in inland southern Italy. Vet Res Commum 28:55–80

Pieroni A, Giusti ME, de Pasquale C et al (2006) Circum-Mediterranean cultural heritage and medicinal plant uses in traditional animal healthcare: a field survey in eight selected areas within the RUBIA project. J Ethnobiol Ethnomed 2:16

Prada Llorente EI (2005) Paisaje agrario: antropología de un territorio. CyTET 144:343–372

Purdy SR (2010) Donkeys: miniature, standard, and mammoth: a veterinary guide for owners and breeders. Trafalgar Square Books, Vermont

Rocha C, Córdova-Izquierdo A (2008) Causas de retención placentaria en el ganado ovino. RECVET 3:2

Sánchez ME, Amor A, Ladero M (2006) Estudio fitosociológico y bromatológico de los pastizales con interés ganadero en la provincia de Salamanca. Stud bot 25:9–61

San Feliciano A, Medrade M, Gordaliza M, del Olmo E, Miguel del Corral JM (1989) Sesquiterpenoids and phenolics of Pulicaria paludosa. Phytochemistry 28:2717–2721

Scholl PJ, Catts EP, Mullen GR (2009) Myiasis (Muscoidea. Oestroidea). In: Mullen GR, Durden LA (eds) Medical and veterinary entomology, 2nd edn. Academic, London, pp 309–338

Tabuti JRS, Dhillion SS, Lye KA (2003) Ethnoveterinary medicines for cattle (Bos indicus) in Bulamogi county, Uganda: plant species and mode of use. J Ethnopharmacol 88:279–286

Tardío J, Pardo-de-Santayana M (2008) Cultural importance indices: a comparative analysis based on the useful wild plants of southern Cantabria (Northern Spain). Econ Bot 62:24–39

Tejerina A (2010) Usos y saberes sobre las plantas de Monfragüe. Etnobotánica de la Comarca Natural. Itomonfragüe, Cáceres

Tutin T, Heywood V, Burges A, Valentine D, Moore D, Walters M, Webb D (eds) (1964–1993) Flora Europaea. vols 1–5. Cambridge University Press, Cambridge

Velasco JM (2010) Plantas de usos no materiales. In: Velasco JM, Criado J, Blanco E (eds) Usos tradicionales de las plantas en la provincia de Salamanca. Diputación de Salamanca, Salamanca, pp 308–388

Viegi L, Pieroni A, Guarrera PM, Vangelisti R (2003) A review of plants used in folk veterinary medicine in Italy as basis for a databank. J Ethnopharmacol 89:221–244

Villar D, Ortiz Díaz JJ (2006) Plantas tóxicas de interés veterinario: casos clínicos. Elsevier-Masson, Barcelona

Winter A (2004) Lameness in sheep. The Crowood, Ramsbury

Wirtu G, Adugna G, Samuel T, Kelbessa E, Geleto A (1999) Aspects of farmers' knowledge, attitudes and practices of animal health problems in central Ethiopia. In: Ethnoveterinary Medicine: Alternatives for Livestock Development. Proceedings… BAIF Development Research Foundation, Pune, India, pp 41–52

Wood RL, Henderson LM (2006) Erysipelas. In: Straw BE, Zimmerman JJ, D'Allaire S, Taylor DJ (eds) Diseases of swine, 9th edn. Blackwell, Ames, pp 629–638

Wynn SG, Fougère BJ (eds) (2007) Veterinary herbal medicine. Mosby-Elsevier, St. Louis

Yanes JE (2001) La raza sayaguesa: la idiosincrasia de una reliquia desconocida. Arch Zootec 50:97–103
Acknowledgments
Special thanks go out to all interview participants for generously sharing their knowledge about traditional animal health care.
About this article
Cite this article
González, J.A., García-Barriuso, M. & Amich, F. Ethnoveterinary medicine in the Arribes del Duero, western Spain. Vet Res Commun 35, 283–310 (2011). https://doi.org/10.1007/s11259-011-9473-y
Accepted:

Published:

Issue Date:
Keywords
Veterinary herbal medicine

Animal bedding

Animal feeding

Cultural importance

Spain