Abstract
Eleven Chlamydophila (formerly Chlamydia) psittaci strains derived from avian and mammalian species (two from dairy cows, one from duck, three from sheep, three from wild birds, and two from pigs) were identified as genotype C by outer membrane protein A gene sequencing. Genotype C had been preferentially associated with waterfowl. This paper suggests that mammals may represent an underestimated source for genotype C strains and for human psittacosis cases.
This is a preview of subscription content, log in to check access.
Access options
Buy single article
Instant access to the full article PDF.
US$ 39.95
Price includes VAT for USA
Subscribe to journal
Immediate online access to all issues from 2019. Subscription will auto renew annually.
US$ 99
This is the net price. Taxes to be calculated in checkout.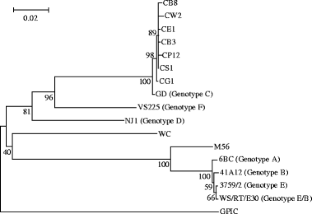 References
Denamur, E., Sayada, C., Souriau, A., Orfila, J., Rodolakis, A., Elion, J., 1991. Restriction pattern of the major outer-membrane protein gene provides evidence for a homogeneous invasive group among ruminant isolates of Chlamydia psittaci. Journal of General Microbiology, 137, 2525–2530

Geens, T., Desplanques, A., Van Loock, M., Bonner, B.M., Kaleta, E.F., Magnino, S., Andersen, A.A., Everett, K.D., Vanrompay, D., 2005. Sequencing of the Chlamydophila psittaci ompA gene reveals a new genotype, E/B, and the need for a rapid discriminatory genotyping method. Journal of Clinical Microbiology, 43, 2456–2461. doi:10.1128/JCM.43.5.2456-2461.2005

Heddema, E.R., van Hannen, E.J., Duim, B., Vandenbroucke-Grauls, C.M., Pannekoek, Y., 2006. Genotyping of Chlamydophila psittaci in human samples. Emerging Infectious Diseases, 12, 1989–1990

Kumar, S., Tamura, K., Nei, M., 2004. MEGA3: Integrated software for Molecular Evolutionary Genetics Analysis and sequence alignment. Briefings in Bioinformatics, 5, 150–163. doi:10.1093/bib/5.2.150

Thompson, J.D., Gibson, T.J., Plewniak, F., Jeanmougin, F., Higgins, D.G., 1997. The CLUSTAL_X windows interface: flexible strategies for multiple sequence alignment aided by quality analysis tools. Nucleic Acids Research, 25, 4876–4882. doi:10.1093/nar/25.24.4876

Vanrompay, D., Butaye, P., Sayada, C., Ducatelle, R., Haesebrouck, F., 1997. Characterization of avian Chlamydia psittaci strains using omp1 restriction mapping and serovar-specific monoclonal antibodies. Research in Microbiology, 148, 327–333. doi: 10.1016/S0923-2508(97)81588-4

Zhang, Y.X., Morrison, S.G., Caldwell, H.D., Baehr, W., 1989. Cloning and sequence analysis of the major outer membrane protein genes of two Chlamydia psittaci strains. Infection and Immunity, 57, 1621–1625
Acknowledgement
This work was supported by the National Natural Science Foundation of China (No. 30500369).
About this article
Cite this article
Song, L., Li, Y., Liu, G. et al. Genotyping of Chlamydophila psittaci strains derived from avian and mammalian species. Vet Res Commun 33, 577–580 (2009). https://doi.org/10.1007/s11259-008-9198-8
Received:

Accepted:

Published:

Issue Date:
Keywords
Chlamydia

Chlamydophila psittaci

Genotyping

ompA