Abstract
Goatgrass (Aegilops) species are some of the most aggressive invasive plants in the Western U.S. Despite intense management efforts, goatgrass continues to reduce the ecological and economic integrity of natural and agroecological systems. The mismatch between current research outcomes and practical needs of land managers is likely a result of limitations associated with generalizing from single location, treatment, or season studies. We conducted a systematic review of experiments testing control of two dominant goatgrass invaders (A. cylindrica and A. triuncialis) to identify general patterns in treatment efficiency. Using data from 391 separate experiments, we found that experimental treatments were more successful at controlling the dominance of A. cylindrica compared to A. triuncialis. For A. cylindrica, no treatment demonstrated particular utility for control. Treatment of A. cylindrica in the vegetative stage was more effective for control than treatment at other stages. For A. triuncialis, burning and grazing demonstrated effective overall control among all treatments, although grazing produced variable results. Treatment in the fruiting stage of A. triuncialis was more effective for control than treatment at other stages. For both species, multiple applications of a management treatment within a year resulted in no better control than a single application within a year. Additionally, treatments deployed in two consecutive years resulted in better control of both species, than a treatment deployed in a single year. This work highlights promising avenues for more intensive research on goatgrass weed control and suggests that management funding is most effectively utilized when employed across years rather than focused on a single year.
This is a preview of subscription content, log in to check access.
Access options
Buy single article
Instant access to the full article PDF.
US$ 39.95
Price includes VAT for USA
Subscribe to journal
Immediate online access to all issues from 2019. Subscription will auto renew annually.
US$ 199
This is the net price. Taxes to be calculated in checkout.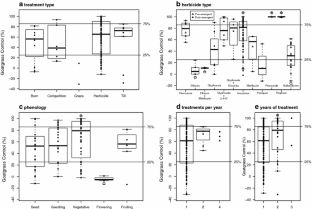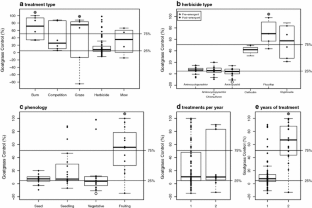 References
Aigner PA, Woerly RJ (2011) Herbicides and mowing to control barb goatgrass (Aegilops triuncialis) and restore native plants in serpentine grasslands. Invasive Plant Sci Manag 4:448–457

Beeler JF, Armel GR, Brosnan JT, Vargas JJ, Klingeman WE, Koepke-Hill RM, Bates GE, Kopsell DA, Flanagan PC (2012) Trumpetcreeper control with various indole-3-acetic acid mimics and diflufenzopyr. HortTechnology 22:677–681

Blackshaw RE (1998) Postemergence weed control in pea (Pisum sativum) with imazamox. Weed Technol 12:64–68

Blackshaw RE, O'Donovan JT, Harker KN, Clayton GW, Stougaard RN (2006) Reduced herbicide doses in field crops: a review. Weed Biology 6:10–17

Bradley BA, Blumenthal DM, Early R, Groscholz ED, Lawler JJ, Miller LP, Sorte CJB, D'Antonio CM, Diez JM, Dukes JS, Ibanez I, Olden JD (2012) Global change, global trade, and the next wave of plant invasions. Front Ecol Environ 10:20–28

Byers JE (2002) Impact of non-indigenous species on natives enhanced by anthropogenic alteration of selection regimes. Oikos 97:449–458

Crawley M (2013) The R handbook. John Wiley & Sons Ltd., West Sussex

Daehler C (1998) The taxonomic distribution of invasive angiosperm plants: ecological insights and comparison to agricultural weeds. Biol Conserv 84:167–180

Davies KW, Boyd CS, Johnson DD, Nafus AM, Madsen MD (2015) Success of seeding native compared with introduced perennial vegetation for revegetating Medusahead-Invaded sagebrush rangeland. Rangel Ecol Manage 68:224–230

Davy JS, DiTomaso JM, Laca EA (2008) Barb Goatgrass. University of California Division of Agriculture and Natural Resources No. 8315, Davis, CA, p 5

Davy JS, Roche LM, Nay DE, Tate KW (2015) Plant community responses to cattle grazing in a noxious weed dominated rangeland. Calif Agric 69:4

DiTomaso J, Heise KL, Kyser GB, Merenlender AM, Keiffer RJ (2001) Carefully timed burning can control barb goatgrass. Calif Agric 55:47–53

Donald WW, Ogg AG Jr (1991) Biology and control of jointed goatgrass (Aegilops cylindrica), a review. Weed Technol 5:3–17

Drenovsky RE, Batten KM (2007) Invasion by Aegilops triuncialis (barb goatgrass) slows carbon and nutrient cycling in a serpentine grassland. Biol Invasions 9:107–116

Duncan CA, Jachetta JJ, Brown ML, Carrithers VF, Clark JK, DiTomaso JM, Lym RG, McDaniel KC, Renz MJ, Rice PM (2004) Assessing the economic, environmental, and societal losses from invasive plants on rangeland and wildlands. Weed Technol 18:1411–1416

Dyer AR (2004) Maternal and sibling factors induce dormancy in dimorphic seed pairs of Aegilops triuncialis. Plant Ecol 172:211–218

Ehrenfeld JG (2003) Effects of exotic plant invasions on soil nutrient cycling processes. Ecosystems 6:503–523

Ehrenfeld JG (2010) Ecosystem consequences of biological invasions. Annu Rev Ecol Evol Syst 41:59–80

Ferrell J, Sellers B, Jennings E (2012) Herbicidal control of Largeleaf Lantana (Lantana camara). Weed Technol 26:554–558

Flory SL, Clay K (2009) Invasive plant removal method determines native plant community responses. J Appl Ecol 46:434–442

Gornish ES, James JJ (2016) Interactions among habitat, management, and demography for an invasive annual grass. Plant Ecol 217:1247–1258

Gornish ES, Aanderud ZT, Sheley RL, Rinella MJ, Svejcar T, Englund SD, James JJ (2015) Altered snowfall and soil disturbance influence the early life stage transitions and recruitment of a native and invasive grass in a cold desert. Oecologia 177:595–606

Hill LV (1976) Development, competition and control of tansy mustard, jointed goatgrass and field bindweed in winter wheat, Ph.D. dissertation, Oklahoma State University

Jacobsen W (1929) Goatgrass—a weed pest of the range. Mon Bull Dept. Agric State Calif 18:37–41

James JJ, Gornish ES, DiTomaso JM, Davy J, Doran M, Becchetti T, Wilson R, Lile D, Laca E (2015) Managing medusahead (Taeniatherum caput-medusae) on rangeland: a meta analysis of control efforts and assessment of stakeholder needs. Rangel Ecol Manage 68:215–223

Kennedy P (1928) Goat grass or wild wheat (Aegilops triuncialis). Agron J 20:1292–1296

Kettenring KM, Adams CR (2011) Lessons learned from invasive plant control experiments: a systematic review and meta-analysis. J Appl Ecol 48:970–979

Kyser GB, Doran MP, McDougald NK, Orloff SB, Vargas RN, Wilson RG, DiTomaso JM (2008) Site characteristics determine the success of prescribed burning for medusahead (Taeniatherum caput-medusae) control. Invasive Plant Sci Manag 1:376–384

Levine JM, D'Antonio AM (2003) Forecasting biological invasions with increasing international trade. Conserv Biol 17(1):322–326

Lyons KG, Shapiro AM, Schwartz MW (2010) Distribution and ecotypic variation of the invasive annual barb goatgrass (Aegilops triuncialis) on serpentine soil. Invasive Plant Sci Manag 3:376–389

Mack RN, Simberloff D, Mark Lonsdale W, Evans H, Clout M, Bazzaz FA (2000) Biotic invasions: causes, epidemiology, global consequences, and control. Ecol Appl 10:689–710

Marty JT, Sweet SB, Buck-Diaz JJ (2015) Burning controls barb goatgrass (Aegilops triuncialis) in California grasslands for at least 7 years. Invasive Plant Sci Manag 8:317–322

Menke JW (1992) Grazing and fire management for native perennial grass restoration in California grasslands. Fremontia 20:22–25

Nelson KA, Renner KA, Penner D (1998) Weed control in soybean (Glycine max) with imazamox and imazethapyr. Weed Technol 46:587–594

Ostrowski MF, Prosperi JM, David J (2016) Potential implications of climate change on Aegilops species distribution: sympatry of these crop wild relatives with the major European crop Triticum aestivum and conservation issues. Plos One 11(4):15394

Parish S (1990) A review of non-chemical weed control techniques. Biol Agric Hortic 7:117–137

Peters A, Johnson D, George M (1996) Barb goatgrass: a threat to California rangelands. Rangelands 18:8–10

Powell KI, Chase JM, Knight TM (2011) A synthesis of plant invasion effects on biodiversity across spatial scales. Am J Bot 98:539–548

Radosevich SE, Holt JS, Ghersa CM (eds) (2007) Ecology of weeds and invasive plants: relationship to agriculture and natural resource management, 3rd edn. Wiley, New York, p 472

Richardson DM, Pyšek P (2006) Plant invasions: merging the concepts of species invasiveness and community invasibility. Prog Phys Geogr 30:409–431

Robel RJ, Briggs JN, Dayton AD, Hulbert LC (1970) Relationship between visual obstruction measurements and weight of grassland vegetation. J Range Manag 23:295–297

Schneider A, Molna I, Molnar-Lang M (2008) Utilisation of Aegilops (goatgrass) species to widen the genetic diversity of cultivated wheat. Euphytica 163:1–19

Shea K, Jongejans E, Skarpaas O, Kelly D, Sheppard AW (2010) Optimal management strategies to control local population growth or population spread may not be the same. Ecol Appl 20:1148–1161

Simberloff D (2011) How common are invasion-induced ecosystem impacts? Biol Invasions 13:1255–1268

Smith RG, Maxwell BD, Menalled FD, Rew LJ (2006) Lessons from agriculture may improve the management of invasive plants in wildland systems. Front Ecol Environ 4:428–434

Sweet SB, Kyser GB, DiTomaso JM (2008) Susceptibility of exotic annual grass seeds to fire. Invasive Plant Sci Manag 1:158–167

Taylor JG, Daniel TC (1984) Prescribed fire: public education and perception. J For 82:361–365

Thomas CD (2010) Climate, climate change and range boundaries. Divers Distrib 16:488–495

Vila M, Espinar JL, Hejda M, Hulme PE, Jarosik V, Maron JL, Pergl J, Schaffner U, Sun Y, Pysek P (2011) Ecological impacts of invasive alien plants: a meta-analysis of their effects on species, communities and ecosystems. Ecol Lett 14:702–708

Westbrooks RG (1998) Invasive plants: changing the landscape of America. US Government Documents (Utah Regional Depository): 490

Westbrooks RG, Manning ST, Waugh JD (2014) Early detection and rapid response: a cost-effective strategy for minimizing the establishment and spread of new and emerging invasive plants by global trade, travel and climate change. Invasive Species Glob Clim Change 4:305–325

Westra P, Chapman P, Stahlman PW, Miller SD, Fay PK (1992) Field Bindweed (Convolvulus arvensis) control with various herbicide combinations. Weed Technol 6:949–955

Willis B, Evans J, Dewey S (1988) Effects of temperature and flaming on germinability of jointed goatgrass (Aegilops cylindrica Host) seed. In: Proceedings-Western Society of Weed Science (USA)

Young FL, Ball DA, Thill DC, Alldredge JR, Ogg AG, Seefeldt SS (2010) Integrated weed management systems identified for jointed goatgrass (Aegilops cylindrica) in the Pacific Northwest. Weed Technol 24:430–439
Acknowledgements
The authors thank Guy Kyser for allowing access to unpublished data and Leslie M. Roche for helpful comments on an earlier version of the manuscript.
Additional information
Communicated by Martin Nunez.
Electronic supplementary material
Below is the link to the electronic supplementary material.
About this article
Cite this article
Gornish, E.S., Case, E., Valle, M. et al. A systematic review of management efforts on goatgrass (Aegilops spp) dominance. Plant Ecol 219, 549–560 (2018). https://doi.org/10.1007/s11258-018-0817-3
Received:

Accepted:

Published:

Issue Date:
Keywords
Aegilops cylindrica
Aegilops triuncialis

Grazing

Herbicide

Fire

IPM

Invasive species

Prescribed burning