Abstract
We conducted a field investigation and controlled experiments in a glasshouse to determine how litter, seed position, and/or water supply affect seedling emergence and the establishment of two native grass species (Leymus chinensis (Trin.) Tzvel. and Bromus inermis Leyss) in northern China. Both water supply and seed position dramatically influenced seedling emergence and growth, as well as the accumulation of biomass for these two species. For L. chinensis, the quantity of litter had a significant impact on seedling survival, height increment, and biomass production when grown in either the glasshouse or the field while that component had little influence on B. inermis seedling emergence or survival. The effects of litter were physical but not biological or chemical, suggesting that this component is important only in the first year of seedling establishment. Therefore, longer-term experiments are probably necessary to examine the biological and chemical impacts that litter has on seedling performance.
This is a preview of subscription content, log in to check access.
Access options
Buy single article
Instant access to the full article PDF.
US$ 39.95
Price includes VAT for USA
Subscribe to journal
Immediate online access to all issues from 2019. Subscription will auto renew annually.
US$ 199
This is the net price. Taxes to be calculated in checkout.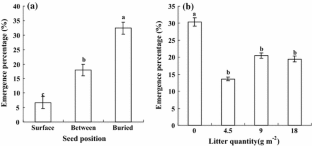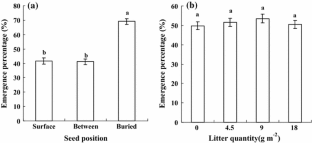 References
Baskin CC, Baskin JM (2001) Seeds, ecology, biogeography and evolution of dormancy and germination. Academic Press, San Diego, p 15

Bissels S, Donath TW, Hölzel N, Otte A (2006) Effects of different mowing regimes on seedling recruitment in alluvial grasslands. Basic Appl Ecol 7:433–442

Bosy JL, Reader RJ (1995) Mechanisms underlying the suppression of forb seedling emergence by grass (Poa pratensis) litter. Funct Ecol 9:635–639

Carson WP, Peterson CJ (1990) The role of litter in an old-field community: impact of litter quantity in different seasons on plant species richness and abundance. Oecologia 85:8–13

Chambers JC (2000) Seed movements and seedling fates in disturbed sagebrush steppe ecosystems: implications for restoration. Ecol Appl 10:1400–1413

Donath TW, Eckstein RL (2010) Effects of bryophytes and grass litter on seedling emergence vary by vertical seed position and seed size. Plant Ecol 207:257–268

Eckstein RL, Donath TW (2005) Interactions between litter and water availability affect seedling emergence in four familial pairs of floodplain species. J Ecol 93:807–816

Eckstein RL, Ruch D, Otte A, Donath TW (2012) Invasibility of a nutrient-poor pasture through resident and non-resident herbs is controlled by litter, gap size and propagule pressure. PLoS ONE 7:e41887

Evans RA, Young JA (1970) Plant litter and establishment of alien weed species in rangeland communities. Weed Sci 19:697–702

Facelli JM, Pickett STA (1991) Plant litter: its dynamics and effects on plant community structure. Bot Rev 57:1–32

Fowler NL (1986) Microsite requirements for germination and establishment of three grass species. Am Midl Nat 115:131–145

Gao JL (2004) Research report on improving, regenerating and managing techniques of Xiashitan grassland. Pratacult Sci 21:6–8 (in Chinese, English summary)

Hovstad KA, Ohlson M (2008) Physical and chemical effects of litter on plant establishment in semi-natural grasslands. Plant Ecol 196:251–260

Jensen K, Gutekunst K (2003) Effects of litter on establishment of grassland plant species: the role of seed size and successional status. Basic Appl Ecol 4:579–587

Jensen K, Meyer C (2001) Effects of light competition and litter on the performance of Viola palustris and on species composition and diversity of an abandoned fen meadow. Plant Ecol 155:169–181

Jia SX (1987) Chinese grassland and forage plants records, vol 1. China Agricultural Press, Beijing

Liu GX, Mao PS, Huang SQ, Sun YC, Han JG (2008) Effects of soil disturbance, seed rate, nitrogen fertilizer and subsequent cutting treatment on establishment of Bromus inermis seedlings on degraded steppe grassland in China. Grass Forage Sci 63:331–338

Liu GX, He F, Wan LQ, Li XL (2015) Management regime and seeding rate modify seedling establishment of Leymus chinensis. Rangel Ecol Manag 68(2):204–210

Loydi A, Eckstein RL, Otte A, Donath TW (2013) Effects of litter on seedling establishment in natural and semi-natural grasslands: a meta-analysis. J Ecol 101:454–464

Miglécz T, Tóthmérész B, Valkó O, Kelemen A, Török P (2013) Effects of litter on seedling establishment: an indoor experiment with short-lived Brassicaceae species. Plant Ecol 214:189–193

Quested H, Eriksson O (2006) Litter species composition influences the performance of seedlings of grassland herbs. Funct Ecol 20:522–532

Rotundo JL, Aguiar MR (2005) Litter effects on plant regeneration in arid lands: a complex balance between seed retention, seed longevity and soil–seed contact. J Ecol 93:829–838

Ruprecht E, Donath TW, Otte A, Eckstein RL (2008) Chemical effects of a dominant grass on seed germination of four familial pairs of dry grassland species. Seed Sci Res 18:239–248

Ruprecht E, Józsa J, Ölvedi TB, Simon J (2010) Differential effects of several "litter" types on the germination of dry grassland species. J Veg Sci 21:1069–1081

Wang RZ, Ripley EA (1997) Effects of grazing on a Leymus chinensis grassland on the Songnen plain of northeastern China. J Arid Environ 36:307–318

Wang QJ, Shi HL, Jing ZC, Wang CT, Wang FG (2004) Recovery and benefit analysis of ecology on degraded natural grassland of the source region of Yangtze and Yellow rivers. Pratacult Sci 21:37–41 (in Chinese, English summary)

Wellstein C (2012) Seed–litter–position drives seedling establishment in grassland species under recurrent drought. Plant Biol 14(6):1006–1010

Xiao XM, Wang YF, Jiang S, Ojima DS, Bonhan CD (1995) Interannual variation in the climate and above—ground biomass of Leymus chinensis steppe and Stipa grandis steppe in the Xilin river basin, Inner Mongolia, China. J Arid Environ 31:283–299

Xiong SJ, Nilsson C (1999) The effects of plant litter on vegetation: a meta-analysis. J Ecol 87:984–994

Zhao MQ, Sun JL (2004) Degraded situation and rehabilitation methods of Jiangjiadian grassland in Jilin province. Pratacult Sci 21:46–48 (in Chinese, English summary)
Acknowledgments
We are grateful for support from the Special Fund for Agro-Scientific Research in the Public Interest (201103005), the National Natural Science Foundation of China (Grant No. 31072069 and 31302015), China Forage and Grass Research System (CARS-35-12), and Cutting-edge and Characteristic Disciplines of Biology (Botany). We thank Priscilla Licht for correcting the English.
Additional information
Communicated by Lori Biederman.
About this article
Cite this article
Liu, G., Wan, L., He, F. et al. Effects of litter, seed position, and water availability on establishment of seedlings for two semiarid grass species. Plant Ecol 217, 277–287 (2016). https://doi.org/10.1007/s11258-016-0569-x
Received:

Accepted:

Published:

Issue Date:
Keywords
Grass litter

Seed position

Seed germination

Biomass

Seedling establishment