Abstract
Human activities have deeply transformed the Mediterranean landscape for millennia. Wetland and riverbed vegetation are among the most affected ecosystems because of the value of these areas for agriculture, due to their rich soil and water availability. This has caused the fragmentation, population reduction, and extinction of many species. We focus our study on Ulmus laevis Pallas, an endangered tree species in the Iberian Peninsula, as an extreme example of these formations. We study the diversity and fine-scale spatial genetic structure of two human disturbed wetland populations with chloroplast markers and nuclear microsatellites. We evaluate their recovery possibilities, and how they will be affected by future aridification and water table depletion. Our results show that although these populations have suffered bottlenecks and have low genetic diversity, they maintain the same diversity levels as the European populations. Despite the low genetic variation that could contribute to inbreeding problems in the future, we discuss that the main threat of the species is habitat destruction. Finally, we propose some management and conservation policies to ameliorate these effects.
This is a preview of subscription content, log in to check access.
Access options
Buy single article
Instant access to the full article PDF.
US$ 39.95
Price includes VAT for USA
Subscribe to journal
Immediate online access to all issues from 2019. Subscription will auto renew annually.
US$ 199
This is the net price. Taxes to be calculated in checkout.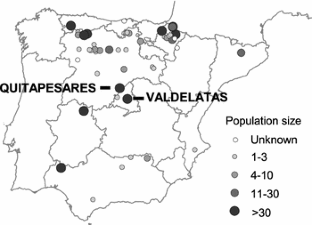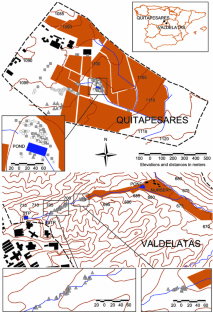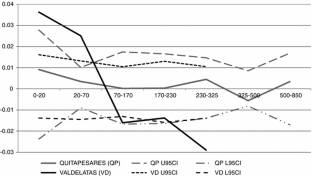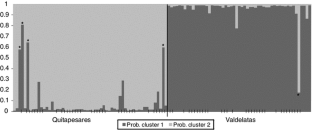 References
Álvarez-Cobelas M, Cirujano S, Sánchez-Carrillo S (2001) Hydrological and botanical man-made changes in the Spanish wetland of Las Tablas de Daimiel. Biol Conserv 97:89–98

Antrop M (2005) Why landscapes of the past are important for the future. Lands Urban Plan 70:21–34

Casado S, Montes C (1995) Guía de los lagos y humedales de España. Ed. J.M. Reyero, Madrid

Collada C, Fuentes-Utrilla P, Gil L, Cervera MT (2004) Characterization of microsatellite loci in Ulmus minor Miller and cross-amplification in U. glabra Hudson and U. laevis Pall. Mol Ecol Notes 4(4):731–732

Collin E (2003) EUFORGEN Technical guidelines for genetic conservation and use for European white elm (Ulmus laevis). Forestry. International Plant Genetic Resources Institute, Rome

Collin E, Rusanen M, Ackzell L et al (2004) Methods and progress in the conservation of elm genetic resources in Europe. Invest Agrar: Sist Recur For 13(1):261–272

Colmenares D (1640) Historia de la insigne ciudad de Segovia y compendio de las historias de Castilla. Segovia, Madrid

Cornuet JM, Luikart G (1996) Description and power analysis of two tests for detecting recent population bottlenecks from allele frequency data. Genetics 144:2001–2014

De Luis M, Brunetti M, Gonzalez-Hidalgo J, Longares LA, Martin-Vide J (2010) Changes in seasonal precipitation in the Iberian Peninsula during 1946–2005. Glob Planet Change 74:27–33

Deiller AF, Walter JMN, Trémolières M (2003) Regeneration strategies in a temperate hardwood floodplain forest of the Upper Rhine: sexual versus vegetative reproduction of woody species. For Ecol Manag 180:215–225

Di Rienzo A, Peterson AC, Garza JC, Valdes AM, Slatkin M, Freimer MB (1994) Mutational processes of simple-sequence repeat loci in human populations. Proc Natl Acad Sci USA 91:3166–3170

Ellstrand NC, Elam DR (1993) Population genetic consequences of small population size: implications for plant conservation. Annu Rev Ecol Evol Syst 24:217–242

Fuentes-Utrilla P (2008) Estudio de la variabilidad genética del género Ulmus L. en España mediante marcadores moleculares. Dissertation, Universidad Politécnica de Madrid

Gallego-Fernández JB, García-Mora MR, García-Novo F (1999) Small wetlands lost: a biological conservation hazard in Mediterranean landscapes. Environ Conserv 26(3):190–199

Garza JC, Williamson EG (2001) Detection of reduction in population size using data from microsatellite loci. Mol Ecol 10(2):305–318

Gil L, García-Nieto ME (1990) Paleobotánica e historia de los olmos de la Península Ibérica. In: Gil L (ed) Los olmos y la grafiosis en España. ICONA, Madrid, pp 29–65

Girod C, Vitalis R, Leblois R, Fréville H (2011) Inferring population decline and expansion from microsatellite data: a simulation-based evaluation of the Msvar method. Genetics 188:165–179

Goodall-Copestake WP, Hollingsworth ML, Hollingsworth PM, Jenkins GI, Collin E (2005) Molecular markers and ex situ conservation of the European elms (Ulmus spp.). Biol Conserv 122(4):537–546

Goudet J (2001) FSTAT, a program to estimate and test gene diversities and fixation indices (version 2.9.3). Updated from: goudet J (1995) FSTAT (vers. 1.2): a computer program to calculate F-statistics. J Hered 86:485–486

Hardy OJ, Vekemans X (2002) SPAGeDi: a versatile computer program to analyse spatial genetic structure at the individual or population levels. Mol Ecol Notes 2:618–620

Hooke JM (2006) Human impacts on fluvial systems in the Mediterranean region. Geomorphology 79:311–355

Iriarte MJ (2009) Vegetation landscape and the anthropization of the environment in the central sector of the Northern Iberian Peninsula: current status. Quat Int 200(1–2):66–76

Kikuchi S, Suzuki W, Sashimura N (2011) Gene flow in an endangered willow Salix hukaoana (Salicaceae) in natural and fragmented riparian landscapes. Conserv Genet 12(1):79–89

Loiselle BA, Sork VL, Nason J, Graham C (1995) Spatial genetic structure of a tropical understorey shrub, Psychotria officinalis (Rubiaceae). Am J Bot 82:1420–1425

López RA (2000) Paleobotánica de los olmos. In: Gil L, Solla A, Iglesias S (eds) Los olmos ibéricos. Conservación y mejora frente a la grafiosis. Organismo Autónomo Parques Nacionales, Madrid, pp 49–68

López de Heredia U, Venturas M, López RA, Gil L (2010) High biogeographical and evolutionary value of Canary Island pine populations out of the elevational pine belt: the case of a relict coastal population. J Biogeogr 37:2371–2383

Luikart G, Allendorf FW, Cornuet JM, Sherwin WB (1998) Distortion of allele frequency distributions provides a test for recent population bottlenecks. J Hered 89(3):238–247

Milleron M, López de Heredia U, Lorenzo Z et al (2012) Effect of canopy closure on pollen dispersal in a wind-pollinated species (Fagus sylvatica L.). Plant Ecol. doi:10.1007/s11258-012-0125-2

Mittempergher L, Porta N (1991) Hybridization studies in the Eurasian species of elm (Ulmus spp.). Silvae Genet 40(5/6):237–243

Moreno JM (2005) Evaluación preliminar de los impactos en España por efecto del cambio climático. Ministerio de Medio Ambiente, Madrid

Moritz C (2002) Strategies to protect biological diversity and the evolutionary processes that sustain it. Syst Biol 51:238–254

Mutke S, Gordo J, Gil L (2005) Variability of Mediterranean stone pine cone production: yield loss as response to climate change. Agric For Meteorol 132:263–272

Nei M (1987) Molecular evolutionary genetics. Columbia University Press, New York

Newton AC, Allnutt TR, Gillies ACM, Lowe AJ, Ennos RA (1999) Molecular phylogeography, intraspecific variation and the conservation of tree species. Trends Ecol Evol 14:140–145

Nielsen LR, Kjær ED (2010) Fine-scale gene flow and genetic structure in a relic Ulmus laevis population at its northern range. Tree Genet Genomes 6(5):643–649

Pimm SL, Gittleman JL, McCracken GF (1998) Plausible alternatives to bottlenecks to explain reduced genetic diversity. Trends Ecol Evol 4(6):176–178

Plummer M, Best N, Cowles K, Vines K (2006) CODA: convergence diagnosis and output analysis for MCMC. R News 6:7–11

Pritchard JK, Stephens M, Donnelly P (2000) Inference of population structure using multilocus genotype data. Genetics 155:945–959

Rodríguez JA, Weatherhead EK, Knox JW, Camacho E (2007) Climate change impacts on irrigation water requirements in the Guadalquivir river basin in Spain. Reg Environ Chang 7:149–159

Stafford PJ (1995) The Northwest European Pollen Flora. Ulmaceae. Rev Palaeobot Palyno 88:25–46

Storz JF, Beaumont MA (2002) Testing for genetic evidence of population expansion and contraction: an empirical analysis of microsatellite DNA variation using a hierarchical Bayesian model. Evolution 56:154–166

Tallmon DA, Koyuk A, Luikart G, Beaumont MA (2008) ONeSAMP: a program to estimate effective population size using approximate Bayesian computation. Mol Ecol Resour 8(2):299–301

Thuiller W, Lavorel S, Araújo MB, Sykes MT, Prentice IC (2005) Climate change threats to plant diversity in Europe. Proc Natl Acad Sci USA 102(23):8245–8250

Valbuena-Carabaña M, López de Heredia U, Fuentes-Utrilla P, González-Doncel I, Gil L (2010) Historical and recent changes in the Spanish forests: a socio-economic process. Rev Palaeobot Palynol 162(3):492–506

Vekemans X, Hardy OJ (2004) New insights from fine-scale spatial genetic structure analyses in plant populations. Mol Ecol 13:921–935

Waples RS, Do C (2008) LDNE: a program for estimating effective population size from data on linkage disequilibrium. Mol Ecol Resour 8(4):753–756

Wei X, Jiang M (2012) Limited genetic impacts of habitat fragmentation in an "old rare" relict tree, Euptelea pleiospermum (Eupteleaceae). Plant Ecol 213:909–917

Whiteley RE (2004) Quantitative and molecular genetic variation in Ulmus laevis Pall. Dissertation, Swedish University of Agricultural Sciences

Whiteley RE, Black-Samuelsson S, Clapham D (2003) Development of microsatellite markers for the European white elm (Ulmus laevis Pall.) and cross-species amplification within the genus Ulmus. Mol Ecol Notes 3:598–600

Williamson-Natesan EG (2005) Comparison of methods for detecting bottlenecks from microsatellite loci. Conserv Genet 6:551–562

Zalapa JE, Brunet J, Guries RP (2008) Isolation and characterization of microsatellite markers for red elm (Ulmus rubra Muhl.) and cross-species amplification with Siberian elm (Ulmus pumila L.). Mol Ecol Resour 8(1):109–112
Acknowledgments
We would like to thank César Cardo, Alberto Pérez, and Julio Orellana for having shown us Valdelatas elm grove. We thank Segovia XXI for having allowed us collect samples in Quitapesares and helping us preserve this population. We thank Eudaldo González for the elm surveys, he has carried out all over Spain. We are also grateful to Salustiano Iglesias, Pablo Sanjuanbenito, and Cuenca Alta del Manzanares park managers for their support. We also show gratitude to Zaida Lorenzo, Elena Zafra, Eva Miranda, Jorge Domínguez, David Macaya, Gerrie Seket, Guillermo González, Miriam Fajardo, and Ana Moreno for their technical assistance and help. This study was financed by the Comunidad de Madrid (Project S2009AMB-1668). M.V. is sponsored by a PIF Grant from the Technical University of Madrid.
Additional information
Carmen Collada and Luis Gil contributed equally to this study.
Electronic supplementary material
About this article
Cite this article
Venturas, M., Fuentes-Utrilla, P., Ennos, R. et al. Human-induced changes on fine-scale genetic structure in Ulmus laevis Pallas wetland forests at its SW distribution limit. Plant Ecol 214, 317–327 (2013). https://doi.org/10.1007/s11258-013-0170-5
Received:

Accepted:

Published:

Issue Date:
Keywords
Ulmus laevis

Spatial genetic structure

Endangered species

Conservation

Wetland forests

Management guidelines