Abstract
Two, two-factor experiments manipulated species and functional form plant richness and the spatial scaling of either nitrogen (N) or phosphorous (P) in restored tallgrass prairie in North Dakota, USA. Nitrate (NO3 −) leaching was measured in these plots and analyzed for its response to the treatment factors and measured plant community parameters. Nitrate extracted from anion exchange resin was regressed against the first principal component of species and functional form richness, the spatial scaling of N or P, the measured biomass of the functional forms used and the plot values for plant parameters based on weighted averages by species biomass. The treatments applied in the N and P experiments were 1, 2, 5, 10, or 20 plant species taxa, and the application of fertilizer in a random fractal pattern with either fine-scale or coarse-scale heterogeneity. Nitrate leaching decreased with plant diversity and increased by a factor of two going from fine-scale to coarse-scale N. It was also related to a number of plant functional parameters, and was positively correlated with the biomass of late successional C3 grasses (Koeleria cristata (Lam.) Beauv., Poa pratensis L., Stipa comata Trin. & Rupr., and Stipa viridula Trin.), which are known from previous studies to have negative mycorrhizal responsiveness and are characterized by high root lateral spread per unit of root biomass. Our results show that while plant diversity has a highly significant influence on plant community uptake of NO3 −, this effect is mediated by the scaling of soil N and the functional traits of the species comprising the plant assemblage.
This is a preview of subscription content, log in to check access.
Access options
Buy single article
Instant access to the full article PDF.
US$ 39.95
Price includes VAT for USA
Subscribe to journal
Immediate online access to all issues from 2019. Subscription will auto renew annually.
US$ 199
This is the net price. Taxes to be calculated in checkout.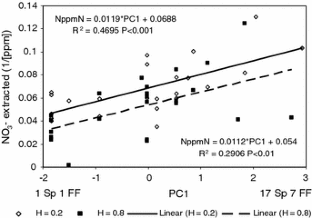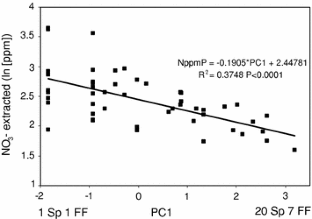 References
Bardgett RD (2005) The biology of soil: a community and ecosystem approach. Oxford University Press, Oxford

Bingham MA, Biondini M (2009) Mycorrhizal hyphal length as a function of plant community richness and composition in restored northern tallgrass prairies (USA). Rangel Ecol Manag 62:60–67

Binkley D, Aber JD, Pastor J, Nadelhoffer KJ (1986) Nitrogen availability patterns in some Wisconsin forests: a comparison of resin bags and on site incubations. Biol Fertil Soils 2:77–82

Biondini ME (2007) Plant diversity, production, stability and susceptibility to invasion in restored northern tallgrass prairies (United States). Restor Ecol 15:77–87

Biondini ME (2008) Allometric scaling laws for water uptake by plant roots. J Theor Biol 251:35–59

Biondini ME, Grygiel CE (1994) Landscape distribution of organisms and the scaling of soil resources. Am Nat 143:1026–1054

Bremner JM (1965) Inorganic forms of nitrogen. In: Black CA (ed) Methods of soil analysis. Agronomy No 9. American Society of Agronomy, Madison, WI, pp 1179–1205

Cardinale BJ, Wright JP, Cadotte MW, Carroll IT, Hector A, Srivastava OS, Loreau M, Weris JJ (2007) Impacts of plant diversity on biomass production increase through time because of species complementarity: a meta-analysis. Proc Natl Acad Sci 104:18123–18128

Chapin FS III (1980) The mineral nutrition of wild plants. Annu Rev Ecol Syst 11:233–260

Darwin C (1859) On the origin of species. J. Murray, London

Dijkstra FA, West JB, Hobbie SE, Reich PB, Trost J (2007) Plant diversity, CO2 and N influence inorganic and organic N leaching in grasslands. Ecology 88:490–500

Fargione J, Tilman D, Dybzinski R, Lambers JHR, Clark C, Harpole WS et al (2007) From selection to complementarity: shifts in the causes of biodiversity–productivity relationships in a long-term biodiversity experiment. Proc R Soc B 274:871–876

Gersani M, Brown JS, O'Brien EE, Maina GM, Abramsky Z (2001) Tragedy of the commons as a result of root competition. J Ecol 89:660–669

Gill RA, Polley HW, Johnson HB, Anderson LJ, Maherali H, Jackson RB (2002) Nonlinear grassland responses to past and future atmospheric CO2. Nature 417:279–282

Hamel C, Barrantes-Cartin U, Furlan V, Smith DL (1991) Endomycorrhizal fungi in nitrogen transfer from soybean to maize. Plant Soil 138:33–40

Hooper DU, Chapin FS III, Ewel JJ, Hector A, Inchausti P, Lavorel S, Lawton JH, Lodge DM, Loreau M, Naeem S, Schmid B, Setälä H, Symstad AJ, Vandermeer J, Wardle DA (2005) Effects of biodiversity on ecosystem functioning: a consensus of current knowledge. Ecol Monogr 75:3–36

Johnson HA, Biondini ME (2001) Root morphological plasticity and nitrogen uptake of 59 plant species from the Great Plains grasslands. Basic Appl Ecol 2:127–143

Johnson A, Rowland DL, Corkidi L, Egerton-Warburton L, Allen EB (2003) Nitrogen enrichment alters mycorrhizal allocation at five mesic to semiarid grasslands. Ecology 84:1895–1908

Lea PJ, Azevedo RA (2006) Nitrogen use efficiency. 1. Uptake of nitrogen from the soil. Ann Appl Biol 149:243–247

Levang-Brilz N, Biondini ME (2003) Growth rate, root development and nutrient uptake of 55 plant species from the Great Plains Grasslands, USA. Plant Ecol 165:117–144

Maestre FT, Quero JL, Valladares F, Reynolds JF (2007) Individual vs. population plastic responses to elevated CO2, nutrient availability, and heterogeneity: a microcosm experiment with co-occurring species. Plant Soil 296:53–64

Matson P, Lohse K, Hall S (2002) The globalization of nitrogen: consequences for terrestrial ecosystems. Ambio 31:113–119

McConnaughay KDM, Coleman JS (1999) Biomass allocation in plants: ontogeny or optimality? A test along three resource gradients. Ecology 80:2581–2593

McCune B, Grace JB (2002) Analysis of ecological communities. MJM software design. Gleneden Beach, OR, USA

Miller RM, Jastrow JD (1992a) The application of VA mycorrhizae to ecosystem restoration and reclamation. In: Allen MF (ed) Mycorrhizal functioning: an integrative plant-fungal process. Chapman and Hall, New York, pp 438–467

Miller RM, Jastrow JD (1992b) Extraradical hyphal development of vesicular-AM fungi in a chronosequence of prairie restorations. In: Read DJ, Lewis DH, Fitter AH, Alexander IJ (eds) Mycorrhizas in Ecosystems. C.A.B. International, Wallingford, UK, pp 171–176

Milliken GA, Johnson DE (2002) Analysis of messy data III Analysis of Covariance. Chapman and Hall/CRC, London

Moore TR, Trofymow JA, Prescott CE, Fyles J, Titus BD (2006) Patterns of carbon, nitrogen and phosphorus dynamics in decomposing foliar litter in Canadian forests. Ecosystem 9:46–62

Naeem S (2002) Disentangling the impacts of diversity on ecosystem function in combinatorial experiments. Ecology 83:2925–2935

Niklaus PA, Kandeler E, Leadley PW, Schmid B, Tscherko D, Körner C (2001) A link between plant diversity, elevated CO2 and soil nitrate. Oecologia 127:540–548

Phoenix GK, Booth RE, Leake JR, Read DJ, Grime JP, Lee JE (2003) Effects of enhanced nitrogen deposition and phosphorus limitation on nitrogen budgets of semi-natural grasslands. Global Change Biology 9:1309–1321

Robertson GP, Groffman P (2007) Nitrogen transformations. In: Paul EA, Clark FE (eds) Soil microbiology, biochemistry, and ecology. Springer, New York, pp 341–388

Scherer-Lorenzen M, Palmborg C, Prinz A, Schulze E-D (2003) The role of plant diversity and composition for nitrate leaching in grasslands. Ecology 84:1539–1552

Snedecor GW, Cochran WG (1976) Statistical methods, 6th edn. The Iowa State University Press, Ames, IA, USA

Stevenson FJ, Cole MA (1999) Cycles of soil: carbon, nitrogen, phosphorus, sulfur, micronutrients, 2nd edn. Wiley, New York, USA

Tabachnick B, Fidell L (2001) Using multivariate statistics, 4th edn. HarperCollins, New York

Tilman D, Wedin D, Knops J (1996) Productivity and sustainability influenced by biodiversity in grassland ecosystems. Nature 379:718–720

Treseder KK, Allen MF (2000) Mycorrhizal fungi have a potential role in soil carbon storage under elevated CO2 and nitrogen deposition. New Phytol 147:189–200

van der Heijden MGA, Klironomos JN, Ursic M, Moutoglis P, Streitwolf-Engel R, Boller T, Wiemken A, Sanders IR (1998) Mycorrhizal fungal diversity determines plant biodiversity, ecosystem variability and productivity. Nature 396:69–72

van der Heijden MGA, Bardgett RD, van Straalen NM (2008) The unseen majority: soil microbes as drivers of plant diversity and productivity in terrestrial ecosystems. Ecol Lett 11:296–310

Wilson WT, Hartnett DC (1998) Interspecific variation in plant responses to mycorrhizal colonization in tallgrass prairie. Am J Bot 85:1732–1738

Wilson SD, Tilman D (1995) Competitive responses of eight old-field plant species in four environments. Ecology 76:1169–1180

Wyland LJ, Jackson LE (1993) Evaluating nitrate recovery by ion-exchange resin bags. Soil Sci Soc Am J 57:1208–1211
Acknowledgments
Thanks go to J. Norland for invaluable help in the design and implementation of the field and laboratory methods. C. Prescott and A. Kozak provided helpful comments on the manuscript. Research was funded by grants from the National Science Foundation (DEB-9627928), and USDA-NRICGP (93-0051 and 99-00979) to M. Biondini.
Electronic supplementary material
Below is the link to the electronic supplementary material.
About this article
Cite this article
Bingham, M.A., Biondini, M. Nitrate leaching as a function of plant community richness and composition, and the scaling of soil nutrients, in a restored temperate grassland. Plant Ecol 212, 413–422 (2011). https://doi.org/10.1007/s11258-010-9832-8
Received:

Accepted:

Published:

Issue Date:
Keywords
Nutrient cycling

Plant community composition

Functional form diversity

Northern tallgrass prairie restoration

Species diversity

Temperate grassland