Abstract
Fire is an important factor in several ecosystems, affecting plant population biology. Campos grasslands are under constant influence of disturbance, mostly grazing and fire. However, few studies evaluated the effect of fire on plant population biology of grassland species. Therefore, we aim to analyze the effect of fire on the population biology of four species, from different functional groups and regeneration strategies: Chaptalia runcinata (forb, resprouter, absence of belowground organ), Vernonia flexuosa (forb, resprouter, presence of rhizophore), Eupatorium ligulaefolium (shrub, resprouter, presence of xylopodium) and Heterothalamus psiadioides (shrub, obligate seeder). Seven plots were established in different sites in southern Brazil: frequently burned (FB) and excluded from fire since 6 years (E). All plots were subjected to controlled burns during summer. Before experiments, populations were sampled. Further observations were carried out after 90 and after 360 days of fire experiments. In addition, we counted the number of seedlings and resprouters recruited after fire. Heat shock experiments were conducted with two species (H. psiadioides and V. flexuosa), as well as the study of the bud bank of the following species: E. ligulaefolium and V. flexuosa. The obligate seeder species had all individuals killed by fire and established only after 1 year. Resprouters, however, showed new stems immediately after fire. E. ligulaefolium and V. flexuosa showed only vegetative regeneration from belowground organs and more individuals in excluded sites 1 year after the fire. The bud bank of E. ligulaefolium tended to be larger in excluded sites, whilst V. flexuosa showed an opposite result. High temperatures did not enhance nor kill seeds from both studied species. Vegetative regeneration was the most important strategy for all studied species, except for H. psiadioides, the obligate seeder species. Fire thus, plays an important role on population structure and demography, being also important for plant recruitment.
This is a preview of subscription content, log in to check access.
Access options
Buy single article
Instant access to the full article PDF.
US$ 39.95
Price includes VAT for USA
Subscribe to journal
Immediate online access to all issues from 2019. Subscription will auto renew annually.
US$ 199
This is the net price. Taxes to be calculated in checkout.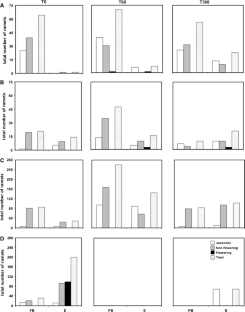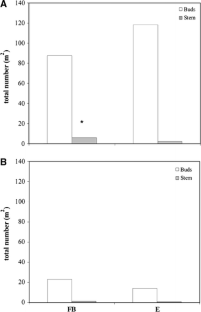 References
Aguiar LW, Martau L, Soares ZF, Bueno OL, Mariath JE, Klein RM (1986) Estudo preliminar da flora e vegetação de morros graníticos da Região da Grande Porto Alegre, Rio Grande do Sul, Brasil. Iheringia 34:3–38

Appezzato-da-Glória B, Estelita MFM (2000) The development anatomy of the subterranean system in Mandevilla ilustris (Vell.) Woodson and M. velutina (Mart. ex Stadelm.) Woodson (Apocynaceae). Rev Bras Bot 23:27–35

Barroso G, Morim MP, Peixoto AL, Ichaso CLF (1999) Frutos e sementes: morfologia aplicada à sistemática de dicotiledôneas. Editora Universidade Federal de Viçosa, Viçosa

Behling H, Pillar VD, Müller SC, Overbeck GE (2007) Late-Holocene fire history in a forest–grassland mosaic in southern Brazil: implications for conservation. Appl Veg Sci 10:81–90

Bellingham PJ, Sparrow AD (2000) Resprouting as a life history strategy in woody plant communities. Oikos 89:409–416

Boldrini II (1997) Campos do Rio Grande do Sul: caracterização fisionômica e problemática ocupacional. Boletim do Instituto de Biociências da Universidade Federal do Rio Grande do Sul 56:1–39

Bond WJ, Keeley JE (2005) Fire as a global "herbivore": the ecology and evolution of flammable ecosystems. Trends Ecol Evol 20:387–394

Bowen BJ, Pate JS (2004) Effect of season of burn on shoot recovery and post-fire flowering performance in the resprouter Stirlingia latifolia R.Br. (Proteaceae). Austral Ecol 29:145–155

Cabrera AL, Klein RM (1973) Compostas—Tribo Mutisae. In: Reitz PR (ed) Flora Ilustrada Catarinense, Itajaí, p 124

Carvalho MAM, Dietrich SMC (1993) Variation in fructan content in the underground organs of Vernonia herbacea (Vell.) Rusby at different phenological phases. New Phytol 123:735–740

Christensen NL (1985) Shrubland fire regimes and their evolutionary consequences. In: Pickett STA, White PS (eds) The ecology of natural disturbance and patch dynamics. Academic Press, San Diego, pp 85–100

Fidelis A, Blanco C (in preparation) Does fire enhance flowering? An example from Brazilian Campos grasslands

Fidelis A, Delgado-Cartay MD, Blanco C,Müller SC, Pillar VD, Pfadenhauer P (submitted a) Fire intensity and severity in Brazilian Campos grasslands.Intersciencia

Fidelis A, Appezzato-da-Glória B, Müller SC, Pillar VD, Pfadenhauer J (submitted b) Bud bank and belowground structures: their ecological role in subtropical graaslands. Ann Bot

Fidelis A, Overbeck G, Pillar VD, Pfadenhauer J (2008) Effects of disturbance on population biology of a rosette species Eryngium horridum Malme in grasslands in southern Brazil. Plant Ecol 195:55–67

García-Martinez P (2005) Caracterización química y física de los suelos del Morro Santana (Porto Alegre, Rio Grande do Sul, Brasil). Chair of Soil Sciences. Technische Universität München, Freising-Weihenstephan, Germany

González-Rabanal F, Casal M (1995) Effect of high temperatures and ash on germination of ten species from gorse shrubland. Vegetatio 116:123–131

Hanley ME, Fenner M (1998) Pre-germination temperature and the survivorship and onward growth of Mediterranean fire-following plant species. Acta Oecol 19:181–187

Hanley ME, Lamont BB (2000) Heat pre-treatment and the germination of soil- and canopy-stored seeds of south-western Australian species. Acta Oecol 21:315–321

Hayashi AH, Appezzato-da-Glória B (2005) The origin and anatomy of rhizophores in Vernonia herbacea and V. platensis (Asteraceae) from the Brazilian Cerrado. Aust J Bot 53:273–279

Heelemann S, Proches S, Rebelo AG, van Wilgen BW, Porembski S, Cowling RM (2008) Fire season effects on the recruitment of non-sprouting serotinous Proteaceae in the eastern (bimodal rainfall) fynbos biome, South Africa. Austral Ecol 33:119–127

Hoffmann WA (1996) The effects of fire and cover on seedling establishment in a neotropical savanna. J Ecol 84:383–393

Hoffmann WA (1999) Fire and population dynamics of woody plants in a neotropical savanna: matrix model projections. Ecology 80:1354–1369

Keeley JE, Bond WJ (1997) Convergent seed germination in South African fynbos and Californian chaparral. Plant Ecol 133:153–167

Keith DA (2002) Population dynamics of an endangered heathland shrub, Epacris stuartii (Epacridaceae): recruitment, establishment and survival. Austral Ecol 27:67–76

Klimesová J, Klimes L (2007) Bud banks and their role in vegetative regeneration—a literature review and proposal for simple classification and assessment. Perspect Plant Ecol Evol Syst 8:115–129

Knox KJE, Clarke PJ (2006) Fire season and intensity affect shrub recruitment in temperate slerophyllous woodlands. Oecologia 149:730–739

Lavorel S, Canadell J, Rambal S, Terradas J (1998) Mediterranean terrestrial ecosystems: research priorities on global change effects. Glob Ecol Biogeogr 7:157–166

Livi FP (1999) Elementos do clima: o contraste de tempos frios e quentes. In: Menegat R, Porto ML, Carraro CC, Fernandes LAD (eds) Atlas ambiental de Porto Alegre. Editora da Universidade Federal do Rio Grande do Sul, Porto Alegre, pp 73–78

Lloret F (1998) Fire, canopy cover and seedling dynamics in Mediterranean shrubland of northeastern Spain. J Veg Sci 9:417–430

Lloret F, Vilà M (2003) Diversity patterns of plant functional types in relation to fire regime and previous land use in Mediterranean woodlands. J Veg Sci 14:387–398

Manly BFJ (2007) Randomization, bootstrap, and Monte Carlo methods in biology. Chapman & Hall/CRC, Boca Raron

Martin RE, Miller RL, Cushwa CT (1975) Germination response of legume seeds subjected to moist and dry heat. Ecology 56:1441–1445

Matzenbacher NI (2003) Diversidade florística dos campos sul-brasileiros: asteraceae. 54o. Congresso Nacional de Botânica, Belém, Pará, pp 124–127

Menges ES, Dolan RW (1998) Demographic viability of populations of Silene regia in midwestern prairies: relationships with fire management, genetic variation, geographic location, population size and isolation. J Ecol 96:63–78

Overbeck GE, Müller SC, Pillar VD, Pfadenhauer J (2005) Fine-scale post-fire dynamics in southern Brazilian subtropical grassland. J Veg Sci 16:655–664

Overbeck GE, Müller SC, Pillar VD, Pfadenhauer J (2006) No heat-stimulated germination found in herbaceous species from burned subtropical grassland. Plant Ecol 184:237–243

Overbeck GE, Müller SC, Fidelis A, Pfadenhauer J, Pillar VD, Blanco C, Boldrini II, Both R, Forneck ED (2007) Brazil's neglected biome: the Southern Campos. Perspect Plant Ecol Syst 9:101–116

Pausas JG (2001) Resprouting vs. seeding—a Mediterranean perspective. Oikos 94:193–194

Pfab MF, Witkowski ETF (1999) Fire survival of the critically endangered succulent, Euphorbia clivicola R.A. Dyer—fire-avoider or fire-tolerant? Afr J Ecol 37:249–257

Pillar VD (2005) MULTIV: multivariate exploratory analysis, randomization testing and bootstrap resampling. Universidade Federal do Rio Grande do Sul, Porto Alegre

Pillar VD, Orlóci L (1996) On randomization testing in vegetation science: multifactor comparisons of relevé groups. J Veg Sci 7:585–592

Quintana-Ascencio PF, Menges ES, Weekley CW (2002) A fire-explicit population viability analysis of Hypericum cumulicola in Florida Rosemay Scrub. Conserv Biol 17:433–449

Rizzini CT (1965) Estudos experimentais sobre o xilopódio e outros órgãos tuberosos de plantas do cerrado. An Acad Bras Cienc 37:87–113

Roy J, Sonié L (1992) Germination and population dynamics of Cistus species in relation to fire. J Appl Ecol 29:647-655

Satterthwaite WH, Menges ES, Quintana-Ascencio PF (2002) Assessing scrub buckwheat population viability in relation to fire using multiple modeling techniques. Ecol Appl 12:1672–1687

Stokes KE, Allchin AE, Bullock JM, Watkinson AR (2004) Population responses of Ulex shrubs to fire in a lowland heath community. J Veg Sci 15:505–514

Tarrega R, Calvo L, Trabaud L (1992) Effect of high temperatures on seed germination of two woody Leguminosae. Vegetatio 102:139–147
Acknowledgements
We would like to thank the security guard from the Universidade Federal do Rio Grande do Sul (UFRGS) for giving us their support during field work. We thank Daniela Röder and Andrea Skiba for reviewing the manuscript. A. F. received support from KAAD and V. P. from CNPq. The project was supported by the DFG (German Research Foundation, Project PF 120/10-2).
About this article
Cite this article
Fidelis, A., Müller, S.C., Pillar, V.D. et al. Population biology and regeneration of forbs and shrubs after fire in Brazilian Campos grasslands. Plant Ecol 211, 107–117 (2010). https://doi.org/10.1007/s11258-010-9776-z
Received:

Accepted:

Published:

Issue Date:
Keywords
Obligate seeder

Plant population structure

Resprouter

Bud bank

Heat shock experiment