Abstract
We evaluated the process of salt-marsh colonization in early successional stages of salt-marsh restoration and investigated how the sequence of species establishment related to different success factors. Vegetation data were collected by permanent plots from the restoration site and adjacent, reference salt marshes during three consecutive periods. Seed length, width and mass were used as dispersal traits, and Ellenberg moisture, salinity and nutrient indices as indicators of site suitability. Seed production in the reference site and seed bank in the restoration site were also investigated. The establishment of salt-marsh species within the restoration site was rapid (less than 5 years). The cover of plant species was not correlated between the restored and the reference sites at the first year of restoration, but this correlation was significant during the following years. Seed availability was more important in explaining the sequence of species establishment than salt and nutrient-limitation tolerance. The first colonizers are known as massive seed producers, with shorter seed length and lower seed mass, which probably increased buoyancy. Among dispersal and site traits, seed length and mass, and in a less extent salinity and nutrients, indicated a relationship with new colonizers. Despite few species have not (yet) appeared in vegetation and seed bank in the restoration site, the existence of an existing salt marsh adjacent to the restoration site is shown to be vital for fast colonization of newly created intertidal areas.
This is a preview of subscription content, log in to check access.
Access options
Buy single article
Instant access to the full article PDF.
US$ 39.95
Price includes VAT for USA
Subscribe to journal
Immediate online access to all issues from 2019. Subscription will auto renew annually.
US$ 199
This is the net price. Taxes to be calculated in checkout.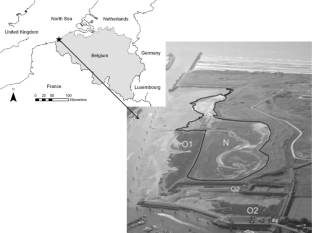 References
Adam P (1990) Saltmarsh ecology. Press Syndicate of the University of Cambridge, Cambride

Bakker JP, Poschlod P, Strykstra RJ et al (1996) Seed banks and seed dispersal: important topics in restoration ecology. Acta Bot Neerl 45:461–490

Boorman LA (1967) Limonium vulgare Mill and L. humile. J Ecol 55:221–232

Bossuyt B, Honnay O (2008) Can the seed bank be used for ecological restoration? An overview of seed bank characteristics in European communities. J Veg Sci 19:875–884

Caley MJ, Schluter D (1997) The relationship between local and regional diversity. Ecology 78:70–80

Castermans E (2007) Seed characteristics vary with population age in isolated Aster tripolium populations. M.Sc. Thesis, Ghent University, Ghent

Dalby DH (1963) Seed dispersal in Salicornia pusilla. Nature 199:197–198

Dausse A, Bonis A, Bouzillé JB et al (2008) Seed dispersal in a polder after partial tidal restoration: implications for salt marsh restoration. Appl Veg Sci 11:3–12

Davy AJ, Bishop GF, Costa CSB (2001) Salicornia L. biological flora of the British Isles. J Ecol 89:681–707

Eertman RHM, Kornman BA, Stikvoort E et al (2002) Restoration of the Sieperda tidal marsh in the Scheldt estuary, The Netherlands. Restor Ecol 10:438–449

Ellenberg H, Weber HE, Düll R et al (1991) Zeigerwerete von Pflanzen in Mitteleuropa. Scripta Geobotanica XVIII, Verlag Erich Goltze, Göttingen

Fenner M (1987) Seedlings. New Phytol 106:35–47

Frenzen PM, Krasny ME, Rigney LP (1988) Thirty-three years of plant succession on the Katuz Creek mudflow, Mount Rainier National Park, Washington. Can J Bot 66:130–137

Garbutt A, Wolters M (2008) The natural regeneration of salt marsh on formerly reclaimed land. Appl Veg Sci 11:335–344

Garbutt RA, Reading CJ, Wolters M, Gray AJ, Rothery P (2006) Monitoring the development of intertidal habitats on former agricultural land after the managed realignment of coastal defences at Tollesbury, Essex, UK. Mar Pollut Bull 53:155–164

Gray AJ (1992) Saltmarsh plant ecology: zonation and succession revisited. In: Allen JRL, Pye K (eds) Saltmarshes: morphodynamics, conservation and engineering significance. Cambridge University Press, Cambridge, pp 63–79

Gray AJ, Scott R (1977) Puccinellia maritima (Huds.) Parl. J Ecol 65:699–716

Grime JP, Hodgson JG, Hunt R (1988) Comparative plant ecology. Unwin Hyman, London

Grubb PJ (1977) The maintenance of species richness in plant communities. The importance of regeneration niche. Biol Rev 52:107–145

Hillebrand H, Blenckner T (2002) Regional and local impact on species diversity- from pattern to process. Oecologia 132:479–491

Hobbs RJ, Suding K (2009) New models of ecosystem dynamics and restoration. Island Press, Washington

Hoffmann M (2006) Monitoring Natuurherstel IJzermonding 2001–2005. Instituut voor Natuur en Bosonderzoek, Brussels

Hoffmann M, Stichelmans E (2006) 9. Monitoring condities; de zaadbank. In: Hoffmann M (ed) Monitoring Natuurherstel IJzermonding 2001–2005. Institute of Nature Conservation, Brussels, pp 107–113

Huckle JM, Potter JA, Marrs RH (2000) Influence of environmental factors on the growth and interactions between salt marsh plants: effects of salinity, sediment and waterlogging. J Ecol 88:492–505

Huiskes AHL, Koutstaal BP, Herman PMJ et al (1995) Seed dispersal of halophytes in tidal salt marshes. J Ecol 83:559–567

Kiehl K, Esselink P, Bakker JP (1997) Nutrient limitation and plant species composition in temperate salt marshes. Oecologia 111:325–330

Kirmer A, Tischew S, Ozinga WA et al (2008) Importance of regional species pools and functional traits in colonization processes: predicting re-colonization after large-scale destruction of ecosystems. J Appl Ecol 45:1523–1530

Kleyer M, Bekker RM, Knevel IC et al (2008) The LEDA Traitbase: a database of life-history traits of the Northwest European flora. J Ecol 96:1266–1274

Knevel IC, Bekker RM, Bakker JP et al (2003) Life-history traits of the NW European flora: the LEDA database. J Veg Sci 14:611–614

Koutstaal BP, Markusse MM, de Munck W (1987) Aspects of seed dispersal by tidal movements. In: Huiskes AHL, Blom CWPM, Rozema J (eds) Vegetation between land and sea: structure and processes. Dr W. Junk Publishers, Dordrecht, pp 226–233

Lacambra C, Cutts N, Allen F, Burd F, Elliott M (2004) Spartina anglica: a review of its status, dynamics and management. English Nature Research Reports, Number 527, Peterborough, UK

Lambinon J, De Langhe J-E, Delvosalle L et al (1998) Flora van België, het Groothertogdom Luxemburg, Noord-Frankrijk en de aangrenzende gebieden (Pteridofyten en Spermatofyten). Nationale Plantentuin van Belgie, Meise

Leishman MR (1999) How well do plant traits correlate with establishment ability? Evidence from a study of 16 calcareous grassland species. New Phytol 141:487–496

Londo G (1976) The decimal scale for relevés of permanent quadrats. Vegetatio 33:61–64

Major J, Pyott WT (1966) Buried viable seeds of two California bunchgrass sites and their bearing on the definition of a flora. Vegetatio 13:253–282

Mayer AM, Poljakoff-Mayber A (1982) The germination of seeds, 3rd edn. Pergamon Press, New York

Morisawa TL (1999) Salsola kali. In: The nature conservancy wild land weeds management and research. http://tncweeds.ucdavis.edu. Accessed 04 Jan 2009

Ozinga WA, Bekker RM, Schamineé JHJ et al (2004) Dispersal potential in plant communities depends on environmental conditions. J Ecol 92:767–777

Ozinga WA, Hennekens SM, Schaminée JHJ et al (2005) Assessing the relative importance of dispersal in plant communities using an ecoinformatics approach. Folia Geobot 40:53–67

Packham JR, Willis AJ (1997) Ecology of dunes, salt marsh and shingle. Chapman and Hall, London

Peach M, Zedler JB (2006) How tussocks structure sedge meadow vegetation. Wetlands 26:322–335

Poschlod P, Tackenberg O, Bonn S (2005) Plant dispersal potential and its relation to species frequency and co-existence. In: van der Maarel E (ed) Vegetation ecology. Blackwell, Malden

Prach K, Pyšek P (1999) How do species dominating in succession differ from others? J Veg Sci 10:383–392

Reading CJ, Garbutt RA, Watts CW et al (2008) Managed realignment at Tollesbury. R and D Technical Report FD 1922/TR, London

Rehounková K, Prach K (2006) Spontaneous vegetation succession in disused gravel and pits: role of local site and landscape factors. J Veg Sci 17:583–590

Ryser P (1990) Influence of gaps and neighbouring plants on seedlings establishment in limestone grassland. Experimental field studies in northern Switzerland. Veröffentlichungen des Geobot. Inst. Der ETH, Stiftung Rübel, Zürich

Shmida A, Ellner A (1984) Coexistence of plant species with similar niches. Vegetatio 58:29–55

Ter Heerdt GNJ, Verweij GL, Bekker RM et al (1996) An improved method for seed bank analysis: seedling emergence after removing the soil by sieving. Funct Ecol 10:144–151

Tessier M, Gloaguen JC, Lefeuvre JC (2000) Factors affecting the population dynamics of Suaeda maritima at initial stages of development. Plant Ecol 147:193–203

Tessier M, Gloaguen JC, Bouchard V (2002) The role of spatio‐temporal heterogeneity in the establishment and maintenance of Suaeda maritima in salt marshes. J Veg Sci 13:115–122

Thom RM, Zeigler R, Borde AB (2002) Floristic development patterns in a restored Elk River Estuarine marsh, Grays Harbor, Washington. Restor Ecol 10:487–496

Thompson K, Bakker JP, Bekker RM (1997) Seed banks of North West Europe: methodology, density and longevity. Cambridge University Press, Cambridge, UK

Urbanska KM (1997) Safe sites-interface of plant population ecology and restoration ecology. In: Urbanska KM, Webb NR, Edwards PJ (eds) Restoration ecology and sustainable development. Cambridge University Press, Cambridge, pp 81–110

Van der Pijil L (1982) Principles of dispersal in higher plants. Springer Verlag, Berlin

van Wijnen HJ, Bakker JP (1999) Nitrogen and phosphorus limitation in a coastal barrier salt marsh: the implications for vegetation succession. J Ecol 87:265–272

Willson MF, Traveset A (2000) The ecology of seed dispersal. In: Fenner M (ed) Seeds, the ecology of regeneration in plant communities. CABI Publishing, Oxon

Wolters M, Bakker JP (2002) Soil seed bank and driftline composition along a successional gradient on a temperate salt marsh. Appl Veg Sci 5:55–62

Wolters M, Garbutt A, Bakker JP (2005) Plant colonization after managed realignment: the relative importance of diaspore dispersal. J Appl Ecol 42:770–777

Wolters M, Garbutt A, Bekker RM et al (2008) Restoration of salt marsh vegetation in relation to site suitability, species pool and dispersal traits. J Appl Ecol 45:904–912

Wood DM, del Moral R (1987) Mechanisms of early primary succession in subalpine habitats on Mount St. Helens Ecol 68:780–790

Zobel M (1997) The relative role of species pools in determining plant species richness: an alternative explanation of species coexistence. Trends Ecol Evol 12:266–269
Acknowledgements
The first author was partly founded by a grant from the Ministry of Science, Research and Technology (Islamic Republic of Iran). We thank B. Bossuyt, M. Wolters and one anonymous referee for their helpful comments on earlier drafts of this manuscript. We further thank E. Vercruysse and T. Milotic for technical help with seed bank analysis and seedling identification, and wish to thank the INBO (Research Institute for Nature and Forest) for logistic support, and the VLIZ (Flanders Marine Institute) for greenhouse facilities. We finally thank the Agency for Nature and Forest for their admission to use the IJzermonding nature reserve for this research project.
Additional information
Jean-Pierre Maelfait was deceased on February 6, 2009 and to whom this study is dedicated.
About this article
Cite this article
Erfanzadeh, R., Garbutt, A., Pétillon, J. et al. Factors affecting the success of early salt-marsh colonizers: seed availability rather than site suitability and dispersal traits. Plant Ecol 206, 335–347 (2010). https://doi.org/10.1007/s11258-009-9646-8
Received:

Accepted:

Published:

Issue Date:
Keywords
Site suitability

Seed dispersal traits

Seed availability

Primary succession