Abstract
Invasive bird-dispersed plants often share the same suite of dispersers as co-occurring native species, resulting in a complex management issue. Integrated management strategies could incorporate manipulation of dispersal or establishment processes. To improve our understanding of these processes, we quantified seed rain, recruit and seed bank density, and species richness for bird-dispersed invasive and native species in three early successional subtropical habitats in eastern Australia: tree regrowth, shrub regrowth and native restoration plantings. We investigated the effects of environmental factors (leaf area index (LAI), distance to edge, herbaceous ground cover and distance to nearest neighbour) on seed rain, seed bank and recruit abundance. Propagule availability was not always a good predictor of recruitment. For instance, although native tree seed rain density was similar, and species richness was higher, in native plantings, compared with tree regrowth, recruit density and species richness were lower. Native plantings also received lower densities of invasive tree seed rain than did tree regrowth habitats, but supported a similar density of invasive tree recruits. Invasive shrub seed rain was recorded in highest densities in shrub regrowth sites, but recruit density was similar between habitats. We discuss the role of microsite characteristics in influencing post-dispersal processes and recruit composition, and suggest ways of manipulating these processes as part of an integrated management strategy for bird-dispersed weeds in natural areas.
This is a preview of subscription content, log in to check access.
Access options
Buy single article
Instant access to the full article PDF.
US$ 39.95
Price includes VAT for USA
Subscribe to journal
Immediate online access to all issues from 2019. Subscription will auto renew annually.
US$ 199
This is the net price. Taxes to be calculated in checkout.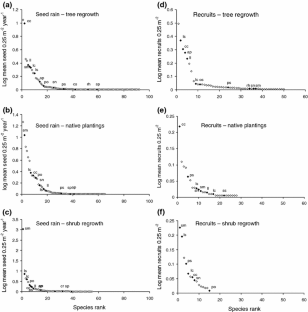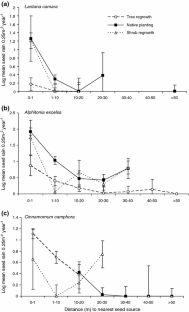 References
Bartuszevige AM, Gorchov DL (2006) Avian seed dispersal of an invasive shrub. Biol Invasions 8:1013–1022. doi:10.1007/s10530-005-3634-2

Bleher B, Böhning-Gaese K (2001) Consequences of frugivore diversity for seed dispersal, seedling establishment and the spatial pattern of seedlings and trees. Oecologia 129:385–394

Buckley YM, Anderson S, Catterall CP, Corlett RT, Engel T, Gosper CR, Nathan R, Richardson DM, Setter M, Spiegel O, Vivian-Smith G, Voigt FA, Weir JES, Westcott DA (2006) Management of plant invasions mediated by frugivore interactions. J Appl Ecol 43:848–857. doi:10.1111/j.1365-2664.2006.01210.x

Clark CJ, Poulsen JR, Bolker BM, Connor EF, Parker VT (2005) Comparative seed shadows of bird-, monkey- and wind-dispersed trees. Ecology 86:2684–2694. doi:10.1890/04-1325

Cummings J, Reid N, Davies I, Grant C (2007) Experimental manipulation of restoration barriers in abandoned Eucalypt plantations. Restor Ecol 15:156–167. doi:10.1111/j.1526-100X.2006.00200.x

Date EM, Ford HA, Recher HF (1991) Frugivorous pigeons, stepping stones, and weeds in northern New South Wales. In: Saunders D, Hobbs RJ (eds) Nature conservation 2: the role of corridors. Surrey Beatty and Sons, Sydney, pp 241–245

Dunphy M (1988) Rainforest weeds of the Big Scrub. In: Proceedings of the rainforest rehabilitation workshop, Wollongbar, November 1988. New South Wales National Parks and Wildlife Service, Hurstville, Australia

Enright N (1985) Existence of a soil seed bank under rainforest in New Guinea. Austral Ecol 10:67–71. doi:10.1111/j.1442-9993.1985.tb00864.x

Floyd A (1990) Australian rainforests in New South Wales, vol 2. Surrey Beatty and Sons, Sydney

Geldenhuys CJ (2004) Concepts and process to control invader plants in and around natural evergreen forest in South Africa. Weed Technol 18:1386–1391. doi:10.1614/0890-037X(2004)018[1386:CAPTCI]2.0.CO;2

GenStat (2008) GenStat for Windows, Release 11.1, 11th edn. VSN International Ltd., Oxford

Gentle CB, Duggin JA (1997) Lantana camara L. invasions in dry rainforest—open forest ecotones: the role of disturbances associated with fire and cattle grazing. Aust J Ecol 22:298–306. doi:10.1111/j.1442-9993.1997.tb00675.x

Githiru M, Lens L, Bennur LA, Ogol CPKO (2002) Effects of site and fruit size on the composition of avian frugivore assemblages in a fragmented Afrotropical forest. Oikos 96:320–330. doi:10.1034/j.1600-0706.2002.960214.x

Gosper CR, Vivian-Smith G (2006) Selecting replacements for invasive plants to support frugivores in highly modified sites: case study focusing on Lantana camara. Ecol Manag Restor 7:197–203. doi:10.1111/j.1442-8903.2006.00309.x

Gosper CR, Stansbury CD, Vivian-Smith G (2005) Seed dispersal of fleshy-fruited invasive plants by birds: contributing factors and management options. Divers Distrib 11:549–558. doi:10.1111/j.1366-9516.2005.00195.x

Grubb PJ (1977) The maintenance of species-richness in plant communities: the importance of the regeneration niche. Biol Rev Camb Philos Soc 52:107–145. doi:10.1111/j.1469-185X.1977.tb01347.x

Harden GJ (1992) The flora of New South Wales, vol 3. NSW University Press, Kensington

Harden GJ (1993) The flora of New South Wales, vol 4. NSW University Press, Kensington

Harden GJ (2000) The flora of New South Wales, vol 1, Revised edn. NSW University Press, Kensington

Harden GJ (2002) The flora of New South Wales, vol 2, Revised edn. NSW University Press, Kensington

Hobbs RJ, Norton DA (1996) Towards a conceptual framework for restoration ecology. Restor Ecol 4:93–110. doi:10.1111/j.1526-100X.1996.tb00112.x

Jordano P (1995) Spatial and temporal variation in the avian–frugivore assemblage of Prunus mahaleb: patterns and consequences. Oikos 71:479–491. doi:10.2307/3545836

Jordano P, Herrera CM (1995) Shuffling the offspring: uncoupling and spatial discordance of multiple stages in vertebrate seed dispersal. Ecoscience 2:230–237

Kanowski J, Catterall CP, Wardell-Johnson GW, Proctor H, Reis T (2003) Development of forest structure on cleared rainforest land in eastern Australia under different styles of reforestation. For Ecol Manag 183:265–280

Kanowski J, Catterall CP, Neilan W (2008) Potential value of weedy regrowth for rainforest restoration. Ecol Manag Restor 9:88–99. doi:10.1111/j.1442-8903.2008.00399.x

Kooyman RM (1996) Growing rainforest. Rainforest restoration and regeneration: recommendations for the humid subtropical region of northern New South Wales and south east Queensland. Greening Australia, Brisbane

Le Brocque AF, Buckney RT (2003) Species richness–environment relationships within coastal sclerophyll and mesophyll vegetation in Ku-ring-gai Chase National Park, New South Wales, Australia. Austral Ecol 28:404–412. doi:10.1046/j.1442-9993.2003.01298.x

Lenière A, Houle G (2006) Response of herbaceous plant diversity to reduced structural diversity in maple-dominated (Acer saccharum Marsh.) forests managed for sap extraction. For Ecol Manag 231:94–104

Loh RK, Daehler CC (2007) Influence of invasive tree kill rates on native and invasive plant establishment in a Hawaiian forest. Restor Ecol 15:199–211. doi:10.1111/j.1526-100X.2007.00204.x

Malmborg PK, Willson MF (1988) Foraging ecology of avian frugivores and some consequences for seed dispersal in an Illinois woodlot. Condor 90:173–186. doi:10.2307/1368446

Mazia CN, Chaneton EJ, Ghersa CM, Leon RJC (2001) Limits to tree species invasion in Pampean grassland and forest plant communities. Oecologia 128:594–602. doi:10.1007/s004420100709

McAlpine KG, Jesson LK (2008) Linking seed dispersal, germination and seedling recruitment in the invasive species Berberis darwinii (Darwin's barberry). Plant Ecol 197:119–129. doi:10.1007/s11258-007-9365-y

Morris LL, Walck JL, Hidayati SN (2002) Growth and reproduction of the invasive Ligustrum sinense and native Forestiera ligustrina (Oleaceae): Implications for the invasion and persistence of a nonnative shrub. Int J Plant Sci 163:1001–1010. doi:10.1086/342632

Murphy HT, Hardesty BD, Fletcher CS, Metcalfe DJ, Westcott DA, Brooks SJ (2008) Predicting dispersal and recruitment of Miconia calvescens (Melastomataceae) in Australian tropical rainforests. Biol Invasions 10:925–936. doi:10.1007/s10530-008-9246-x

Neilan W, Catterall CP, Kanowski J, McKenna S (2006) Do frugivorous birds assist rainforest succession in weed dominated oldfield regrowth of subtropical Australia? Biol Conserv 129:393–407. doi:10.1016/j.biocon.2005.11.007

Panetta FD (2000) Fates of fruits and seeds of Ligustrum lucidum W.T.Ait. and L. sinense Lour. Maintained under natural rainfall or irrigation. Aust J Bot 48:701–705. doi:10.1071/BT00005

Panetta FD, Sparkes EC (2001) Reinvasion of a riparian forest community by an animal-dispersed tree weed following control measures. Biol Invasions 3:75–88. doi:10.1023/A:1011408703336

Pickett STA, Collins SL, Armesto JJ (1987) Models, mechanisms and pathways of succession. Bot Rev 53:335–371. doi:10.1007/BF02858321

Price OF (2006) Movements of frugivorous birds among fragmented rainforests in the Northern Territory. Aust Wildl Res 33:521–528. doi:10.1071/WR06029

Raich JW, Khoon GW (1990) Effects of canopy openings on tree seed germination in a Malaysian dipterocarp forest. J Trop Ecol 6:203–217

Restrepo C, Gomez N, Heredia S (1999) Anthropogenic edges, treefall gaps, and fruit–frugivore interactions in a neotropical montane forest. Ecology 8:668–685

Rodriguez LF (2006) Can invasive species facilitate native species? Evidence of how, when, and why these impacts occur. Biol Invasions 8:927–939. doi:10.1007/s10530-005-5103-3

Rogers RW (2000) Weeds in the germinable seed populations from the Heron Island National Park, Great Barrier Reef. Proc R Soc Qld 109:131–134

Rose S (1997) Influence of suburban edges on invasion of Pittosporum undulatum into the bushland of northern Sydney, Australia. Austral Ecol 22:89–99. doi:10.1111/j.1442-9993.1997.tb00644.x

Stansbury CD, Vivian-Smith G (2003) Interactions between frugivorous birds and weeds in Queensland as determined from a survey of birders. Plant Prot Q 18:157–165

Stone CP, Loope LL (1987) Reducing negative effects of introduced animals on native biotas in Hawaii: what is being done, what needs doing, and the role of National Parks. Environ Conserv 14:245–258

Tucker NIJ, Murphy TM (1997) The effects of ecological rehabilitation on vegetation recruitment: some observations from the wet tropics of North Queensland. For Ecol Manag 99:133–152

Vieira DLM, Scariot A (2006) Principles of natural regeneration of tropical dry forests for restoration. Restor Ecol 14:11–20. doi:10.1111/j.1526-100X.2006.00100.x

Walker LR, Neris LE (1993) Posthurricane seed rain dynamics in Puerto Rico. Biotropica 25:408–418. doi:10.2307/2388864

Weir JES, Corlett RT (2007) How far do birds disperse seeds in the degraded tropical landscape of Hong Kong, China? Landsc Ecol 22:131–140. doi:10.1007/s10980-006-9002-5

Wenny DG (2000) Seed dispersal, seed predation, and seedling recruitment of a neotropical montane tree. Ecol Monogr 70:331–351

Westcott DA, Setter M, Bradford MG, McKeown A, Setter S (2008) Cassowary dispersal of the invasive pond apple in a tropical rainforest: the contribution of subordinate dispersal modes in invasion. Divers Distrib 14:432–439. doi:10.1111/j.1472-4642.2007.00416.x

Wheelwright NT, Orians GH (1982) Seed dispersal by animals: contrasts with pollen dispersal, problems of terminology, and constraints of coevolution. Am Nat 119:402–413. doi:10.1086/283918

White DW, Stiles EW (1992) Bird dispersal of species introduced into eastern North America. Can J Bot 70:1689–1696

White E, Tucker N, Meyers N, Wilson J (2004) Seed dispersal to isolated rainforest patches in North Queensland. For Ecol Manag 192:409–426

White EM, Wilson JC, Clarke AR (2006) Biotic indirect effects: a neglected concept in invasion biology. Divers Distrib 12:443–455. doi:10.1111/j.1366-9516.2006.00265.x

Witkowski ETF, Garner RD (2008) Seed production, seed bank dynamics, resprouting and long-term response to clearing of the alien invasive Solanum mauritianum in a temperate to subtropical riparian ecosystem. S Afr J Bot 74:476–484. doi:10.1016/j.sajb.2008.01.173

Woodford R (2000) Converting a dairy farm back to a rainforest water catchment. The Rocky Creek Dam story. Ecol Manag Restor 1:83–92. doi:10.1046/j.1442-8903.2000.00028.x

Yamamura K (1999) Transformation using (x+0.5) to stabilize the variance of populations. Res Popul Ecol 41:229–234. doi:10.1007/s101440050026

Zimmerman JK, Pascarella JB, Mitchell Aide T (2000) Barriers to forest regeneration in an abandoned pasture in Puerto Rico. Restor Ecol 8:350–360. doi:10.1046/j.1526-100x.2000.80050.x
Acknowledgements
S. Heuston, S. Jackson, P. Parrington, J. Morris, J. Rankin, Rous Water, and NSW National Parks and Wildlife Service provided access to their land. Land care practitioners T. Roberts, D. Bailey, R. Woodford and L. Gander assisted with plant identification. W. Neilan, H. Bower and D. Rankin from Byron Shire Council and J. Kanowski and C. Catterall of Griffith University provided research advice. S. Harvey, J. McCarthy, A. Dimmock and M. Landos provided technical assistance. Thanks to D. Mayer for performing data analyses and D. Panetta and two anonymous reviewers for constructive comments on the manuscript. This study was funded by the Cooperative Research Centre for Australian Weed Management and Queensland Department of Primary Industries and Fisheries.
About this article
Cite this article
White, E., Vivian-Smith, G. & Barnes, A. Variation in exotic and native seed arrival and recruitment of bird dispersed species in subtropical forest restoration and regrowth. Plant Ecol 204, 231–246 (2009). https://doi.org/10.1007/s11258-009-9587-2
Received:

Accepted:

Published:

Issue Date:
Keywords
Dispersal

Fleshy-fruited species

Invasive plant

Rainforest

Succession

Seed bank

Seed rain

Weed management