Abstract
Knapweeds (Centaurea spp.) are damaging invaders of grasslands and other North American rangelands. A field study was conducted to determine conditions that promote diffuse knapweed (C. diffusa) emergence and establishment in a native Colorado grassland (North America). Knapweed was planted in native grassland under treatments with different opening sizes, levels of competition, knapweed seed burial and season of seeding. There was no effect of opening size where competing natives were alive, but knapweed emergence in 5- and 15-cm openings was higher than 0-cm openings where natives were killed. Reducing competition reduced fall diffuse knapweed emergence, but did not affect spring emergence. Seed burial increased knapweed emergence, but the effect varied by season. Although diffuse knapweed emergence reached 35%, only four plants survived from 3,600 seeds. This native grassland did not prevent knapweed emergence or establishment, but both were so low that rapid knapweed invasion is unlikely.
This is a preview of subscription content, log in to check access.
Access options
Buy single article
Instant access to the full article PDF.
US$ 39.95
Price includes VAT for USA
Subscribe to journal
Immediate online access to all issues from 2019. Subscription will auto renew annually.
US$ 199
This is the net price. Taxes to be calculated in checkout.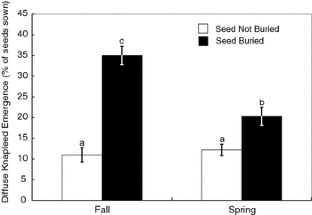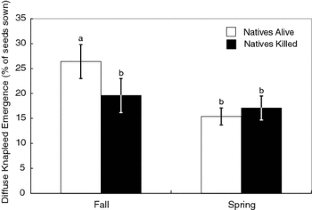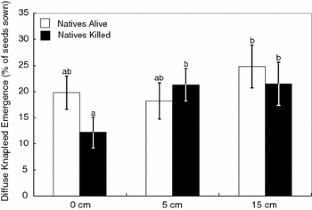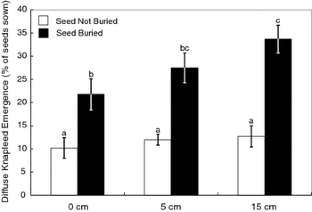 References
Aguilera MO, Lauenroth WL (1993) Seedling establishment in adult neighbourhoods—intraspecific constraints in the regeneration of the bunchgrass Bouteloua gracilis. J Ecol 81:253–261. doi:10.2307/2261495

Belote RT, Jones RH, Hood SM, Wender BW (2008) Diversity–invasibility across an experimental disturbance gradient in Appalachian forests. Ecology 89:183–192. doi:10.1890/07-0270.1

Bergelson J, Newman JA, Floresroux EM (1993) Rates of weed spread in spatially heterogeneous environments. Ecology 74:999–1011. doi:10.2307/1940470

Berube DE, Myers JH (1982) Suppression of knapweed invasion by crested wheatgrass in the dry interior of British Columbia. J Range Manage 35:459–461. doi:10.2307/3898605

Colautti RI, Grigorovich IA, MacIsaac HJ (2006) Propagule pressure: a null model for biological invasions. Biol Invasions 8:1023–1037. doi:10.1007/s10530-005-3735-y

Davis MA, Grime JP, Thompson K (2000) Fluctuating resources in plant communities: a general theory of invasibility. J Ecol 88:528–534. doi:10.1046/j.1365-2745.2000.00473.x

Jacobs JS, Sheley RL (1998) Observation: life history of spotted knapweed. J Range Manage 51:665–673. doi:10.2307/4003610

Jacobs JS, Sheley RL (1999) Competition and niche partitioning among Pseudoroegnaria spicata, Hedysarum boreale and Centaurea maculosa. Great Basin Nat 59:175–181

Jesson L, Kelly D, Sparrow A (2000) The importance of dispersal, disturbance, and competition for exotic plant invasions in Arthur's Pass National Park, New Zealand. NZ J Bot 38:451–468

Klironomos JN (2002) Feedback with soil biota contributes to plant rarity and invasiveness in communities. Nature 417:67–70. doi:10.1038/417067a

Kulmatiski A (2006) Exotic plants establish persistent communities. Plant Ecol 187:261–275. doi:10.1007/s11258-006-9140-5

Kulmatiski A, Beard KH, Stark JM (2006) Soil history as a primary control on plant invasion in abandoned agricultural fields. J Appl Ecol 43:868–876. doi:10.1111/j.1365-2664.2006.01192.x

Lacey J, Husby P, Handl G (1990) Observations on spotted and diffuse knapweed invasion into ungrazed bunchgrass communities in western Montana. Rangelands 12:30–32. doi:10.1071/RJ9900030

Larson LL, McInnis ML (1989) Impact of grass seedings on establishment and density of diffuse knapweed and yellow starthistle. Northwest Sci 63:162–166

Levine JM (2000) Species diversity and biological invasions: relating local process to community pattern. Science 288:852–854. doi:10.1126/science.288.5467.852

Levine JM, D'Antonio CM (1999) Elton revisited: a review of evidence linking diversity and invasibility. Oikos 87:15–26. doi:10.2307/3546992

Marler MJ, Zabinski CA, Callaway RM (1999a) Mycorrhizae indirectly enhance competitive effects of an invasive forb on a native bunchgrass. Ecology 80:1180–1186

Marler MJ, Zabinski CA, Wojtowicz T, Callaway RM (1999b) Mycorrhizae and fine root dynamics of Centaurea maculosa and native bunchgrasses in western Montana. Northwest Sci 73:217–224

Meiman PJ, Redente EF, Paschke MW (2006) The role of the native soil community in the invasion ecology of spotted (Centaurea stoebe L.) and diffuse (Centaurea diffusa Lam.) knapweed. Appl Soil Ecol 32:77–88. doi:10.1016/j.apsoil.2005.02.016

Myers JH, Berube DE (1983) Diffuse knapweed invasion into rangeland in the dry interior of British Columbia. Can J Plant Sci 63:981–987

Pokorny ML, Sheley RL, Zabinski CA, Engel RE, Svejcar TJ, Borkowski JJ (2005) Plant functional group diversity as a mechanism for invasion resistance. Restor Ecol 13:448–459. doi:10.1111/j.1526-100X.2005.00056.x

Prieur-Richard A, Lavorel S (2000) Invasion: the perspective of diverse plant communities. Austral Ecol 25:1–7

Richardson DM, Pyšek P, Rejmánek M, Barbour MG, Panetta FD, West CJ (2000) Naturalization and invasion of alien plants: concepts and definitions. Divers Distrib 6:93–107. doi:10.1046/j.1472-4642.2000.00083.x

Roze LD, Frazer BD, McLean A (1984) Establishment of diffuse and spotted knapweed from seed on disturbed ground in British Columbia, Canada. J Range Manage 37:501–502. doi:10.2307/3898844

Schirman R (1981) Seed production and spring seedling establishment of diffuse and spotted knapweed. J Range Manage 34:45–47. doi:10.2307/3898452

Seastedt TR, Suding KN (2007) Biotic constraints on the invasion of diffuse knapweed (Centaurea diffusa) in North American grasslands. Oecologia 151:626–636. doi:10.1007/s00442-006-0620-z

Sheley RL, Jacobs JS, Carpinelli MF (1998) Distribution, biology and management of diffuse knapweed Centaurea diffusa and spotted knapweed Centaurea maculosa. Weed Technol 12:353–362

Story JM, Smith L, Corn JG, White LJ (2008) Influence of seed head-attacking biological control agents on spotted knapweed reproductive potential in western Montana over a 30-year period. Environ Entomol 37:510–519

Thompson DJ, Stout DG (1991) Duration of the juvenile period in diffuse knapweed Centaurea diffusa. Can J Bot 69:368–371. doi:10.1139/b91-050

Tyser RW, Key CH (1988) Spotted knapweed in natural area fescue grasslands: an ecological assessment. Northwest Sci 62:151–160

USDA NRCS (2002) The PLANTS Database, Version 3.5. http://plants.usda.gov. Cited 17 July 2003

USDA Soil Conservation Service (1980) Soil survey report. Larimer County Area, Colo. U.S. Government Printing Office 239-812/3, Washington, D.C

Watson AK, Renney AJ (1974) The biology of Canadian weeds. 6. Can J Plant Sci 54:687–701

Wolfson BAS, Kolb TE, Sieg CH, Clancy KM (2005) Effects of post-fire conditions on germination and seedling success of diffuse knapweed in northern Arizona. For Ecol Manage 216:342–358. doi:10.1016/j.foreco.2005.05.047
Acknowledgments
This research was funded by the Colorado Agricultural Experiment Station, Dr. Lee Sommers, Director, under an initiative for research on Invasive Plant Species on Public and Private Lands. The authors thank Drs. George Beck and Don Klein for their valuable input throughout this study, Dr. Steve Abt and Tom Brisbane (Colorado State University Engineering Research Center) for allowing access to the study area, and Drs. Bill Lauenroth, Maria Fernandez-Gimenez, the editor and anonymous reviewers for their helpful comments and suggestions.
About this article
Cite this article
Meiman, P.J., Redente, E.F. & Paschke, M.W. Diffuse knapweed (Centaurea diffusa Lam.) seedling emergence and establishment in a Colorado grassland. Plant Ecol 201, 631–638 (2009). https://doi.org/10.1007/s11258-009-9577-4
Received:

Accepted:

Published:

Issue Date:
Keywords
Emergence

Exotic plants

Invasive plants

Invasibility

Noxious weeds

Soil disturbance

Openings