Abstract
The aim of this study was to analyse the regeneration of Pinus pinaster after wildfire and the possible inter and intraspecific competition during the first 3 years after fire. The study area is located in a P. pinaster stand in León province (NW Spain). Three study sites (S1, S2 and S3) were established in an area burned in 1998. In each site, three permanent plots (20 × 1 m) were marked. A total of 20 quadrats of 1 m 2 were studied in each plot. The number and height of pine seedlings 1, 2 and 3 years after fire was recorded in each quadrat. The regeneration of understorey vegetation in the quadrats was analysed concurrently. The significance of linear correlations among the number and height of seedlings and understorey vegetation cover was tested by calculating Pearson correlation coefficients.Seed germination and seedling emergence took place massively during the first year after the fire and decreased through time. The height growth was constant over the 3 years at site S2, while a growth burst could be observed between years 2 and 3 at sites S1 and S2. Also, pines from site S2 reached shorter maximum heights in all years compared to pines from site S1 and S3. The understorey vegetation showed minimal regeneration during the first year but then increased greatly with time. Woody understorey cover and total vegetation cover were negatively correlated with pine seedling density in sites with a high number of seedlings (e.g. S1 and S3). When woody cover, total cover and pine seedling density were low (e.g. S2), there were no correlations. There was a positive correlation between vegetation cover and the maximum height of Pinus seedlings in all study sites.
This is a preview of subscription content, log in to check access.
Access options
Buy single article
Instant access to the full article PDF.
US$ 39.95
Price includes VAT for USA
Subscribe to journal
Immediate online access to all issues from 2019. Subscription will auto renew annually.
US$ 199
This is the net price. Taxes to be calculated in checkout.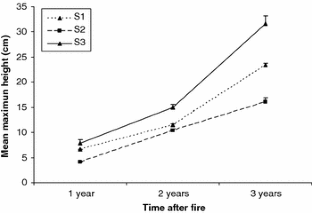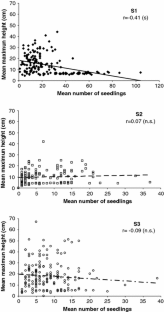 References
Baskin JM, Baskin CC (1998) Seed: ecology, biogeography and evolution of dormancy and germination. Academic Press, San Diego

Borchert M, Johnson M, Schreiner DS, Vander Wall SB (2003) Early postfire seed dispersal, seedling establishment and seedling mortality of Pinus coulteri (D. Don) in central coastal California, USA. Plant Ecol 168:207–220

Calvo L, Tárrega R, Luis E (2002) The dynamics of mediterranean shrubs species over 12 years following perturbations. Plant Ecol 160:25–42

Calvo L, Santalla S, Marcos E, Valbuena L, Tárrega R, Luis E (2003) Regeneration after wildfire in communities dominated by Pinus pinaster, an obligate seeder, and others dominated by Quercus pyrenaica, a typical resprouter. For Ecol Manage 184:209–223

Calvo L, Tárrega R, Luis E, Valbuena L, Marcos E (2005) Recovery after experimental cutting and burning in three shrub ecosystems situated in a climatic gradient. Plant Ecol 180:175–185

Cochran WG (1941) The distribution of the largest of a set of estimated variances as a fraction of their total. Ann Eugen 11:47–61

Daskalakou EN, Thanos CA (2004) Postfire regeneration of Aleppo pine- the temporal pattern of seedling recruitment. Plant Ecol 171:81–89

David HA, Hartley MO, Pearson ES (1954) The distribution of the ratio, in a single normal sample, of range to standard deviation. Biometrika 41:482–493

De las Heras J, Martínez-Sanchéz JJ, González-Ochoa AI, Ferrandis P, Herranz JM (2002) Establishment of Pinus halepensis Mill. saplings following fire: effects of competition with shrub species. Acta Oecol 23:91–97

De las Heras J, González-Ochoa AI, Lopez-Serrano F, Simarro ME, (2004) Effects of silviculture treatments on vegetation after fire in Pinus halepensis Mill. Woodlands (SE Spain). Ann For Sci 61:661–667

Domínguez L, Calvo L, Luis E (2002) Impact of wildfire season on regeneration of Quercus pyrenaica forest and Pinus sp. stand. J Mediterranean Ecol 3:47–54

Elliott KJ, White AS (1987) Competitive effects of various grasses and forbs on ponderosa pine seedlings. For Sci 33:356–366

Eshel A, Henig-Sever N, Ne'eman G (2000) Spatial variation of seedling distribution in an east Mediterranean pine woodland at the beginning of post-fire succession. Plant Ecol 148:175–182

Fernández Rebollo P, Navarro Cerrillo R, Del Valle Murillo G (2001) Estudio de la regeneración post-incendio en masas de Pinus pinaster Ait. en Andalucía. Actas del III Congreso Forestal Español. Junta de Andalucía. Volume IV: 469–474. Granada

Ferrandis P, Herranz JM, Martínez- Sánchez JJ (1996) The role of soil seed bank in the early stages of plant recovery after fire in a Pinus pinaster forest in S.E. Spain. Int J Wildland Fire 6:31–35

Gallegos V, Navarro R, Férnandez P, Valle G (2003) Postfire regeneration in Pinus pinea L. and Pinus pinaster Aiton in Andalucia (Spain). Environ Manage 31:86–99

González-Ochoa AI, López Serrano F, de las Heras J (2004) Does post-fire forest management increase tree growth and cone production in Pinus halepensis?. For Ecol Manage 188:235–247

Habrouk A, Retana J, Espelta JM (1999) Role of heat tolerance and cone protection of seeds in the response of three pine species to wildfires. Plant Ecol 145:91–99

Hanley ME, Fenner M (1998) Pre-germination temperature and the survivorship and onward growth of Mediterranean fire-following plant species. Acta Oecol 19:181–187

Herranz JM, Martínez-Sánchez JJ, Marín A, Ferrandis P (1997) Post-fire regeneration of Pinus halepensis Miller in a semi-arid area in Albacete province (southeastern Spain). Ecoscience 4:86–90

Izhaki I, Ne'eman G (2000) Soil seed banks in mediterranean pine forest. In: Ne'eman G, Trabaud L (Eds) Ecology, biogeography and management of Pinus halepensis and P. brutia forest ecosystems in the mediterranean basin. Backhuys Publishers, Leiden, The Netherlands, pp 167–182

Junta de Castilla y León (1987) Mapa de suelos de Castilla y León. Junta de Castilla y León. Spain

Kazanis D, Arianoutsou M (1996) Vegetation composition in a post-fire successional gradient of Pinus halepensis forest in Attica, Greece. Int J Wildland Fire 6:83–91

Luis-Calabuig E, Torres O, Valbuena L, Calvo L, Marcos E (2002) Impact of large fires on a community of Pinus pinaster. In: Trabaud L, Prodon R (Eds) Fire and biological processes. Backhuys Publishers, Leiden, pp 1–12

Marcos E (1997) Procesos edáficos en comunidades vegetales alteradas por el fuego. Doctoral Thesis. Universidad de León. León. Spain

Martínez- Sánchez JJ, Marín A, Herranz JM, Ferrandis P, Heras J (1995) Effects of high temperatures on germination of Pinus halepensis Mill. and Pinus pinaster Aiton subsp. pinaster seeds in southeast Spain. Vegetatio 116:69–72

Martínez-Sánchez J, Herranz JM, Guerra J, Trabaud L (1996) Natural recolonization of Pinus halepensis Mill. and Pinus pinaster Aiton in burnt forest of the sierra de Alcaraz-Segura mountain system (SE Spain). Ecologia Mediterranea XXII: 17–24

Ministerio de Agricultura (1980) Caracterización Agroclimática de la provincia de León. Dirección General de Producción Agraria. Subdirección General de la Producción Vegetal, Madrid. Spain

Natham R, Ne'eman G (2004) Spatio-temporal dynamics of recruitment in Aleppo pine (Pinus halepensis Miller). Plant Ecol 171:123–137

Ne'eman G (1997) Regeneration of natural pine forest-review of work done after the 1989 fire in Mount Carmel, Israel. Int J Wildland Fire 7:295–306

Perez B, Moreno JM (1998) Fire-type and forestry management effects on the early postfire vegetation dynamics of a Pinus pinaster woodland. Plant Ecol 134:27–41

Rego FC, Bunting SC, Silva JM (1991) Changes in understorey vegetation following prescribed fire in maritime pine forests. For Ecol Manage 41:21–31

Reyes O, Casal M (1995) Germination behaviour of 3 species of the genus Pinus in relation to high temperatures suffered during forest fires. Ann For Sci 52:385–392

Rodrigo A, Retana J, Pico FX (2004) Direct regeneration is not the only response of mediterranean forest to large fires. Ecology 85:716–729

Salvador L, Alía R, Agúndez D, Gil L (2000) Genetic variation and migration pathways of maritime pine (Pinus pinaster Ait) in the Iberian Peninsula. Theor Appl Genet 100:89–95

Santalla S, Salgado JM, Calvo L (2001). Primeros resultados del estudio de los efectos del fuego sobre la vegetación y coleópteros edáficos en pinares de Pinus pinaster. Actas del III Congreso Forestal Español. Volume I: 242–245. Granada

Simarro E, González Ochoa AI, De las Heras J (2001) Efecto de la recurrencia del fuego en la regeneración natural de masas forestales en el SO de la provincia de Albacete. Actas del III Congreso Forestal Español. Junta de Andalucía. Volume IV: 85–90. Granada

Skordilis A, Thanos CA (1995) Seed stratification and germination strategy in the mediterranean pines Pinus brutia and P. halepensis. Seed Sci Res 5:151–160

Spanos IA, Daskalakou EN, Thanos CA (2000) Postfire, natural regeneration of Pinus brutia forest in Thasos island, Greece. Acta Oecol 21:13–20

Tapias R, Gil L, Pardos JA (1998) Los pinares (Pinus pinaster Ait.) de las estribaciones de la Sierra del Teleno (León). La influencia del incendio en su ordenación. Montes 52:115– 120

Tapias R, Gil L, Fuentes-Utrilla P, Pardos JA (2001) Canopy seed banks in mediterranean pines of southeastern Spain: a comparison between Pinus halepensis Mill., P. pinaster Ait., P. nigra Arn. and P. pinea L. J Ecol 89:629–638

Tapias R, Climent J, Pardos JA, Gil L (2004) Life histories of Mediterranean pines. Plant Ecol 171:53–68

Thanos CA, Daskakakou EN, Nikolaidou S (1996) Early postfire regeneration of a Pinus halepensis forest on Mount Parnis, Greece. J Veg Sci 7:273–280

Tsitsoni T (1997) Conditions determining natural regeneration after wildfire in the Pinus halepensis (Miller, 1768) forest of Kassandra Peninsula (North Greece). For Ecol Manage 92:199–208

Torres O (2000) Regeneración de Pinus pinaster después de un gran incendio. Memoria de Licenciatura, Universidad de Leon. Spain

Torres O, Calvo L, Valbuena L (2006) Influence of high temperatures on seed germination of a special Pinus pinaster stand adapted to frequent fires. Plant Ecol 186:129–136

Trabaud L, Michels C, Grosman J (1985) Recovery of burnt Pinus halepensis Mill. Forests. II Pine reconstitution after wildfire. For Ecol Manage 13:167–179

Tutin TG, Heywood VH, Burges DH, Valentine DH, Moore DM, Walters SM, Webb DA (1964–1980) Flora Europaea. Cambridge University Press, Cambridge

Velez R (2000) La defensa contra incendios forestales. Fundamentos y experiencias. McGraw Hill, Madrid
Acknowledgements
The study was developed as part of project LE17/99 subsidised by the Regional Government of Castilla y León.
About this article
Cite this article
Calvo, L., Santalla, S., Valbuena, L. et al. Post-fire natural regeneration of a Pinus pinaster forest in NW Spain. Plant Ecol 197, 81–90 (2008). https://doi.org/10.1007/s11258-007-9362-1
Received:

Accepted:

Published:

Issue Date:
Keywords
Wildfire

Maritime pine forest

Natural regeneration

Shrub species

Seedling density