Abstract
This study examines how a white language teacher's understanding of race affected her teaching practice in an urban elementary language classroom with predominantly Cape Verdean immigrant students. The teacher relied on her experiences teaching English in Namibia and her experiences learning Spanish in the United States and Afrikaans in Namibia to ground her practice, which focused on cultural difference and standard English language teaching without specific reference to race in the context of the United States. I adopt the theory of LangCrit, an intersection between Critical Race Theory, Critical Language Studies, and Positioning Theory, to first demonstrate that the teacher's justifications of her teaching practices were contradictory and conflicting, and in fact shows how, despite her good intentions, whiteness is imposed, assumed, or negotiated in the context of urban language classrooms. Based on these findings, I suggest possibilities for and constraints on using critical theory-oriented praxis in the classroom grounded in teachers' personal experiences to help teachers interrogate and disrupt whiteness in language classrooms. Without greater support from critically-oriented urban teacher educators, many white teachers with the best of intentions will continue to struggle in their search for culturally responsive and empowering pedagogies for immigrant English learners of color in urban school settings.
This is a preview of subscription content, log in to check access.
Access options
Buy single article
Instant access to the full article PDF.
US$ 39.95
Price includes VAT for USA
Subscribe to journal
Immediate online access to all issues from 2019. Subscription will auto renew annually.
US$ 99
This is the net price. Taxes to be calculated in checkout.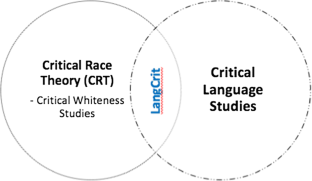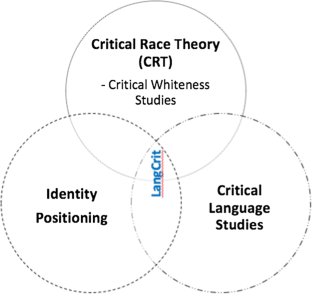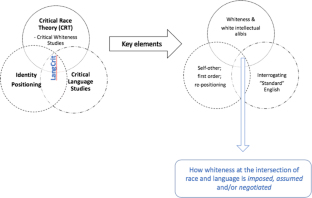 References
Alim, H. S., Rickford, J. R., & Ball, A. F. (Eds.). (2016). Raciolinguistics: How language shapes our ideas about race (1 edition). Oxford: Oxford University Press.

Applebaum, B. (2011). Being white, being good: White complicity, white moral responsibility, and social justice pedagogy. Lanham, MD: Lexington Books.

Bell, D. A., Jr. (1980). Brown v. Board of Education and the interest-convergence dilemma. Harvard Law Review,93(3), 518–533.

Bonilla-Silva, E. (2013). "New racism", color-blind racism, and the future of Whiteness in America. White out (pp. 268–281). New York, NY: Routledge.

Bunch, G. C. (2013). Pedagogical language knowledge: Preparing mainstream teachers for English learners in the new standards era. Review of Research in Education,37(1), 298–341.

Crowley, R. (2016). White teachers, racial privilege, and the sociological imagination. Urban Education, 0042085916656901.

Crump, A. (2014). Introducing LangCrit: Critical language and race theory. Critical Inquiry in Language Studies,11(3), 207–224.

Daniels, J. R. (2018). "There's no way this isn't racist": White women teachers and the raciolinguistic ideologies of teaching code-switching. Journal of Linguistic Anthropology,28(2), 156–174.

Davies, B., & Harré, R. (1990). Positioning: The discursive production of selves. Journal for the Theory of Social Behavior,20(1), 43–63.

Davies, B., & Harré, R. (1999). Positioning and Personhood. In R. Harré & L. van Langenhove (Eds.), Positioning theory (pp. 32–52). Oxford, UK: Wiley-Blackwell.

Delgado, R. (1987). The ethereal scholar: Does critical legal studies have what minorities want. Harvard Civil Rights-Civil Liberties Law Review,22, 301–322.

DiAngelo, R. J., & Sensoy, O. (2014). Getting slammed: White depictions of race discussions as arenas of violence. Race Ethnicity and Education,17, 103–128.

Emerson, R. M., Fretz, R. I., & Shaw, L. L. (2011). Writing ethnographic fieldnotes. Chicago, IL: University of Chicago Press.

Flores, N., & Rosa, J. (2015). Undoing appropriateness: Raciolinguistic ideologies and language diversity in education. Harvard Educational Review,85(2), 149–171.

Flores, N. (2016). A tale of two visions: Hegemonic whiteness and bilingual education. Educational Policy,30(1), 13–38.

García, O., & Wei, L. (2014). Translanguaging: Language, bilingualism and education. Houndmills, Basingstoke: Palgrave Macmillan.

Gay, G. (2005). Politics of multicultural teacher education. Journal of teacher education,56(3), 221–228.

Gillborn, D. (2009). Who's afraid of critical race theory in education? A reply to Mike Cole's 'The Color-Line and the Class Struggle'. Power and Education, 1(1), 125–131.

Giroux, H. (1997). Rewriting the discourse of racial identity: Towards a pedagogy and politics of whiteness. Harvard Educational Review, 67(2), 285–321.

Glaser, B. G. (1965). The constant comparative method of qualitative analysis. Social problems,12(4), 436–445.

Godley, A. J., Reaser, J., & Moore, K. G. (2015). Pre-service English language arts teachers' development of critical language awareness for teaching. Linguistics and Education, 32, 41–54.

Haneda, M., & Alexander, M. (2015). ESL teacher advocacy beyond the classroom. Teaching and Teacher Education,49, 149–158.

Harré, R., & Van Langenhove, L. (1999). Positioning theory: Moral context of intentional action. Malden, MA: Blackwell.

Harris, C. (1993). Whiteness as property. Harvard Law Review,106(8), 1709–1791.

Jupp, J. C., & Slattery, G. P., Jr. (2010). Committed White male teachers and identifications: Toward creative identifications and a "second wave" of White identity studies. Curriculum Inquiry,40(3), 454–474.

Jupp, J. C., Berry, T. R., & Lensmire, T. J. (2016). Second-wave white teacher identity studies: A review of white teacher identity literatures from 2004 through 2014. Review of educational research,86(4), 1151–1191.

Jupp, J., & Lensmire, T. J. (2016). Second-wave white teacher identity studies: toward complexity and reflexivity in the racial conscientization of white teachers. International Journal of Qualitative Studies in Education,29(8), 985–988.

Kayi-Aydar, H. (2015). Teacher agency, positioning, and English language learners: Voices of pre-service classroom teachers. Teaching and Teacher Education,45, 94–103.

Kayi-Aydar, H., & Miller, E. R. (2018). Positioning in classroom discourse studies: a state-of-the-art review. Classroom Discourse,9(2), 79–94.

Kim, J. I., & Viesca, K. M. (2016). Three reading-intervention teachers' identity positioning and practices to motivate and engage emergent bilinguals in an urban middle school. Teaching and Teacher Education,55, 122–132.

Kubota, R., & Lin, A. (2006). Race and TESOL: Introduction to concepts and theories. TESOL quarterly,40(3), 471–493.

Ladson-Billings, G. (1998). Just what is critical race theory and what's it doing in a nice field like education? International Journal of Qualitative Studies in Education,11(1), 7–24.

Ladson-Billings, G. (2005). The evolving role of critical race theory in educational scholarship. Race Ethnicity and Education,8(1), 115–119.

Ladson-Billings, G., & Tate, W. F. (1995). Toward a critical race theory of education. Teachers College Record,97(1), 47–68.

Lee, S. J., & Walsh, D. (2015). Teaching (in) justice: One teacher's work with immigrant English learners. The Urban Review,47(1), 45–66.

Leonardo, Z. (2009). Pale/ontology: The status of whiteness in education. In M. W. Apple, W. Au, & L. A. Gandin (Eds.), The Routledge international handbook of critical education (pp. 123–136). New York, NY: Routledge.

Leonardo, Z., & Zembylas, M. (2013). Whiteness as technology of affect: Implications for educational praxis. Equity & Excellence in Education,46(1), 150–165.

Leonardo, Z. (2016). Tropics of whiteness: Metaphor and the literary turn in white studies. Whiteness and Education,1(1), 3–14.

Liggett, T. (2008). Frames of reference: The impact of race on teaching strategy and classroom discussion. The Urban Review,40(4), 386–402.

Liggett, T. (2014). The mapping of a framework: Critical race theory and TESOL. The Urban Review,46(1), 112–124.

Lippi-Green, R. (2012). English with an accent: Language, ideology, and discrimination in the United States. New York, NY: Routledge.

Livingston, D. (1982). Round and round the bramble bush: From legal realism to critical legal scholarship. Harvard Law Review,95(7), 1669–1690.

Lucas, T., Villegas, A. M., & Freedson-Gonzalez, M. (2008). Linguistically responsive teacher education: Preparing classroom teachers to teach English language learners. Journal of Teacher Education,59(4), 361–373.

Luke, A. (2018). The body literate: Discourse and inscription in early literacy training. In Critical Literacy, Schooling, and Social Justice (pp. 100–123). Routledge.

Marx, S. (2006). Revealing the invisible: Confronting passive racism in teacher education. New York, NY: Routledge.

Massachusetts Department of Elementary and Secondary Education. (2015). Rethinking Equity and Teaching for English Language Learners (RETELL). Retrieved November 15, 2018, from http://www.doe.mass.edu/retell/.

McIntyre, A. (1997). Constructingn image of a White teacher. Teachers College Record,98, 653–681.

Metz, M. (2018). Exploring the complexity of high school students' beliefs about language variation. Linguistics and Education, 45, 10–19.

Mills, C. W. (1997). The racial contract. Ithaca, NY: Cornell University Press.

Mitchell, K. (2013). Race, difference, meritocracy, and English: Majoritarian stories in the education of secondary multilingual learners. Race Ethnicity and Education,16(3), 339–364.

Morita-Mullaney, T. (2018). The intersection of language and race among English learner (EL) leaders in desegregated urban midwest schools: A LangCrit narrative study. Journal of Language, Identity & Education, 17(6), 371–387. https://doi.org/10.1080/15348458.2018.1494598.

Paris, D. (2012). Culturally sustaining pedagogy: A needed change in stance, terminology, and practice. Educational researcher,41(3), 93–97.

Paris, D., & Alim, H. S. (Eds.). (2017). Culturally sustaining pedagogies: Teaching and learning for justice in a changing world. New York: NY, Teachers College Press.

Philip, T. M., & Benin, S. Y. (2014). Programs of teacher education as mediators of White teacher identity. Teaching Education,25(1), 1–23.

Philip, T. M. (2011). An "ideology in pieces" approach to studying change in teachers' sensemaking about race, racism, and racial justice. Cognition and instruction,29(3), 297–329.

Picower, B. (2009). The unexamined whiteness of teaching: How white teachers maintain and enact dominant racial ideologies. Race Ethnicity and Education,12(2), 197–215.

Pollock, M. (Ed.). (2008). Everyday antiracism: Getting real about race in school. New York, NY: The New Press.

Reeves, J. (2009). Teacher investment in learner identity. Teaching and teacher education,25(1), 34–41.

Rosa, J., & Flores, N. (2017). Unsettling race and language: Toward a raciolinguistic perspective. Language in Society,46(5), 621–647.

Sánchez Gibau, G. (2005). Contested identities: Narratives of race and ethnicity in the Cape Verdean diaspora. Identities: Global Studies in Culture and Power, 12(3), 405–438.

Shim, J. M. (2018). Co-existence of race-evasiveness and race-visibility identifications: Complexifying one white male teachers' racial knowledge. Teaching and Teacher Education,70, 132–141.

Sleeter, C. E. (2001). Preparing teachers for culturally diverse schools: Research and the overwhelming presence of Whiteness. Journal of Teacher Education,52, 94–106.

Sleeter, C. E. (2008). Preparing White teachers for diverse students. In M. Cochran-Smith, S. Feiman-Nemser, & D. J. McIntyre (Eds.), Handbook of research on teacher education: Enduring questions in changing contexts (3rd ed., pp. 559–582). New York, NY: Routledge.

Suárez-Orozco, C., & Suárez-Orozco, M. (2001). Children of immigrants. Cambridge, MA: Harvard University Press.

Suárez-Orozco, C., Suárez-Orozco, M. M., & Todorova, I. (2009). Learning a new land. Cambridge, MA: Harvard University Press.

Tate IV, W. F. (1997). Chapter 4: Critical race theory and education: History, theory, and implications. Review of research in education, 22(1), 195–247.

Taylor, A. J. (2017). Putting race on the table: How teachers make sense of the role of race in their practice. Harvard Educational Review,87(1), 50–57.

Vetter, A. (2013). "You need some laugh bones!" Leveraging AAL in a high school English classroom. Journal of Literacy Research,45(2), 173–206.

Yin, R. K. (2017). Case study research and applications: Design and methods. Thousand Oaks, CA: Sage publications.

Yoon, B. (2008). Uninvited guests: The influence of teachers' roles and pedagogies on the positioning of English language learners in the regular classroom. American Educational Research Journal,45(2), 495–522.

Yoon, I. H. (2012). The paradoxical nature of whiteness-at-work in the daily life of schools and teacher communities. Race Ethnicity and Education,15(5), 587–613.

Yoon, I. H. (2016). Trading Stories: Middle-Class White Women Teachers and the Creation of Collective Narratives about Students and Families in a Diverse Elementary School. Teachers College Record,118(2), 1–54.
Additional information
Publisher's Note
Springer Nature remains neutral with regard to jurisdictional claims in published maps and institutional affiliations.
Appendices
Appendix 1: Sample Interview Questions
1.

Could you share your educational backgrounds and intercultural experiences, if any?

2.

How would you describe your students in class and school?

3.

How would you describe your role as a teacher?

4.

How do you engage your students in topics of cultural and linguistic diversity in general in your class?

5.

How do you find it hard to talk about issues of students' racialized experiences? Could you describe the challenge?

6.

If you could change the structural system at school (e.g., the time of meeting your students; curriculum choices; faculty meetings, etc.) to respond to and sustain your students' cultural, linguistic, ethnic/racial identities, what would you strive to change?

7.

Could you describe your goals in class today, and your role?

8.

Could you describe why you chose _______ activities (e.g., leading book discussions, small group workshops, raising certain questions, etc.) in class today?

9.

How have your ideas about culture, language, and race motivate you to teach your students? What do you see your role in teaching these topics in class? Are there any specific strategies?
Appendix 2: Examples of Coding Categories and Themes, and Data Analysis
 
Race identification
Language identification
Intersected identification of race and language
Self-other positioning
Oppositional positioning in relation to "those" white teachers at school
Centering cultural and linguistic diversity to connect with her students
Positioning as an intercultural-self due to extensive intercultural experiences
(assumed & negotiated intercultural self-positioning)
Understanding the race and language as ideologies embedded in the fabric of English teaching in Cape Verde, Namibia, and the U.S.
Avoiding race-related discussions in teaching the English language
First order positioning
Centering issues of race as individual-level treatment
Teaching standard English to prevent students' discrimination and promote their social mobility (assumed white intellectual alibis; imposed standard English practice)
Avoiding race dialogues, but emphasizing the importance of learning standard English as a code
Positioning as a professional, legitimate, and credible teacher who speaks standard English
Re-positioning
See the race in the lives and bodies of teachers of color and responsibility transfers (imposed and negotiated)
Exploring her linguistic positioning as a majority and dominant group
Expressing the needs and wants to engage in race discussions with colleagues at school; expressing feelings of uncertainty and ambivalence
(negotiated and assumed)
Wondering how to connect with her students and their communities by engaging in race discussions intersected with language
(assumed and negotiated)
About this article
Cite this article
Maddamsetti, J. Where All the Good Teachers are Cape Verdean Americans: A White Teacher's Identity Positionings in an Urban Elementary School. Urban Rev 52, 100–126 (2020). https://doi.org/10.1007/s11256-019-00514-5
Keywords
Urban teacher education

Whiteness

Identity positioning

White teachers

English language learners