Abstract
Purpose
To promptly identify mental suffering in low-risk prostate cancer (LRPC) patients, vulnerable to over- and undertreatment, we evaluated the correlation of rapid emotional thermometers (ET) with multidimensional validated structured questionnaires.
Methods
At diagnosis, consecutive LRPC patients underwent five ET domains: emotional suffering, anxiety, depression (DT), revolt and need for help and multidimensional questionnaires: beck anxiety inventory (BAI), beck depression inventory (BDI), beck hopelessness scale, SF36 (physical functioning PF, role limitations due to physical health RP, bodily pain BP, general health perceptions GH, vitality VT, social functioning SF, role limitations due to emotional problems RE and general mental health MH), international index of erectile function and international prostate symptom score (IPSS).
Results
Among 30 included patients, mean age 67.4 y (52–74), 20 days after the diagnosis (15–30), mean time to obtain ET 27 s (15–57) and all questionnaires 36.7 min (31–49), ETs showed moderate/strong Spearman correlation among themselves. DT domain displayed the best correlation to most of the multidimensional validated structured questionnaires: moderate to BDI, SF-36 (PF, GH, VT, SF, RE, MH) and IPSS and strong to BAI.
Conclusion
DT revealed the best correlation to validated structured questionnaires of diverse dimensions with clear potential for quick screening of patients with psychological suffering and in need of further evaluation and support.
This is a preview of subscription content, log in to check access.
Access options
Buy single article
Instant access to the full article PDF.
US$ 39.95
Price includes VAT for USA
Subscribe to journal
Immediate online access to all issues from 2019. Subscription will auto renew annually.
US$ 99
This is the net price. Taxes to be calculated in checkout.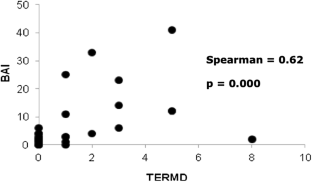 References
1.

Vodermaier A, Linden W, Siu C (2009) Screening for emotional distress in cancer patients: a systematic review of assessment instruments. J Natl Cancer Inst 101(21):1464–1488. https://doi.org/10.1093/jnci/djp336

2.

Bui QU, Ostir GV, Kuo YF, Freeman J, Goodwin JS (2005) Relationship of depression to patient satisfaction: findings from the barriers to breast cancer study. Breast Cancer Res Treat 89(1):23–28. https://doi.org/10.1007/s10549-004-1005-9

3.

Keller M, Sommerfeldt S, Fischer C et al (2004) Recognition of distress and psychiatric morbidity in cancer patients: a multi-method approach. Ann Oncol 15(8):1243–1249. https://doi.org/10.1093/annonc/mdh318

4.

Holland J, Watson M, Dunn J (2011) The IPOS new international standard of quality cancer care: integrating the psychosocial domain into routine care. Psychooncology 20(7):677–680. https://doi.org/10.1002/pon.1978

5.

Latini DM, Hart SL, Knight SJ et al (2007) The relationship between anxiety and time to treatment for patients with prostate cancer on surveillance. J Urol 178(3 Pt 1):826–832. https://doi.org/10.1016/j.juro.2007.05.039

6.

Mitchell AJ, Kaar S, Coggan C, Herdman J (2008) Acceptability of common screening methods used to detect distress and related mood disorders-preferences of cancer specialists and non-specialists. Psychooncology 17(3):226–236. https://doi.org/10.1002/pon.1228

7.

Jacobsen PB, Donovan KA, Trask PC et al (2005) Screening for psychologic distress in ambulatory cancer patients. Cancer 103(7):1494–1502. https://doi.org/10.1002/cncr.20940

8.

van der Poel HG, Tillier C, de Blok WM, Acar C, van Muilekom EH, van den Bergh RC (2013) Interview-based versus questionnaire-based quality of life outcomes before and after prostatectomy. J Endourol 27(11):1411–1416. https://doi.org/10.1089/end.2012.0735

9.

Baken DM, Woolley C (2011) Validation of the distress thermometer, impact thermometer and combinations of these in screening for distress. Psychooncology. 20(6):609–614. https://doi.org/10.1002/pon.1934

10.

Mitchell AJ, Baker-Glenn EA, Granger L, Symonds P (2010) Can the distress thermometer be improved by additional mood domains? Part I. Initial validation of the emotion thermometers tool. Psychooncology 19(2):125–133. https://doi.org/10.1002/pon.1523

11.

Epstein JI, Walsh PC, Carmichael M, Brendler CB (1994) Pathologic and clinical findings to predict tumor extent of nonpalpable (stage T1c) prostate cancer. JAMA 271(5):368–374

12.

Litwin MS, Greenfield S, Elkin EP, Lubeck DP, Broering JM, Kaplan SH (2007) Assessment of prognosis with the total illness burden index for prostate cancer: aiding clinicians in treatment choice. Cancer 109(9):1777–1783. https://doi.org/10.1002/cncr.22615

13.

Snowden A, White CA, Christie Z, Murray E, McGowan C, Scott R (2011) The clinical utility of the distress thermometer: a review. Br J Nurs 20(4):220–227

14.

Laranja WW, Sanches BCF, Voris BRI et al (2019) The biopsychosocial burden of prostate biopsy at the time of its indication, procedure, and pathological report. Prostate Cancer 2019:2653708

15.

Ware JE Jr, Gandek B (1998) Overview of the SF-36 health survey and the international quality of life assessment (IQOLA) project. J Clin Epidemiol 51(11):903–912. https://doi.org/10.1016/s0895-4356(98)00081-x

16.

Reis AL, Reis LO, Saade RD, Santos CA Jr, Lima ML, Fregonesi A (2015) Validation of portuguese version of quality of erection questionnaire (QEQ) and comparison to International index of erectile function (IIEF) and RAND 36-item health survey. Int Braz J Urol 41(1):155–167. https://doi.org/10.1590/S1677-5538.IBJU.2015.01.21

17.

Barry MJ, Fowler FJ Jr, O'Leary MP et al (2017) The American urological association symptom index for benign prostatic hyperplasia. J Urol 197(2S):S189–S197. https://doi.org/10.1016/j.juro.2016.10.071

18.

Hegel MT, Collins ED, Kearing S, Gillock KL, Moore CP, Ahles TA (2008) Sensitivity and specificity of the distress thermometer for depression in newly diagnosed breast cancer patients. Psychooncology 17(6):556–560. https://doi.org/10.1002/pon.1289

19.

Roerink SH, de Ridder M, Prins J et al (2013) High level of distress in long-term survivors of thyroid carcinoma: results of rapid screening using the distress thermometer. Acta Oncol 52(1):128–137. https://doi.org/10.3109/0284186X.2012.723822

20.

Chambers SK, Zajdlewicz L, Youlden DR, Holland JC, Dunn J (2014) The validity of the distress thermometer in prostate cancer populations. Psychooncology 23(2):195–203. https://doi.org/10.1002/pon.3391

21.

Bidstrup PE, Mertz BG, Dalton SO et al (2012) Accuracy of the Danish version of the 'distress thermometer'. Psychooncology 21(4):436–443. https://doi.org/10.1002/pon.1917

22.

Gunnarsdottir S, Thorvaldsdottir GH, Fridriksdottir N et al (2012) The psychometric properties of the icelandic version of the distress thermometer and problem list. Psychooncology 21(7):730–736. https://doi.org/10.1002/pon.1950

23.

de Cerqueira MA, Laranja WW, Sanches BC, Monti CR, Reis LO (2015) Burden of focal cryoablation versus brachytherapy versus active surveillance in the treatment of very low-risk prostate cancer: a preliminary head-to-head comprehensive assessment. Eur J Cancer Care (Engl) 24(6):929–937. https://doi.org/10.1111/ecc.12307

24.

Gugliotta A, Ferreira U, Reis LO et al (2008) Análisis de satisfacción en varones que presentaban cáncer de próstata localizado tratados con prostatectomía radical o radioterapia: aspectos psicológicos y Sociales [Satisfaction analysis in men presenting with localized prostate cancer treated with radical prostatectomy or radiotherapy: psychological and social aspects]. Actas Urol Esp 32(4):411–416. https://doi.org/10.1016/s0210-4806(08)73855-5

25.

Reis LO, Andrade DL, Bianco FJ Jr (2019) Super active surveillance for low-risk prostate cancer | Opinion: yes. Int Braz J Urol. 45(2):210–214. https://doi.org/10.1590/S1677-5538.IBJU.2019.02.02

26.

Reis LO, Carter HB (2015) The mind: focal cryotherapy in low-risk prostate cancer: are we treating the cancer or the mind? Int Braz J Urol 41(1):10–14. https://doi.org/10.1590/S1677-5538.IBJU.2015.01.03

27.

Naccarato AM, Reis LO, Ferreira U, Denardi F (2016) Psychotherapy and phosphodiesterase-5 inhibitor in early rehabilitation after radical prostatectomy: a prospective randomised controlled trial. Andrologia 48(10):1183–1187. https://doi.org/10.1111/and.12557

28.

Huang GJ, Sadetsky N, Penson DF (2010) Health related quality of life for men treated for localized prostate cancer with long-term followup. J Urol 183(6):2206–2212. https://doi.org/10.1016/j.juro.2010.02.013

29.

Naccarato AM, Reis LO, Matheus WE, Ferreira U, Denardi F (2011) Barriers to prostate cancer screening: psychological aspects and descriptive variables—is there a correlation? Aging Male 14(1):66–71. https://doi.org/10.3109/13685538.2010.522277

30.

Boyes A, D'Este C, Carey M, Lecathelinais C, Girgis A (2013) How does the distress thermometer compare to the hospital anxiety and depression scale for detecting possible cases of psychological morbidity among cancer survivors? Support Care Cancer 21(1):119–127. https://doi.org/10.1007/s00520-012-1499-3

31.

Johnson RL, Gold MA, Wyche KF (2010) Distress in women with gynecologic cancer. Psychooncology 19(6):665–668. https://doi.org/10.1002/pon.1589
Acknowledgements
To the involved institutions, the patients and those that provided and cared for study patients.
Funding
CNPq Research Productivity, Brazil—Grant: 304747/2018-1 (Reis LO).
Ethics declarations
Conflict of interest
The authors declare that they have no conflict of interest.
Ethical approval
This work was performed under ethical standards laid down in the 1964 Declaration of Helsinki and its later amendments. Institutional ethics committee protocol number 511.459.
Additional information
Publisher's Note
Springer Nature remains neutral with regard to jurisdictional claims in published maps and institutional affiliations.
About this article
Cite this article
Laranja, W.W., Pereira, T.A., Guimarães, P.V.B. et al. Do rapid emotional thermometers correlate with multidimensional validated structured questionnaires in low-risk prostate cancer?. Int Urol Nephrol (2020). https://doi.org/10.1007/s11255-020-02399-w
Received:

Accepted:

Published:
Keywords
Prostate cancer

Emotional

Suffering

Thermometer

Questionnaire

HRQoL