Abstract
Objective
IgA nephropathy (IgAN) is one of the most common glomerulonephritis in the world, especially in Asian population. IgAN usually progresses slowly, but it is still an important cause of chronic renal failure. IgAN is characterized by abnormal increase of IgA1 level and deposition in mesangium. At present, there is no specific treatment.
Materials and methods
Previous reports have shown that DC cells expressing immunosuppressive factors can significantly reduce the symptoms of arthritis in arthritis models. Indoleamine 2,3-dioxygenase (IDO) is an important tryptophan degrading enzyme and an important factor regulating immunotolerance. DC expressing functional IDO can inhibit effector T cells by consuming essential tryptophan and/or producing toxic metabolites and promoting the differentiation of Treg cells, which exhibits immunosuppressive effect. In this study, we constructed a IgAN mouse model. The mature DC cells overexpressing IDO were induced in vitro and transfused back to IgAN mice to observe their effects on inflammation and renal injury.
Results
The results showed that overexpression of IDO did not affect the maturation of DC cells. The proportion of CD3 + CD4 + and CD3 + CD8 + cells decreased significantly and the proportion of CD4 + CD25 + Foxp3 + cells increased significantly in kidney tissue of IgAN mice after the reinfusion of IDO-expressing DC. The contents of IL-2, IL-4, IL-6, and IL-17A in kidney tissue of IgAN mice also decreased significantly, the damage of kidney tissue was alleviated, ACR was decreased, collagen fibre content in kidney tissue was decreased, and IgA deposition in glomerular mesangium was decreased in IgAN mice.
Conclusions
It has the potential to treat IgAN by upregulating the expression of IDO in DC cells by genetic engineering and reinfusion into vivo.
This is a preview of subscription content, log in to check access.
Access options
Buy single article
Instant access to the full article PDF.
US$ 39.95
Price includes VAT for USA
Subscribe to journal
Immediate online access to all issues from 2019. Subscription will auto renew annually.
US$ 99
This is the net price. Taxes to be calculated in checkout.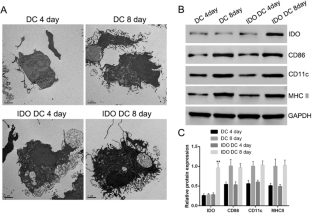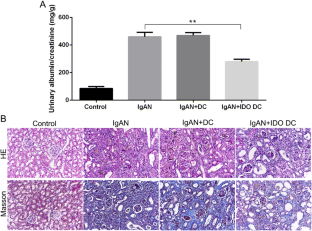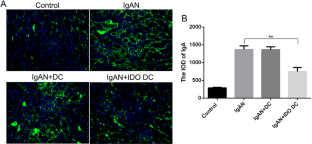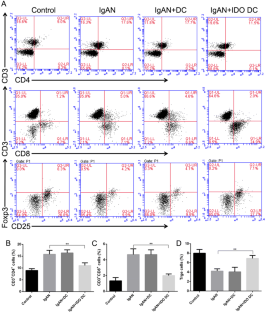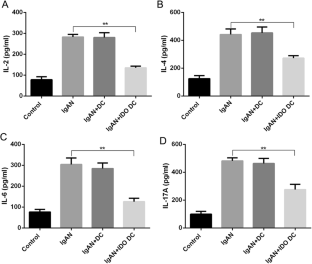 References
1.

Lafayette RA, Kelepouris E (2018) Immunoglobulin a nephropathy: advances in understanding of pathogenesis and treatment. Am J Nephrol 47(Suppl 1):43–52

2.

Zhang YM, Zhang H (2018) Update on treatment of immunoglobulin A nephropathy. Nephrology (Carlton) 23(Suppl 4):62–67

3.

Liu Y, Zhang Y, Liu D, Tan X, Tang X, Zhang F, Xia M, Chen G, He L, Zhou L, Zhu X, Liu H (2018) Prediction of ESRD in IgA nephropathy patients from an asian cohort: a random forest model. Kidney Blood Press Res 43:1852–1864

4.

Shi M, Ouyang Y, Yang M, Yang M, Zhang X, Huang W, Wang W, Wang Z, Zhang W, Chen X, Pan X, Ren H, Chen N, Xie J (2018) IgA Nephropathy susceptibility loci and disease progression. Clin J Am Soc Nephrol 13:1330–1338

5.

Takechi H, Oda T, Hotta O, Yamamoto K, Oshima N, Matsunobu T, Shiotani A, Nagura H, Shimazaki H, Tamai S, Sakurai Y, Kumagai H (2013) Clinical and immunological implications of increase in CD208+ dendritic cells in tonsils of patients with immunoglobulin A nephropathy. Nephrol Dial Transp 28:3004–3013

6.

Eijgenraam JW, Reinartz SM, Kamerling SW, van Ham VJ, Zuidwijk K, van Drunen CM, Daha MR, Fokkens WJ, van Kooten C (2008) Immuno-histological analysis of dendritic cells in nasal biopsies of IgA nephropathy patients. Nephrol Dial Transp 23:612–620

7.

Goto T, Bandoh N, Yoshizaki T, Nozawa H, Takahara M, Ueda S, Hayashi T, Harabuchi Y (2008) Increase in B-cell-activation factor (BAFF) and IFN-gamma productions by tonsillar mononuclear cells stimulated with deoxycytidyl-deoxyguanosine oligodeoxynucleotides (CpG-ODN) in patients with IgA nephropathy. Clin Immunol 126:260–269

8.

Noessner E, Lindenmeyer M, Nelson PJ, Segerer S (2011) Dendritic cells in human renal inflammation–Part II. Nephron Exp Nephrol 119:e91–98

9.

Kim SH, Lechman ER, Bianco N, Menon R, Keravala A, Nash J, Mi Z, Watkins SC, Gambotto A, Robbins PD (2005) Exosomes derived from IL-10-treated dendritic cells can suppress inflammation and collagen-induced arthritis. J Immunol 174:6440–6448

10.

Kim SH, Bianco N, Menon R, Lechman ER, Shufesky WJ, Morelli AE, Robbins PD (2006) Exosomes derived from genetically modified DC expressing FasL are anti-inflammatory and immunosuppressive. Mol Ther 13:289–300

11.

Kim SH, Bianco NR, Shufesky WJ, Morelli AE, Robbins PD (2007) Effective treatment of inflammatory disease models with exosomes derived from dendritic cells genetically modified to express IL-4. J Immunol 179:2242–2249

12.

Munn DH, Sharma MD, Hou D, Baban B, Lee JR, Antonia SJ, Messina JL, Chandler P, Koni PA, Mellor AL (2004) Expression of indoleamine 2,3-dioxygenase by plasmacytoid dendritic cells in tumor-draining lymph nodes. J Clin Invest 114:280–290

13.

Manlapat AK, Kahler DJ, Chandler PR, Munn DH, Mellor AL (2007) Cell-autonomous control of interferon type I expression by indoleamine 2,3-dioxygenase in regulatory CD19+ dendritic cells. Eur J Immunol 37:1064–1071

14.

Mellor AL, Baban B, Chandler PR, Manlapat A, Kahler DJ, Munn DH (2005) Cutting edge: CpG oligonucleotides induce splenic CD19+ dendritic cells to acquire potent indoleamine 2,3-dioxygenase-dependent T cell regulatory functions via IFN Type 1 signaling. J Immunol 175:5601–5605

15.

King NJ, Thomas SR (2007) Molecules in focus: indoleamine 2,3-dioxygenase. Int J Biochem Cell Biol 39:2167–2172

16.

Tas SW, Vervoordeldonk MJ, Hajji N, Schuitemaker JH, van der Sluijs KF, May MJ, Ghosh S, Kapsenberg ML, Tak PP, de Jong EC (2007) Noncanonical NF-kappaB signaling in dendritic cells is required for indoleamine 2,3-dioxygenase (IDO) induction and immune regulation. Blood 110:1540–1549

17.

Grohmann U, Volpi C, Fallarino F, Bozza S, Bianchi R, Vacca C, Orabona C, Belladonna ML, Ayroldi E, Nocentini G, Boon L, Bistoni F, Fioretti MC, Romani L, Riccardi C, Puccetti P (2007) Reverse signaling through GITR ligand enables dexamethasone to activate IDO in allergy. Nat Med 13:579–586

18.

Criado G, Simelyte E, Inglis JJ, Essex D, Williams RO (2009) Indoleamine 2,3 dioxygenase-mediated tryptophan catabolism regulates accumulation of Th1/Th17 cells in the joint in collagen-induced arthritis. Arthritis Rheum 60:1342–1351

19.

Munn DH (2012) Blocking IDO activity to enhance anti-tumor immunity. Front Biosci (Elite Ed) 4:734–745

20.

Ueno A, Cho S, Cheng L, Wang J, Hou S, Nakano H, Santamaria P, Yang Y (2007) Transient upregulation of indoleamine 2,3-dioxygenase in dendritic cells by human chorionic gonadotropin downregulates autoimmune diabetes. Diabetes 56:1686–1693

21.

Sharma MD, Hou DY, Liu Y, Koni PA, Metz R, Chandler P, Mellor AL, He Y, Munn DH (2009) Indoleamine 2,3-dioxygenase controls conversion of Foxp3+ Tregs to TH17-like cells in tumor-draining lymph nodes. Blood 113:6102–6111

22.

Sharma MD, Baban B, Chandler P, Hou DY, Singh N, Yagita H, Azuma M, Blazar BR, Mellor AL, Munn DH (2007) Plasmacytoid dendritic cells from mouse tumor-draining lymph nodes directly activate mature Tregs via indoleamine 2,3-dioxygenase. J Clin Invest 117:2570–2582

23.

Fallarino F, Grohmann U, You S, McGrath BC, Cavener DR, Vacca C, Orabona C, Bianchi R, Belladonna ML, Volpi C, Santamaria P, Fioretti MC, Puccetti P (2006) The combined effects of tryptophan starvation and tryptophan catabolites down-regulate T cell receptor zeta-chain and induce a regulatory phenotype in naive T cells. J Immunol 176:6752–6761

24.

Bianco NR, Kim SH, Ruffner MA, Robbins PD (2009) Therapeutic effect of exosomes from indoleamine 2,3-dioxygenase-positive dendritic cells in collagen-induced arthritis and delayed-type hypersensitivity disease models. Arthritis Rheum 60:380–389

25.

Wu H, Gong J, Liu Y (2018) Indoleamine 2, 3-dioxygenase regulation of immune response (Review). Mol Med Rep 17:4867–4873

26.

Harden JL, Egilmez NK (2012) Indoleamine 2,3-dioxygenase and dendritic cell tolerogenicity. Immunol Invest 41:738–764
Acknowledgements
This study was supported by Hunan key research and development program-key research and development projects in the field of social development (2017SK2143), Changsha Science and technology bureau (kq1701061).
Ethics declarations
Conflict of interest
The authors declare that they have no competing interests to disclose.
Additional information
Publisher's Note
Springer Nature remains neutral with regard to jurisdictional claims in published maps and institutional affiliations.
About this article
Cite this article
Liu, K., Yang, Y., Chen, Y. et al. The therapeutic effect of dendritic cells expressing indoleamine 2,3-dioxygenase (IDO) on an IgA nephropathy mouse model. Int Urol Nephrol 52, 399–407 (2020). https://doi.org/10.1007/s11255-019-02365-1
Received:

Accepted:

Published:

Issue Date:
Keywords
IgA nephropathy

IDO

DC

Treg

Cytokine