Abstract
Purpose
To perform a systematic review and meta-analysis to evaluate the cardiovascular prevention effect of aspirin among patients with chronic kidney disease (CKD).
Methods
A comprehensive literature search was conducted in Embase, PubMed, and Cochrane library (up to March 2019) without language limitations. Randomized control trials (RCT) and observational studies that met the inclusion and exclusion criteria were included. Two reviewers independently extracted data, and evaluated study quality using modified Jadad score for RCTs and Newcastle–Ottawa Scale for observational study. A meta-analysis was conducted in the Stata 15.0 software using the DerSimonian and Laird random-effects model.
Results
1768 references were identified from literature searching. Four RCTs and four cohort studies that reported the cardiovascular prevention outcome of aspirin in CKD patients (38,341 participants) were included in this review. The pooled data revealed that aspirin had no significant prevention effect on cardiovascular events among CKD patients (RR = 0.96, 95% CI, 0.59–1.13). There was also no significant reduction in cardiovascular mortality and all-cause mortality. Although we found no significant increased risk in major bleeding events, there was a statistically significant increased risk of minor bleeding events (RR = 2.57, 95% CI, 1.60–4.13) and renal events (RR = 1.30, 95% CI, 1.02–1.65) for aspirin use.
Conclusion
Our review indicated that aspirin use in CKD patients had no prevention effect on cardiovascular events and no statistically significant reduction in risk of cardiovascular or all-cause mortality, with a significant increased risk of minor bleeding and renal events.
This is a preview of subscription content, log in to check access.
Access options
Buy single article
Instant access to the full article PDF.
US$ 39.95
Price includes VAT for USA
Subscribe to journal
Immediate online access to all issues from 2019. Subscription will auto renew annually.
US$ 99
This is the net price. Taxes to be calculated in checkout.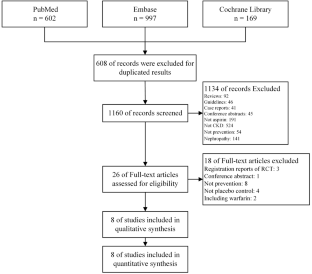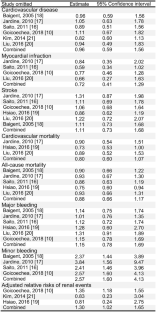 References
1.

Baber U, Gutierrez OM, Levitan EB, Warnock DG, Farkouh ME, Tonelli M, Safford MM, Muntner P (2013) Risk for recurrent coronary heart disease and all-cause mortality among individuals with chronic kidney disease compared with diabetes mellitus, metabolic syndrome, and cigarette smokers. Am Heart J 166(2):373–380. https://doi.org/10.1016/j.ahj.2013.05.008

2.

Masson P, Webster AC, Hong M, Turner R, Lindley RI, Craig JC (2015) Chronic kidney disease and the risk of stroke: a systematic review and meta-analysis. Nephrol Dial Transpl 30(7):1162–1169. https://doi.org/10.1093/ndt/gfv009

3.

Matsushita K, Coresh J, Sang Y, Chalmers J, Fox C, Guallar E, Jafar T, Jassal SK, Landman GW, Muntner P, Roderick P, Sairenchi T, Schottker B, Shankar A, Shlipak M, Tonelli M, Townend J, van Zuilen A, Yamagishi K, Yamashita K, Gansevoort R, Sarnak M, Warnock DG, Woodward M, Arnlov J (2015) Estimated glomerular filtration rate and albuminuria for prediction of cardiovascular outcomes: a collaborative meta-analysis of individual participant data. Lancet Diabetes Endocrinol 3(7):514–525. https://doi.org/10.1016/s2213-8587(15)00040-6

4.

Global Burden of Disease Study 2015 (GBD 2015) results. Seattle, WA: Institute for Health Metrics and Evaluation (IHME), University of Washington

5.

Ene-Iordache B, Perico N, Bikbov B, Carminati S, Remuzzi A, Perna A, Islam N, Bravo RF, Aleckovic-Halilovic M, Zou H, Zhang L, Gouda Z, Tchokhonelidze I, Abraham G, Mahdavi-Mazdeh M, Gallieni M, Codreanu I, Togtokh A, Sharma SK, Koirala P, Uprety S, Ulasi I, Remuzzi G (2016) Chronic kidney disease and cardiovascular risk in six regions of the world (ISN-KDDC): a cross-sectional study. Lancet Glob Health 4(5):e307–e319. https://doi.org/10.1016/s2214-109x(16)00071-1

6.

Unite States Renal Data System. 2018 USRDS annual data report: epidemiology of kidney disease in the United States (2018). National Institutes of Health, National Institute of Diabetes and Digestive and Kidney Diseases, Bethesda, MD

7.

Hui X, Matsushita K, Sang Y, Ballew SH, Fulop T, Coresh J (2013) CKD and cardiovascular disease in the atherosclerosis risk in communities (ARIC) study: interactions with age, sex, and race. Am J Kidney Dis 62(4):691–702. https://doi.org/10.1053/j.ajkd.2013.04.010

8.

American Diabetes Association (2018) 9. Cardiovascular disease and risk management: standards of medical care in diabetes-2018. Diabetes care 41(Suppl 1):S86–S104. https://doi.org/10.2337/dc18-s009

9.

Levin A, Stevens PE, Bilous RW, Coresh J, Francisco A, De Jong PE, Griffith KE, Hemmelgarn BR, Iseki K, Lamb E, Levey AS, Riella M, Shlipak MG, Wang H, White CT, Winearls CG, (2013) Kidney disease: Improving global outcomes (KDIGO) CKD work group. KDIGO 2012 clinical practice guideline for the evaluation and management of chronic kidney disease. Kidney Int Suppl 3(1):1–150. https://doi.org/10.1038/kisup.2012.73

10.

Goicoechea M, de Vinuesa SG, Quiroga B, Verde E, Bernis C, Morales E, Fernandez-Juarez G, de Sequera P, Verdalles U, Delgado R, Torres A, Arroyo D, Abad S, Ortiz A, Luno J (2018) Aspirin for primary prevention of cardiovascular disease and renal disease progression in chronic kidney disease patients: a multicenter randomized clinical trial (AASER Study). J Thromb Haemost JTH 32(3):255–263. https://doi.org/10.1007/s10557-018-6802-1

11.

Major RW, Oozeerally I, Dawson S, Riddleston H, Gray LJ, Brunskill NJ (2016) Aspirin and cardiovascular primary prevention in non-endstage chronic kidney disease: a meta-analysis. Atherosclerosis 251:177–182. https://doi.org/10.1016/j.atherosclerosis.2016.06.013

12.

Mahmoodi BK, Yatsuya H, Matsushita K, Sang Y, Gottesman RF, Astor BC, Woodward M, Longstreth WT Jr, Psaty BM, Shlipak MG, Folsom AR, Gansevoort RT, Coresh J (2014) Association of kidney disease measures with ischemic versus hemorrhagic strokes: pooled analyses of 4 prospective community-based cohorts. Stroke 45(7):1925–1931. https://doi.org/10.1161/strokeaha.114.004900

13.

Jadad AR, Moore RA, Carroll D, Jenkinson C, Reynolds DJ, Gavaghan DJ, McQuay HJ (1996) Assessing the quality of reports of randomized clinical trials: is blinding necessary? Control Clin Trials 17(1):1–12

14.

Wells GA, Shea B, O'Connell D, Peterson J, Welch V, Losos M, Tugwell P (2013) The Newcastle–Ottawa Scale (NOS) for assessing the quality of nonrandomized studies in meta-analyses. Ottawa Hosp Res Inst. https://doi.org/10.2307/632432

15.

DerSimonian R, Laird N (1986) Meta-analysis in clinical trials. Control Clin Trials 7(3):177–188

16.

Saito Y, Morimoto T, Ogawa H, Nakayama M, Uemura S, Doi N, Jinnouchi H, Waki M, Soejima H, Sugiyama S, Okada S, Akai Y (2011) Low-dose aspirin therapy in patients with type 2 diabetes and reduced glomerular filtration rate: subanalysis from the JPAD trial. Diabetes care 34(2):280–285. https://doi.org/10.2337/dc10-1615

17.

Jardine MJ, Ninomiya T, Perkovic V, Cass A, Turnbull F, Gallagher MP, Zoungas S, Lambers Heerspink HJ, Chalmers J, Zanchetti A (2010) Aspirin is beneficial in hypertensive patients with chronic kidney disease: a post hoc subgroup analysis of a randomized controlled trial. J Am Coll Cardiol 56(12):956–965. https://doi.org/10.1016/j.jacc.2010.02.068

18.

Baigent C, Landray M, Leaper C, Altmann P, Armitage J, Baxter A, Cairns HS, Collins R, Foley RN, Frighi V, Kourellias K, Ratcliffe PJ, Rogerson M, Scoble JE, Tomson CR, Warwick G, Wheeler DC (2005) First United Kingdom Heart and Renal Protection (UK-HARP-I) study: biochemical efficacy and safety of simvastatin and safety of low-dose aspirin in chronic kidney disease. Am J Kidney Dis 45(3):473–484. https://doi.org/10.1053/j.ajkd.2004.11.015

19.

Hsiao KC, Huang JY, Lee CT, Hung TW, Liaw YP, Chang HR (2017) Different impact of aspirin on renal progression in patients with predialysis advanced chronic kidney disease with or without previous stroke. Eur J Intern Med 39:63–68. https://doi.org/10.1016/j.ejim.2016.11.009

20.

Liu J, Pan Y, Chen L, Qiao QY, Wang J, Pan LH, Gu YH, Gu HF, Fu SK, Jin HM (2016) Low-dose aspirin for prevention of cardiovascular disease in patients on hemodialysis: a 5-year prospective cohort study. Hemodial Int 20(4):548–557. https://doi.org/10.1111/hdi.12409

21.

Kim AJ, Lim HJ, Ro H, Ko KP, Han SY, Chang JH, Lee HH, Chung W, Jung JY (2014) Low-dose aspirin for prevention of cardiovascular disease in patients with chronic kidney disease. PLoS One 9(8):e104179. https://doi.org/10.1371/journal.pone.0104179

22.

Ethier J, Bragg-Gresham JL, Piera L, Akizawa T, Asano Y, Mason N, Gillespie BW, Young EW (2007) Aspirin prescription and outcomes in hemodialysis patients: the dialysis outcomes and practice patterns study (DOPPS). Am J Kidney Dis 50(4):602–611. https://doi.org/10.1053/j.ajkd.2007.07.007

23.

Saran R, Robinson B, Abbott KC, Agodoa LYC, Bragg-Gresham J, Balkrishnan R, Bhave N, Dietrich X, Ding Z, Eggers PW, Gaipov A, Gillen D, Gipson D, Gu H, Guro P, Haggerty D, Han Y, He K, Herman W, Heung M, Hirth RA, Hsiung JT, Hutton D, Inoue A, Jacobsen SJ, Jin Y, Kalantar-Zadeh K, Kapke A, Kleine CE, Kovesdy CP, Krueter W, Kurtz V, Li Y, Liu S, Marroquin MV, McCullough K, Molnar MZ, Modi Z, Montez-Rath M, Moradi H, Morgenstern H, Mukhopadhyay P, Nallamothu B, Nguyen DV, Norris KC, O'Hare AM, Obi Y, Park C, Pearson J, Pisoni R, Potukuchi PK, Repeck K, Rhee CM, Schaubel DE, Schrager J, Selewski DT, Shamraj R, Shaw SF, Shi JM, Shieu M, Sim JJ, Soohoo M, Steffick D, Streja E, Sumida K, Kurella Tamura M, Tilea A, Turf M, Wang D, Weng W, Woodside KJ, Wyncott A, Xiang J, Xin X, Yin M, You AS, Zhang X, Zhou H, Shahinian V (2019) US Renal Data System 2018 annual data report: epidemiology of kidney disease in the United States. Am J Kidney Dis 73(3s1):A7–A8. https://doi.org/10.1053/j.ajkd.2019.01.001

24.

Final recommendation statement: aspirin use to prevent cardiovascular disease and colorectal cancer: preventive medication. (2017) https://www.uspreventiveservicestaskforce.org/Page/Document/RecommendationStatementFinal/aspirin-to-prevent-cardiovascular-disease-and-cancer. Accessed 4 Jan 2019

25.

Peto R, Gray R, Collins R, Wheatley K, Hennekens C, Jamrozik K, Warlow C, Hafner B, Thompson E, Norton S, Gilliland J, Doll R (1988) Randomised trial of prophylactic daily aspirin in British male doctors. Br Med J (Clin Res Ed) 296(6618):313–316. https://doi.org/10.1136/bmj.296.6618.313

26.

Desai D, Ahmed HM, Michos ED (2015) Preventing cardiovascular disease in patients with diabetes: use of aspirin for primary prevention. Curr Cardiol Rep 17(3):13. https://doi.org/10.1007/s11886-015-0566-z

27.

Palmer SC, Di Micco L, Razavian M, Craig JC, Perkovic V, Pellegrini F, Copetti M, Graziano G, Tognoni G, Jardine M, Webster A, Nicolucci A, Zoungas S, Strippoli GFM (2012) Effects of antiplatelet therapy on mortality and cardiovascular and bleeding outcomes in persons with chronic kidney disease: a systematic review and meta-analysis. Ann Intern Med 156(6):445–459. https://doi.org/10.7326/0003-4819-156-6-201203200-00007

28.

Wattanakit K, Cushman M, Stehman-Breen C, Heckbert SR, Folsom AR (2008) Chronic kidney disease increases risk for venous thromboembolism. J Am Soc Nephrol JASN 19(1):135–140. https://doi.org/10.1681/asn.2007030308

29.

Mezzano D, Tagle R, Panes O, Pérez M, Downey P, Muñoz B, Aranda E, Barja P, Thambo S, González F, Mezzano S, Pereira J (1996) Hemostatic disorder of uremia: the platelet defect, main determinant of the prolonged bleeding time, is correlated with indices of activation of coagulation and fibrinolysis. Thromb Haemost 76(3):312–321

30.

Washam JB, Adams GL (2008) Risks and benefits of antiplatelet therapy in uremic patients. Adv Chronic Kidney Dis 15(4):370–377. https://doi.org/10.1053/j.ackd.2008.07.006

31.

Harris RC, Breyer MD (2001) Physiological regulation of cyclooxygenase-2 in the kidney. Am J Physiol Renal Physiol 281(1):F1–F11

32.

Boffa JJ, Just A, Coffman TM, Arendshorst WJ (2004) Thromboxane receptor mediates renal vasoconstriction and contributes to acute renal failure in endotoxemic mice. J Am Soc Nephrol 15(9):2358–2365
Acknowledgements
We thank Dr. Qing He for providing very useful comments while performing this review.
Ethics declarations
Conflict of interest
The authors declare that no conflict of interest exists.
Ethical approval
This review was based on published studies. Therefore, ethical approval and informed consent are not required for this type of study.
Additional information
Publisher's Note
Springer Nature remains neutral with regard to jurisdictional claims in published maps and institutional affiliations.
About this article
Cite this article
Qu, B., He, Y., Wu, L. et al. Is there a cardiovascular protective effect of aspirin in chronic kidney disease patients? A systematic review and meta-analysis. Int Urol Nephrol 52, 315–324 (2020). https://doi.org/10.1007/s11255-019-02350-8
Received:

Accepted:

Published:

Issue Date:
Keywords
Aspirin

Chronic kidney disease

Cardiovascular event

Prevention

Meta-analysis