Abstract
Purpose
Adrenalectomy is an operation performed by both urologists and general surgeons; however, the majority are performed by general surgeons. We investigated whether there was a difference in outcomes based on surgical specialty performing the procedure. If no differences exist, an argument can be made that urologists should be doing more adrenalectomies.
Methods
The National Surgical Quality Improvement Project (NSQIP) Participant Use File (PUF) was queried to extract all cases of adrenalectomies performed from 2011 to 2015. Current Procedural Technology (CPT) codes 60540 and 60650 were used. The data were stratified by surgical specialty performing the adrenalectomy (urology or general surgery). Our outcomes of interest included post-surgical complications, reoperations, 30-day readmission, mortality, and hospital length of stay.
Results
A total of 3358 patients who underwent adrenalectomy between 2011 and 2015 were included. General surgeons performed 90% of these (n = 3012) and urologists performed 10% (n = 334). Differences in number of post-surgical complications, length of stay, rate of reoperation, 30-day readmission, and mortality were not statistically significant between general surgeons and urologists (p = 0.76, p = 0.29, p = 0.37, p = 0.98, and p = 0.59, respectively). Small complication rates disallowed multivariable analyses, but unadjusted rates for reoperation, presence of any post-operative complication, readmission within 30 days, and mortality were similar between specialties.
Conclusions
Surgical specialty did not make a difference in outcomes for patients undergoing adrenalectomy, despite a large disparity in the number of procedures performed by general surgeons versus urologists. Urologists should continue performing adrenalectomies and, given their familiarity with the retroperitoneum, perhaps perform more than is the current trend.
This is a preview of subscription content, log in to check access.
Access options
Buy single article
Instant access to the full article PDF.
US$ 39.95
Price includes VAT for USA
Subscribe to journal
Immediate online access to all issues from 2019. Subscription will auto renew annually.
US$ 99
This is the net price. Taxes to be calculated in checkout.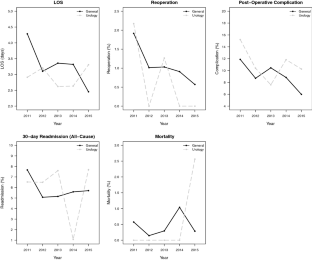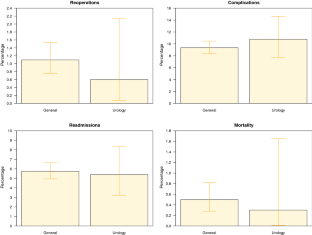 References
1.

Bovio S, Cataldi A, Reimondo G et al (2006) Prevalence of adrenal incidentaloma in a contemporary computerized tomography series. J Endocrinol Investig 29:298–302

2.

Song JH, Chaudhry FS, Mayo-Smith WW (2008) The incidental adrenal mass on CT: prevalence of adrenal disease in 1,049 consecutive adrenal masses in patients with no known malignancy. Am J Roentgenol 190:1163–1168

3.

Saunders BD, Wainess RM, Dimick JB, Upchurch GR, Doherty GM, Gauger PG (2004) Trends in utilization of adrenalectomy in the United States: have indications changed? World J Surg 28:1169–1175

4.

Gallagher SF, Wahi M, Haines KL et al (2007) Trends in adrenalectomy rates, indications, and physician volume: a statewide analysis of 1816 adrenalectomies. Surgery 142:1011–1021 (discussion 1021)

5.

American Cancer Society (2018) Key Statistics for Adrenal Cancer 2018, January 2. https://www.cancer.org/cancer/adrenal-cancer/about/key-statistics.html. Accessed 4 oct 2019

6.

Monn MF, Calaway AC, Mellon MJ, Bahler CD, Sundaram CP, Boris RS (2016) Changing USA national trends for adrenalectomy: the influence of surgeon and technique. BJU Int. 115:288–294

7.

Faiena I, Tabakin A, Leow J et al (2017) Adrenalectomy for benign and malignant disease: utilization and outcomes by surgeon specialty and surgical approach from 2003–2013. Can J Urol 24:8990–8997

8.

Lindeman B, Hashimoto DA, Bababekov YJ et al (2018) Fifteen years of adrenalectomies: impact of specialty training and operative volume. Surgery 163:150–156

9.

Park HS, Roman SA, Sosa JA (2009) Outcomes from 3144 adrenalectomies in the United States: which matters more, surgeon volume or specialty? Arch Surg Chicago 144:1060–1067

10.

Simhan J, Smaldone MC, Canter DJ et al (2012) Trends in regionalization of adrenalectomy to higher volume surgical centers. J Urol 188:377–382

11.

Duchene DA, Moinzadeh A, Gill IS, Clayman RV, Winfield HN (2006) Survey of residency training in laparoscopic and robotic surgery. J Urol 176:2158–2166 (discussion 2167)

12.

Gagner M, Lacroix A, Bolte E (1992) Laparoscopic adrenalectomy in Cushing's syndrome and pheochromocytoma. N Engl J Med 327:1033

13.

Lachenmayer A, Cupisti K, Wolf A et al (2012) Trends in adrenal surgery: institutional review of 528 consecutive adrenalectomies. Langenbecks Arch Surg 397:1099–1107
Ethics declarations
Conflict of interest
The authors declare that they have no conflict of interest.
Ethical approval
Due to the retrospective and de-identified nature of this type of research, the Pennsylvania State University College of Medicine Institutional Review Board does not require IRB review for studies involving NSQIP.
Additional information
Publisher's Note
Springer Nature remains neutral with regard to jurisdictional claims in published maps and institutional affiliations.
About this article
Cite this article
Fuletra, J.G., Schilling, A.L., Canter, D. et al. Adrenalectomy: should urologists not be doing more?. Int Urol Nephrol 52, 197–204 (2020). https://doi.org/10.1007/s11255-019-02306-y
Received:

Accepted:

Published:

Issue Date:
Keywords
Adrenalectomy

NSQIP

Outcomes

Complications

Comparing specialties