Abstract
Background
Laparoscopic partial nephrectomy (LPN) with segmental renal artery clamping has become an important method to minimize the warm ischemia of the kidney during the surgery. In the present study, we adopted a new model of calculating surgery-related kidney volume loss (SKVL), which was derived from the imaging technology to predict the outcomes of LPN with segmental renal artery clamping.
Methods
A total of 111 consecutive patients underwent LPN with available pre- and post-operation computed tomography (CT) scanning data were retrospectively analyzed. The SKVL was calculated using the parameter derived from the CT scan. The correlation between the SKVL and the perioperative outcomes as well as the renal function loss was estimated by the logistic regression analyses.
Results
The mean SKVL was 8.99 cm3; kidney volume and tumor volume was 147.48 cm3 and 25.87 cm3, respectively. The SKVL was associated with maximum diameter of tumor (P = 0.001), tumor volume (P < 0.001), intraoperative blood loss (P < 0.001), and the warm ischemia time (P = 0.004), but not associated with the surgery time (P = 0.322) and complications (P = 0.638). Besides, the SKVL was associated with the renal function loss after LPN (P < 0.001). The multivariable logistic regression showed that SKVL was an independent parameter to predict the renal function loss.
Conclusions
SKVL is a pre-operation parameter derived from the imaging data, which may be used to predict the perioperative outcomes and renal function loss of patients undergoing LPN.
This is a preview of subscription content, log in to check access.
We're sorry, something doesn't seem to be working properly.
Please try refreshing the page. If that doesn't work, please contact support so we can address the problem.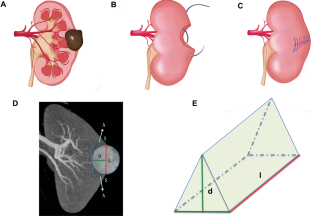 Abbreviations
LPN:

Laparoscopic partial nephrectomy

SKVL:

Surgery-related kidney volume loss

CT:

Computed tomography

MRI:

Magnetic resonance imaging

WI:

Warm ischemia
References
1.

Wang DC, Plante K, Stewart T et al (2017) Comparison of survival for partial vs. radical nephrectomy in young patients with T1a renal cell carcinoma treated at commission on cancer-accredited facilities and influence of comorbidities on treatment choice. Urol Oncol 35:660

2.

Gu C, Zhang H, Dai B et al (2015) Comparison of the renal function after partial nephrectomy and radical nephrectomy for T1a renal cell carcinoma. Zhonghua Zhong Liu Za Zhi 37:441

3.

Rod X, Peyronnet B, Seisen T et al (2016) Impact of ischaemia time on renal function after partial nephrectomy: a systematic review. BJU Int 118:692

4.

Shao P, Qin C, Yin C et al (2011) Laparoscopic partial nephrectomy with segmental renal artery clamping: technique and clinical outcomes. Eur Urol 59:849

5.

Kim SP, Thompson RH (2013) Kidney function after partial nephrectomy: current thinking. Curr Opin Urol 23:105

6.

Beksac AT, Shah QN, Paulucci DJ et al (2019) A comparison of excisional volume loss calculation methods to predict functional outcome after partial nephrectomy. J Endourol 33:35

7.

Klingler MJ, Babitz SK, Kutikov A et al (2019) Assessment of volume preservation performed before or after partial nephrectomy accurately predicts postoperative renal function: results from a prospective multicenter study. Urol Oncol 37:33

8.

Mir MC, Ercole C, Takagi T et al (2015) Decline in renal function after partial nephrectomy: etiology and prevention. J Urol 193:1889

9.

Shao P, Tang L, Li P et al (2012) Precise segmental renal artery clamping under the guidance of dual-source computed tomography angiography during laparoscopic partial nephrectomy. Eur Urol 62:1001

10.

Tobert CM, Takagi T, Liss MA et al (2015) Multicenter validation of surgeon assessment of renal preservation in comparison to measurement with 3D image analysis. Urology 86:534

11.

Zhao J, Zhang Z, Dong W et al (2016) Preoperative prediction and postoperative surgeon assessment of volume preservation associated with partial nephrectomy: comparison with measured volume preservation. Urology 93:124

12.

Sharma N, O'Hara J, Novick AC et al (2008) Correlation between loss of renal function and loss of renal volume after partial nephrectomy for tumor in a solitary kidney. J Urol 179:1284

13.

Kutikov A, Uzzo RG (2009) The RENAL nephrometry score: a comprehensive standardized system for quantitating renal tumor size, location and depth. J Urol 182:844

14.

Leslie S, Gill IS, de Castro Abreu AL et al (2014) Renal tumor contact surface area: a novel parameter for predicting complexity and outcomes of partial nephrectomy. Eur Urol 66:884

15.

Gupta R, Tori M, Babitz SK et al (2019) Comparison of RENAL, PADUA, CSA, and PAVP nephrometry scores in predicting functional outcomes after partial nephrectomy. Urology 124:160

16.

Li P, Qin C, Cao Q et al (2016) A retrospective analysis of laparoscopic partial nephrectomy with segmental renal artery clamping and factors that predict postoperative renal function. BJU Int 118:610

17.

Hew MN, Baseskioglu B, Barwari K et al (2011) Critical appraisal of the PADUA classification and assessment of the RENAL nephrometry score in patients undergoing partial nephrectomy. J Urol 186:42

18.

Simmons MN, Hillyer SP, Lee BH et al (2012) Nephrometry score is associated with volume loss and functional recovery after partial nephrectomy. J Urol 188:39

19.

Nisen H, Ruutu M, Glucker E et al (2014) Renal tumour invasion index as a novel anatomical classification predicting urological complications after partial nephrectomy. Scand J Urol 48:41

20.

Kwon T, Jeong IG, Ryu J et al (2015) Renal function is associated with nephrometry score after partial nephrectomy: a study using diethylene triamine penta-acetic acid (DTPA) renal scanning. Ann Surg Oncol 22:S1594–S1600

21.

Spaliviero M, Poon BY, Aras O et al (2015) Interobserver variability of RENAL, PADUA, and centrality index nephrometry score systems. World J Urol 33:853
Acknowledgements
The authors would like to thank the patients for allowing us to publish this study.
Funding
This research was supported by Key Research and Development Project of Jiangsu Province (BE2018749).
Ethics declarations
Conflict of interest
The authors declare that they have no conflict of interests.
Ethical approval
This study was approved by Ethics Committee of the First Affiliated Hospital, Nanjing Medical University, Jiangsu Province Hospital.
Informed consent
Written informed consent was obtained from the patients for publication.
Additional information
Publisher's Note
Springer Nature remains neutral with regard to jurisdictional claims in published maps and institutional affiliations.
About this article
Cite this article
Jiang, J., Qian, J., Zhang, Q. et al. Evaluation of surgery-related kidney volume loss to predict the outcomes of laparoscopic partial nephrectomy with segmental renal artery clamping. Int Urol Nephrol 52, 35–40 (2020). https://doi.org/10.1007/s11255-019-02293-0
Received:

Accepted:

Published:

Issue Date:
Keywords
Laparoscopic partial nephrectomy

Renal function

Outcomes

Warm ischemia