Abstract
Purpose
Bone biopsy defines classical diseases that constitute the renal osteodystrophy. There is a recent concern regarding other histological findings that are not appreciated by using the turnover, mineralization, and volume (TMV) classification. Iron (Fe) overload has been considered a new challenge and the real significance of the presence of this metal in bones is not completely elucidated. Therefore, the main goal of the current study was to not only to identify bone Fe, but also correlate its presence with demographic, and biochemical characteristics.
Methods
This is a cross-sectional analysis of bone biopsies performed in 604 patients on dialysis from 2010 to 2014 in a tertiary academic Hospital.
Results
Histomorphometric findings revealed the presence of Fe in 29.1%. Fe was associated with higher levels of serum ferritin and serum calcium. No TMV status was related to Fe bone overload.
Conclusion
Our study has highlighted that the presence of Fe in one-third of bone samples has unknown clinical significance. The lack of other contemporary bone biopsy study reporting Fe prevents us from comparison. The findings presented here should be specifically addressed in a future research and will require attention prior to implementation of any clinical guideline. If any proposed treatment, however, would change the bone Fe-related morbidity is undetermined.
This is a preview of subscription content, log in to check access.
Access options
Buy single article
Instant access to the full article PDF.
US$ 39.95
Price includes VAT for USA
Subscribe to journal
Immediate online access to all issues from 2019. Subscription will auto renew annually.
US$ 99
This is the net price. Taxes to be calculated in checkout.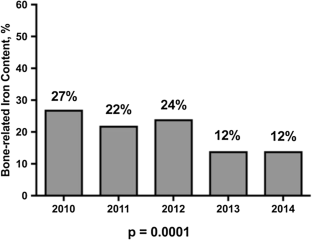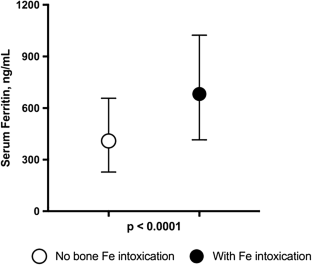 References
1.

Kidney Disease: Improving Global Outcomes CKDMBDWG (2009) KDIGO clinical practice guideline for the diagnosis, evaluation, prevention, and treatment of chronic kidney disease-mineral and bone disorder (CKD-MBD). Kidney Int Suppl 113:S1–S130. https://doi.org/10.1038/ki.2009.188

2.

Torres PU, Bover J, Mazzaferro S, de Vernejoul MC, Cohen-Solal M (2014) When, how, and why a bone biopsy should be performed in patients with chronic kidney disease. Semin Nephrol 34(6):612–625. https://doi.org/10.1016/j.semnephrol.2014.09.004

3.

Moe S, Drueke T, Cunningham J, Goodman W, Martin K, Olgaard K, Ott S, Sprague S, Lameire N, Eknoyan G, Kidney Disease: Improving Global O (2006) Definition, evaluation, and classification of renal osteodystrophy: a position statement from kidney disease: improving global outcomes (KDIGO). Kidney Int 69 (11):1945–1953. https://doi.org/10.1038/sj.ki.5000414

4.

Valenti L, Varenna M, Fracanzani AL, Rossi V, Fargion S, Sinigaglia L (2009) Association between iron overload and osteoporosis in patients with hereditary hemochromatosis. Osteoporos Int 20(4):549–555. https://doi.org/10.1007/s00198-008-0701-4

5.

Yamamoto S, Okada Y, Mori H, Fukumoto S, Tanaka Y (2012) Fibroblast growth factor 23-related osteomalacia caused by the prolonged administration of saccharated ferric oxide. Intern Med 51(17):2375–2378

6.

Hernandez JD, Wesseling K, Pereira R, Gales B, Harrison R, Salusky IB (2008) Technical approach to iliac crest biopsy. Clin J Am Soc Nephrol 3(Suppl 3):S164–S169. https://doi.org/10.2215/CJN.00460107

7.

Parfitt AM, Drezner MK, Glorieux FH, Kanis JA, Malluche H, Meunier PJ, Ott SM, Recker RR (1987) Bone histomorphometry: standardization of nomenclature, symbols, and units. Report of the ASBMR Histomorphometry Nomenclature Committee. J Bone Miner Res 2(6):595–610. https://doi.org/10.1002/jbmr.5650020617

8.

Dos Reis LM, Batalha JR, Muñoz DR, Borelli A, Correa PH, Carvalho AB, Jorgetti V (2007) Brazilian normal static bone histomorphometry: effects of age, sex, and race. J Bone Miner Metab 25(6):400–406. https://doi.org/10.1007/s00774-007-0778-4

9.

Vedi S, Compston JE, Webb A, Tighe JR (1983) Histomorphometric analysis of dynamic parameters of trabecular bone formation in the iliac crest of normal British subjects. Metab Bone Dis Relat Res 5(2):69–74

10.

Behets GJ, Spasovski G, Sterling LR, Goodman WG, Spiegel DM, De Broe ME, D'Haese PC (2015) Bone histomorphometry before and after long-term treatment with cinacalcet in dialysis patients with secondary hyperparathyroidism. Kidney Int 87(4):846–856. https://doi.org/10.1038/ki.2014.349

11.

London GM, Marchais SJ, Guerin AP, de Vernejoul MC (2015) Ankle-brachial index and bone turnover in patients on dialysis. J Am Soc Nephrol 26(2):476–483. https://doi.org/10.1681/ASN.2014020169

12.

Carvalho AB, Carneiro R, Leme GM, Rochitte CE, Santos RD, Miname MH, Moyses RM, Jorgetti V, Canziani ME (2013) Vertebral bone density by quantitative computed tomography mirrors bone structure histomorphometric parameters in hemodialysis patients. J Bone Miner Metab 31(5):551–555. https://doi.org/10.1007/s00774-013-0442-0

13.

Barreto DV, Barreto Fde C, Carvalho AB, Cuppari L, Draibe SA, Dalboni MA, Moyses RM, Neves KR, Jorgetti V, Miname M, Santos RD, Canziani ME (2008) Association of changes in bone remodeling and coronary calcification in hemodialysis patients: a prospective study. Am J Kidney Dis 52(6):1139–1150. https://doi.org/10.1053/j.ajkd.2008.06.024

14.

Dos Reis LM, Batalha JR, Munoz DR, Borelli A, Correa PH, Carvalho AB, Jorgetti V (2007) Brazilian normal static bone histomorphometry: effects of age, sex, and race. J Bone Miner Metab 25(6):400–406. https://doi.org/10.1007/s00774-007-0778-4

15.

Malluche HH, Mawad HW, Monier-Faugere MC (2011) Renal osteodystrophy in the first decade of the new millennium: analysis of 630 bone biopsies in black and white patients. J Bone Miner Res 26(6):1368–1376. https://doi.org/10.1002/jbmr.309

16.

Karohl C, de Paiva Paschoal J, de Castro MC, Elias RM, Abensur H, Romao JE Jr, Passlick-Deetjen J, Jorgetti V, Moyses RM (2010) Effects of bone remodelling on calcium mass transfer during haemodialysis. Nephrol Dial Transplant 25(4):1244–1251. https://doi.org/10.1093/ndt/gfp597

17.

Araujo SM, Ambrosoni P, Lobao RR, Caorsi H, Moyses RM, Barreto FC, Olaizola I, Cruz EA, Petraglia A, Dos Reis LM, Duarte ME, Jorgetti V, Carvalho AB (2003) The renal osteodystrophy pattern in Brazil and Uruguay: an overview. Kidney Int Suppl 85:S54–S56. https://doi.org/10.1046/j.1523-1755.63.s85.13.x

18.

Jorgetti V, Lopez BD, Caorsi H, Ferreira A, Palma A, Menendez P, Douthat W, Olaizola I, Ribeiro S, Jarava C, Moreira E, Cannata J (2000) Different patterns of renal osteodystrophy in Iberoamerica. Am J Med Sci 320(2):76–80

19.

Grassmann A, Gioberge S, Moeller S, Brown G (2005) ESRD patients in 2004: global overview of patient numbers, treatment modalities and associated trends. Nephrol Dial Transplant 20(12):2587–2593. https://doi.org/10.1093/ndt/gfi159

20.

Gratwick GM, Bullough PG, Bohne WH, Markenson AL, Peterson CM (1978) Thalassemic osteoarthropathy. Ann Intern Med 88(4):494–501

21.

de Vernejoul MC, Girot R, Gueris J, Cancela L, Bang S, Bielakoff J, Mautalen C, Goldberg D, Miravet L (1982) Calcium phosphate metabolism and bone disease in patients with homozygous thalassemia. J Clin Endocrinol Metab 54(2):276–281. https://doi.org/10.1210/jcem-54-2-276

22.

Pierides AM, Myli MP (1984) Iron and aluminum osteomalacia in hemodialysis patients. N Engl J Med 310(5):323. https://doi.org/10.1056/NEJM198402023100518

23.

Phelps KR, Vigorita VJ, Bansal M, Einhorn TA (1988) Histochemical demonstration of iron but not aluminum in a case of dialysis-associated osteomalacia. Am J Med 84(4):775–780

24.

European Association For The Study Of The L (2010) EASL clinical practice guidelines for HFE hemochromatosis. J Hepatol 53(1):3–22. https://doi.org/10.1016/j.jhep.2010.03.001

25.

Rocha LA, Barreto DV, Barreto FC, Dias CB, Moyses R, Silva MR, Moura LA, Draibe SA, Jorgetti V, Carvalho AB, Canziani ME (2009) Serum ferritin level remains a reliable marker of bone marrow iron stores evaluated by histomorphometry in hemodialysis patients. Clin J Am Soc Nephrol 4(1):105–109. https://doi.org/10.2215/CJN.01630408

26.

He YF, Ma Y, Gao C, Zhao GY, Zhang LL, Li GF, Pan YZ, Li K, Xu YJ (2013) Iron overload inhibits osteoblast biological activity through oxidative stress. Biol Trace Elem Res 152(2):292–296. https://doi.org/10.1007/s12011-013-9605-z

27.

Tsay J, Yang Z, Ross FP, Cunningham-Rundles S, Lin H, Coleman R, Mayer-Kuckuk P, Doty SB, Grady RW, Giardina PJ, Boskey AL, Vogiatzi MG (2010) Bone loss caused by iron overload in a murine model: importance of oxidative stress. Blood 116(14):2582–2589. https://doi.org/10.1182/blood-2009-12-260083

28.

Zarjou A, Jeney V, Arosio P, Poli M, Zavaczki E, Balla G, Balla J (2010) Ferritin ferroxidase activity: a potent inhibitor of osteogenesis. J Bone Miner Res 25(1):164–172. https://doi.org/10.1359/jbmr.091002

29.

Guggenbuhl P, Filmon R, Mabilleau G, Basle MF, Chappard D (2008) Iron inhibits hydroxyapatite crystal growth in vitro. Metabolism 57(7):903–910. https://doi.org/10.1016/j.metabol.2008.02.004

30.

Yamasaki K, Hagiwara H (2009) Excess iron inhibits osteoblast metabolism. Toxicol Lett 191(2–3):211–215. https://doi.org/10.1016/j.toxlet.2009.08.023

31.

Qu ZH, Zhang XL, Tang TT, Dai KR (2008) Promotion of osteogenesis through beta-catenin signaling by desferrioxamine. Biochem Biophys Res Commun 370(2):332–337. https://doi.org/10.1016/j.bbrc.2008.03.092

32.

Messer JG, Kilbarger AK, Erikson KM, Kipp DE (2009) Iron overload alters iron-regulatory genes and proteins, down-regulates osteoblastic phenotype, and is associated with apoptosis in fetal rat calvaria cultures. Bone 45(5):972–979. https://doi.org/10.1016/j.bone.2009.07.073

33.

Pimentel A, Urena-Torres P, Zillikens MC, Bover J, Cohen-Solal M (2017) Fractures in patients with CKD-diagnosis, treatment, and prevention: a review by members of the European Calcified Tissue Society and the European Renal Association of Nephrology Dialysis and Transplantation. Kidney Int 92(6):1343–1355. https://doi.org/10.1016/j.kint.2017.07.021

34.

Bailie GR, Larkina M, Goodkin DA, Li Y, Pisoni RL, Bieber B, Mason N, Tong L, Locatelli F, Marshall MR, Inaba M, Robinson BM (2013) Variation in intravenous iron use internationally and over time: the Dialysis Outcomes and Practice Patterns Study (DOPPS). Nephrol Dial Transplant 28(10):2570–2579. https://doi.org/10.1093/ndt/gft062

35.

Charytan DM, Pai AB, Chan CT, Coyne DW, Hung AM, Kovesdy CP, Fishbane S, Dialysis Advisory Group of the American Society of N (2015) Considerations and challenges in defining optimal iron utilization in hemodialysis. J Am Soc Nephrol 26(6):1238–1247. https://doi.org/10.1681/ASN.2014090922

36.

Eleftheriadis T, Pissas G, Remoundou M, Filippidis G, Antoniadi G, Oustampasidou N, Liakopoulos V, Stefanidis I (2014) Ferroportin in monocytes of hemodialysis patients and its associations with hepcidin, inflammation, markers of iron status and resistance to erythropoietin. Int Urol Nephrol 46(1):161–167. https://doi.org/10.1007/s11255-013-0497-9
Acknowledgements
The authors thank the team of technicians of the Laboratory of Medical Investigation (LIM 16) of the University of Sao Paulo for all assistance with data collection. The authors' roles: Study design: MRC, ABC, and VJ. Study conduct: MRC, WDV, LMR, IBO. Data collection: MRC, WDV, LMR, IBO. Data analysis: RME. Data interpretation: MRC, RME, RMAM, ABC, VJ. Drafting manuscript: MRC and RME. Revising manuscript content: MRC, RME, RMAM, ABC, VJ. Approving final version of manuscript: MRC, RME, RMAM, ABC, and VJ. MRC and RME take responsibility for the integrity of the data analysis.
About this article
Cite this article
Custodio, M.R., Elias, R.M., Velasquez, W.D. et al. The unexpected presence of iron in bone biopsies of hemodialysis patients. Int Urol Nephrol 50, 1907–1912 (2018). https://doi.org/10.1007/s11255-018-1936-4
Received:

Accepted:

Published:

Issue Date:
Keywords
Bone biopsy

Iron

Dialysis

Histomorphometry

Ferritin