Abstract
Background
The presence of simple renal cyst (SRC) has been related to hypertension, the early and long-term allograft function, and aortic disease, but the relationship with kidney damage was still controversial. Accordingly, we conducted a large sample cross-sectional study to explore the association of SRC with indicators of kidney damage among Chinese adults.
Methods
A total of 42,369 adults (aged 45.8 ± 13.67 years, 70.6% males) who visited the Health Checkup Clinic were consecutively enrolled. SRC was assessed by ultrasonography according to Bosniak category. Multiple regression models were applied to explore the relationships between SRC and indicators of kidney damage [proteinuria (dipstick urine protein ≥ 1+) and decreased estimated glomerular filtration rate (DeGFR) < 60 ml/min/1.73 m2].
Results
Among all participants in the study, the prevalence of SRC was 10.5%. As a categorical outcome, participants with more 1 cyst and with 1 cyst had higher percentage of proteinuria [53 (5.3%) and 93 (2.7%) vs. 596 (1.6%), p < 0.001] and DeGFR [57 (5.7%) and 85 (2.5%) vs. 278 (0.7%), p < 0.001] compared with participants with no cyst. SRC significantly correlated with proteinuria [OR 1.59 (95% CI 1.30–1.95)] and DeGFR [OR 1.97 (95% CI 1.56–2.47)] after adjusting for potential confounders. Furthermore, the results also demonstrated that maximum diameter (per 1 cm increase), bilateral location, and multiple cysts significantly correlated with DeGFR in the multiple logistic regression analysis.
Conclusions
The study revealed that SRC significantly correlated with kidney damage and special attention should be paid among Chinese adults with SRC.
This is a preview of subscription content, log in to check access.
Access options
Buy single article
Instant access to the full article PDF.
US$ 39.95
Price includes VAT for USA
Subscribe to journal
Immediate online access to all issues from 2019. Subscription will auto renew annually.
US$ 99
This is the net price. Taxes to be calculated in checkout.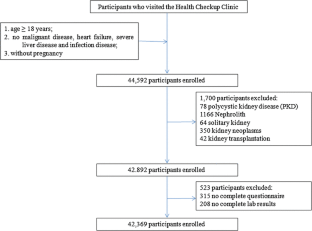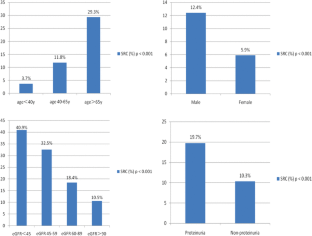 References
1.

Mosharafa AA (2008) Prevalence of renal cysts in a Middle-Eastern population: an evaluation of characteristics and risk factors. BJU Int 101(6):736–738

2.

Chang CC, Kuo JY, Chan WL, Chen KK, Chang LS (2007) Prevalence and clinical characteristics of simple renal cyst. J Chin Med Assoc 70(11):486–491

3.

Eknoyan G (2009) A clinical view of simple and complex renal cysts. J Am Soc Nephrol 20(9):1874–1876

4.

Lindeman RD, Tobin J, Shock NW (1985) Longitudinal studies on the rate of decline in renal function with age. J Am Geriatr Soc 33(4):278–285

5.

National Kidney F (2002) K/DOQI clinical practice guidelines for chronic kidney disease: evaluation, classification, and stratification. Am J Kidney Dis 39(2 Suppl 1):S1–266

6.

Muntner P, He J, Hamm L, Loria C, Whelton PK (2002) Renal insufficiency and subsequent death resulting from cardiovascular disease in the United States. J Am Soc Nephrol 13(3):745–753

7.

Gerstein HC, Mann JF, Yi Q, Zinman B, Dinneen SF, Hoogwerf B, Halle JP, Young J, Rashkow A, Joyce C et al (2001) Albuminuria and risk of cardiovascular events, death, and heart failure in diabetic and nondiabetic individuals. JAMA 286(4):421–426

8.

Lee YJ, Kim MS, Cho S, Kim SR (2012) Association between simple renal cysts and development of hypertension in healthy middle-aged men. J Hypertens 30(4):700–704

9.

Qiu W, Jiang Y, Wu J, Huang H, Xie W, Xie X, Chen J, Peng W (2017) Simple cysts in donor kidney contribute to reduced allograft function. Am J Nephrol 45(1):82–88

10.

Spanos K, Rountas C, Saleptsis V, Athanasoulas A, Fezoulidis I, Giannoukas AD (2016) The association of simple renal cysts with abdominal aortic aneurysms and their impact on renal function after endovascular aneurysm repair. Vascular 24(2):150–156

11.

Kim EK, Choi ER, Song BG, Jang SY, Ko SM, Choi SH, Sung J, Sung K, Choe YH, Oh JK et al (2011) Presence of simple renal cysts is associated with increased risk of aortic dissection: a common manifestation of connective tissue degeneration? Heart 97(1):55–59

12.

Al-Said J, Brumback MA, Moghazi S, Baumgarten DA, O'Neill WC (2004) Reduced renal function in patients with simple renal cysts. Kidney Int 65(6):2303–2308

13.

Ozdemir AA, Kapucu K (2017) The relationship between simple renal cysts and glomerular filtration rate in the elderly. Int Urol Nephrol 49(2):313–317

14.

Levey AS, Stevens LA, Schmid CH, Zhang YL, Castro AF 3rd, Feldman HI, Kusek JW, Eggers P, Van Lente F, Greene T et al (2009) A new equation to estimate glomerular filtration rate. Ann Intern Med 150(9):604–612

15.

Bosniak MA (1986) The current radiological approach to renal cysts. Radiology 158(1):1–10

16.

Waterman J (2014) Diagnosis and evaluation of renal cysts. Prim Care 41(4):823–835

17.

Li PK, Ma TK (2017) Global impact of nephropathies. Nephrology 22(Suppl 4):9–13

18.

Terada N, Arai Y, Kinukawa N, Terai A (2008) The 10-year natural history of simple renal cysts. Urology 71(1):7–11; (discussion 11–12)

19.

Chin HJ, Ro H, Lee HJ, Na KY, Chae DW (2006) The clinical significances of simple renal cyst: Is it related to hypertension or renal dysfunction? Kidney Int 70(8):1468–1473

20.

Bryniarski P, Kaletka Z, Zyczkowski M, Prokopowicz G, Muskala B, Paradysz A (2013) Ten-year treatment outcomes including blood cell count disturbances in patients with simple renal cysts. Med Sci Monit 19:518–523

21.

Zerem E, Imamovic G, Omerovic S (2009) Simple renal cysts and arterial hypertension: does their evacuation decrease the blood pressure? J Hypertens 27(10):2074–2078

22.

Lee CT, Yang YC, Wu JS, Chang YF, Huang YH, Lu FH, Chang CJ (2013) Multiple and large simple renal cysts are associated with prehypertension and hypertension. Kidney Int 83(5):924–930

23.

Bisceglia M, Galliani CA, Senger C, Stallone C, Sessa A (2006) Renal cystic diseases: a review. Adv Anat Pathol 13(1):26–56

24.

Liu JS, Ishikawa I, Horiguchi T (2000) Incidence of acquired renal cysts in biopsy specimens. Nephron 84(2):142–147

25.

Nyengaard JR, Bendtsen TF (1992) Glomerular number and size in relation to age, kidney weight, and body surface in normal man. Anat Rec 232(2):194–201

26.

Pedersen JF, Emamian SA, Nielsen MB (1997) Significant association between simple renal cysts and arterial blood pressure. Br J Urol 79(5):688–691

27.

Chapman AB, Johnson A, Gabow PA, Schrier RW (1990) The renin-angiotensin-aldosterone system and autosomal dominant polycystic kidney disease. N Engl J Med 323(16):1091–1096

28.

Bardoux P, Bichet DG, Martin H, Gallois Y, Marre M, Arthus MF, Lonergan M, Ruel N, Bouby N, Bankir L (2003) Vasopressin increases urinary albumin excretion in rats and humans: involvement of V2 receptors and the renin-angiotensin system. Nephrol Dial Transpl 18(3):497–506

29.

Ponte B, Pruijm M, Ackermann D, Vuistiner P, Guessous I, Ehret G, Alwan H, Youhanna S, Paccaud F, Mohaupt M et al (2015) Copeptin is associated with kidney length, renal function, and prevalence of simple cysts in a population-based study. J Am Soc Nephrol 26(6):1415–1425

30.

Meijer E, Bakker SJ, Halbesma N, de Jong PE, Struck J, Gansevoort RT (2010) Copeptin, a surrogate marker of vasopressin, is associated with microalbuminuria in a large population cohort. Kidney Int 77(1):29–36
Acknowledgements
We would like to acknowledge Dr. Jinwei Wang (Department of nephrology, Peking University First Hospital) for his generous sponsorship for statistical suggestions.
Funding
This study was funded by the Clinical Medicine Innovation Program of the Science and Technology Development Programs from the Ji'nan Science and Technology Bureau (201704086), and the Projects of Medical and Health Technology Development Program of Shandong Province (2017WS083). The funders had no role in study design, data collection and analysis, decision to publish, or preparation of the manuscript.
Ethics declarations
Conflict of interest
The authors declare that they have no conflict of interest.
Ethical approval
The study was conducted in accordance with the Declaration of Helsinki, and also under the approval of the Ethics Committee of Qianfoshan Hospital, Shandong University (No. 2016s001, February 16, 2016).
About this article
Cite this article
Kong, X., Ma, X., Zhang, C. et al. Increased risk of kidney damage among Chinese adults with simple renal cyst. Int Urol Nephrol 50, 1687–1694 (2018). https://doi.org/10.1007/s11255-018-1880-3
Received:

Accepted:

Published:

Issue Date:
Keywords
Simple renal cyst

Kidney disease

Proteinuria

Estimated glomerular filtration rate

Epidemiology