Abstract
Purpose
To evaluate the effectiveness and harms of DES in treating prostate cancer compared to other forms of androgen deprivation therapy (orchiectomy, LHRH agonists, and anti-androgens).
Methods
We included clinical trials comparing DES with other forms of ADT (bicalutamide, flutamide, LHRH agonists, or orchiectomy) in PCa treatment. The primary outcomes were overall survival, cancer-specific survival, and progression-free survival, and secondary outcomes were cardiovascular effects. We searched in MEDLINE, EMBASE, Central, and Lilacs from inception to nowadays and saturated information for unpublished data in other sources. We performed a qualitative analysis of all included studies. It was not possible to perform meta-analysis due to low-quality trials and high heterogeneity.
Results
Overall, 1700 references were scanned and 14 prospective randomized trials with a total of 3986 patients were included in the final analysis. Although trials showed DES as similarly effective to another forms of ADT, evidences about cardiovascular toxicity in out of date high doses have discouraged its use. In doses of 1 mg, DES has been used as secondary line PCa treatment with safety.
Conclusions
DES might be similarly effective to other forms of ADT on advanced PCa patients, with potential important roles. Intriguingly, the burden of severe cardiovascular toxicity is mainly related to old-fashioned doses of 5.0 and 3.0 mg. Modern PCa hormonal knowledge warrants stout high-quality prospective randomized trials in the low-dose 1 mg DES scenario.
This is a preview of subscription content, log in to check access.
Access options
Buy single article
Instant access to the full article PDF.
US$ 39.95
Price includes VAT for USA
Subscribe to journal
Immediate online access to all issues from 2019. Subscription will auto renew annually.
US$ 99
This is the net price. Taxes to be calculated in checkout.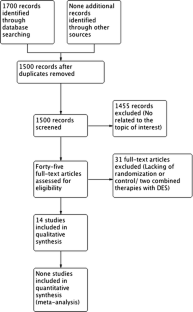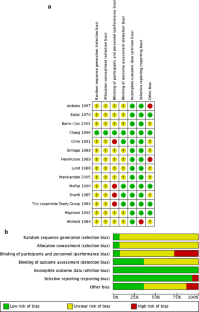 References
1.

Huggins C, Hodges CV (1941) Studies on prostatic cancer: I. The effect of castration, of estrogen and of androgen injection on serum phosphatases in metastatic carcinoma of the prostate. Cancer Res 1(4):293–297

2.

Dias Silva E, Ferreira U, Matheus W, Faria EF, Silva GD, Saito M, de Souza AA, Laranjo A Jr, Clark O, Magna LA, Castilho LN, Reis LO (2012) Goserelin versus leuprolide in the chemical castration of patients with prostate cancer. Int Urol Nephrol 44(4):1039–1044

3.

The Leuprolide Study Group (1984) Leuprolide versus diethylstilbestrol for metastatic prostate cancer. The Leuprolide Study Group. N Engl J Med 311(20):1281–1286

4.

Crawford ED, Sartor O, Chu F, Perez R, Karlin G, Garrett JS (2006) A 12-month clinical study of LA-2585 (45.0 MG): a new 6-month subcutaneous delivery system for leuprolide acetate for the treatment of prostate cancer. J Urol 175(2):533–536

5.

Oh WK (2005) The evolving role of estrogen therapy in prostate cancer. Clin Prostate Cancer 1(2):81–89

6.

Ockrim J, Lalani E, Laniado M, Carter S, Abel P (2003) Transdermal estradiol therapy for advanced prostate cancer—forward to the past? J Urol 169(5):1735–1737

7.

Robertson CN, Roberson KM, Padilla GM, O'Brien ET, Cook JM, Kim CS et al (1996) Induction of apoptosis by diethylstilbestrol in hormone-insensitive prostate cancer cells. J Natl Cancer Inst 88(13):908–917

8.

Higgins JPT, Altman DG, Gøtzsche PC, Jüni P, Moher D, Oxman AD (2011) The Cochrane Collaboration' s tool for assessing risk of bias in randomised trials 343:1–9

9.

Arduino LJ, Bailar JC, Becker LE, Berman HI, Bischoff AJ, Doe RP et al (1967) Carcinoma of the prostate: treatment comparisons. J Urol 98(4):516–522

10.

Bailar JC, Byar DP (1970) Estrogen treatment for cancer of the prostate. Early results with 3 doses of diethylstilbestrol and placebo. Cancer 26(2):257–261

11.

Henriksson P, Edhag O (1989) Patients at high risk of cardiovascular complications in oestrogen treatment of prostatic cancer. Br J Urol 63(2):186–190

12.

Lund F, Rasmussen F (1988) Flutamide versus stilboestrol in the management of advanced prostatic cancer: a controlled prospective study. Br J Urol 61(2):140–142. https://doi.org/10.1111/j.1464-410X.1988.tb05062.x

13.

Chang A, Yeap B, Davis T, Blum R, Hahn R, Khanna O et al (1996) Double-blind, randomized study of primary hormonal treatment of stage D2 prostate carcinoma: flutamide versus diethylstilbestrol. J Clin Oncol 14(8):2250–2257

14.

Sharifi R, Lee M (1985) Comparison of leuprolide and diethylstilbestrol for stage D2 adenocarcinoma of prostate. Urology 26(2):117–124

15.

Winfield H, Trachtenberg J (1984) A comparison of a powerful luteinizing hormone releasing hormone analogue agonist and estrogen in the treatment of advanced prostatic cancer. J Urol 131(6):1107–1109

16.

Moffat LEF (1990) Comparison of zoladex, diethylstilbestrol and cyproterone acetate treatment in advanced prostate cancer. Eur Urol 18(3):26–27

17.

Waymont B, Lynch T, Dunn J, Emtage L, Arkell D, Wallace D et al (1992) Phase III randomised study of zoladex versus stilboestrol in the treatment of advanced prostate cancer. Br J Urol 69(6):614–620. https://doi.org/10.1111/j.1464-410X.1992.tb15633.x

18.

Emtage LA, Trethowan C, Kelly K, Arkell D, Wallace DM, Hughes M et al (1989) A phase III open randomized study of zoladex 3.6 mg depot vs. DES 3 mg per day in untreated advanced prostate cancer: a West Midlands Urological Research Group Study. Prog Clin Biol Res 303:47–52

19.

Citrin DL, Resnick M (1991) A comparison of zoladex and DES in the treatment of advanced prostate cancer: results of a randomized, multicenter trial. Prostate 18(2):139–146

20.

Manikandan R, Srirangam SJ, Pearson E, Brown SCW, O'Reilly P, Collins GN (2005) Diethylstilboestrol versus bicalutamide in hormone refractory prostate carcinoma: a prospective randomized trial. Urol Int 75(3):217–221

21.

Burns-Cox N, Basketter V (2005) Prospective randomised trial comparing diethylstilboestrol and flutamide in the treatment of hormone relapsed prostate cancer. Int J Urol 9(8):431–434

22.

Taylor LG, Canfield SE, Du XL (2009) Review of major adverse effects of androgen-deprivation therapy in men with prostate cancer. Cancer 115(11):2388–2399

23.

Shahinian VB, Kuo Y-F, Freeman JL, Goodwin JS (2005) Risk of fracture after androgen deprivation for prostate cancer. N Engl J Med 352(2):154–164. https://doi.org/10.1056/NEJMoa041943

24.

Scherr D, Pitts WR, Vaughn ED (2005) Diethylstilbesterol revisited: androgen deprivation, osteoporosis and prostate cancer. J Urol 167(2 Pt 1):535–538

25.

Eriksson S, Eriksson A, Stege R, Carlstrom K (1995) Bone mineral density in patients with prostatic cancer treated with orchidectomy and with estrogens. Calcif Tissue Int 57(2):97–99

26.

Miller JI, Ahmann FR (1992) Treatment of castration-induced menopausal symptoms with low dose diethylstilbestrol in men with advanced prostate cancer. Urology 40(6):499–502

27.

Peeling WB (1989) Phase III studies to compare goserelin (Zoladex) with orchiectomy and with diethylstilbestrol in treatment of prostatic carcinoma. Urology 33(5 Suppl):45–52

28.

Reis LO, De Mendonça GB, Carneiro BD, Schneider E, Gewehr EV, Meirelles A et al (2011) Diethylstilbestrol 1 mg in the treatment of acute urinary retention due to prostatic obstruction in the elderly: a preliminary study. Adv Urol 984382. http://www.ncbi.nlm.nih.gov/pubmed/24575128

29.

Scherr DS, Pitts WR (2003) The nonsteroidal effects of diethylstilbestrol: the rationale for androgen deprivation therapy without estrogen deprivation in the treatment of prostate cancer. J Urol 170(5):1703–1708

30.

Small EJ, Vogelzang NJ (1997) Second-line hormonal therapy for advanced prostate cancer: a shifting paradigm. J Clin Oncol 15(1):382–388

31.

Bosset P, Albiges L, Seisen T, De T, Rouge M, Bitker M et al (2012) Current role of diethylstilbestrol in the management of advanced prostate cancer. BJU Int 110:826–829

32.

Rosa-Ribeiro R, Nishan U, Vidal RO, Barbosa GO, Reis LO, Cesar CL et al (2014) Transcription factors involved in prostate gland adaptation to androgen deprivation. PLoS ONE 9(6):e97080. https://doi.org/10.1371/journal.pone.0097080

33.

Reis LO (2012) Old issues and new perspectives on prostate cancer hormonal therapy: the molecular substratum. Med Oncol 29(3):1948–1955

34.

Rove KO, Crawford ED, Perachino M, Morote J, Klotz L, Lange PH, Andriole GL, Matsumoto AM, Taneja SS, Eisenberger MA, Reis LO (2014) Maximal testosterone suppression in prostate cancer–free vs total testosterone. Urology 83(6):1217–1222
Funding
LOR, CNPq Research Productivity, Brazil—Grant: 302622/2015-2.
Ethics declarations
Conflict of interest
The authors declare that there is no conflict of interest that could be perceived as prejudicing the impartiality of the review reported.
Appendix: Search strategy
Appendix: Search strategy
MEDLINE
1.

exp Prostatic Neoplasms/

2.

exp prostatic intraepithelial neoplasia/

3.

(prostatic adj2 malignanc$).mp

4.

(prostatic adj2 cancer).mp

5.

or/

6.

DES.mp

7.

Diethylstilbestrol.mp

8.

or/

9.

exp randomized controlled trial/

10.

(randomi*ed adj2 controlled adj2 trial).mp.

11.

exp clinical trial/

12.

(clinical adj2 trial).mp.

13.

exp double-blind method/

14.

or/
EMBASE
1.

'Prostate Tumor'/exp

2.

'prostatic intraepithelial neoplasia'/exp

3.

(prostatic NEXT/2 malignanc*):ti,ab

4.

(prostatic NEXT/2 cancer):ti,ab

5.

(organ NEXT/2 confined NEXT/2 disease):ti,ab

6.

or/

7.

DES:ti,ab

8.

Diethylstilbestrol:ti,ab

9.

or/

10.

'randomized controlled trials'/exp

11.

(randomi*ed NEXT/2 controlled NEXT/2 trial):ti,ab

12.

'clinical trials'/exp

13.

(clinical NEXT/2 trial):ti,ab

14.

'double blind procedure'/exp
Central and lilacs
1.

exp Prostatic Neoplasms/

2.

exp prostatic intraepithelial neoplasia/

3.

(prostatic adj2 malignanc$).mp

4.

(prostatic adj2 cancer).mp

5.

or/

6.

DES.mp

7.

Diethylstilbestrol.mp
About this article
Cite this article
Reis, L.O., Zani, E.L. & García-Perdomo, H.A. Estrogen therapy in patients with prostate cancer: a contemporary systematic review. Int Urol Nephrol 50, 993–1003 (2018). https://doi.org/10.1007/s11255-018-1854-5
Received:

Accepted:

Published:

Issue Date:
Keywords
Prostate cancer

Estrogen

Endocrine therapy

Treatment

Androgen

Systematic review