Abstract
Purpose
The ischemia and subsequent reperfusion (IR) which occurs in partial nephrectomy used in the treatment of renal tumors causes loss of parenchyma in the damaged kidney. The aim of this study is to evaluate, both biochemically and histologically, the efficacy of esomeprazole in an ischemia–reperfusion model in rat kidneys.
Methods
The rats were randomized into three groups of seven animals each, referred to as the sham, control, and PPI groups. In the sham group, only a laparotomy was performed. In the control group, following laparotomy the left renal artery was dissected and tied for 30-min ischemia. In the PPI group, a vascular route to the tail vein was opened, and 10 mg/kg esomeprazole was administered. After 1 h, the same procedures described for the control group were performed. All the animals were killed 24 h after the procedure. Biochemical analyses were applied for evaluation of oxidant and antioxidant agents in the blood and left kidney of each subject (oxidative markers: malondialdehyde, myeloperoxidase; antioxidant marker: superoxide dismutase). In the histological examination of the kidney tissues stained with hematoxylin–eosin, the TUNEL method was applied in the evaluation of apoptosis.
Results
No statistically significant biochemical difference was determined in the blood and tissue samples. In the histological and apoptosis evaluations, a statistically significant difference was determined between the sham, control, and PPI groups. The median (IQR) values of the TUNEL-positive cells were counted as 1.50 (4) in the sham group, 11.50 (12) in the control group, and 6.00 (9) in the PPI group (p < 0.001).
Conclusions
A protective effect of esomeprazole was confirmed in renal ischemia–reperfusion damage created in an experimental rat model.
This is a preview of subscription content, log in to check access.
Access options
Buy single article
Instant access to the full article PDF.
US$ 39.95
Price includes VAT for USA
Subscribe to journal
Immediate online access to all issues from 2019. Subscription will auto renew annually.
US$ 99
This is the net price. Taxes to be calculated in checkout.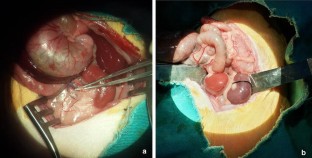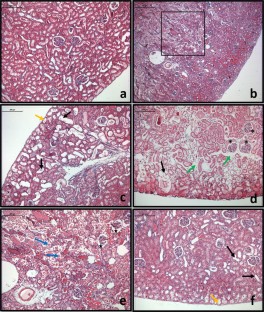 References
1.

Birbrair A, Zhang T, Wang ZM, Messi ML, Olson JD, Mintz A, Delbono O (2014) Type-2 pericytes participate in normal and tumoral angiogenesis. Am J Physiol Cell Physiol 307(1):C25–C38. https://doi.org/10.1152/ajpcell.00084.2014

2.

Zimmerman BJ, Granger DN (1992) Reperfusion injury. Surg Clin North Am 72(1):65–83

3.

Pauly RP (2009) Nocturnal home hemodialysis and short daily hemodialysis compared with kidney transplantation: emerging data in a new era. Adv Chronic Kidney Dis 16(3):169–172. https://doi.org/10.1053/j.ackd.2009.02.002

4.

Funahashi Y, Kato M, Yoshino Y, Fujita T, Sassa N, Gotoh M (2014) Comparison of renal ischemic damage during laparoscopic partial nephrectomy with artery-vein and artery-only clamping. J Endourol 28(3):306–311. https://doi.org/10.1089/end.2013.0446

5.

Shin JM, Sachs G (2008) Pharmacology of proton pump inhibitors. Curr Gastroenterol Rep 10(6):528–534

6.

Gumz ML, Lynch IJ, Greenlee MM, Cain BD, Wingo CS (2010) The renal H+-K+-ATPases: physiology, regulation, and structure. Am J Physiol Renal Physiol 298(1):F12–F21. https://doi.org/10.1152/ajprenal.90723.2008

7.

Wingo CS (1989) Active proton secretion and potassium absorption in the rabbit outer medullary collecting duct. Functional evidence for proton-potassium-activated adenosine triphosphatase. J Clin Invest 84(1):361–365. https://doi.org/10.1172/JCI114165

8.

Verlander JW, Moudy RM, Campbell WG, Cain BD, Wingo CS (2001) Immunohistochemical localization of H-K-ATPase alpha(2c)-subunit in rabbit kidney. Am J Physiol Renal Physiol 281(2):F357–F365

9.

Dobrzycki S, Baniukiewicz A, Korecki J, Bachorzewska-Gajewska H, Prokopczuk P, Musial WJ, Kaminski KA, Dabrowski A (2005) Does gastro-esophageal reflux provoke the myocardial ischemia in patients with CAD? Int J Cardiol 104(1):67–72. https://doi.org/10.1016/j.ijcard.2004.10.018

10.

Jeremic N, Petkovic A, Srejovic I, Zivkovic V, Djuric D, Jakovljevic V (2015) Effects of ischemia and omeprazole preconditioning on functional recovery of isolated rat heart. Rev Bras Cir Cardiovasc 30(2):266–275. https://doi.org/10.5935/1678-9741.20150020

11.

Yagmurca M, Erdogan H, Iraz M, Songur A, Ucar M, Fadillioglu E (2004) Caffeic acid phenethyl ester as a protective agent against doxorubicin nephrotoxicity in rats. Clin Chim Acta 348(1–2):27–34. https://doi.org/10.1016/j.cccn.2004.03.035

12.

Lowry OH, Rosebrough NJ, Farr AL, Randall RJ (1951) Protein measurement with the Folin phenol reagent. J Biol Chem 193(1):265–275

13.

Wei H, Frenkel K (1993) Relationship of oxidative events and DNA oxidation in SENCAR mice to in vivo promoting activity of phorbol ester-type tumor promoters. Carcinogenesis 14(6):1195–1201

14.

Esterbauer H, Cheeseman KH (1990) Determination of aldehydic lipid peroxidation products: malonaldehyde and 4-hydroxynonenal. Methods Enzymol 186:407–421

15.

Merter AA, Mayir B, Erdogan O, Colak T (2015) Protective effects of amifostine on ischemia-reperfusion injury of rat kidneys. Indian J Pharmacol 47(2):185–189. https://doi.org/10.4103/0253-7613.153427

16.

Pektas A, Gemalmaz H, Balkaya M, Unsal C, Yenisey C, Kilicarslan N, Culhaci N (2014) The short-term protective effects of lycopene on renal ischemia-reperfusion injury in rats. Turk J Urol 40(1):46–51. https://doi.org/10.5152/tud.2014.53765

17.

Chander V, Chopra K (2005) Role of nitric oxide in resveratrol-induced renal protective effects of ischemic preconditioning. J Vasc Surg 42(6):1198–1205. https://doi.org/10.1016/j.jvs.2005.08.032

18.

Chander V, Chopra K (2006) Protective effect of nitric oxide pathway in resveratrol renal ischemia-reperfusion injury in rats. Arch Med Res 37(1):19–26. https://doi.org/10.1016/j.arcmed.2005.05.018

19.

Khader A, Yang WL, Kuncewitch M, Prince JM, Marambaud P, Nicastro J, Coppa GF, Wang P (2015) Novel resveratrol analogues attenuate renal ischemic injury in rats. J Surg Res 193(2):807–815. https://doi.org/10.1016/j.jss.2014.08.015

20.

Li YW, Zhang Y, Zhang L, Li X, Yu JB, Zhang HT, Tan BB, Jiang LH, Wang YX, Liang Y, Zhang XS, Wang WS, Liu HG (2014) Protective effect of tea polyphenols on renal ischemia/reperfusion injury via suppressing the activation of TLR4/NF-kappaB p65 signal pathway. Gene 542(1):46–51. https://doi.org/10.1016/j.gene.2014.03.021

21.

Yener AU, Cicek MC, Genc SB, Ozkan T, Dogan E, Bilgin BC, Akin T, Erdem H, Ankarali H (2014) Protective role of heparin in the injury of the liver and kidney on the experimental model of ischemia/reperfusion. J Cardiothorac Surg 9:35. https://doi.org/10.1186/1749-8090-9-35

22.

Sagiroglu T, Sezer A, Torun N, Yalta T, Yagci MA, Sagiroglu G, Copuroglu E (2014) Protective effect of everolimus on renal ischemia reperfusion injury in rats. Saudi J Kidney Dis Transpl 25(2):294–302

23.

Liuzzo J, Ambrose J, Das S, Devoe M, Korabathina R, Agarwal S, Deshmukh S, Coppola J (2011) Prospective, randomized, placebo-controlled evaluation of esomeprazole in coronary artery disease patients. EPAC: esomeprazole prevention of atypical chest pains. J Invasive Cardiol 23(6):222–226
About this article
Cite this article
Ozkan, T.A., Karakoyunlu, N., Polat, R. et al. An evaluation of the protective effect of esomeprazole in an experimental model of renal ischemia–reperfusion. Int Urol Nephrol 50, 217–223 (2018). https://doi.org/10.1007/s11255-017-1775-8
Received:

Accepted:

Published:

Issue Date:
Keywords
Rat

Ischemia–reperfusion injury

Esomeprazole

Proton pump inhibitors