Abstract
Introduction
We aimed to report on multiparametric MRI (mpMRI) characteristics of post-primary focal cryosurgery (PFC) patients suspected of biochemical recurrence (BCR) by the Phoenix criteria.
Methods
We retrospectively reviewed all patients at our institution who had undergone PFC. Prostate-specific antigen nadir was determined using 2 or more post-PFC values. Suspicion of BCR was determined using the Phoenix criteria (nadir + 2 ng/ml). At the discretion of the physician, pre-and post-PFC 3-T mpMRIs were obtained and in a few cases biopsies were performed.
Results
Ninety (58.4%) of 154 consecutive patients who underwent PFC were included in our analysis and had a median (range) age and prostate volume of 66.5 (48–82) years and 40.5 (16–175) ml, respectively. Of those suspected of BCR (37/90, 41.1%), with a median time to BCR of 19.9 (7.0–38.5) months, 27 patients (73.0%) underwent a post-PFC mpMRI. Twenty-two (81.5%) of these mpMRIs were found with 24 suspicious lesions. A considerable number (9/24, 37.5%) of these lesions were located in the central gland of the prostate. Seven of 24 lesions exhibited adverse mpMRI characteristic; 4 (16.7%) had capsular contact, 2 (8.2%) showed frank extracapsular extension, and 1 (4.2%) showed seminal vesicle invasion. Five (45.5%) of 11 patients with positive post-PFC mpMRIs were positive on biopsy (4/5, 80% were clinically significant prostate cancer).
Conclusion
Post-PFC mpMRI, at Phoenix suspicion of BCR, may help identify a significant number of patients failing post-PFC.
This is a preview of subscription content, log in to check access.
Access options
Buy single article
Instant access to the full article PDF.
US$ 39.95
Price includes VAT for USA
Subscribe to journal
Immediate online access to all issues from 2019. Subscription will auto renew annually.
US$ 99
This is the net price. Taxes to be calculated in checkout.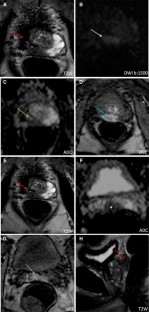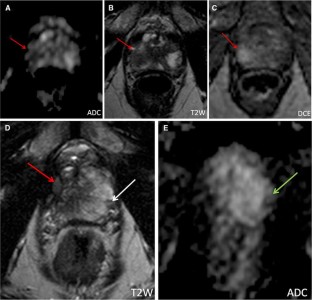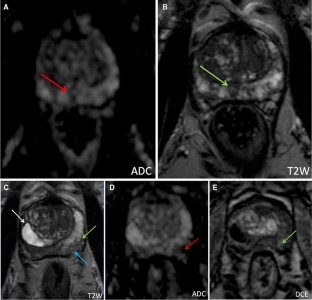 Abbreviations
mpMRI:

Multiparametric magnetic resonance image

T2W:

T-2 weighted image

DWI:

Diffusion weighted image

DCE:

Dynamic contrast enhancement

ADC:

Apparent diffusion coefficient

TCC:

Tumor capsular contact

ECE:

Extracapsular extension

PIRADS:

Prostate image reporting and data system

PFC:

Primary focal cryosurgery

HIFU:

High-intensity focused ultrasound

PCa:

Prostate cancer

LR:

Low risk

IR:

Intermediate risk

HR:

High risk

TZ:

Transition zone

CZ:

Central zone

CG:

Central gland

PZ:

Peripheral zone

BCR:

Biochemical recurrence

PSA:

Prostate-specific antigen

AS:

Active surveillance
References
1.

Albertsen PC, Hanley JA, Fine J (2005) 20-year outcomes following conservative management of clinically localized prostate cancer. JAMA 293(17):2095–2101. doi:10.1001/jama.293.17.2095

2.

Watson MJ, George AK, Maruf M, Frye TP, Muthigi A, Kongnyuy M, Valayil SG, Pinto PA (2016) Risk stratification of prostate cancer: integrating multiparametric MRI, nomograms and biomarkers. Future Oncol (Lond Engl) 12(21):2417–2430. doi:10.2217/fon-2016-0178

3.

Habibian DJ, Katz AE (2016) Emerging minimally invasive procedures for focal treatment of organ-confined prostate cancer. Int J Hyperth. doi:10.1080/02656736.2016.1195925

4.

Jayram G, Eggener SE (2009) Patient selection for focal therapy of localized prostate cancer. Curr Opin Urol 19(3):268–273. doi:10.1097/MOU.0b013e328329eb3c

5.

Truesdale MD, Cheetham PJ, Hruby GW, Wenske S, Conforto AK, Cooper AB, Katz AE (2010) An evaluation of patient selection criteria on predicting progression-free survival after primary focal unilateral nerve-sparing cryoablation for prostate cancer: recommendations for follow up. Cancer J (Sudbury, MA) 16(5):544–549. doi:10.1097/PPO.0b013e3181f84639

6.

Frye TP, George AK, Kilchevsky A, Maruf M, Siddiqui MM, Kongnyuy M, Muthigi A, Han H, Parnes HL, Merino M, Choyke PL, Turkbey B, Wood B, Pinto PA (2016) Magnetic resonance imaging-transrectal ultrasound guided fusion biopsy to detect progression in patients with existing lesions on active surveillance for low and intermediate risk prostate cancer. J Urol. doi:10.1016/j.juro.2016.08.109

7.

Scialpi M, Piscioli I, Malaspina S, D'Andrea A (2014) Multiparametric magnetic resonance imaging-ultrasound fusion-guided prostate biopsy: role in diagnosis and management of prostatic cancer. Urol Oncol 32(4):509–510. doi:10.1016/j.urolonc.2014.02.001

8.

Yerram NK, Volkin D, Turkbey B, Nix J, Hoang AN, Vourganti S, Gupta GN, Linehan WM, Choyke PL, Wood BJ, Pinto PA (2012) Low suspicion lesions on multiparametric magnetic resonance imaging predict for the absence of high-risk prostate cancer. BJU Int 110(11 Pt B):E783–E788. doi:10.1111/j.1464-410X.2012.11646.x

9.

Habibian DJ, Liu CC, Dao A, Kosinski KE, Katz AE (2017) Imaging characteristics of prostate cancer patients who discontinued active surveillance on 3-T multiparametric prostate MRI. AJR Am J Roentgenol 208(3):564–569. doi:10.2214/ajr.16.16822

10.

Bostrom PJ, Bjartell AS, Catto JW, Eggener SE, Lilja H, Loeb S, Schalken J, Schlomm T, Cooperberg MR (2015) Genomic predictors of outcome in prostate cancer. Eur Urol 68(6):1033–1044. doi:10.1016/j.eururo.2015.04.008

11.

Knezevic D, Goddard AD, Natraj N, Cherbavaz DB, Clark-Langone KM, Snable J, Watson D, Falzarano SM, Magi-Galluzzi C, Klein EA, Quale C (2013) Analytical validation of the oncotype DX prostate cancer assay—a clinical RT-PCR assay optimized for prostate needle biopsies. BMC Genom 14:690. doi:10.1186/1471-2164-14-690

12.

Kongnyuy M, George AK, Rastinehad AR, Pinto PA (2016) Magnetic resonance imaging-ultrasound fusion-guided prostate biopsy: review of technology, techniques, and outcomes. Curr Urol Rep 17(4):32. doi:10.1007/s11934-016-0589-z

13.

Siddiqui MM, Rais-Bahrami S, Turkbey B, George AK, Rothwax J, Shakir N, Okoro C, Raskolnikov D, Parnes HL, Linehan WM, Merino MJ, Simon RM, Choyke PL, Wood BJ, Pinto PA (2015) Comparison of MR/ultrasound fusion-guided biopsy with ultrasound-guided biopsy for the diagnosis of prostate cancer. JAMA 313(4):390–397. doi:10.1001/jama.2014.17942

14.

Leapman MS, Carroll PR (2016) What is the best way not to treat prostate cancer? Urol Oncol. doi:10.1016/j.urolonc.2016.09.003

15.

Postema AW, Catellani M, Scheltema MJ, van den Bos W, de la Rosette JJ (2016) Surveillance following focal therapy interventions. Arch Esp Urol 69(6):364–374

16.

Baco E, Rud E, Vlatkovic L, Svindland A, Eggesbo HB, Hung AJ, Matsugasumi T, Bernhard JC, Gill IS, Ukimura O (2015) Predictive value of magnetic resonance imaging determined tumor contact length for extracapsular extension of prostate cancer. J Urol 193(2):466–472. doi:10.1016/j.juro.2014.08.084

17.

Kongnyuy M, Sidana A, George AK, Muthigi A, Iyer A, Ho R, Chelluri R, Mertan F, Frye TP, Su D, Merino MJ, Choyke PL, Wood BJ, Pinto PA, Turkbey B (2017) Tumor contact with prostate capsule on magnetic resonance imaging: a potential biomarker for staging and prognosis. Urol Oncol 35(1):30.e31–30.e38. doi:10.1016/j.urolonc.2016.07.013

18.

Rosenkrantz AB, Shanbhogue AK, Wang A, Kong MX, Babb JS, Taneja SS (2016) Length of capsular contact for diagnosing extraprostatic extension on prostate MRI: assessment at an optimal threshold. J Magn Reson Imaging JMRI 43(4):990–997. doi:10.1002/jmri.25040

19.

Muthigi A, Sidana A, George AK, Kongnyuy M, Shakir N, Kadakia M, Maruf M, Frye TP, Mertan F, Su D, Merino MJ, Choyke PL, Turkbey B, Wood BJ, Pinto PA (2016) Midline lesions of the prostate: role of MRI/TRUS fusion biopsy and implications in Gleason risk stratification. Int Urol Nephrol. doi:10.1007/s11255-016-1336-6

20.

Fascelli MFT, George AK, Abboud S, Chelluri R, Ho R, Diaz AW, Sankineni S, Merino MJ, Turkbey B, Choyke PL, Wood BJ, Pinto PA (2015) Magnetic resonance imaging/ultrasound fusion guided biopsy detects clinically significant prostate cancer in the central gland correlating with index lesion. J Urol 193(4):e826

21.

Rouviere O, Girouin N, Glas L, Ben Cheikh A, Gelet A, Mege-Lechevallier F, Rabilloud M, Chapelon JY, Lyonnet D (2010) Prostate cancer transrectal HIFU ablation: detection of local recurrences using T2-weighted and dynamic contrast-enhanced MRI. Eur Radiol 20(1):48–55. doi:10.1007/s00330-009-1520-5

22.

Parivar F, Hricak H, Shinohara K, Kurhanewicz J, Vigneron DB, Nelson SJ, Carroll PR (1996) Detection of locally recurrent prostate cancer after cryosurgery: evaluation by transrectal ultrasound, magnetic resonance imaging, and three-dimensional proton magnetic resonance spectroscopy. Urology 48(4):594–599. doi:10.1016/s0090-4295(96)00250-6

23.

Kongnyuy M, Halpern DM, Kosinski KE, Katz AE (2016) Cryosurgery, an alternative treatment option for organ-confined prostate cancer: current beliefs and practice patterns of urologists. Int Urol Nephrol. doi:10.1007/s11255-016-1440-7

24.

Toussi A, Stewart-Merrill SB, Boorjian SA, Psutka SP, Thompson RH, Frank I, Tollefson MK, Gettman MT, Carlson RE, Rangel LJ, Karnes RJ (2016) Standardizing the definition of biochemical recurrence after radical prostatectomy—What prostate specific antigen cut point best predicts a durable increase and subsequent systemic progression? J Urol 195(6):1754–1759. doi:10.1016/j.juro.2015.12.075
Authors' contribution
MK was involved in protocol, project development and manuscript writing. DMH was involved in the data collection/management. DJH was involved in the data collection/management. CCL read the MRIs, provided manuscript MRI images and edited the manuscript. KEK was involved in the data interpretation and manuscript editing. ATC edited the manuscript. AEK was involved in the manuscript editing and supervision.
Ethics declarations
Conflict of interest
The authors declare that they do not have any conflict of interest.
Funding
The Department of Urology at Winthrop University Hospital provided the funds needed for the study.
Ethical approval
All procedures performed in studies involving participants were in accordance with the ethical standards of the institutional and or national research committee and with the 1964 Helsinki Declaration and its later amendments or comparable ethical standard.
Informed consent
Informed consent was obtained from all individual participants involved in the study.
About this article
Cite this article
Kongnyuy, M., Halpern, D.M., Liu, C.C. et al. 3-T multiparametric MRI characteristics of prostate cancer patients suspicious for biochemical recurrence after primary focal cryosurgery (hemiablation). Int Urol Nephrol 49, 1947–1954 (2017). https://doi.org/10.1007/s11255-017-1670-3
Received:

Accepted:

Published:

Issue Date:
Keywords
Multiparametric MRI

Biochemical recurrence

Prostate cancer

Primary focal cryosurgery