Abstract
Background
The presence and severity of proteinuria is considered an important prognostic marker in patients with chronic kidney disease (CKD) and is associated with mortality and morbidity. Cathepsin L is highly expressed in the foot processes of podocytes in the kidney, which serves as an ultrafiltration barrier. Cathepsin L is also up-regulated in the setting of inflammation as a feature of CKD. Therefore, we postulated that proteinuria severity in CKD patients might correlate with increased serum levels of cathepsin L.
Methods and results
In this retrospective observational study, a total of 135 patients diagnosed with CKD, 31 renal transplant patients and 48 healthy controls were included. The demographic characteristics and clinical indicators were analyzed. Serum cathepsin L activity was significantly higher in patients with CKD than in renal transplant recipients and healthy controls (P < 0.01). Patients with severe proteinuria had a higher cathepsin L activity compared to those with moderate or mild proteinuria (P < 0.01). Serum cathepsin L activity positively associated with age, body mass index, nitrite level, neutrophil count, high-sensitivity C-reactive protein (hs-CRP), N-terminal pro-brain natriuretic peptide, high-mobility group box-1 protein (HMGB1) and 24-h proteinuria. In the ROC analysis, the sensitivity of cathepsin L activity in diagnosis of moderate and heavy is 0.86 and the specificity is 0.73. Moreover, CKD patients with higher cathepsin L activity had a significantly higher hospital admission rate. The data also showed patients with statin administration present significantly lower cathepsin L activity (P < 0.01), hs-CRP (P < 0.01), HMGB1 (P < 0.01) and proteinuria (P < 0.01) compared to non-statin treatment group.
Conclusion
This study revealed that serum cathepsin L activity is significantly elevated in CKD patients and its level correlates with the severity of proteinuria as well as prognosis, suggesting that serum cathepsin L may serve as a potential biomarker for CKD. Further prospective study is needed to explore its clinical implications in the future.
This is a preview of subscription content, log in to check access.
Access options
Buy single article
Instant access to the full article PDF.
US$ 39.95
Price includes VAT for USA
Subscribe to journal
Immediate online access to all issues from 2019. Subscription will auto renew annually.
US$ 99
This is the net price. Taxes to be calculated in checkout.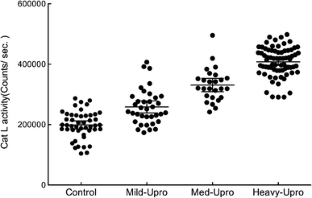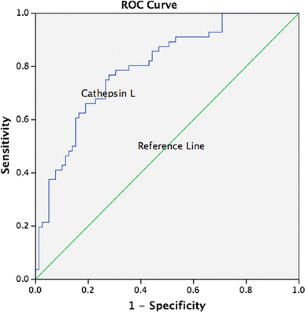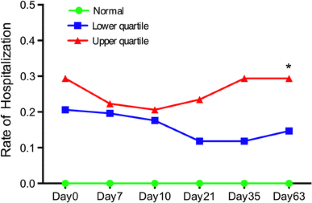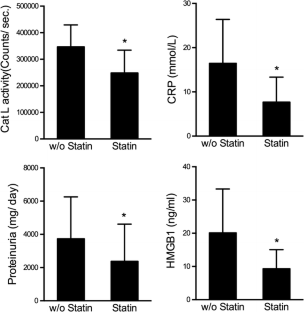 Abbreviations
BMI:

Body mass index

CKD:

Chronic kidney disease

eGFR:

Estimated glomerular filtration rate

ESR:

Erythrocyte sedimentation rate

GBM:

Glomerular basement membrane

GTPase:

Guanosine triphosphatase

HMGB1:

High-mobility group box 1

hs-CRP:

High-sensitivity C-reactive protein

NT-pro-BNP:

N-terminal pro-brain natriuretic peptide

MHC:

Major histocompatibility complex
References
1.

Lozano R, Naghavi M, Foreman K et al (2012) Global and regional mortality from 235 causes of death for 20 age groups in 1990 and 2010: a systematic analysis for the Global Burden of Disease Study 2010. Lancet 380:2095–2128. doi:10.1016/S0140-6736(12)61728-0

2.

Hillege HL, Fidler V, Diercks GF, van Gilst WH, de Zeeuw D, van Veldhuisen DJ, Gans RO, Janssen WM, Grobbee DE, de Jong PE, Prevention of R and Vascular End Stage Disease Study G (2002) Urinary albumin excretion predicts cardiovascular and noncardiovascular mortality in general population. Circulation 106:1777–1782

3.

Klausen K, Borch-Johnsen K, Feldt-Rasmussen B, Jensen G, Clausen P, Scharling H, Appleyard M, Jensen JS (2004) Very low levels of microalbuminuria are associated with increased risk of coronary heart disease and death independently of renal function, hypertension, and diabetes. Circulation 110:32–35. doi:10.1161/01.CIR.0000133312.96477.48

4.

Garg AX, Kiberd BA, Clark WF, Haynes RB, Clase CM (2002) Albuminuria and renal insufficiency prevalence guides population screening: results from the NHANES III. Kidney Int 61:2165–2175. doi:10.1046/j.1523-1755.2002.00356.x

5.

Hemmelgarn BR, Clement F, Manns BJ, Klarenbach S, James MT, Ravani P, Pannu N, Ahmed SB, MacRae J, Scott-Douglas N, Jindal K, Quinn R, Culleton BF, Wiebe N, Krause R, Thorlacius L, Tonelli M (2009) Overview of the alberta kidney disease network. BMC Nephrol 10:30. doi:10.1186/1471-2369-10-30

6.

Hemmelgarn BR, Manns BJ, Lloyd A, James MT, Klarenbach S, Quinn RR, Wiebe N, Tonelli M, Alberta Kidney Disease N (2010) Relation between kidney function, proteinuria, and adverse outcomes. JAMA 303:423–429. doi:10.1001/jama.2010.39

7.

Chapman HA, Riese RJ, Shi GP (1997) Emerging roles for cysteine proteases in human biology. Annu Rev Physiol 59:63–88. doi:10.1146/annurev.physiol.59.1.63

8.

Zhang F, Zhang Y, Li PL (2009) Dependence of cathepsin L-induced coronary endothelial dysfunction upon activation of NAD(P)H oxidase. Microvasc Res 78:45–50. doi:10.1016/j.mvr.2009.03.006

9.

Sever S, Altintas MM, Nankoe SR, Moller CC, Ko D, Wei C, Henderson J, del Re EC, Hsing L, Erickson A, Cohen CD, Kretzler M, Kerjaschki D, Rudensky A, Nikolic B, Reiser J (2007) Proteolytic processing of dynamin by cytoplasmic cathepsin L is a mechanism for proteinuric kidney disease. J Clin Invest 117:2095–2104. doi:10.1172/JCI32022

10.

Ronco P (2007) Proteinuria: is it all in the foot? J Clin Invest 117:2079–2082. doi:10.1172/JCI32966

11.

Eisenberger U, Fels LM, Olbricht CJ, Stolte H (1995) Cathepsin B and L in isolated proximal tubular segments during acute and chronic proteinuria. Ren Physiol Biochem 18:89–96

12.

Ross R (1986) The pathogenesis of atherosclerosis—an update. N Engl J Med 314:488–500. doi:10.1056/NEJM198602203140806

13.

Somlo S, Mundel P (2000) Getting a foothold in nephrotic syndrome. Nat Genet 24:333–335. doi:10.1038/74139

14.

Decleves AE, Sharma K (2014) Novel targets of antifibrotic and anti-inflammatory treatment in CKD. Nat Rev Nephrol 10:257–267. doi:10.1038/nrneph.2014.31

15.

Yasuda Y, Li Z, Greenbaum D, Bogyo M, Weber E, Bromme D, Bromme D (2004) Cathepsin V, a novel and potent elastolytic activity expressed in activated macrophages. J Biol Chem 279:36761–36770. doi:10.1074/jbc.M403986200

16.

Cesen MH, Pegan K, Spes A, Turk B (2012) Lysosomal pathways to cell death and their therapeutic applications. Exp Cell Res 318:1245–1251. doi:10.1016/j.yexcr.2012.03.005

17.

Nakagawa TY, Rudensky AY (1999) The role of lysosomal proteinases in MHC class II-mediated antigen processing and presentation. Immunol Rev 172:121–129

18.

Fonovic M, Turk B (2014) Cysteine cathepsins and extracellular matrix degradation. Biochim Biophys Acta 1840:2560–2570. doi:10.1016/j.bbagen.2014.03.017

19.

Faul C, Donnelly M, Merscher-Gomez S, Chang YH, Franz S, Delfgaauw J, Chang JM, Choi HY, Campbell KN, Kim K, Reiser J, Mundel P (2008) The actin cytoskeleton of kidney podocytes is a direct target of the antiproteinuric effect of cyclosporine A. Nat Med 14:931–938. doi:10.1038/nm.1857

20.

Reiser J, Oh J, Shirato I, Asanuma K, Hug A, Mundel TM, Honey K, Ishidoh K, Kominami E, Kreidberg JA, Tomino Y, Mundel P (2004) Podocyte migration during nephrotic syndrome requires a coordinated interplay between cathepsin L and alpha3 integrin. J Biol Chem 279:34827–34832. doi:10.1074/jbc.M401973200

21.

Eleftheriadis T, Antoniadi G, Liakopoulos V, Kartsios C, Stefanidis I (2007) Disturbances of acquired immunity in hemodialysis patients. Semin Dial 20:440–451. doi:10.1111/j.1525-139X.2007.00283.x

22.

Hsieh CS, deRoos P, Honey K, Beers C, Rudensky AY (2002) A role for cathepsin L and cathepsin S in peptide generation for MHC class II presentation. J Immunol 168:2618–2625

23.

Beers C, Honey K, Fink S, Forbush K, Rudensky A (2003) Differential regulation of cathepsin S and cathepsin L in interferon gamma-treated macrophages. J Exp Med 197:169–179

24.

Simeoni M, Nicotera R, Colao M, Citraro ML, Pelagi E, Cerantonio A, Comi N, Coppolino G, Fuiano G (2016) Direct inhibition of plasmatic renin activity with aliskiren: a promising but under-investigated therapeutic option for non-diabetic glomerulonephritis. Int Urol Nephrol 48:229–237. doi:10.1007/s11255-015-1128-4

25.

Cianfrone P, Simeoni M, Comi N, Piraina V, Talarico R, Cerantonio A, Gentile I, Fabiano FF, Lucisano G, Foti D, Gulletta E, Fuiano G (2015) How to improve duration and efficiency of the antiproteinuric response to Ramipril: RamiPROT-a prospective cohort study. J Nephrol. doi:10.1007/s40620-015-0256-3

26.

Geng Q, Ren J, Song J, Li S, Chen H (2014) Meta-analysis of the effect of statins on renal function. Am J Cardiol 114:562–570. doi:10.1016/j.amjcard.2014.05.033

27.

Palmer SC, Navaneethan SD, Craig JC, Johnson DW, Perkovic V, Hegbrant J, Strippoli GF (2014) HMG CoA reductase inhibitors (statins) for people with chronic kidney disease not requiring dialysis. Cochrane Database Syst Rev 5:CD007784. doi:10.1002/14651858.CD007784.pub2

28.

Sacks FM, Hermans MP, Fioretto P et al (2014) Association between plasma triglycerides and high-density lipoprotein cholesterol and microvascular kidney disease and retinopathy in type 2 diabetes mellitus: a global case-control study in 13 countries. Circulation 129:999–1008. doi:10.1161/CIRCULATIONAHA.113.002529

29.

Gianella A, Nobili E, Abbate M, Zoja C, Gelosa P, Mussoni L, Bellosta S, Canavesi M, Rottoli D, Guerrini U, Brioschi M, Banfi C, Tremoli E, Remuzzi G, Sironi L (2007) Rosuvastatin treatment prevents progressive kidney inflammation and fibrosis in stroke-prone rats. Am J Pathol 170:1165–1177. doi:10.2353/ajpath.2007.060882

30.

Yoshimura A, Nemoto T, Sugenoya Y, Inui K, Watanabe S, Inoue Y, Sharif S, Yokota N, Uda S, Morita H, Ideura T (1999) Effect of simvastatin on proliferative nephritis and cell-cycle protein expression. Kidney Int Suppl 71:S84–S87

31.

Ishimitsu T, Ohno E, Ueno Y, Onoda S, Nagase A, Ohira T, Nakano N, Satonaka H (2014) Effects of atorvastatin and ezetimibe on endothelial function in dyslipidemic patients with chronic kidney disease. Clin Exp Nephrol 18:704–710. doi:10.1007/s10157-013-0904-7

32.

O'Donnell MP, Kasiske BL, Kim Y, Atluru D, Keane WF (1993) Lovastatin inhibits proliferation of rat mesangial cells. J Clin Invest 91:83–87. doi:10.1172/JCI116204

33.

Cheng XW, Kuzuya M, Sasaki T, Inoue A, Hu L, Song H, Huang Z, Li P, Takeshita K, Hirashiki A, Sato K, Shi GP, Okumura K, Murohara T (2011) Inhibition of mineralocorticoid receptor is a renoprotective effect of the 3-hydroxy-3-methylglutaryl-coenzyme A reductase inhibitor pitavastatin. J Hypertens 29:542–552. doi:10.1097/HJH.0b013e328341cedf

34.

Larsson A, Svensson MB, Ronquist G, Akerfeldt T (2014) Life style intervention in moderately overweight individuals is associated with decreased levels of cathepsins L and S in plasma. Ann Clin Lab Sci 44:283–285

35.

Lafarge JC, Naour N, Clement K, Guerre-Millo M (2010) Cathepsins and cystatin C in atherosclerosis and obesity. Biochimie 92:1580–1586. doi:10.1016/j.biochi.2010.04.011

36.

Stypmann J, Glaser K, Roth W, Tobin DJ, Petermann I, Matthias R, Monnig G, Haverkamp W, Breithardt G, Schmahl W, Peters C, Reinheckel T (2002) Dilated cardiomyopathy in mice deficient for the lysosomal cysteine peptidase cathepsin L. Proc Natl Acad Sci USA 99:6234–6239. doi:10.1073/pnas.092637699

37.

Cheng XW, Huang Z, Kuzuya M, Okumura K, Murohara T (2011) Cysteine protease cathepsins in atherosclerosis-based vascular disease and its complications. Hypertension 58:978–986. doi:10.1161/HYPERTENSIONAHA.111.180935

38.

Lv BJ, Lindholt JS, Wang J, Cheng X, Shi GP (2013) Plasma levels of cathepsins L, K, and V and risks of abdominal aortic aneurysms: a randomized population-based study. Atherosclerosis 230:100–105. doi:10.1016/j.atherosclerosis.2013.05.018

39.

Sun J, Sukhova GK, Zhang J, Chen H, Sjoberg S, Libby P, Xiang M, Wang J, Peters C, Reinheckel T, Shi GP (2011) Cathepsin L activity is essential to elastase perfusion-induced abdominal aortic aneurysms in mice. Arterioscler Thromb Vasc Biol 31:2500–2508. doi:10.1161/ATVBAHA.111.230201

40.

Reiser J, Adair B, Reinheckel T (2010) Specialized roles for cysteine cathepsins in health and disease. J Clin Invest 120:3421–3431. doi:10.1172/JCI42918
Acknowledgements
This work was supported in part by the National Science Foundation of China (NSFC) Project 81570271 (to JJ Cai) and the China National Major Scientific and Technological Special Project for Significant New Drugs Development 2012ZX09303014-001 (to H Yuan).
Ethics declarations
Conflict of interest
No potential conflicts of interest were disclosed.
Ethical approval
All procedures performed in studies involving human participants were in accordance with the ethical standards of the Institutional Ethics Committee of the Third Xiangya Hospital and with the 1964 Helsinki Declaration and its later amendments or comparable ethical standards.
Informed consent
Informed consent was obtained from all individual participants included in the study.
Electronic supplementary material
Below is the link to the electronic supplementary material.
About this article
Cite this article
Cao, Y., Liu, X., Li, Y. et al. Cathepsin L activity correlates with proteinuria in chronic kidney disease in humans. Int Urol Nephrol 49, 1409–1417 (2017). https://doi.org/10.1007/s11255-017-1626-7
Received:

Accepted:

Published:

Issue Date:
Keywords
Chronic kidney disease

Cathepsin L

Proteinuria

Biomarker