Abstract
Purpose
To evaluate the role of microvessel density (MVD) in predicting lymph node (LN) metastasis in penile squamous cell carcinoma (PSCC).
Materials and methods
Records of 266 patients with PSCC were analyzed. Parameters examined were tumor stage, grade, nodal status, intratumoral and peritumoral MVD. Univariate and multivariate analyses were used to evaluate association between different histopathological variables and MVD. ROC was plotted to derive a prediction model using appropriate cutoff values of the parameters predicting cancer progression.
Results
77 patients were found to have histologically proven metastatic LN. MVD did not correlate significantly with T stage and grade of tumor. The intratumoral and peritumoral MVD of patients with metastatic LN was significantly higher than patients with negative LN (58.92 vs. 49.89 and 65.57 vs. 53.72, respectively; P < 0.0001). Multivariate analysis also revealed that MVD (intratumoral and peritumoral) was independent predictor for LN metastasis. From ROC curve, at the cutoff value of 54, intratumoral MVD predicted LN metastasis with sensitivity of 91% and specificity of 87%. Similarly, at cutoff value of 61, peritumoral MVD predicted LN metastasis with sensitivity of 94% and specificity of 89%. The 5-year survival was 79 and 77% for those with low intratumoral and peritumoral MVD, respectively, as compared to 41 and 39% for those with high intratumoral and peritumoral MVD, respectively (P < 0.05).
Conclusions
Higher intratumoral and peritumoral MVD predicts cancer progression in patients with PSCC. Patients with an intratumoral MVD of 54 and peritumoral MVD of 61 have lymph node metastasis with a high sensitivity and specificity. The overall 5-year survival of patients is poor in high intratumoral or peritumoral MVD.
This is a preview of subscription content, log in to check access.
Access options
Buy single article
Instant access to the full article PDF.
US$ 39.95
Price includes VAT for USA
Subscribe to journal
Immediate online access to all issues from 2019. Subscription will auto renew annually.
US$ 99
This is the net price. Taxes to be calculated in checkout.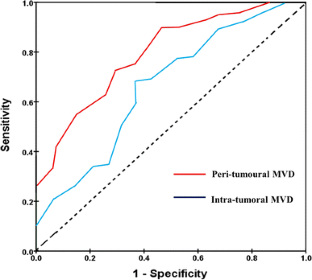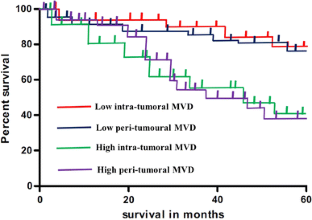 References
1.

Jemal A, Siegel R, Ward E et al (2007) Cancer statistics, 2007. CA Cancer J Clin 57:43–66

2.

Greelee RT, Murray T, Bolden S, Wingo PA (2000) Cancer statistics, 2000. CA Cancer J Clin 50:7–33

3.

Horenblas S (2001) Lymphadenectomy for squamous cell carcinoma of the penis. Part 2: the role and technique of lymph node dissection. BJU Int 88:473–483

4.

Misra S, Chaturvedi A, Misra NC (2004) Penile carcinoma: a challenge for the developing world. Lancet Oncol 5:240–247

5.

McDougal WS, Kirchner FK, Edwards RH, Killion LT (1986) Treatment of carcinoma of the penis: the case for primary lymphadenectomy. J Urol 136:38–41

6.

Cubilla AL, Reuter V, Velazquez E, Piris A, Saito S, Young RH (2001) Histologic classification of penile carcinoma and its relation to outcome in 61 patients with primary resection. Int J Surg Pathol 9:111–120

7.

Soria JC, Fizazi K, Piron D, Kramar A, Gerbaulet A, Haie-Meder C et al (1997) Squamous cell carcinoma of the penis: multivariate analysis of prognostic factors and natural history in a monocentric study with a conservative policy. Annu Oncol 8:1089–1098

8.

Slaton JW, Morgenstern N, Levy DA et al (2001) Tumor stage, vascular invasion, and the percentage of poorly differentiated cancer: independent prognosticators for inguinal lymph node metastasis in penile squamous cancer. J Urol 165:1138–1142

9.

Novara G, Galfano A, De Marco V et al (2007) Prognostic factors in squamous cell carcinoma of the penis. Nat Clin Pract Urol 4:140–146

10.

Edge SB, Byrd DR, Compton CC et al (2010) AJCC cancer staging manual, 7th edn. Springer, New York, pp 447–500

11.

Broders AC (1932) Practical points on the microscopic grading of carcinoma. NY State Med J 32:667–671

12.

McDougal WS, Kirchner FK Jr, Edwards RH, Killion LT (1986) Treatment of carcinoma of the penis: the case for primary lymphadenectomy. J Urol 36:38–41

13.

Derakshani P, Neubauer S, Schwarzer U, Klotz T, Engelmann U (2000) Risk-adapted therapy in patients with penile cancer. J Urol (Suppl.) 163:638A

14.

Hertig A (1935) Angiogenesis in the early human chorion and in the primary placenta of the Macaque monkey. Contrib Embryol 25:37

15.

Sivridis E, Giatromanolaki A, Gatter KC, Harris AL, Koukourakis MI (2002) Tumor and Angiogenesis Research Group: association of hypoxia-inducible factors 1alpha and 2alpha with activated angiogenic pathways and prognosis in patients with endometrial carcinoma. Cancer 95:1055–1063

16.

Hawke CK, Delahunt B, Davidson PJ (1998) Microvessel density as a prognostic marker for transitional cell carcinoma of the bladder. Br J Urol 81:585–590

17.

Bettencourt MC, Bauer JJ, Sesterhenn IA et al (1998) CD34 immunohistochemical assessment of angiogenesis as a prognostic marker for prostate cancer recurrence after radical prostatectomy. J Urol 160:459–465

18.

Nativ O, Sabo E, Reiss A et al (1998) Clinical significance of tumor angiogenesis in patients with localized renal cell carcinoma. Urology 51:693–696

19.

Fukuda S, Shirahama T, Imazono Y et al (1999) Expression of vascular endothelial growth factor in patients with testicular germ cell tumors as an indicator of metastatic disease. Cancer 85:1323–1330

20.

Dinney CP, Babkowski RC, Antelo M et al (1998) Relationship among cystectomy, microvessel density and prognosis in stage T1 transitional cell carcinoma of the bladder. J Urol 160:1285–1290

21.

Rubin MA, Buyyounouski M, Bagiella E et al (1999) Microvessel density in prostate cancer: lack of correlation with tumor grade, pathologic stage, and clinical outcome. Urology 53:542–547

22.

Al-Najar A, Al-Sanabani S, Korda JB et al (2012) Microvessel density as a prognostic factor in penile squamous cell carcinoma. Urol Oncol 30:325–329

23.

Martins AC, Britto S, Takata C, Tucci S Jr, Borelli-Bovo TJ, Dias Neto JA (2002) CD34 immunoexpression in penile carcinoma. Acta Cirurgica Brasileira. 17:12–14

24.

Erovic BM, Neuchrist C, Berger U et al (2005) Quantitation of microvessel density in squamous cell carcinoma of the head and neck by computer- aided image analysis. Wien Klin Wochenschr 117:53–57

25.

Ranieri G, Labriola A, Achille G et al (2002) Microvessel density, mast cell density and thymidine phosphorylase expression in oral squamous carcinoma. Int J Oncol 21:1317–1323

26.

Zätterström UK, Brun E, Willén R et al (1995) Tumor angiogenesis and prognosis in squamous cell carcinoma of the head and neck. Head Neck 17:312–318

27.

Kyzas PA, Stefanou D, Batistatou A et al (2005) Prognostic significance of VEGF immunohistochemical expression and tumor angiogenesis in head and neck squamous cell carcinoma. J Cancer Res Clin Oncol 131:624–630

28.

Obermair A, Wanner C, Bilgi S et al (1998) Tumor angiogenesis in stage IB cervical cancer: correlation of microvessel density with survival. Am J Obstet Gynecol 178:314–319

29.

Solsona E, Iborra I, Rubio J, Casanova JL, Ricos JV, Calabuig C (2001) Prospective validation of local tumor stage and grade as a predictive factor for occult lymph node micrometastasis in patients with penile carcinoma and clinically negative inguinal lymph nodes. J Urol 165:1506–1509

30.

Hakenberg OW, Compérat EM, Minhas S, Necchi A, Protzel C, Watkin N (2015) EAU guidelines on penile cancer: 2014 update. Eur Urol 67:142–150
Acknowledgements
The authors would like to thank Saanvi Bansal for her help.
Funding
The authors declared that this study has received no financial support.
Ethics declarations
Conflict of interests
No conflict of interest was declared by the authors.
Ethical approval
All procedures performed in studies involving human participants were in accordance with the ethical standards of the institutional and/or national research committee and with the 1964 Helsinki declaration and its later amendments or comparable ethical standards.
Informed consent
Informed consent was obtained from all individual participants included in the study. Written informed consent was obtained from the patient.
About this article
Cite this article
Arora, A., Bansal, A. The importance of microvessel density in predicting cancer progression in patients with penile squamous cell carcinoma. Int Urol Nephrol 49, 1007–1014 (2017). https://doi.org/10.1007/s11255-017-1565-3
Received:

Accepted:

Published:

Issue Date:
Keywords
Grading

Penile

Lymph node

Microvessel density

Squamous cell carcinoma

Staging