Abstract
Objective
To investigate the influence of serum albumin on the prognosis of elderly patients with stage 3–4 chronic kidney disease (CKD).
Methods
From July 2013 to November 2015, elderly CKD patients (≥60 years), with eGFR ≥15 mL/min/1.73 m2 and <60 mL/min/1.73 m2, with CKD stage 3–4 in the geriatric nephrology clinic were enrolled. General information and underlying diseases were recorded. Laboratory indices were evaluated. Composite endpoint events (CEE) including renal endpoint events, cardiocerebral vascular endpoint events, and death were elucidated. Based on the ROC curves, the patients were divided into lower and higher serum albumin groups (<42.5 and ≥42.5 g/L).
Results
The occurrence of CEEs was significantly higher in lower serum albumin group than those in the higher group. Also, the patients in the higher group were significantly younger with lower urinary protein, blood urea, brain natriuretic peptide, and cystatin C than those in the lower serum albumin group. Contrastingly, hemoglobin, total serum protein, serum calcium, and superoxide dismutase were remarkably higher. The composite endpoints of multifactor logistic regression analysis indicated that as the serum albumin is increased by every 1 g/L, the probability of CEEs would reduce 14.8%, and the risk occurrence rate of the lower serum albumin group was 4.739 fold than the higher group.
Conclusion
The results suggest that patients with higher serum albumin had a better prognosis than those with lower serum albumin. The low level was an independent risk factor influencing the prognosis of elderly patients in stage 3–4 CKD.
This is a preview of subscription content, log in to check access.
Access options
Buy single article
Instant access to the full article PDF.
US$ 39.95
Price includes VAT for USA
Subscribe to journal
Immediate online access to all issues from 2019. Subscription will auto renew annually.
US$ 99
This is the net price. Taxes to be calculated in checkout.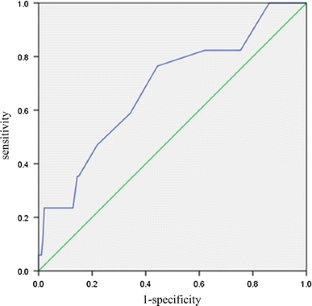 References
1.

Zhang L, Zhang P, Wang F et al (2008) Prevalence and factors associated with CKD: a population study from Beijing. Am J Kidney Dis 51(3):373–384

2.

Zhang L, Wang F, Wang L et al (2012) Prevalence of chronic kidney disease in China: a cross-sectional survey. Lancet 379(9818):815–822

3.

Menon V, Greene T, Wang X et al (2005) C-reactive protein and albumin as predictors of all-cause and cardiovascular mortality in chronic kidney disease. Kidney Int 68(2):766–772

4.

Kato A, Takita T, Furuhashi M et al (2010) Comparison of serum albumin, C-reactive protein and carotid atherosclerosis as predictors of 10-year mortality in hemodialysis patients. Hemodial Int 14(2):226–232

5.

Ni Z, Yuan Y, Wang Q et al (2014) Time-averaged albumin predicts the long-term prognosis of IgA nephropathy patients who achieved remission. J Transl Med 12:194

6.

Shah NR, Dumler F (2008) Hypoalbuminaemia–a marker of cardiovascular disease in patients with chronic kidney disease stages II–IV. Int J 5(6):366–370

7.

Weiner DE, Tighiouart H, Elsayed EF et al (2008) The relationship between nontraditional risk factors and outcomes in individuals with stage 3 to 4 CKD. Am J Kidney Dis 51(2):212–223

8.

Muntner P, He J, Astor BC et al (2005) Traditional and nontraditional risk factors predict coronary heart disease in chronic kidney disease: results from the atherosclerosis risk in communities study. J Am Soc Nephrol 16(2):529–538

9.

Oh KH, Park SK, Park HC et al (2014) KNOW-CKD (KoreaN cohort study for Outcome in patients With Chronic Kidney Disease): design and methods. BMC Nephrol 15(1):901–910

10.

Pifer TB, McCullough KP, Port FK et al (2002) Mortality risk in hemodialysis patients and changes in nutritional indicators: DOPPS. Kidney Int 62(6):2238–2245

11.

Gama-Axelsson T, Heimburger O, Stenvinkel P et al (2012) Serum albumin as predictor of nutritional status in patients with ESRD. Clin J Am Soc Nephrol 7(9):1446–1453

12.

Kovesdy CP, George SM, Anderson JE et al (2009) Outcome predictability of biomarkers of protein-energy wasting and inflammation in moderate and advanced chronic kidney disease. Am J Clin Nutr 90(2):407–414

13.

Chiu PF, Tsai CC, Wu CL et al (2016) Trajectories of serum albumin predict survival of peritoneal dialysis patients: a 15-year follow-up study. Medicine 95(12):e3202

14.

Kalantar-Zadeh K, Kilpatrick RD, Kuwae N et al (2005) Revisiting mortality predictability of serum albumin in the dialysis population: time dependency, longitudinal changes and population-attributable fraction. Nephro Dial Transplant 20(9):1880–1888

15.

Yuvaraj A, Vijayan M, Alex M et al (2016) Effect of high-protein supplemental therapy on subjective global assessment of CKD-5D patients. Hemodial Int 20(1):56–62

16.

Trifiro G, Fatuzzo PM, Ientile V et al (2014) Expert opinion of nephrologists about the effectiveness of low-protein diet in different stages of chronic kidney disease (CKD). Int J Food Sci Nutr 65(8):1027–1032

17.

Lai S, Molfino A, Coppola B et al (2015) Effect of personalized dietary intervention on nutritional, metabolic and vascular indices in patients with chronic kidney disease. Eur Rev Med Pharmacol Sci 19(18):3351–3359

18.

Brunori G, Viola BF, Parrinello G et al (2007) Efficacy and safety of a very-low-protein diet when postponing dialysis in the elderly: a prospective randomized multicenter controlled study. Am J Kidney Dis 49(5):569–580

19.

Carrero J (2009) Identification of patients with eating disorders: clinical and biochemical signs of appetite loss in dialysis patients. J Ren Nutr 19(1):10–15

20.

Tucker PS, Dalbo VJ, Han T et al (2013) Clinical and research markers of oxidative stress in chronic kidney disease. Biomarkers 18(2):103–115

21.

Krishnamoorthy V, Sunder S, Mahapatra HS et al (2015) Evaluation of protein-energy wasting and inflammation on patients undergoing continuous ambulatory peritoneal dialysis and its correlations. Nephrourol 7(6):e33143

22.

Kaysen GA, Dubin JA, Muller HG et al (2004) Inflammation and reduced albumin synthesis associated with stable decline in serum albumin in hemodialysis patients. Kidney Int 65(4):1408–1415

23.

Locatelli F, Canaud B, Eckardt KU et al (2003) Oxidative stress in end-stage renal disease: an emerging threat to patient outcome. Nephrol Dial Transplant 18(7):1272–1280

24.

Kaysen GA, Greene T, Daugirdas JT et al (2003) Longitudinal and cross-sectional effects of C-reactive protein, equilibrated normalized protein catabolic rate, and serum bicarbonate on creatinine and albumin levels in dialysis patients. Am J Kidney Dis 42(6):1200–1211

25.

Gupta KL, Sahni N (2012) Dietary antioxidents and oxidative stress in predialysis chronic kidney disease patients. J Nephropathol 1(3):134–142
Acknowledgements
This study was supported in part by the Capital Health Project Beijing Science Committee (Grant No: Z131100004013042) and Ministry of Human Resource of China (Grant No. bj201335) both to Dr. Jihong Yang.
Ethics declarations
Conflict of interest
The authors state that they have no conflicts of interest.
About this article
Cite this article
Fan, H., Yang, J., Liu, L. et al. Effect of serum albumin on the prognosis of elderly patients with stage 3–4 chronic kidney disease. Int Urol Nephrol 49, 859–865 (2017). https://doi.org/10.1007/s11255-017-1542-x
Received:

Accepted:

Published:

Issue Date:
Keywords
Serum albumin

Elderly patients

CKD

Prognosis