Abstract
Objectives
The aim of this study was to evaluate the efficacy of the endoscopic injection of calcium hydroxyapatite (CaHA) into the bladder neck (BN) region of patients with urinary incontinence and bladder exstrophy–epispadias complex (BEEC).
Patients and methods
We designed a retrospective cohort study in which we retrospectively studied medical charts of female and male patients of BEEC who had undergone CaHA or Deflux injection for continence improvement between 2009 and 2014. Sixteen incontinent patients with a mean ± SD age of 8.09 ± 3.5 years received an endoscopic submucosal injection of 5.4 ml of pure CaHA powder with autologous plasma (group A). Patients in group B (N = 21), control group, with a mean ± SD age of 7.51 ± 2.8 years received Deflux injection (5.1 ml). The mean follow-up after injection was 38 ± 5.2 and 33 ± 4.1 months in groups A and B, respectively.
Results
No post-injection complication was detected in none of the patients during the follow-up. Eleven patients (68.75%) in group A became socially dry following 1–2 injections, the degree of incontinence was improved in 4 patients (25%), and there was no change in one patient (6.25%). However, Deflux injection resulted in complete dryness in 14 (66.66%), improvement in the degree of incontinence in 5 (23.81%) and no change in 2 patients (9.52%), leading to no significant difference in continence achievement between CaHA and Deflux groups (p = 0.9). The statistical analysis was not significantly different in terms of bladder capacity (p = 0.7) or Q max (p = 0.8).
Conclusion
The preliminary results of this study revealed that CaHA may be applied as an affordable bulking agent in treatment of urinary incontinence in BEEC.
This is a preview of subscription content, log in to check access.
Access options
Buy single article
Instant unlimited access to the full article PDF.
US$ 39.95
Price includes VAT for USA
Subscribe to journal
Immediate online access to all issues from 2019. Subscription will auto renew annually.
US$ 99
This is the net price. Taxes to be calculated in checkout.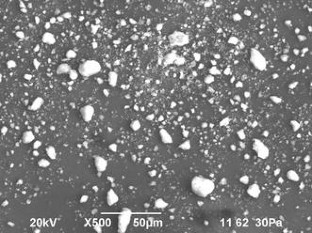 Abbreviations
CaHA:

Calcium hydroxyapatite

BEEC:

Bladder exstrophy–epispadias complex

BN:

Bladder neck
References
1.

Gearhart JP, Jeffs RD (1989) State-of-the-art reconstructive surgery for bladder exstrophy at the Johns Hopkins Hospital. Am J Dis Child 143(12):1475–1478

2.

Gearhart J, Jeffs R (1988) Augmentation cystoplasty in the failed exstrophy reconstruction. J Urol 139(4):790–793

3.

Gargollo P, Diamond D, Borer J (2007) Bladder function after bladder neck reconstruction in complete primary repair of bladder exstrophy. Presented at meeting of American Academy of Pediatrics, San Francisco, California, October, pp 27–30

4.

Gearhart JP (1991) Failed bladder exstrophy closure: evaluation and management. Urol Clin North Am 18:687

5.

Murless BC (1938) The injection treatment of stress incontinence. BJOG Int J Obstet Gynaecol 45(1):67–73

6.

Hobbs C, Foley S (2015) PD28-01 Still dry! Longevity of deflux uretral bulking injection for urinary stress incontinence. J Urol 193(4):e644

7.

Mayer RD, Dmochowski RR, Appell RA, Sand PK, Klimberg IW, Jacoby K, Graham CW, Snyder JA, Nitti VW, Winters JC (2007) Multicenter prospective randomized 52-week trial of calcium hydroxylapatite versus bovine dermal collagen for treatment of stress urinary incontinence. Urology 69(5):876–880. doi:10.1016/j.urology.2007.01.050

8.

Young HH (1942) Exstrophy of the bladder: the first case in which a normal bladder and urinary control have been obtained by plastic operations. Surg Gynecol Obstet 74:729–737

9.

Lepor H, Jeffs R (1983) Primary bladder closure and bladder neck reconstruction in classical bladder exstrophy. J Urol 130(6):1142–1145

10.

Mesrobian H, Kelalis PP, Kramer S (1988) Long-term followup of 103 patients with bladder exstrophy. J Urol 139(4):719–722

11.

Hollowell JG, Ransley P (1991) Surgical management of incontinence in bladder exstrophy. Br J Urol 68(5):543–548

12.

Husmann D, McLorie G, Churchill B (1989) Closure of the exstrophic bladder: an evaluation of the factors leading to its success and its importance on urinary continence. J Urol 142(2 Pt 2):522–524; discussion 542–523

13.

Gearhart JE, Ben-Chaim J, Sciortino C, Jeffs RD (1996) The multiple reoperative bladder exstrophy closure: what affects the potential of the bladder? Urology 47(2):240–243

14.

Novak TE, Costello JP, Orosco R, Sponseller PD, Mack E, Gearhart JP (2010) Failed exstrophy closure: management and outcome. J Pediatr Urol 6(4):381–384

15.

Kajbafzadeh A, Tajik P (2006) A novel technique for approximation of the symphysis pubis in bladder exstrophy without pelvic osteotomy. J Urol 175(2):692–698

16.

Kajbafzadeh AM, Talab SS, Elmi A, Rad MV, Mazaheri T, Tanhaeivash R (2011) Use of biodegradable plates and screws for approximation of symphysis pubis in bladder exstrophy: applications and outcomes. Urology 77(5):1248–1253

17.

Castagnetti M, Gigante C, Perrone G, Rigamonti W (2008) Comparison of musculoskeletal and urological functional outcomes in patients with bladder exstrophy undergoing repair with and without osteotomy. Pediatr Surg Int 24(6):689–693

18.

Dave S, Grover V, Agarwala S, Mitra D, Bhatnagar V (2001) Cystometric evaluation of reconstructed classical bladder exstrophy. BJU Int 88(4):403–408

19.

Ben-Chaim J, Jeffs RD, Peppas DS, Gearhart JP (1995) Submucosal bladder neck injections of glutaraldehyde cross-linked bovine collagen for the treatment of urinary incontinence in patients with the exstrophy/epispadias complex. J Urol 154(2):862–864

20.

Lottmann HB, Margaryan M, Lortat-Jacob S, Bernuy M, Läckgren G (2006) Long-term effects of dextranomer endoscopic injections for the treatment of urinary incontinence: an update of a prospective study of 61 patients. J Urol 176(4):1762–1766

21.

Surer I, Ferrer FA, Baker LA, Gearhart JP (2003) Continent urinary diversion and the exstrophy–epispadias complex. J Urol 169(3):1102–1105

22.

Baker LA, Jeffs RD, Gearhart JP (1999) Urethral obstruction after primary exstrophy closure: what is the fate of the genitourinary tract? J Urol 161(2):618–621

23.

Dodson JL, Surer I, Baker LA, Jeffs RD, Gearhart JP (2001) The newborn exstrophy bladder inadequate for primary closure: evaluation, management and outcome. J Urol 165(5):1656–1659

24.

Fabrizio MD, Strup SE, Filmer RB, Noseworthy J, Gearhart JP (1999) Duplicate bladder exstrophy: a unique approach to initial repair. Urology 53(2):401–404

25.

Frimberger D, Gearhart JP, Mathews R (2003) Female exstrophy: failure of initial reconstruction and its implications for continence. J Urol 170(6):2428–2431

26.

Mathews R, Gosling JA, Gearhart JP (2004) Ultrastructure of the bladder in classic exstrophy: correlation with development of continence. J Urol 172(4):1446–1449

27.

Baird A, Mathews R, Gearhart J (2005) The use of combined bladder and epispadias repair in boys with classic bladder exstrophy: outcomes, complications and consequences. J Urol 174(4):1421–1424

28.

Leonard M, Decter A, Mix L, Johnson H, Coleman G (1996) Treatment of urinary incontinence in children by endoscopically directed bladder neck injection of collagen. J Urol 156(2):637–641

29.

Caione P, Capozza N, Lais A, Creti G, Gennaro M (1993) Female genito-urethroplasty and submucosal periurethral collagen injection as adjunctive procedures for continence in the exstrophy–epispadias complex preliminary results. Br J Urol 71(3):350–353

30.

Duffy P, Ransley P (1998) Endoscopic treatment of urinary incontinence in children with primary epispadias. Br J Urol 81:309–311

31.

Khorramirouz R, Ladi Seyedian SS, Keihani S, Kajbafzadeh AM (2016) Management of urinary incontinence in complete bladder duplication by injection of bulking agent at bladder neck level into the proximal urethra. Case Rep Surg 2016:6237384. doi:10.1155/2016/6237384

32.

Kajbafzadeh AM, Tourchi A (2012) Usefulness of concomitant autologous blood and dextranomer/hyaluronic acid copolymer injection to correct vesicoureteral reflux. J Urol 188(3):948–952. doi:10.1016/j.juro.2012.04.119
Ethics declarations
Conflict of interest
None of the authors has direct or indirect commercial financial incentive associating with publishing the article and does not have any conflict of interest.
Electronic supplementary material
Below is the link to the electronic supplementary material.
Supplementary material 1 (MP4 3024 kb)
About this article
Cite this article
Eftekharzadeh, S., Sabetkish, N., Sabetkish, S. et al. Comparing the bulking effect of calcium hydroxyapatite and Deflux injection into the bladder neck for improvement of urinary incontinence in bladder exstrophy–epispadias complex. Int Urol Nephrol 49, 183–189 (2017). https://doi.org/10.1007/s11255-016-1464-z
Received:

Accepted:

Published:

Issue Date:
Keywords
Calcium hydroxyapatite

Deflux

Bladder exstrophy

Urinary incontinence