Abstract
Purpose
Liver-type fatty acid-binding protein is a small cytoplasmic protein which is expressed in the human renal proximal tubular epithelium and synthesized in response to renal tubular injury. The aim of the present study was to investigate the importance of urinary liver-type fatty acid-binding protein levels in children who diagnosed with vesicoureteral reflux.
Methods
Fifty-six patients with vesicoureteral reflux and 51 healthy controls were enrolled to the study. The cases were divided into three groups as follows: group A—the controls, group B—the patients who had renal parenchymal scarring and group C—the patients who had no scarring. Urinary liver-type fatty acid-binding protein was measured by enzyme-linked immunosorbent assay method. Creatinine was measured by modified Jaffe method, protein was measured by turbidimetric method, and urine density was determined by using the "falling drop" procedure.
Results
Urinary liver-type fatty acid-binding protein and urinary liver-type fatty acid-binding protein/creatinine levels were significantly higher in the whole patient group than in the controls (p = 0.016, 0.006). Significant differences were also determined by comparing the three groups (p = 0.015, 0.014), and those levels were found as significantly higher in group C.
Conclusion
Urinary liver-type fatty acid-binding protein was considered to be helpful for the diagnosis of vesicoureteral reflux, and also it might contribute to understand the mechanisms causing scar tissue formation especially for the patients who had vesicoureteral reflux. Further clinical and experimental investigations are required to elucidate in detail the physiology of liver-type fatty acid-binding protein.
This is a preview of subscription content, log in to check access.
Access options
Buy single article
Instant access to the full article PDF.
US$ 39.95
Price includes VAT for USA
Subscribe to journal
Immediate online access to all issues from 2019. Subscription will auto renew annually.
US$ 99
This is the net price. Taxes to be calculated in checkout.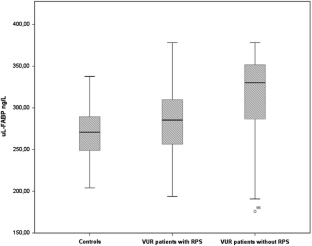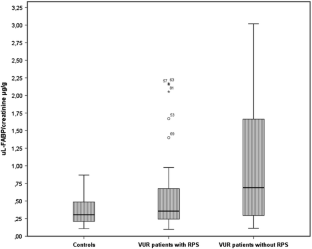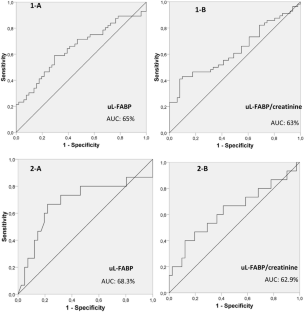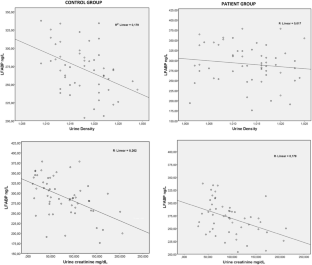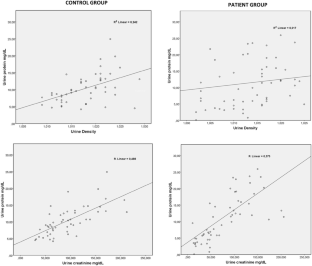 Acknowledgments
This study was funded by The Educational Planning Commission of Bakırköy Dr Sadi Konuk Training and Research Hospital (11/07/2014; 7/8).
Ethics declarations
Conflict of interest
The authors declare they have no conflict of interest.
Ethical approval
All procedures performed in studies involving human participants were in accordance with the ethical standards of the institutional and/or national research committee and with the 1964 Declaration of Helsinki and its later amendments or comparable ethical standards.
Informed consent
Informed consent was obtained from all individual participants included in the study.
About this article
Cite this article
Benzer, M., Tekin Neijmann, S., Gültekin, N.D. et al. Urinary L-FABP as a marker of vesicoureteral reflux in children: could it also have a protective effect on the kidney?. Int Urol Nephrol 49, 1–12 (2017). https://doi.org/10.1007/s11255-016-1389-6
Received:

Accepted:

Published:

Issue Date:
Keywords
Vesicoureteral reflux

Renal parenchymal scarring

Liver fatty acid-binding protein (L-FABP)

Children