Abstract
Objectives
Long-term ketamine abuse can affect the urinary system, resulting in lower urinary tract symptoms (LUTS), but the pathogenesis of this is still unknown. Previous studies have demonstrated that ketamine can change the expression of the brain-derived neurotrophic factor (BDNF) in the serum of ketamine abuse patients. The aim of the present study is to explore the mechanism of the ketamine-mediated BDNF signaling pathway in the bladder of rats on chronic ketamine treatment.
Methods
Rats were randomly assigned to a control (normal saline) or ketamine (30 mg/kg) group, with five rats in each group. The experimental group was given ketamine via intraperitoneal injection daily, while the control group was treated with saline. After 12 weeks of treatment, bladders were excised and samples from the control and ketamine group were examined with transmission electron microscopy (TEM). Phosphoprotein and non-phosphoprotein purification, histopathology, immunohistochemistry, and western blot were carried out in all groups.
Results
Histological study showed hyperplastic epithelium and inflammatory cell infiltration in ketamine-treated rat bladders. TEM showed that chronic ketamine treatment results in structural damage to organelles. Immunohistochemical staining and western blot showed that the expression of BDNF was significantly lower in the ketamine group. However, the expression of phosphorylated extracellular signal-regulated kinases ½ (ERK1/2) in the ketamine group was higher, whereas the total ERK1/2 was similar to the control group.
Conclusions
Long-term ketamine abuse reduces expression of BDNF, while inducing phosphorylation of ERK1/2 in the bladder wall. This may play an important role in the pathogenesis of ketamine-associated LUTS.
This is a preview of subscription content, log in to check access.
Access options
Buy single article
Instant access to the full article PDF.
US$ 39.95
Price includes VAT for USA
Subscribe to journal
Immediate online access to all issues from 2019. Subscription will auto renew annually.
US$ 99
This is the net price. Taxes to be calculated in checkout.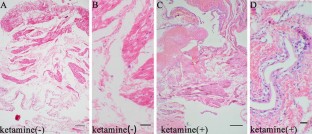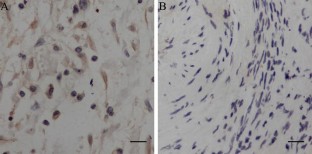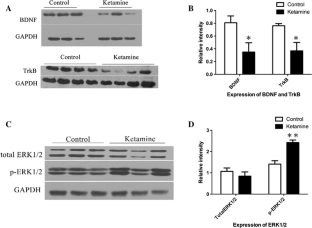 References
1.

Shahani R, Streutker C, Dickson B, Stewart RJ (2007) Ketamine-associated ulcerative cystitis: a new clinical entity. Urology 69:810–812

2.

Pal R, Balt S, Erowid E et al (2013) Ketamine is associated with lower urinary tract signs and symptoms. Drug Alcohol Depend 132:189–194

3.

Jang M-Y, Lee Y-L, Long C-Y et al (2015) The protective effect of green tea catechins on ketamine-induced cystitis in a rat model. Urol Sci 26:186–192

4.

Frias B, Allen S, Dawbarn D, Charrua A, Cruz F, Cruz CD (2013) Brain-derived neurotrophic factor, acting at the spinal cord level, participates in bladder hyperactivity and referred pain during chronic bladder inflammation. Neuroscience 234:88–102

5.

Ricci V, Martinotti G, Gelfo F et al (2011) Chronic ketamine use increases serum levels of brain-derived neurotrophic factor. Psychopharmacology 215:143–148

6.

Ke X, Ding Y, Xu K et al (2014) Serum brain-derived neurotrophic factor and nerve growth factor decreased in chronic ketamine abusers. Drug Alcohol Depend 142:290–294

7.

Bhide AA, Cartwright R, Khullar V, Digesu GA (2013) Biomarkers in overactive bladder. Int Urogynecol J 24:1065–1072

8.

Girard BM, Malley SE, Vizzard MA (2011) Neurotrophin/receptor expression in urinary bladder of mice with overexpression of NGF in urothelium. Am J Physiol Renal Physiol 300:F345–F355

9.

Ibla JC, Hayashi H, Bajic D, Sulpicio SG (2009) Prolonged exposure to ketamine increases brain derived neurotrophic factor levels in developing rat brains. Curr Drug Saf 4:11–16

10.

Yoshimura S, Yoshioka K, Barr FA et al (2005) Convergence of cell cycle regulation and growth factor signals on GRASP65. J Biol Chem 280:23048–23056

11.

Wu CC, Yen CC, Lee KI et al (2012) Involvement of oxidative stress-induced ERK/JNK activation in the Cu(2+)/pyrrolidine dithiocarbamate complex-triggered mitochondria-regulated apoptosis in pancreatic beta-cells. Toxicol Lett 208:275–285

12.

Nakagawa T, Zhu H, Morishima N, Li E, Xu J, Yankner BA, Yuan J (2000) Caspase-12 mediates endoplasmic-reticulum-specific apoptosis and cytotoxicity by amyloid-β. Nature 403:98–103

13.

Kagami SKK, Okada K, Kuroda Y, Morioka T, Shimizu F, Oite T (1990) Mechanism of formation of subepithelial electron-dense deposits in active in situ immune complex glomerulonephritis. Am J Pathol 136:631–639

14.

Liu KM, Chuang SM, Long CY (2015) Ketamine-induced ulcerative cystitis and bladder apoptosis involve oxidative stress mediated by mitochondria and the endoplasmic reticulum. Am J Physiol Renal Physiol 309:F318–F331

15.

Wynn TA (2008) Cellular and molecular mechanisms of fibrosis. J Pathol 214:199–210

16.

Park H, Poo MM (2013) Neurotrophin regulation of neural circuit development and function. Nat Rev Neurosci 14:7–23

17.

Silva C, Ribeiro MJ, Cruz F (2002) The effect of intravesical resiniferatoxin in patients with idiopathic detrusor instability suggests that involuntary detrusor contractions are triggered by C-fiber input. J Urol 168:575–579

18.

Liu HT, Kuo HC (2007) Increased expression of transient receptor potential vanilloid subfamily 1 in the bladder predicts the response to intravesical instillations of resiniferatoxin in patients with refractory idiopathic detrusor overactivity. BJU Int 100:1086–1090

19.

Birder LA, Wolf-Johnston AS, Sun Y, Chai TC (2013) Alteration in TRPV1 and Muscarinic (M3) receptor expression and function in idiopathic overactive bladder urothelial cells. Acta Physiol 207:123–129

20.

Rahbek UL, Dissing S, Thomassen C, Hansen AJ, Tritsaris K (2005) Nerve growth factor activates aorta endothelial cells causing PI3K/Akt- and ERK-dependent migration. Pflug Arch 450:355–361

21.

Sawada J, Itakura A, Tanaka A, Furusaka T, Matsuda H (2000) Nerve growth factor functions as a chemoattractant for mast cells through both mitogen-activated protein kinase and phosphatidylinositol 3-kinase signaling pathways. Blood 95:2052–2058

22.

Jhang JF, Hsu YH, Jiang YH, Kuo HC (2014) Elevated serum IgE may be associated with development of ketamine cystitis. J Urol 192:1249–1256

23.

Frungieri MB, Albrecht M, Raemsch R, Mayerhofer A (2005) The action of the mast cell product tryptase on cyclooxygenase-2 (COX2) and subsequent fibroblast proliferation involves activation of the extracellular signal-regulated kinase isoforms 1 and 2 (erk1/2). Cell Signal 17:525–533

24.

Juan Y-S, Lee Y-L, Jang M-Y et al (2015) Mp21-02 translocation of nuclear factor kappa B and expression of cyclooxygenase-2 Is enhanced by ketamine-induced ulcerative cystitis in rat bladder. J Urol 193:e232
Acknowledgments
Thanks are due to Tongzu Liu for assistance with the experiments and to Biwen Peng for valuable discussion.
Funding
This study was funded by Zhongnan Hospital of Wuhan University.
Ethics declarations
Conflict of interest
The authors declare no conflict of interest.
Ethical approval
All applicable international, national, and/or institutional guidelines for the care and use of animals were followed.
About this article
Cite this article
Wang, X., Peng, B., Xu, C. et al. BDNF-ERK1/2 signaling pathway in ketamine-associated lower urinary tract symptoms. Int Urol Nephrol 48, 1387–1393 (2016). https://doi.org/10.1007/s11255-016-1315-y
Received:

Accepted:

Published:

Issue Date:
Keywords
Ketamine

Lower urinary tract symptoms

BDNF

Apoptosis