Abstract
Purpose
To investigate the incidence of isolated hematuria and its relationship to the glomerular filtration rate (GFR).
Methods
Data from the Korean National Health and Nutrition Examination Survey V were used. A stratified, three-stage, clustered probability design was used to collect representative data on the Korean population. Ultimately, 18,587 participants were included. The incidence of isolated dipstick hematuria and its relationship with the GFR (estimated by the Chronic Kidney Disease Epidemiology Collaboration equation) were evaluated.
Results
The analysis showed that 31.8 % of the population had isolated hematuria, the incidence of which significantly increased with age (P trend < 0.001). As the severity of hematuria increased, the ratio of GFR < 60 ml/min/1.73 m2 and 60 ml/min/1.73 m2 ≤ GFR < 90 ml/min/1.73 m2 was significantly increased (P trend < 0.001). After adjusting for the confounders, the mean GFR of the grade 3+ (grades 3, 4, 5) hematuria group was significantly reduced compared to that of the negative, grade 1, and grade 2 hematuria groups (with an adjusted mean ± standard error of 94.0 ± 0.8 vs. 97.2 ± 0.3 ml/min/1.73 m2, P < 0.001). Additionally, the odds ratio of the grade 3+ hematuria group for a GFR < 60 ml/min/1.73 m2 was significantly increased compared to that of the negative, grade 1, and grade 2 hematuria groups after adjusting for the confounders (adjusted odds ratio 1.468, 95 % confidence interval 1.049–2.054, P = 0.025).
Conclusion
An effective health policy for hematuria screening is needed for older age groups. A strategy of careful checkups and counseling regarding renal function is necessary for patients with isolated hematuria.
This is a preview of subscription content, log in to check access.
Access options
Buy single article
Instant access to the full article PDF.
US$ 39.95
Price includes VAT for USA
Subscribe to journal
Immediate online access to all issues from 2019. Subscription will auto renew annually.
US$ 99
This is the net price. Taxes to be calculated in checkout.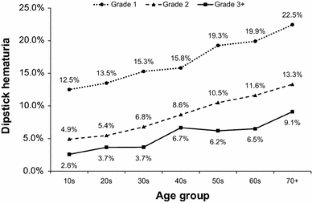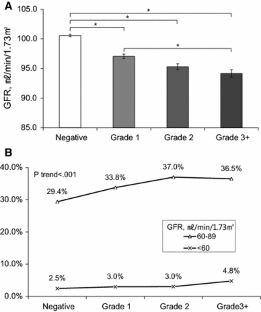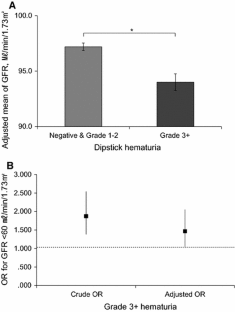 References
1.

Yuste C, Rubio-Navarro A, Barraca D, Aragoncillo I, Vega A, Abad S, Santos A, Macias N, Mahillo I, Gutierrez E, Praga M, Egido J, Lopez-Gomez JM, Moreno JA (2015) Haematuria increases progression of advanced proteinuric kidney disease. PLoS One 10:e0128575. doi:10.1371/journal.pone.0128575

2.

Owen RJ, Hiremath S, Myers A, Fraser-Hill M, Barrett BJ (2014) Canadian association of radiologists consensus guidelines for the prevention of contrast-induced nephropathy: update 2012. Can Assoc Radiol J 65:96–105. doi:10.1016/j.carj.2012.11.002

3.

Todenhofer T, Hennenlotter J, Witstruk M, Gakis G, Aufderklamm S, Kuehs U, Stenzl A, Schwentner C (2012) Influence of renal excretory function on the performance of urine based markers to detect bladder cancer. J Urol 187:68–73. doi:10.1016/j.juro.2011.09.023

4.

Grundy SM, Cleeman JI, Daniels SR, Donato KA, Eckel RH, Franklin BA, Gordon DJ, Krauss RM, Savage PJ, Smith SC Jr, Spertus JA, Costa F, American Heart A, National Heart L, Blood I (2005) Diagnosis and management of the metabolic syndrome: an American Heart Association/National Heart, Lung, and Blood Institute Scientific Statement. Circulation 112:2735–2752. doi:10.1161/CIRCULATIONAHA.105.169404

5.

Earley A, Miskulin D, Lamb EJ, Levey AS, Uhlig K (2012) Estimating equations for glomerular filtration rate in the era of creatinine standardization: a systematic review. Ann Intern Med 156:785–795. doi:10.7326/0003-4819-156-6-201203200-00391

6.

Coresh J, Astor BC, Greene T, Eknoyan G, Levey AS (2003) Prevalence of chronic kidney disease and decreased kidney function in the adult US population: third National Health and Nutrition Examination Survey. Am J Kidney Dis 41:1–12. doi:10.1053/ajkd.2003.50007

7.

Chung FM, Yang YH, Shieh TY, Shin SJ, Tsai JC, Lee YJ (2005) Effect of alcohol consumption on estimated glomerular filtration rate and creatinine clearance rate. Nephrol Dial Transpl 20:1610–1616. doi:10.1093/ndt/gfh842

8.

Iseki K (2008) Metabolic syndrome and chronic kidney disease: a Japanese perspective on a worldwide problem. J Nephrol 21:305–312

9.

Vivante A, Afek A, Frenkel-Nir Y, Tzur D, Farfel A, Golan E, Chaiter Y, Shohat T, Skorecki K, Calderon-Margalit R (2011) Persistent asymptomatic isolated microscopic hematuria in Israeli adolescents and young adults and risk for end-stage renal disease. JAMA 306:729–736. doi:10.1001/jama.2011.1141

10.

Kwon CS, Lee JH (2013) The association between type of work and insulin resistance and the metabolic syndrome in middle-aged Korean men: results from the Korean National Health and Nutrition Examination Survey IV (2007–2009). World J Mens Health 31:232–238. doi:10.5534/wjmh.2013.31.3.232

11.

Grossfeld GD, Wolf JS Jr, Litwan MS, Hricak H, Shuler CL, Agerter DC, Carroll PR (2001) Asymptomatic microscopic hematuria in adults: summary of the AUA best practice policy recommendations. Am Fam Physician 63:1145–1154

12.

Messing EM, Young TB, Hunt VB, Emoto SE, Wehbie JM (1987) The significance of asymptomatic microhematuria in men 50 or more years old: findings of a home screening study using urinary dipsticks. J Urol 137:919–922

13.

Messing EM, Young TB, Hunt VB, Wehbie JM, Rust P (1989) Urinary tract cancers found by homescreening with hematuria dipsticks in healthy men over 50 years of age. Cancer 64:2361–2367

14.

Mariani AJ, Mariani MC, Macchioni C, Stams UK, Hariharan A, Moriera A (1989) The significance of adult hematuria: 1,000 hematuria evaluations including a risk-benefit and cost-effectiveness analysis. J Urol 141:350–355

15.

Britton JP, Dowell AC, Whelan P, Harris CM (1992) A community study of bladder cancer screening by the detection of occult urinary bleeding. J Urol 148:788–790

16.

Messing EM, Young TB, Hunt VB, Roecker EB, Vaillancourt AM, Hisgen WJ, Greenberg EB, Kuglitsch ME, Wegenke JD (1992) Home screening for hematuria: results of a multiclinic study. J Urol 148:289–292

17.

Tentori F, Stidley CA, Scavini M, Shah VO, Narva AS, Paine S, Bobelu A, Welty TK, Maccluer JW, Zager PG (2003) Prevalence of hematuria among Zuni Indians with and without diabetes: the Zuni kidney project. Am J Kidney Dis 41:1195–1204

18.

Waybill MM, Waybill PN (2001) Contrast media-induced nephrotoxicity: identification of patients at risk and algorithms for prevention. J Vasc Interv Radiol 12:3–9

19.

Niemi MA, Cohen RA (2015) Evaluation of microscopic hematuria: a critical review and proposed algorithm. Adv Chronic Kidney Dis 22:289–296. doi:10.1053/j.ackd.2015.04.006

20.

Park H, Kim CS (2015) Natural 10-year history of simple renal cysts. Korean J Urol 56:351–356. doi:10.4111/kju.2015.56.5.351

21.

Song W, Jeon HG (2015) Incidence of kidney, bladder, and prostate cancers in Korea: an update. Korean J Urol 56:422–428. doi:10.4111/kju.2015.56.6.422
Ethics declarations
Conflict of interest
None.
Ethical approval
All procedures performed in studies involving human participants were in accordance with the ethical standards of the institutional and/or national research committee and with the 1964 Helsinki Declaration and its later amendments or comparable ethical standards.
Informed consent
Informed consent was obtained from all individual participants included in the study.
About this article
Cite this article
Kwon, H., Lee, D., Kang, H.C. et al. Incidence of isolated dipstick hematuria and its association with the glomerular filtration rate: a cross-sectional study from the Korean National Health and Nutrition Examination Survey V (2010–2012). Int Urol Nephrol 48, 451–456 (2016). https://doi.org/10.1007/s11255-016-1215-1
Received:

Accepted:

Published:

Issue Date:
Keywords
Glomerular filtration rate

Hematuria

Incidence