This is a preview of subscription content, log in to check access.
Access options
Buy single article
Instant access to the full article PDF.
US$ 39.95
Price includes VAT for USA
Subscribe to journal
Immediate online access to all issues from 2019. Subscription will auto renew annually.
US$ 99
This is the net price. Taxes to be calculated in checkout.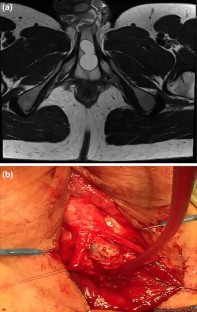 References
1.

Surana S, Elshazly M, Allam A, Jayappa S, AlRefai D (2015) A case of Giant Cowper's gland syringocele in an adult male patient. Case Rep Urol. doi:10.1155/2015/682042

2.

Shebel HM, Farg HM, Kolokythas O, El-Diasty T (2013) Cysts of the lower male genitourinary tract: embryologic and anatomic considerations and differential diagnosis. Radiographics 33(4):1125–1143. doi:10.1148/rg.334125129

3.

Maizels M, Stephens FD, King LR, Firlit CF (1983) Cowper's syringocele: a classification of dilatations of Cowper's gland duct based upon clinical characteristics of 8 boys. J Urol 129(1):111–114

4.

Bevers RF, Abbekerk EM, Boon TA (2000) Cowper's syringocele: symptoms, classification and treatment of an unappreciated problem. J Urol 163:782–784

5.

Redman JF, Rountree GA (1988) Pronounced dilatation of Cowper's gland duct manifest as a perineal mass: a recommendation for management. J Urol 139(1):87–88

6.

Shaw MB, Cole O, Terry TR (2004) Cowper's syringocele causing painful haematuria in an adult. Sci World J 7(4 Suppl 1):308–310

7.

Melquist J, Sharma V, Sciullo D, McCaffrey H, Khan SA (2010) Current diagnosis and management of syringocele: a review. Int Braz J Urol 36(1):3–9 (Review)

8.

Wu F, Park E, Udayasankar U (2013) Cowper gland syringocele. J Urol 190(2):713–714. doi:10.1016/j.juro.2013.04.079 (Epub 2013 May 2)

9.

Piedrahita YK, Palmer JS (2006) Case report: Cowper's syringocele treated with Holmium: YAG laser. J Endourol 20(9):677–678

10.

Yamada T, Nakane K, Kanimoto Y (2009) Successful treatment by transperineal percutaneous sclerosis with minocycline hydrochloride for imperforate Cowper's syringocele in a young man. Int J Urol 16(9):771. doi:10.1111/j.1442-2042.2009.02362.x
Funding
No funding was applied for in the writing of this manuscript.
Ethics declarations
Conflict of interest
None.
Ethical approval
This article does not contain any studies with animals performed by any of the authors.
Informed consent
Informed consent was obtained from all individual participants included in the study.
About this article
Cite this article
Floyd, M.S., Hermans, B., Waterschoot, M. et al. An unusual perineal mass in a male cyclist. Int Urol Nephrol 48, 371–372 (2016). https://doi.org/10.1007/s11255-015-1198-3
Received:

Accepted:

Published:

Issue Date:
Keywords
Minocycline

Holmium

Holmium Laser

Cystic Dilatation

Perineal Pain